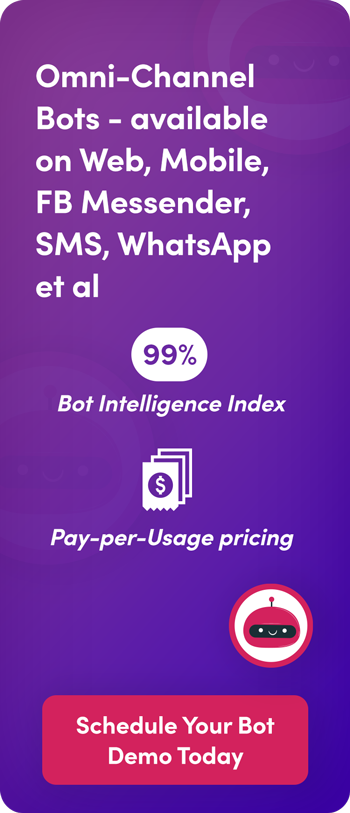 Artificial Intelligence Powered Employee Self-Service Bot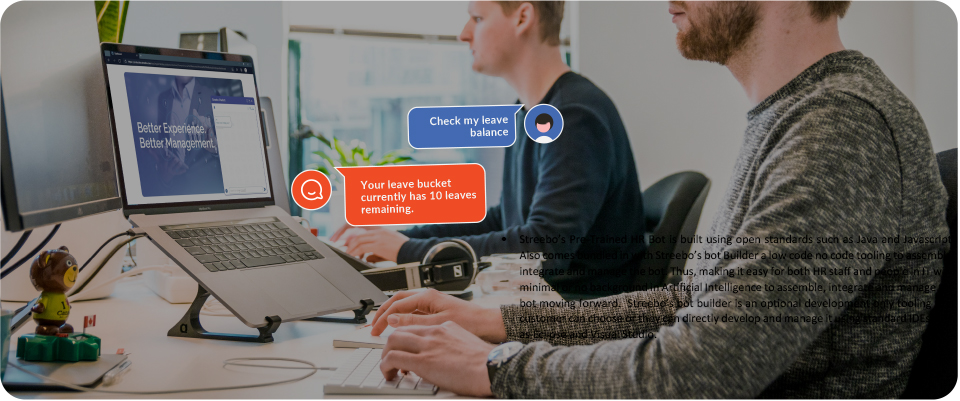 Smart Bots for Human Resource (HR), IT, Operations & Support
The 2020 pandemic caused a major disruption at the workplace and drastically changed the way businesses operate. In the new world, many employees are now working remotely and most businesses now operate in a Hybrid model. This new reality has put HR, IT & Support teams are under tremendous pressure as call volumes have increased and there is a need to do more with the same headcount.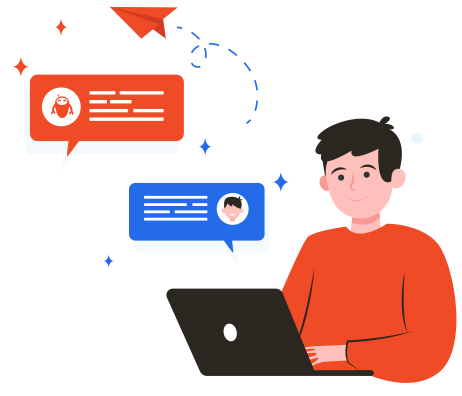 Leveraging Artificial Intelligence Powered Bots
The advent of AI and advances in Natural Language Processing has now opened up possibilities of deploying Bots to help out HR, IT, Operations & Support team(s) to take over routine tasks. Streebo, an AI and Digital Transformation company has built smart and Highly Intelligent Pre-trained AI Powered Chatbots that can take over the routine HR, IT, Operations and Support tasks within an organization. Streebo's Smart Bots are omnichannel which means they can be deployed over the web, mobile and even asynchronous messaging channels such as Microsoft Teams, HCL Sametime, Google Hangouts and Slack. Streebo's HR Bot can be integrated into most of the existing ERP/HRM systems, such as SAP HR, Oracle Enterprise HRMS, Workday, Peoplesoft, ServiceNow among others.
Business Benefits of Deploying HR Bot

Decrease in operational cost (7%) as the routine HR, IT & Support tasks are taken over by bot, thus allowing existing teams to focus on higher value add tasks

Increase in Employee Productivity (over 17%)
Bots extended on Multiple Channels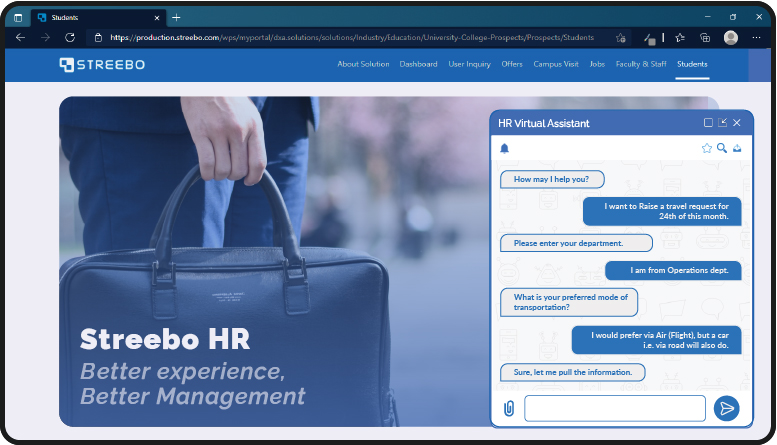 Web Application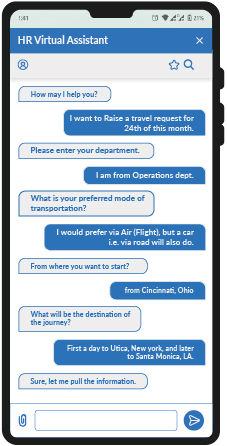 Mobile Application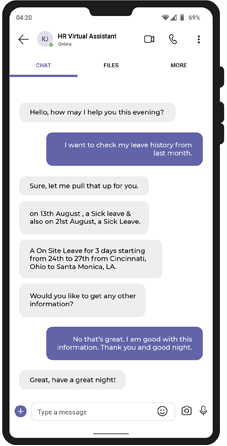 MS Teams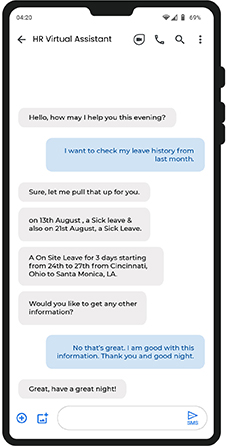 SMS
Why Streebo Chatbots for HR & IT Support
Streebo, in collaboration with leading technology organizations like IBM, RedHat, Google, and Amazon, has created a Highly Intelligent and secured solution.

Key differentiators of Streebo's Pre-Trained Chatbot for HR & IT Support are as follows –

Built-in Domain Intelligence
Built-in Domain Intelligence –Streebo in collaboration with its technology partner deploys a highly intelligent pre-trained Chatbot that can emulate business processes pertaining to HR & IT Support.

Omni-Channel Experience
Streebo's HR Bot can be deployed across multiple channels apart from its web and a mobile app, such as Microsoft Teams, IBM Slack, HCL Sametime, and even SMS.

Integrated with Backends
Streebo's HR bot can be integrated into most of the ERP/HRM systems in use, such as SAP HR, Oracle HRMS, Workday, Peoplesoft among others.

Flexible Deployment Models
Streebo's Pre-Trained HR Bot can be deployed on-premise or on IBM Cloud, Microsoft Azure, Amazon AWS, or Google Cloud Platform.

Ease of Development & Maintenance
Streebo's Pre-Trained HR Bot is built using open standards such as Java and JavaScript. Also comes bundled in with Streebo's bot Builder a low code no code tooling to assemble, integrate and manage the bot. Thus, making it easy for both HR staff and people in IT with minimal or no background in Artificial Intelligence to assemble, integrate and manage the bot moving forward. Streebo's bot builder is an optional development-only tooling that customers can choose or they can directly develop and manage it using standard IDEs such as Eclipse and Visual Studio.

Chat Analytics
Streebo's analytics dashboard is developed to record and display systemic data, metrics, preferences, and trends which eventually help in monitoring user interactions, and can be adapted accordingly to give relevant responses and take business decisions.
Our AI-Powered HR Bot Supports Below Mentioned Features

99% Accurate

Secure with Role based access

Omni-channel Solution

Support for both voice and chat channels

Multilingual Support with support for over 38 languages

Advance Analytics
Our Pre-trained HR Bot is trained in the following Operations

Leave Management

Work Allocation Management

Review/Approve/Rate Completed Work

TimeSheet

Reporting – Work Status

Travel Management

Expense Reimbursement Management

Employee Directory

Manage Documents – Salary Slips, Company Policy

Change Address, Personal Profile

Employee Assistance System (EAS) – Raise/Track/Approve Ticket

Central Learning Repository (CLR) – Search/Review/Download
Pricing Options
MVP (Minimum Viable Product) bot includes

3 transactional use cases

1 backend integrations

50 FAQ's

Channels – Web, Mobile App, 1 messaging channel such as Microsoft Teams, HCL Sametime, Slack among others
Capex Option

You can choose to buy the MVP Bot with a one-time fee.
Opex Option

You can choose to Subscribe to the MVP Bot at a monthly charge with no upfront setup fee.
Pay Per Usage

This is a conversation-based subscription and is tied to the number of conversations. This plan is again available with no set-up fee.