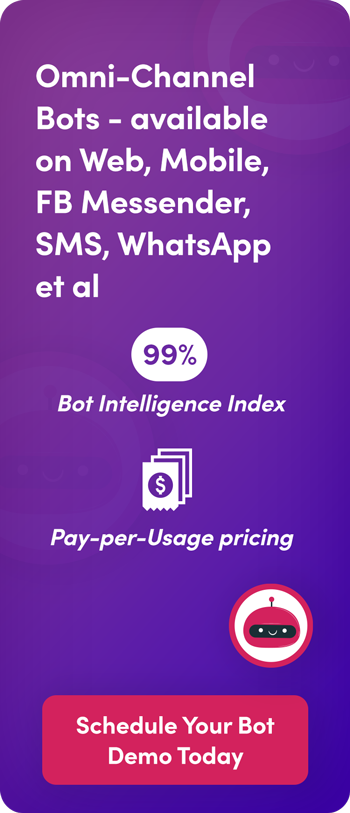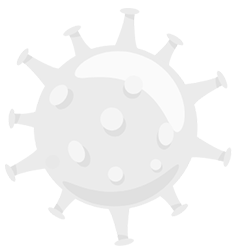 Artificial Intelligence Powered Health Insurance
Bot for Customers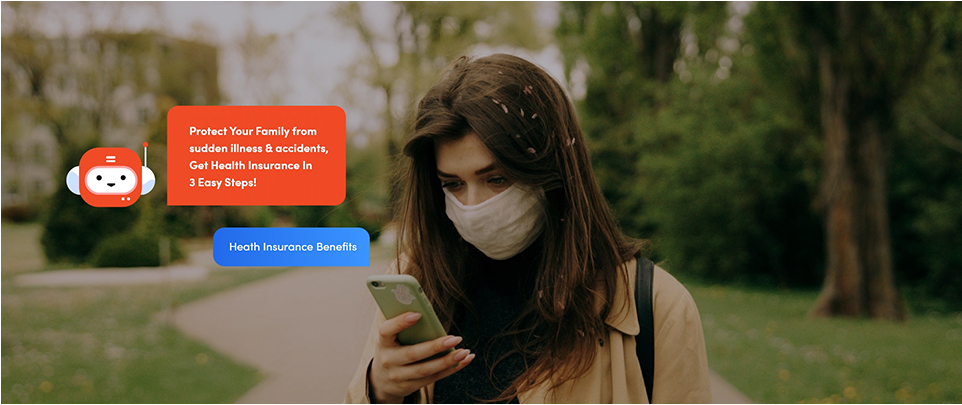 Due to Global Pandemic, the Health Insurance industry has experienced robust growth owing to the consistent rise in medical expenditure. The adoption of AI (Artificial Intelligence) in various aspects of healthcare is growing, making processes faster and simpler for customers and the industry as well. Modern customers want to avail themselves of multiple services online and that too on multiple channels. When customers reach out to insurance companies, most of the questions asked by the customers are quite common such as covid related queries these days which leads the staff to spend a lot of time answering the same queries. Thus, to provide quick, consistent, 24*7 customer service and to increase customer outreach with the advancement of NLP and Artificial Intelligence, Insurance Chatbots/Conversational Interface which can be extended to newer platforms and channels have become a need of an hour.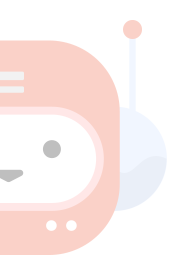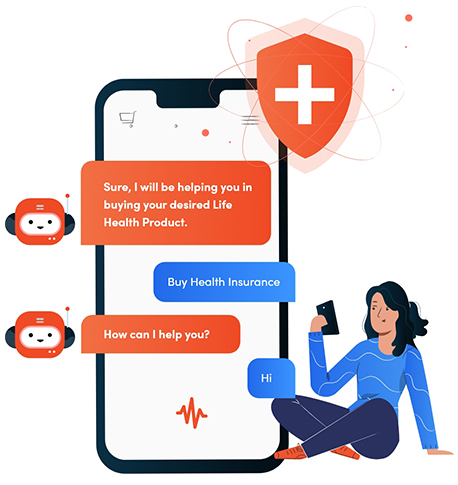 What Healthcare Insurance industries can do to adapt and overcome the Industry Change
Streebo, a leading Digital Transformation & AI Company has created an immensely powerful, intelligent, and Pre-trained AI-Powered Health Insurance Bot for Customers. These bots are pre-integrated with SAP, Oracle ERP, IBM AS/400 Systems. Streebo's AI-Powered Health Insurance Bots are very intuitive and highly intelligent and can be extended to multiple channels, such as social media channels WhatsApp, Facebook Messenger, SMS, Telegram, Signal, WeChat, Skype, and voice-enabled platforms like Google Home, Amazon Alexa.
Business Benefits
The insurance sector will be benefited from AI-powered bots by the increase in productivity as employees can focus on higher-value more productive work, and avoid working on repetitive, mundane tasks. Further, it also benefits in improved accuracy as a result.

Further, by rolling out AI-Powered Health Insurance Bot and Conversational Interfaces across channels, Insurance Industry will witness benefits such as:

Decreased Operational Cost as the customer queries will be handled via chatbot itself and will remarkably increase the conversion rate.

Increased Revenue & Customer Outreach because of the extended presence on multiple digital channels such as WhatsApp, Facebook Messenger, SMS, Telegram, WeChat, Signal among others.

Round the clock Customer Query Resolution which will significantly increase Customer Satisfaction rate and Customer Retention rate.

Hence Virtual Assistants will not only be cost-effective but will also ease out business management by providing automated customer support.
Insurance Bot extended on Social Media Channels
Facebook Messenger Bot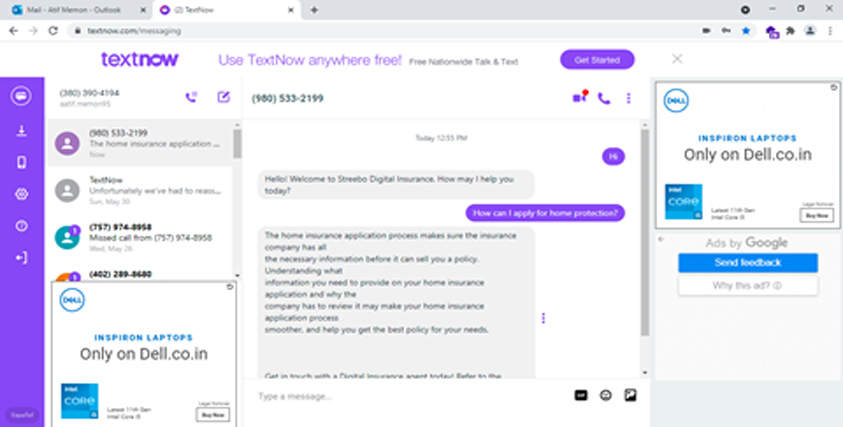 SMS Messenger Bot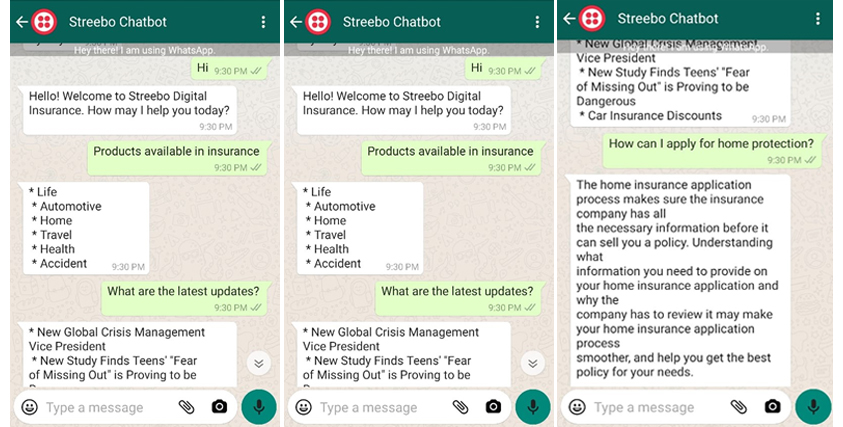 WhatsApp Messenger Bot
Why Streebo's Health Insurance Bots
Streebo, in collaboration with leading technology organizations like IBM, RedHat, Google, and Amazon has created a powerful and secured solution. Further, they can be extended to any insurance company's site and their mobile app. Streebo's AI-Powered Health Insurance Bots can cater to use cases for Custome Facing Bots.

Key differentiators of Streebo's Pre-Trained and pre-integrated AI-Powered Health Insurance Bots for Customers:

Built-in Domain Intelligence
Streebo in collaboration with its technology partner deploys highly intelligent pre-trained Bots that can emulate business processes pertaining to Insurance Industry.

Omni-Channel Experience
Streebo's Health Insurance Bot can be deployed across social media channels such as WhatsApp, Facebook Messenger, SMS, Telegram, Signal, WeChat, Skype, among others. They can even handle voice channels such as IVR, Amazon Alexa, and Google Home. Bots can even be deployed to on web (existing health insurance site) and mobile (existing mobile app).

Pre-Integrated with Backends
Streebo's Health Insurance Bot is pre-integrated into most of the ERP/Insurance Management Systems such as SAP, Oracle ERP, IBM AS/400 Systems, and CRM such as Salesforce, SugarCRM, etc. which are commonly used in the insurance industry.

Flexible Deployment Models
Streebo's Pre-Trained Health Insurance Bot can be deployed on-premises or on IBM Cloud, Microsoft Azure, Amazon AWS, or Google Cloud Platform.

Ease of Development & Maintenance
Streebo's Pre-Trained Health Insurance Bot for Customers is built using open standards such as Java and JavaScript. Also comes bundled in with Streebo's bot Builder a low code no code tooling to assemble, integrate and manage the bot. Thus, making it easy for both line of business and people in IT with minimal or no background in Artificial Intelligence to assemble, integrate and manage the bot moving forward. Streebo's bot builder is optional development-only tooling that customers can choose or they can directly develop and manage it using standard IDEs such as Eclipse and Visual Studio.

Chat Analytics
Streebo's analytics dashboard is developed to record and display systemic data, metrics, preferences, and trends which eventually help in monitoring user interactions, and can be adapted accordingly to give relevant responses and take business decisions.
Our AI-Powered Health Insurance Chatbot Supports Below mentioned Features

Guaranteed Bot Intelligence Index of 99%(*BII = No of ques answered correctly/no of relevant ques asked)

Omni-channel Solution

Secured

Multilingual Support with support for over 38 languages

Support for both voice and chat channels

Inbuilt Live Agent Support

Support Feature Phone
Our pre-trained Retail Fashion Bots are trained in the following Operations

FAQs (Frequently Asked Questions)

Learning Center (Videos/Articles)

Quote Generation

Product Catalogue

Order Management

Policy Service (View, Download)

Online Payment

Newsletters

Branch Locator

Browse Products

Quote Management

Purchase a Policy

Claim Management

Policy Renewal

Login/Registration

Profile Management
Pricing Options
MVP (Minimum Viable Product) bot includes

3 transactional use cases

1 backend integrations

50 FAQ's

Channels – Web, Mobile App, 1 Social media channel such as WhatsApp/Facebook Messenger
Capex Option

You can choose to buy the MVP Bot.
Opex Option

You can choose to Subscribe to the MVP Bot at no upfront setup fee.
Pay Per Usage

This is a conversation-based subscription and tied to the number of conversations, hence there is no constraint on the scope.