Streebo SMART® Banking Bot for Marketing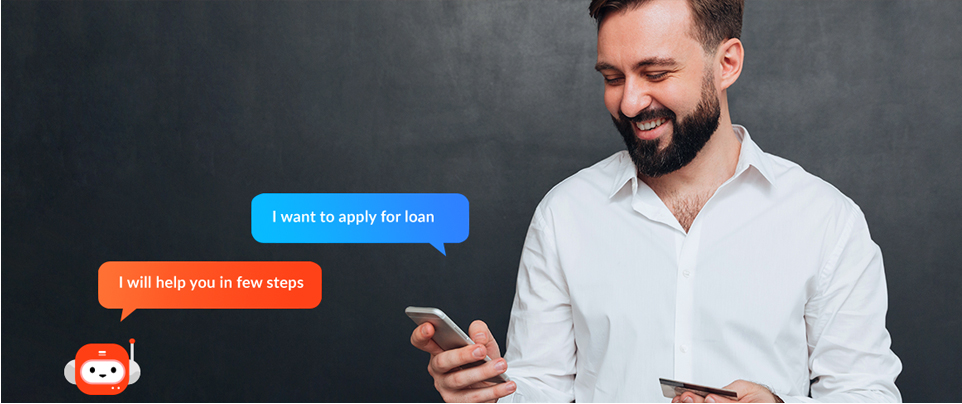 The coronavirus pandemic situation confined the entire world in their homes and forced contactless communication through mobile. A significant shift is the usage of social media and messaging platforms among end-users. A recent Tech Crunch study noted a 40% jump in the usage of social media platforms such as Facebook Messenger, WhatsApp, Skype, and SMS. Customers now prefer to use asynchronous channels as a mode of communication rather than traditional channels such as phone or in-office contact. This irreversible change poses both a challenge and presents an opportunity for Banks. Organizations that will leverage these asynchronous communication channels to interact with their prospects and customers stand to acquire new customers and gain market share. However, assigning more humans to manage these channels and answer queries over them is not scalable. So, the question is …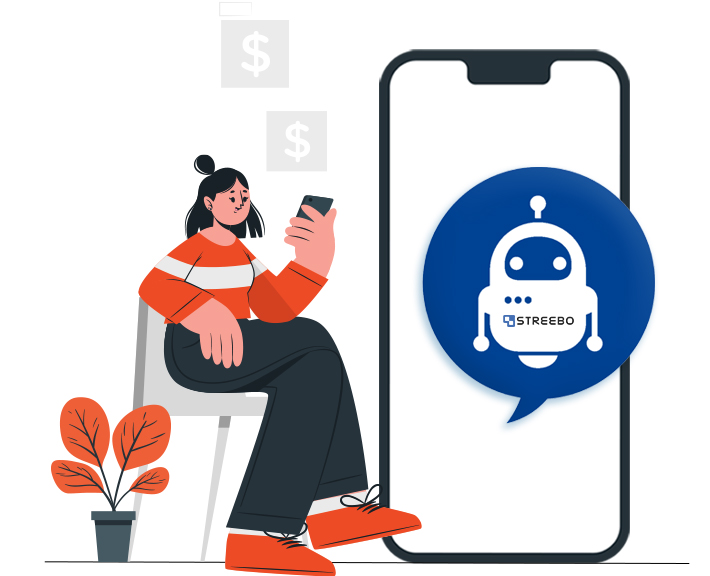 What Banks can do to adapt and take advantage of the Industry Change
With the advancements in Artificial Intelligence (AI), particularly in Natural Language Processing (NLP) technology, it is now possible to deploy automated and scalable Chatbots or Virtual Assistant solutions to interact with customers or prospects over social media channels. Chatbots and Virtual Assistants powered by Artificial Intelligence can emulate human conversations and provide seamless yet secured interactions to end-users over these social media channels. The digital experience now has to move beyond the web & mobile, and banks have to think about giving an omnichannel experience including a conversational interface. Using the chatbot as a component in an omnichannel banking strategy enables banks to expand their network. By utilizing these newer channels such as Facebook Messenger, WhatsApp, SMS, Amazon Alexa, Google Assistant, Siri, etc. for their prospective interactions, banks can improve their outreach and acquire new customers. Lastly, by adding Chatbot to their web page banks can increase the average time spent on their web page which in turn has a direct effect on their SEO rankings. According to a recent Deloitte study, on an average, banks improved their bounce rate by over 17% by deploying chatbots on their website.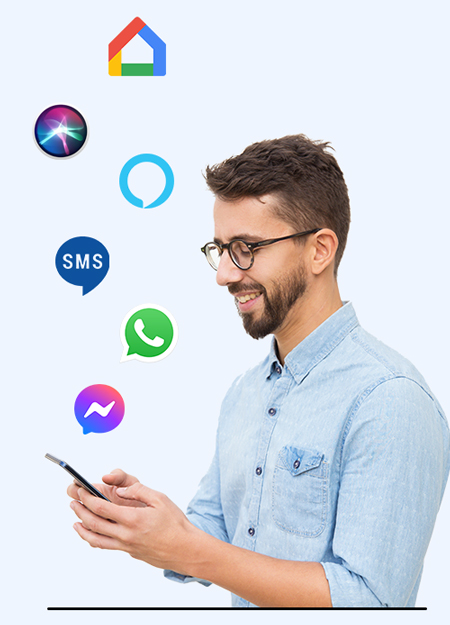 Streebo's SMART® Bots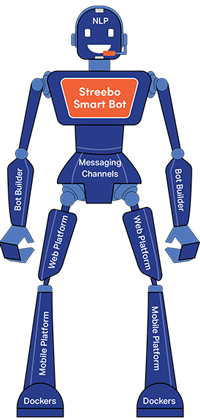 Streebo a leading AI and Digital Transformation Company has created an immensely powerful, intelligent, and Pre-trained AI Powered Chatbot for Banking. These bots are guaranteed to be 99% accurate and are pre-integrated with a wide variety of CRMs, Campaign Management Systems, Core Banking Software and Payment Systems. Moreover, these Bots leverage leading Natural Language Processing engines such as IBM Watson Assistant, Amazon Lex, and Google Dialogflow to extend these commerce experiences to a variety of social media platforms.

Streebo's Banking Chatbot for Marketing includes advanced reporting and analytics to gain better insights into acquired leads. That is why Streebo's AI Powered Banking Chatbot for prospects has a powerful ROI as it can improve lead conversion ratio and thus increase revenue for organizations deploying them.
Business Benefits
According to a study by Deloitte, it has been observed that over 10% of customers would buy items from conversational Interface and close to 23% of consumers are interested in chatbots for their instantaneity.

Hence by adopting Conversational Marketing Bot Service across channels and making your existing digital properties omnichannel will help banks with the following benefits:

Increased Lead Generation and Qualification

Bot can leverage the bank's digital properties or multiple digital channels such as WhatsApp, Facebook Messenger, SMS, among others to easily reach out to their connections to generate leads and qualify those leads with relevant questions.

Improved SEO

The bot can engage your users on your website thus increasing your session time and reducing your bounce rate. This improves SEO page ranking and improves leads generation by an average of 23% thus even making your online ad spending more effective.

Improved Agent Productivity

Chatbot can help by gathering initial information and analysis about a service case before handing it off to an Agent.

Improved Customer Engagement

NLP-aided features and transactional agility will not only improve the engagement by educating the customer but drive adoption amongst the dormant loan accounts. Also sends notification and reminders so that, no one misses the due date.

Reduced Marketing Cost

Having a Banking Chatbot for Marketing in your Team results in a significant decrease in marketing and promotion costs and a remarkable increase in the customer satisfaction index.

Reduced Intervention

Banking Chatbot for Marketing can assist customers in operations like create an account, eligibility checks, apply for a loan, service requests, payments, etc. without human intervention.
AI Powered Conversational Interface extended on Social Media Channels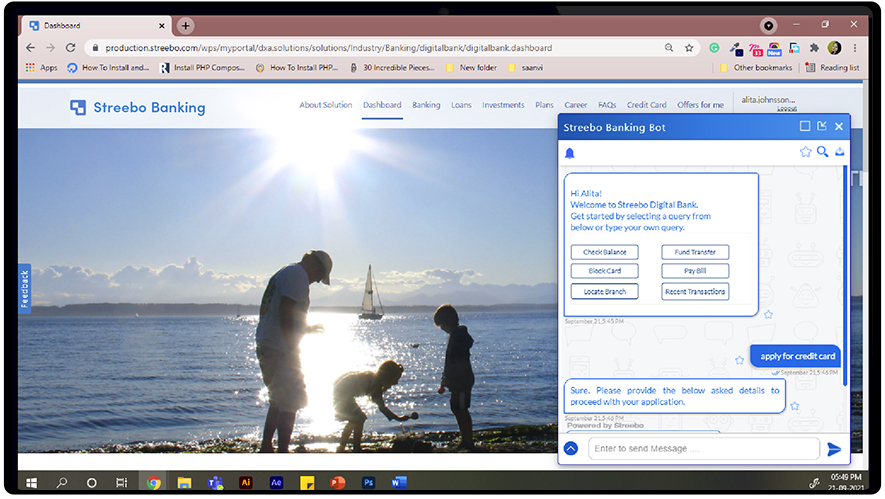 WebApp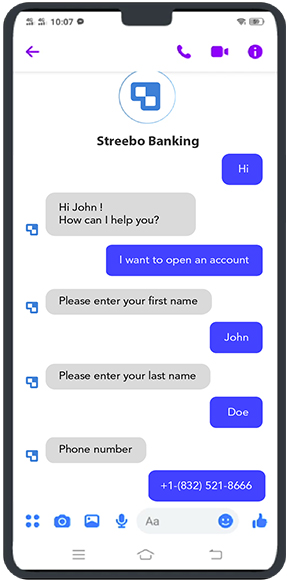 FB Messenger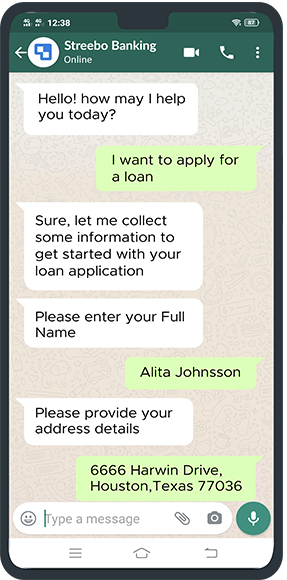 WhatsApp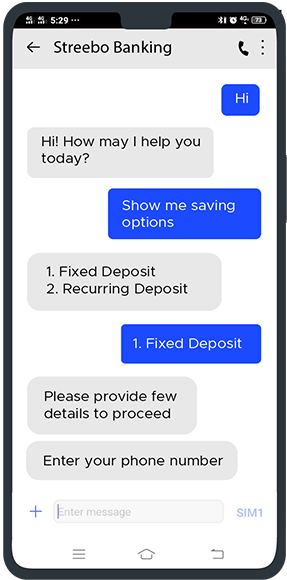 SMS
Streebo's Pre-trained Banking Chatbot for Customers and Prospects is Trained in the Following Marketing Operations

Answer FAQs (Frequently Asked Questions)

Eligibility Checks of a Customer

Browse Products Details

Generate A Quote

Apply for a Loan

Create an Account

Manage Service Request

Customer Support and Query Resolution

Track status of Loan Account

Interact with e-Commerce Platforms

Payment and Repayment Transactions

Update Profile

Document Upload

Feedbacks and Reviews

Offers and Promotions

Rewards for Consumer
Why Streebo's Marketing Chatbot for Banking?
Streebo in collaboration with leading technology organizations like IBM, RedHat, Google, Amazon, and HCL Technologies has created a powerful and secured solution.

Key differentiators of Streebo's Pre-Trained and pre-integrated AI Powered Banking Chatbot:

Built-in Domain Intelligence
Streebo's Team with its dozens of customers in Banking AI Chatbots holds deep domain knowledge deploys highly intelligent pre-trained Banking Bots for Marketing that can emulate business processes of various Banks.

Omnichannel Advantage
Marketing Bot can be deployed across social media channels such as FB Messenger, WhatsApp, WeChat, Skype, and even SMS. They can even handle voice channels such as IVR, Amazon Alexa, and Google Home. Bots can even be deployed to existing digital properties such as the website and mobile App.

Pre-Integrated with Backends
Streebo's Banking Bot comes in pre-integrated with Core Banking Solutions such as EdgeVerve Finacle, Oracle FLEXCUBE Core Banking and SAP Core Banking Services among others.

Flexible Deployment Options
Streebo's Pre-Trained Conversational AI for Banking can be deployed on-premise or on IBM Cloud, Microsoft Azure, Amazon AWS, or Google Cloud Platform.

99% Intelligent Bot
Streebo Chatbot comes with Guaranteed Bot Intelligence Index* of 99% (*BII= No. of questions answered correctly/No. of relevant questions asked).

Advance Chat Analytics
Streebo's analytics dashboard is developed to record and display systemic data, metrics, preferences, and trends which eventually help in monitoring user interactions, and can be adapted accordingly to give relevant responses and take business decisions.

Lower TCO
Streebo's Pre-Trained Banking Chatbot is built using open standards such as Java and JavaScript. Streebo's bot builder is optional development-only tooling that the customer can choose or they can directly develop and manage it using standard IDEs such as Eclipse and Visual Studio that significantly lower app development costs as well as reduced support & maintenance costs.

Standard Architecture
Build on Natural Language Processing engines such as Amazon Lex, Google Dialog, and IBM Watson Assistant, Streebo's Smart Bots are built on robust software. Application Platform technologies include support for standard J2EE engines including IBM WebSphere or JBOSS and can be deployed as standard Docker and Kubernetes packages on platforms such as RedHat OpenShift.
Our AI Powered Banking Chatbot Supports Below Mentioned Features

Omni-channel Solution

Secured Architecture

Multilingual Support for over 38 languages

Support for both voice and chat channels

Advance Chat Analytics

99% Accuracy

Cross-sell & Upsell

Improve SEO
Pricing Options
Minimum Viable Product (MVP) Bot includes

3 transactional use cases

1 backend integrations

50 FAQ's

Channels – Web, Mobile App, 1 Social media channel such as WhatsApp/Facebook Messenger
Capex Option

You can choose to buy the MVP Bot. This option covers unlimited messages.
Opex Option

You can choose to Subscribe to the MVP Bot for a fixed monthly charge with no upfront setup fee.
Pay Per Usage

This is a conversation-based subscription and tied to the number of conversations & messages the bot handles.