Red Hat- Streebo Partnership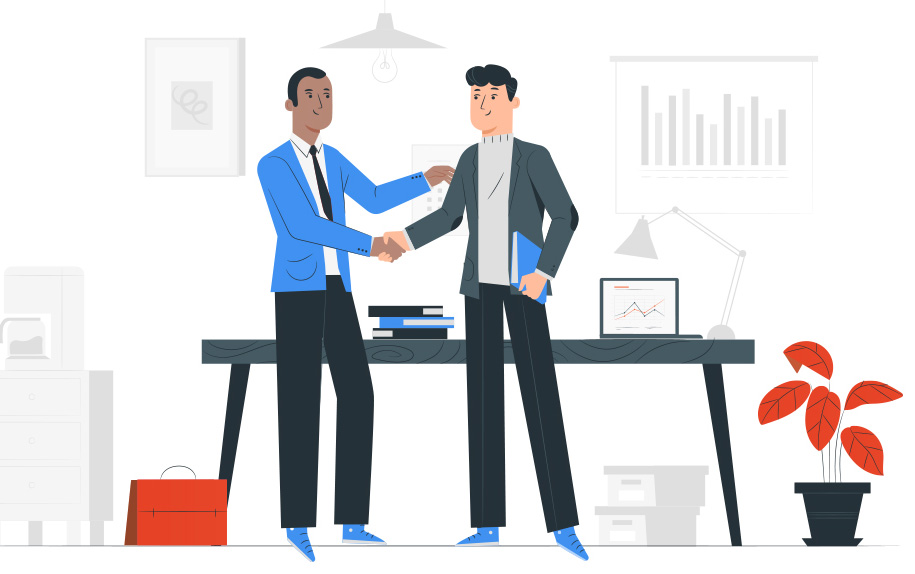 Streebo became Red Hat's partner since its acquisition by IBM in 2019. Realizing the potential and robustness of Red Hat's AI compatible platforms we began infusing our Chatbot Solution with Red Hat products such as Open Shift, JBoss, Fuse among others.

Streebo's Cloud-ready Chatbot solution powered by our copyrighted dynamic automation tool DXA (Digital Experience Accelerator) when combined with Red Hat's open source products makes up a very powerful, enterprise-grade, robust, scalable, secure solution that enterprises possibly cannot go wrong with.
Red Hat's Chatbot Solution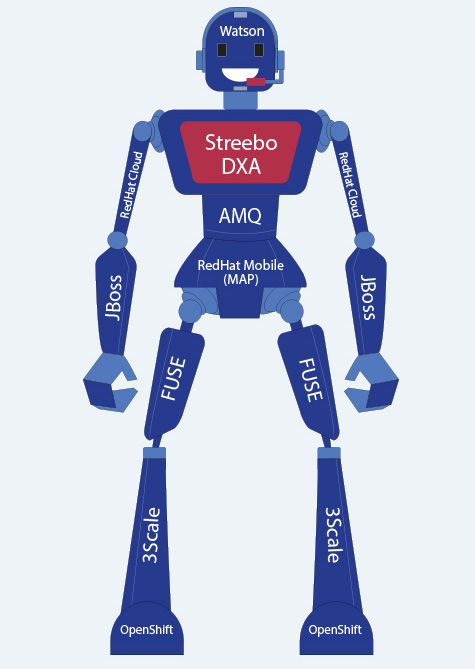 Streebo is an expert in building AI powered Virtual Assistants. With its revolutionary low code, no code tooling, Streebo can build Natural Language Processing (NLP) driven, AI powered Bots over 9x faster. These Chatbots are superior in quality and provide immediate value to an organization. Red Hat powered Chatbots can extend customer's existing apps to multiple social media channels such as WhatsApp, Facebook without writing separate code for each, effectively increasing an enterprise's Customer Outreach and Acquisition!
Red Hat Products we work with
Streebo's Red Hat powered Conversational Interface
Streebo has a Conversational Interface Offering which consists of leading Red Hat Products. Streebo modernizes and containerizes the existing App structure of an organization with cloud-ready Red Hat Products and makes the app voice and chat activated by extending client's existing desktop, web and mobile applications to a Conversational Interface. This Conversational Interface can reside on multiple channels of customer's choice such as WhatsApp, Facebook, Sametime, Slack among others without requiring separate code base or maintenance for each.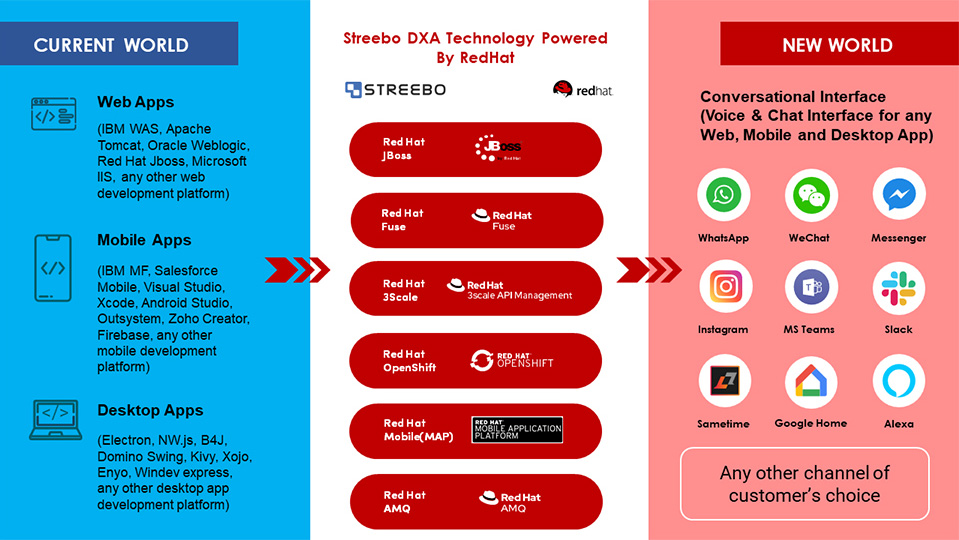 Red Hat's Conversational Interface is powered by the leading NLP (Natural Language Processing) Engine IBM Watson Assistant
The intelligence and intuitiveness of the Conversational Interface (CI) is provided by IBM Watson Assistant. It is recognized as the leading NLP by Forrester and Gartner. Watson identifies the user utterance and co-relates it to the relevant intent and gets the conversation going.
ROI with Watson Assistant
Forester's interviews with four existing customers and subsequent financial analysis found that they experienced benefits of $23.9 million over three years versus costs of $5.5 million, adding up to a net present value (NPV) of $18.4 million and an ROI of 337%.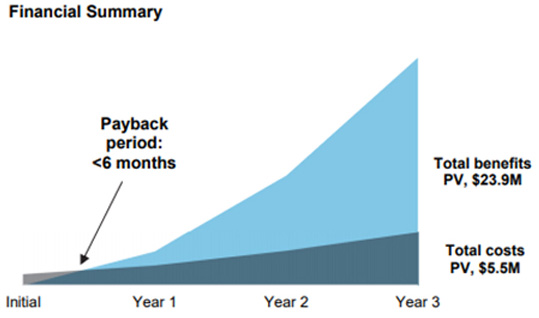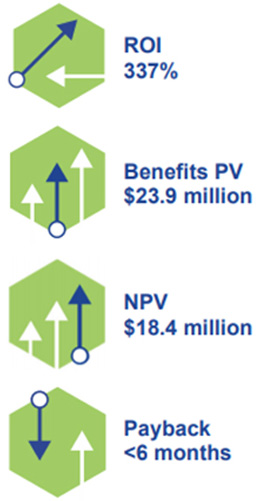 Business Benefits of Streebo's AI & Red Hat powered Chatbots
Research, studies and real world implementation of Red Hat powered Streebo Chatbots show that by adding AI powered Voice & Chat interfaces, Enterprises are seeing better adoption of their Digital Properties as well as some very compelling Employee and Customer centric Business Benefits
Employee Centric Business Benefits
80% Increase in Productivity
With Red Hat powered Streebo bots in place, employees can focus on higher value work, stay happy and not get frustrated working on repetitive, mundane tasks such as fund transfer or answering same questions over and over again to different customers and such.
70% Decrease in Operational Cost
Red Hat Bots are faster, more efficient and cheaper than human agents! In addition, they do not require holidays, insurance, time-off or any other perks or benefits human agents demands! Hence an organization experiences decreased operational cost over a period of time!
Improved Accuracy
Computers are more accurate than humans and neither do they have a transient memory. As a result, enterprises in general enjoy higher accuracy rates with Red Hat Bots! This in turn contributes to higher Customer Satisfaction Index and enhanced Brand value!
Affordable Head Count
Streebo has a variety of Bots for every employee, every function, every role which means Enterprise Bots can handle variety of functions with ease and aplomb! This allows organizations to afford to scale operations with a limited set of FTEs (Full Time Employees) and save cost!
Customer Centric Business Benefits
90% Increase in Customer Satisfaction
24×7 availability, consistent customer experience, 100% accuracy, personalized, customized service/answers, zero mood deflections are some of the benefits that AI powered Pre-Trained Red Hat Bots from Streebo offers because of their programmed selves and also because of the basic nature of computers/machines/systems, leading to a very high Customer Satisfaction Index!
Expanded Customer Reach
Streebo's Pre-Trained Enterprise Bots are available across 52+ channels such as WhatsApp, SMS, Facebook Messenger, Skype and more, thus allowing Enterprises to reach customers on channels of their choice!
Increased Customer Acquisition
The Virtual Agent Red Hat solution from Streebo offers various statistics and figures that an organization can analyze for deeper insights into Customer behavior, buying or browsing patterns and more. This allows Enterprises to make data driven decisions instead of relying on intuition, guesses and hunches (resulting in more accurate and promising returns)!
Increased Customer Retention
A retained customer is always a HAPPY customer! Features like high customer satisfaction, 100% accurate answers, 24×7 availability, customized offers and discounts, consistent and complete customer experience are the key benefits offered by Streebo's Red Hat powered Enterprise Bots that make customers HAPPY, compelling them to stay with the Organization and the Brand!
Streebo also provides Industry & Domain specific solutions tailored to suit the dynamic enterprise needs
Check out our range of Red Hat & AI powered Bots
we offer for various Technology Stacks