Revolutionize your Customer Experience with AI Powered Omni-channel Digital Retail Experience
Request a Demo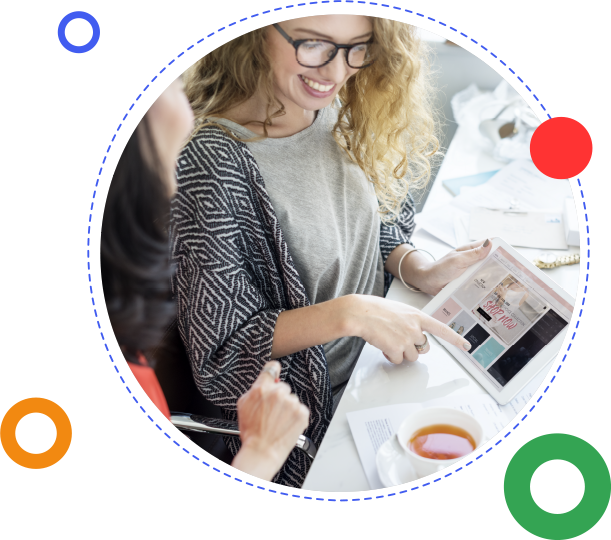 Trusted By




















The COVID-19 pandemic has upended the retail industry resulting in an unprecedented and unforeseen growth in the Digital Retail sector and a dramatic shift in customer behavior. This abrupt shift has led the retailers to transition from brick & motor stores to digital channels including web, mobile and social media channels. According to new data from IBM's U.S. Retail Index, the pandemic has accelerated the shift from physical stores to digital shopping by roughly five years. Also, as per TechCrunch's report online shopping through various social media channels like WhatsApp, Facebook Messenger, SMS has increased by 40%. To adapt and grow in the Digital Transformation Journey, the barrier that LOB and IT teams are scuffling with is the limited tech budgets and to deliver better customer service 24*7 across multiple channels.
Smart Retail Omni-channel Solution
Building the Future of Retail Industry
Today, we are seeing that the wave of Digital Transformation and the advancement in Artificial Intelligence (AI) & its adjacent technologies is sweeping across various digital platforms. By leveraging this opportunity, Streebo in conjunction with its leading technology partners IBM, Google and Amazon have tried to resolve the key business challenges by extending the businesses across widely-used voice and chat channels in order to revolutionize the customer journey.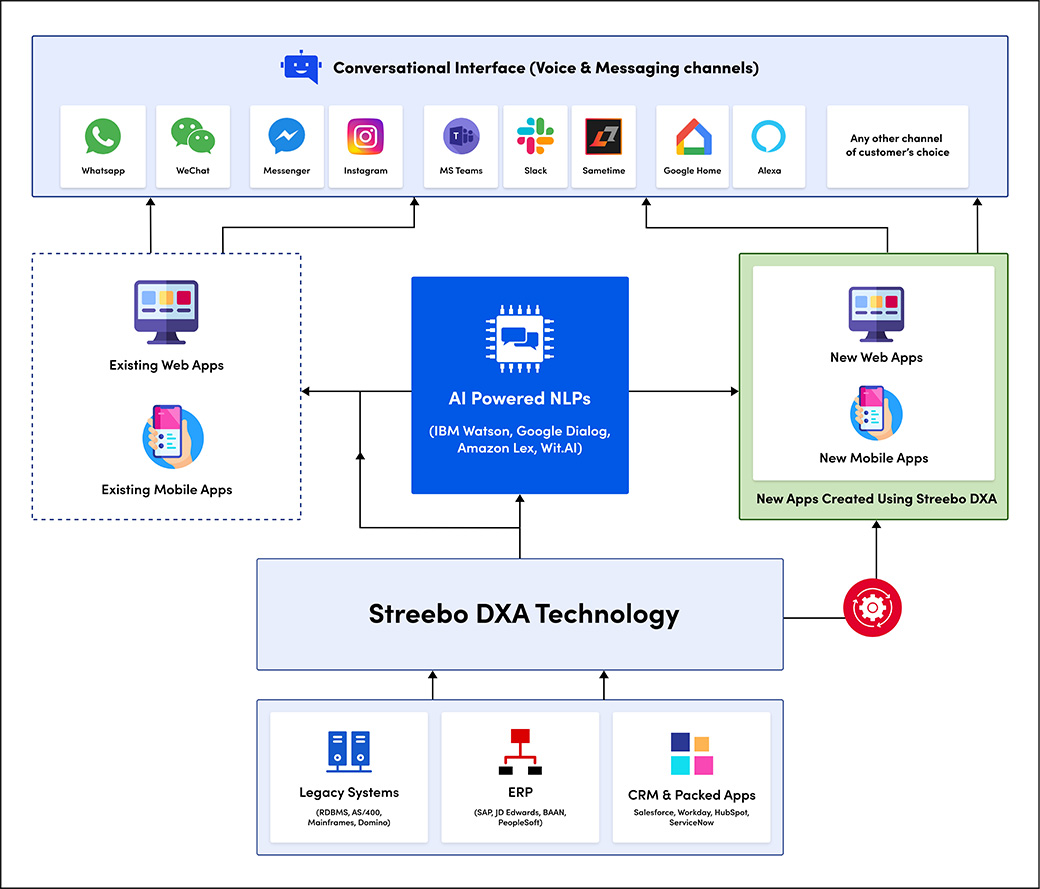 Streebo has rolled out a pre-packaged, ready-to-use omnichannel Retail Solution (COTS) to elevate and improve your customer experience. To cope up with the changing customer demands these solutions can be further extended to your existing web & mobile applications as well as to various voice and chat interfaces. Powered by Streebo's Digital Experience Accelerator (DXA) and Streebo's (low-code no-code) App Builder, the single code base solution can be managed by both IT as well as Non-IT Team members. The point and Click Interface feature in the App Builder allows integrating these solutions to the desired backend system.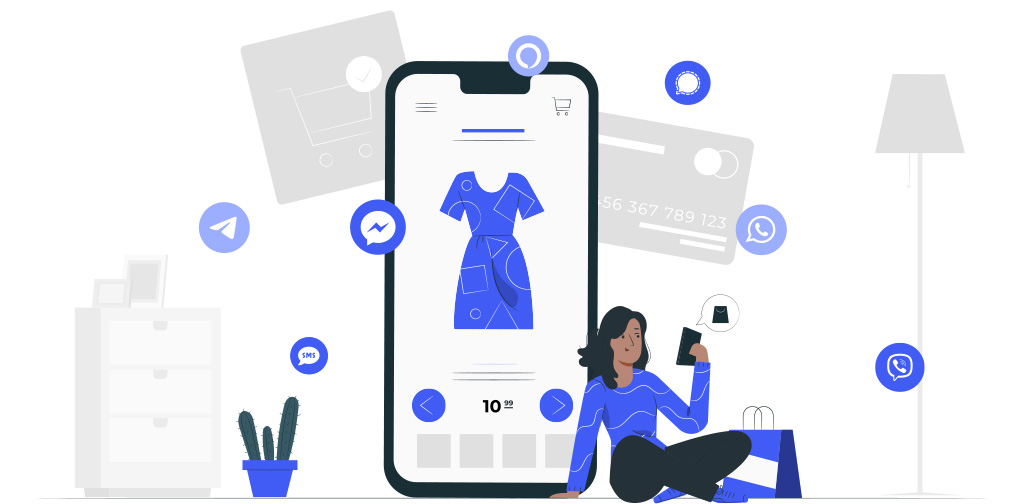 Leveraging AI and leading Natural Language Processing (NLP) Platforms such as IBM Watson, Google Dialog and Amazon Lex allows easy extension of the web & mobile application across various messaging platforms including WhatsApp, Facebook Messenger, SMS, Telegram, Viber, Instagram, Signal, Google Home, Amazon Alexa, among others. You can even choose to simply upgrade and extend your existing web & mobile applications to various voice and chat channels by leveraging leading NLP engines from IBM, Google and Amazon.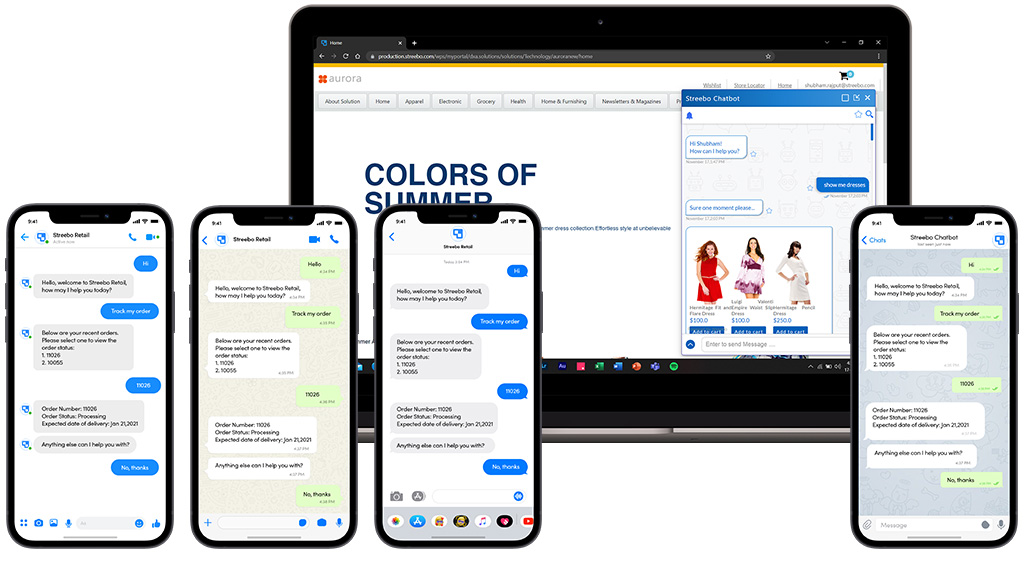 Request a Personalized Demo from our Experts
We ensure you're matched with the right talent based on your requirement.
Key Modules

FAQs (Frequently Asked Questions)

Store Locator

Browse Products

Add Product to Wishlist/Cart

View Wishlist/Cart

Clear Wishlist/Cart

Buy a Product and Make Payment

Track Order

Customer Support

Smart Assist – Product Recommendations based on Purchased/Browsed Items

Update Profile

Return/Cancel Order

Product Reviews

Wallet

Offers and Promotions

Gift Cards

Search Product by Photo or Capturing Image

Popular Searches and Trending Items

Live-Agent Support

Try Avatar – Upload your image and check how the product will look on you
Key Features & Differentiators

In-Built Domain Intelligence
Streebo in collaboration with its technology partner deploys a cognitive intelligent omnichannel solution that can emulate your business processes.

Omni-Channel Experience
Streebo's Omnichannel Retail solutions can be deployed across web, mobile app, social media channels including WhatsApp, Facebook Messenger, SMS, Signal, We Chat, Viber, Google Chat, Telegram, among others. This solution can further be deployed on voice channels like Google Home, Amazon Alexa, Siri and even IVR.

Role based & Secure access
Streebo's Omnichannel Retail Solution is built on top of robust infrastructure from top technology providers such as IBM, Red Hat, Google and Amazon. Hence, they have tight security and scalable infrastructure in place.

Lower Maintenance Cost
As the Omnichannel Retail Solution is built with a Single Code Base for all the Digital Assets– the application can be updated and deployed in one single click, thus saving the cost of managing individual applications across various platforms.

Flexible Deployment Models
Streebo's Retail Solution can be deployed on-premise or on IBM Cloud, Microsoft Azure, Amazon AWS or Google Cloud Platform.

Ease of Development & Maintenance
Streebo's Retail Solution is built using a low code no code tooling thus, making it easy for both Line of Business and people in IT to assemble, integrate and manage the solution moving forward.

Flexible NLP Selection
Streebo's AI Powered Retail Solution is NLP Agnostic, be it IBM Watson Assistant, Google Dialogflow, Amazon Lex based upon customer's preference.

Advanced Chat Analytics
Streebo's analytics dashboard is developed to record and display systemic data, metrics, preferences, and trends which eventually help in monitoring user interactions, and can be adapted accordingly to give relevant responses and take business decisions.
Discuss your goals to determine the best path forward for your business
99% Accurate
Pay-Per-Usage
Pricing Options
Capex Option

You can choose to buy the Omnichannel Retail Solution.
Opex Option

You can choose to Subscribe to the Omnichannel Retail Solution at a monthly charge with no upfront setup fee.
Pay Per Usage

You can get the Conversational Interface "add-on" for your existing Web and Mobile app and simply pay per usage for voice and chat channels.