Revolutionize your Customer Experience with AI Powered Omnichannel Digital Airlines Solution
Request A Demo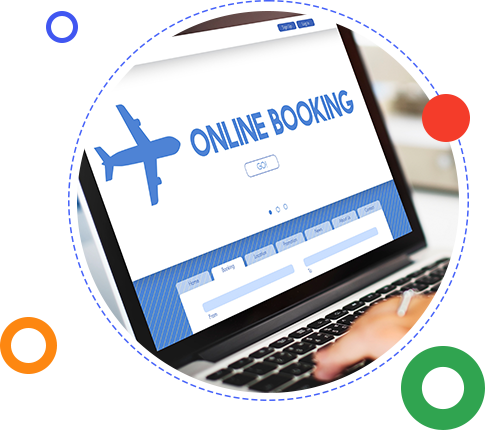 In the pandemic era, a significant shift has been observed in the usage of social media and messaging platforms among end-users. A recent Tech Crunch study noted a 40% jump in the usage of social media platforms such as Facebook Messenger, WhatsApp, Google Chat, Skype, and SMS. The airlines' operators have to be where their users are spending their time. As per a recent survey, about 68% of travelers prefer to communicate on social media channels like WhatsApp and Facebook Messenger instead of using a phone or website. The digital revolution is moving forward, and airlines operators are well aware that they need to get on board. The question is how to provide a seamless customer experience on this plethora of channels now available?
Smart Airlines Omnichannel Solution – Building the Future of the Airlines Industry
Advancement in Artificial Intelligence (AI) & Natural Language Processing (NLP) is sweeping across various digital platforms. By leveraging this AI/ML technology, Streebo in conjunction with its technology partners IBM, Google and Amazon has resolved this key business challenge by extending digital properties across widely-used voice and chat channels thus providing a seamless customer journey.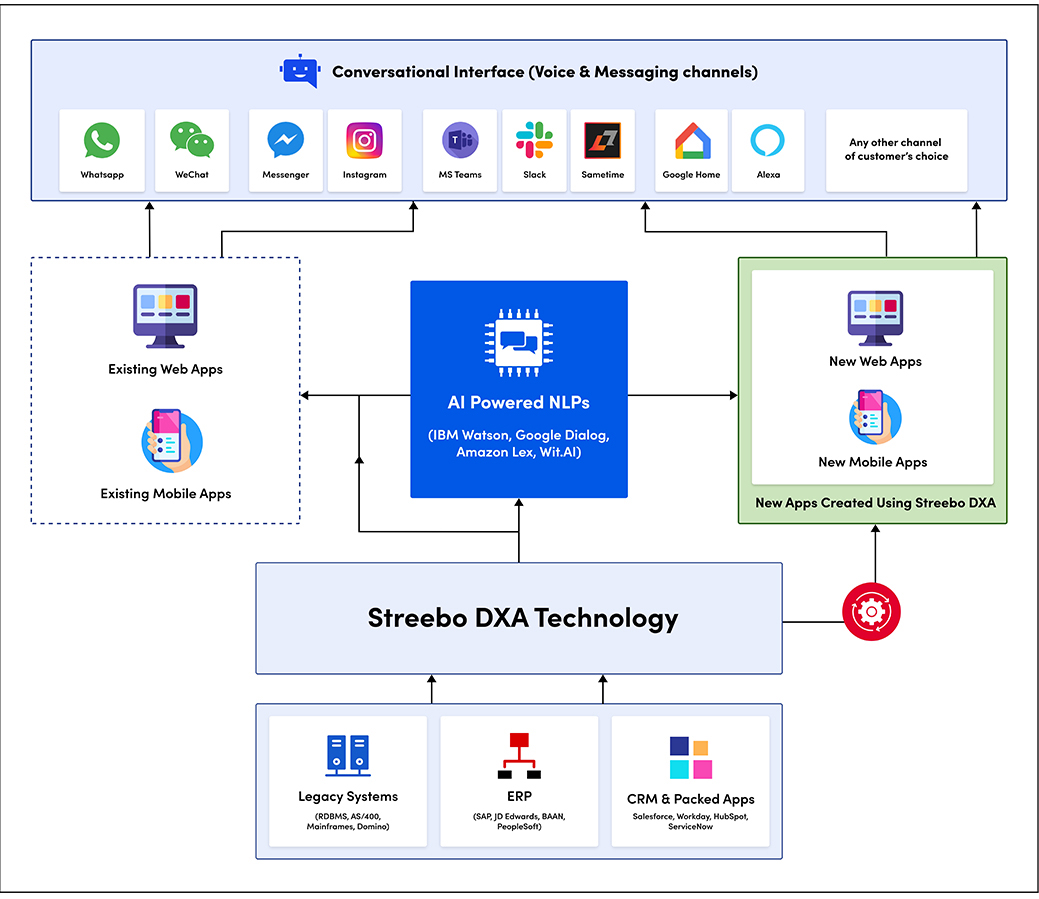 Streebo's Pre-Packaged Omni-Channel Solution for Airlines
Streebo has rolled out a pre-packaged, ready-to-use omnichannel Airlines Solution (COTS) to elevate and improve customer experience. Powered by Streebo's Digital Experience Accelerator (DXA) and Streebo's (low-code no-code) App Builder, the single code base solution can be managed by both IT as well as Non-IT Team members. The point and click Interface feature in the App Builder allows integration of these solutions with the desired backend system. Leveraging AI and leading Natural Language Processing (NLP) Platforms such as IBM Watson, Google Dialogflow and Amazon Lex allows easy extension of the web & mobile application across various messaging platforms including WhatsApp, Facebook Messenger, Google Chat, SMS, Telegram, Viber, Instagram, Signal, Google Home, Amazon Alexa, among others.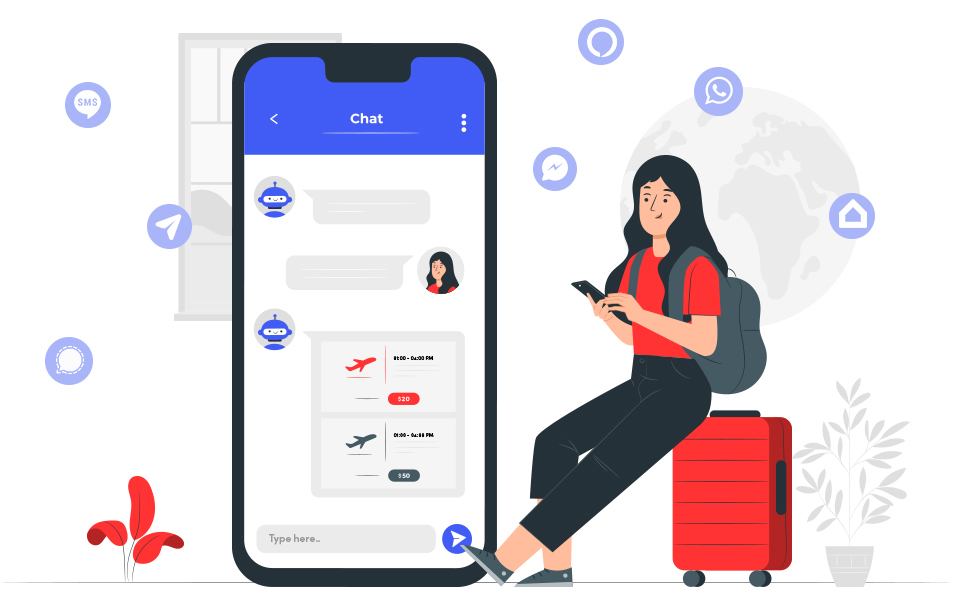 Key Modules

General FAQs (Frequently Asked Questions)

Search for a Flight

Manage Enquiries

Fetch Services in Details

Cost Estimates & Comparison

Create an Account

Manage Your Booking

Insurance/Food/Luggage Add-ons

Arranging for a wheelchair

Changing Travel Dates

Choosing Flight Seats

Online check-ins

Payment Transactions

Customer Support and Query Resolution

Feedbacks and Reviews

Reward Points
Business Benefits
According to a study conducted by Travelers Magazine,
47%
of consumers would book Flights from a Conversational Interface
Hence by AI-Powered Smart Solutions for Airlines will see the following benefits:

Increased Revenue
Streebo's Digital Solution for the Airlines Industry can leverage the digital properties such as web and mobile apps in addition to multiple digital channels such as WhatsApp, Google Chat, Facebook Messenger, Slack and SMS, among others to bring inquiries for their business. In addition to generating leads, it is proven to improve the conversion rate by an average of 12%.

No Language Barrier
Streebo's Digital Solution removes the language barrier with local language support, as the bot provides support to 38+ languages on chat as well as a voice interface that gives a more personal experience.

Effortless Booking Process
Streebo's Digital Platform for Flight Booking reduces the need for intervention of Airport/Airlines Staff which will fasten the booking process and check-ins. The Virtual Assistants infused solution also improves the passenger experience.

Create a Virtual Concierge
The solution can operate as a 24×7 virtual concierge and can recommend add-ons & services in a flight for a comfortable and safer journey.

Saves Cost
Having a Smart Solution for Flight Booking Services and onboarding, saves on customer support resources & training costs.
Key Features & Differentiators

In-Built Domain Intelligence
Streebo with over a decade of experience deploys a cognitive intelligent omnichannel solution for the airlines industry that can emulate business processes for airlines operators.

Omni-Channel Presence
Streebo's Omnichannel solutions can be deployed across the web, mobile app and social media channels including WhatsApp, Facebook Messenger, Google Chat, SMS, Signal, WeChat, Viber, Telegram, among others. This solution can further be deployed on voice channels like Google Home, Amazon Alexa, Siri and even IVR.

Role based & Secure access
Streebo's Omnichannel Airlines Solution is built on top of robust infrastructure from top technology providers such as IBM, Red Hat, Google and Amazon. Hence, they have tight security and scalable infrastructure in place.

Lower Maintenance Cost
As the Omnichannel Airlines Solution is built with a Single Code Base for all the Digital Assets– the application can be updated and deployed in one single click, thus saving the cost of managing individual applications across various platforms.

Flexible Deployment Options
Streebo's Airlines Solution can be deployed on-premise or on IBM Cloud, Microsoft Azure, Amazon AWS or Google Cloud Platform.

Pre-Integrated with Backends
Streebo's Digital Solution Airlines Industry comes in pre-integrated with Travel and Tourism Software and portals, backend systems such as CRM, ERP, etc.

Ease of Development & Maintenance
Streebo's Airlines Solution is built using a low code no code tooling thus, making it easy for both Line of Business and people in IT to assemble, integrate and manage the solution moving forward.

NLP Agnostic
Streebo's AI Powered Airlines Solution is NLP Agnostic, be it IBM Watson Assistant, Google Dialogflow or Amazon Lex based upon customer's preference.

Advance Analytics
Streebo's analytics dashboard is developed to record and display systemic data, metrics, preferences, and trends which eventually help in monitoring user interactions, and can be adapted accordingly to give relevant responses and take business decisions.
Pricing Options
Capex Option

You can choose to buy the Omnichannel Airlines Solution.
Opex Option

You can choose to Subscribe to the Omnichannel Airlines Solution at a monthly charge with no upfront setup fee.
Pay Per Usage

You can get the Conversational Interface "add-on" for your existing Web and Mobile app and simply pay per usage for voice and chat channels.