Video Production
Embrace true storytelling through amazing videos that connect
Visual Storytelling
We specialize in communicating your brand story, message and emotion across your audience by telling compelling stories that creates an emotional bond with the viewer and instills trust and empathy. As visual storytellers, we create videos that resonated with you brand, differentiates your product or service in such a way that it builds online following, increases online visibility and helps your business grow.

Our video production services spans from creating promotional video, animated explainer videos for your suite of products and solutions, creating customer success story videos, marketing videos and more.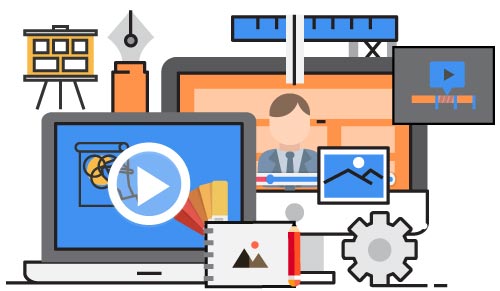 Video Production Service Offerings

PROMOTIONAL/
MARKETING VIDEOS
Create videos to promote your brand, product, solution or services.

DEMO
VIDEOS
Create product demo videos, app walkthrough videos for demo purposes.

EXPLAINER
VIDEOS
Training or whiteboard videos to explain concepts.
Styles of Videos
Screencast Video
A simple screen capture video of a desktop or mobile which showcases how your product or service works. These videos are more about education than branding.
2D Character Animated Video
This video style uses cartoon character animation to explain a product or service. The character personality is built as close to the audience to empathize with them. These videos are quite popular as they create a better connection with the viewers.
Whiteboard Animation
This technique is created by a cartoonist or illustrator, who draws on a whiteboard while being recorded by a camera. These types of videos are great for explaining complex information in a straightforward way.
Motion Graphics
This kind of video offers an engaging style for businesses with a more serious role and is a great way to explain abstract or complex concepts. It uses graphic elements in movement and use metaphors and syntax along with a powerful pallete of colors to convey complex messages that would have been impossible to otherwise convey. Recommended for B2B communication.
Motion Graphics with 3D Elements
Motion Graphics animation with 3D elements integration brings a more elegant and sophisticated look.
Cartoon Style with Motion Graphics
It's one of the most popular videos out there and, as simple as it sounds, it's a mix of techniques. Cartoon characters lead the story and provide a close approach with the audience, while the use of motion graphics animation is used to explain complex concepts. Recommended for B2C communication.
Stop Motion
It's a handcrafted animated video. An animator will take a picture every time each object moves, so 30 photos would result in 1 second of animation, and so on. It is an expensive affair.
3D Product Animation Video
A professional 3D animated video could be really amazing, since there are no limits to what a 3D video can accomplish. A character or motion graphics animation can also be developed in 3D with amazing results.
Video Production Process
Our experts work closely with you in every step of the video production process to ensure the alignment with your brand.

1

Conceptualization
We conduct a thorough discussion
with your team to understand product, target audience, messaging & budget to prepare a blueprint.
2

Pre-Production
Our expert content writers creates script which conveys a meaningful story which is then used for creating storyboard for the video.
4
Delivery and
Promotion
We help you strategize the video promotion activities to ensure it
reaches maximum audience by targeting right keywords.


3
Production and Post-Production
We create a first draft of the video along with backgorund score & voice over & get your feedback before creating a final version.