Artificial Intelligence Powered Customer Service
Insurance Chatbot for Customers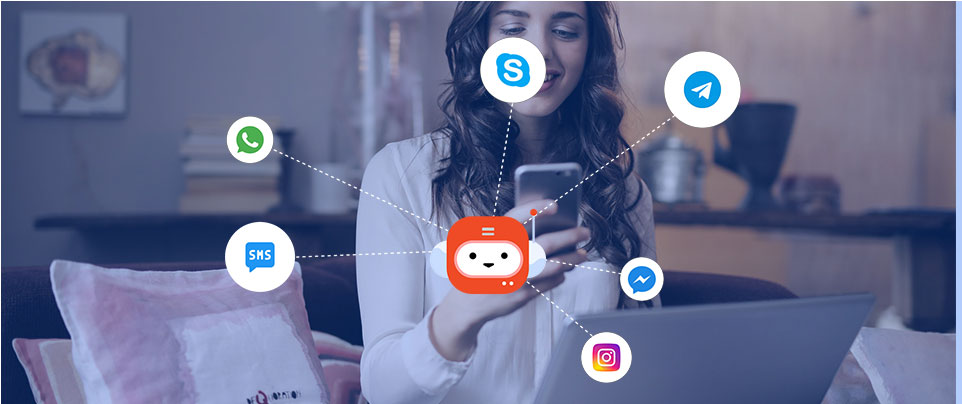 Global Pandemic has accelerated Digital Transformation across various sectors and has resulted in a shift in digital traffic.  As per TechCrunch's report, 40% of digital traffic has surged across social media platforms. People are avoiding stepping out of their homes and preferring online services instead of visiting an insurance office. It Is imperative for the insurance sector to offer their services online on multiple channels, such as SMS and Facebook Messenger, WhatsApp, Telegram, WeChat. To cater to the surge in inquiries assigning real humans is a cost-prohibitive and not scalable solution, to provide quick, consistent, 24*7 customer service and to increase customer outreach, Insurance Chatbots which can be extended to multiple platforms have become a need of an hour.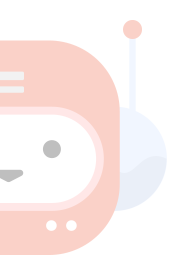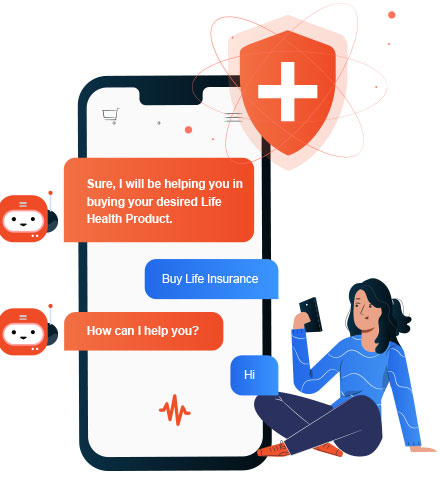 What Insurance industries can do to adapt and overcome the Industry Change
Streebo, a leading Digital Transformation Company has created an immensely powerful, intelligent, and a Pre-trained AI-Powered Insurance Chatbot for Customers. These bots are pre-integrated with most of the ERP/Insurance Management Systems, and CRM for lead management purposes, OCR for verification of documents, Quote Generation engine, etc., which are commonly used in the insurance industry. Streebo's AI-Powered Insurance Chatbot are very intuitive, highly intelligent, and can be extended to multiple channels, such as social media channels WhatsApp, Facebook Messenger, SMS, Telegram, Signal, WeChat, Skype, among others and voice-enabled platforms like Google Home, Amazon Alexa.
Business Benefits
According to a Juniper Study, the insurance sector will be benefited from AI including chatbots with cost savings of $1.3 billion (about $4 per person in the US) by 2023, up from $300 million in 2019.

Hence by rolling out AI-Powered Insurance Chatbot and Conversational Interfaces across channels Insurance Industry will witness benefits such as:

Decreased Operational Cost as the customer queries will be handled via chatbot itself and will remarkably increase the conversion rate by 15%.

Increased Revenue & Customer Outreach because of the extended presence on multiple digital channels such as WhatsApp, Facebook Messenger, SMS, WeChat, Telegram, Skype.

Increased Productivity by automating business processes.

Round the clock Customer Query Resolution which will significantly increase Customer Satisfaction rate and Customer Retention rate

Hence Virtual Assistants will not only be cost-effective but will also ease out business management by providing automated customer support.
Empowering Customers & Agents with
Insurance Bots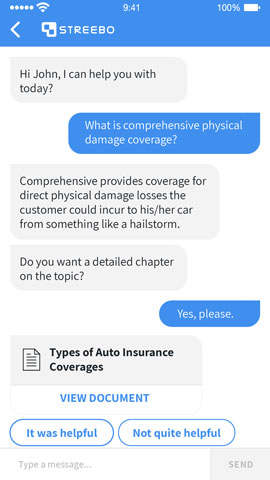 24×7 Agent Service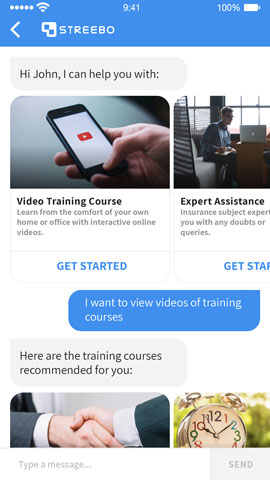 Agent Training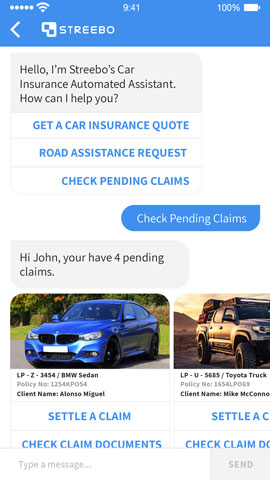 Claims Settlements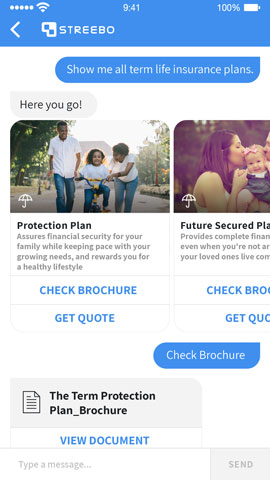 Document Retreival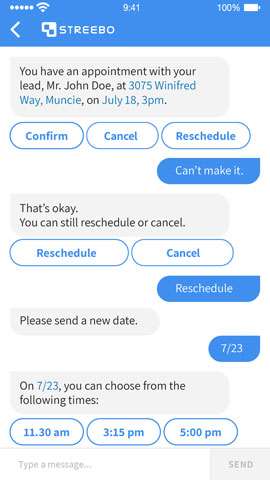 Lead Management & Reports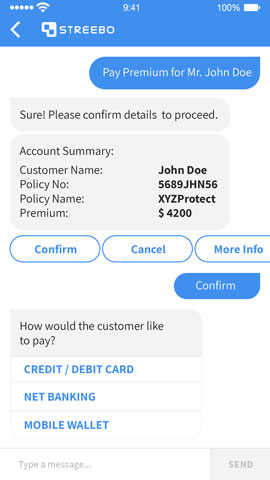 Premium Payments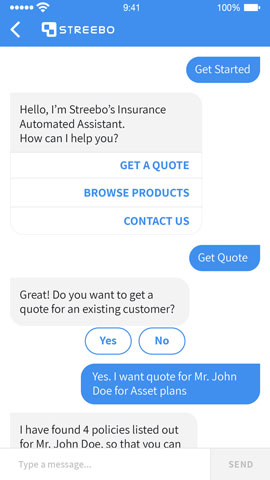 Quote Generation
Insurance Chatbot extended on Social Media Channel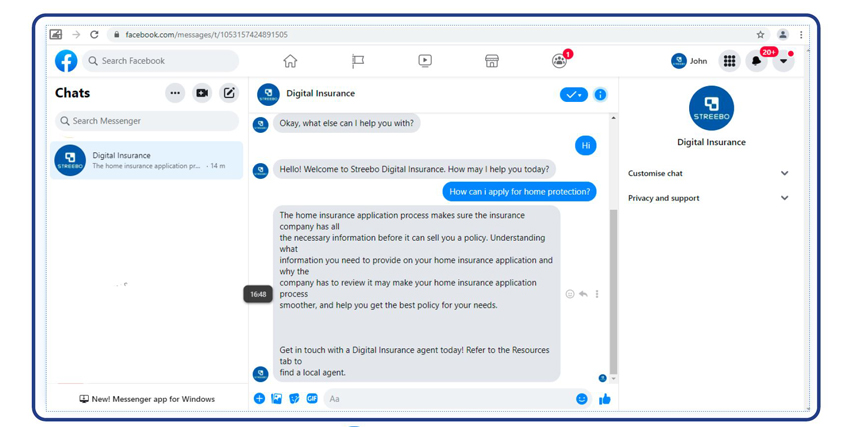 Facebook Messenger Bot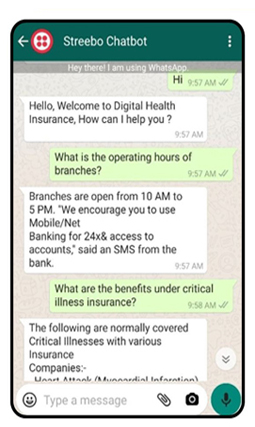 WhatsApp Bot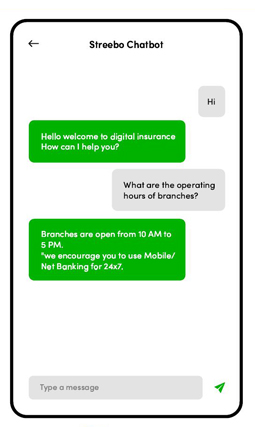 SMS Bot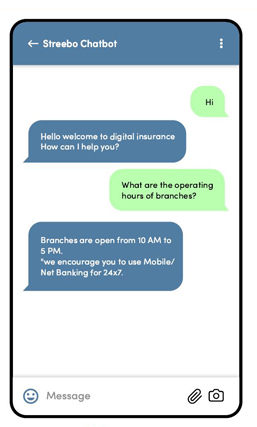 Telegram Bot