Enterprise E-Mail with ChatGPT – A Disruptive Solution
Email has become an indispensable part of our personal and professional lives. Its versatility is remarkable – from business messages to friendly greetings, from family updates to holiday cards – email can accommodate them all. Email is an invaluable tool that, over the past couple of decades, has become an irreplaceable part of our society.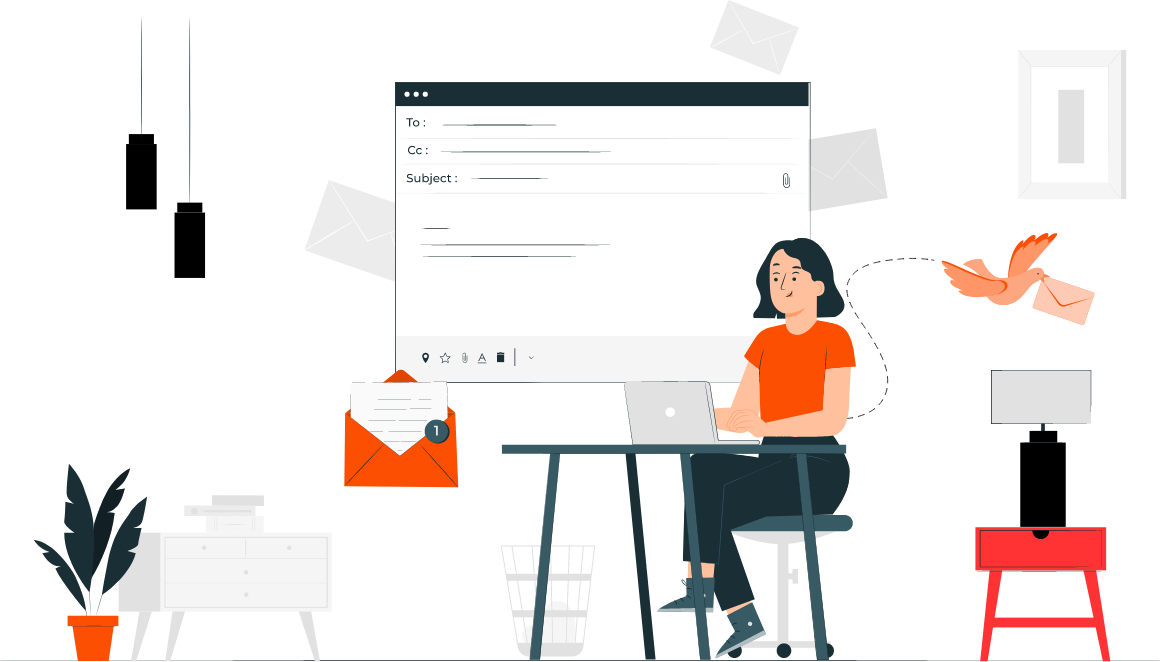 The user-friendly platform of email makes it accessible to people with varying degrees of tech literacy. This efficient communication model allows companies to keep in touch with customers internationally without sacrificing speed or incurring unreasonable expenses. All this makes clear why email has become such a widely used and indispensable medium for both internal and external communication purposes.
Even in an era of impressive technological advancements, it has maintained a unique presence and ability within the corporate landscape that other digital tools have yet to replicate. Most digital marketing campaigns rely heavily on emails and it remains one of the most efficient ways to extend your company's reach and connect with potential customers.

This is why despite the alternatives available such as social media or instant messaging apps like WhatsApp, companies still consider it an irreplaceable element in their strategy that needs careful planning and execution.

However, to manage business functions over email is expensive as you need humans to both read, understand the queries and then assemble a response that articulates the right message. The question on the floor is – is there a way to automate email for the enterprise?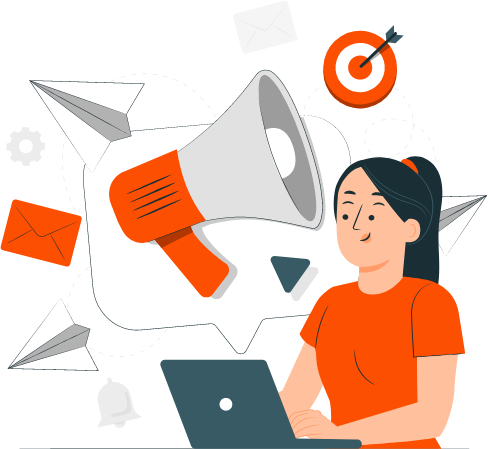 Email Chatbots
Email Chatbot (bots) are a fantastic way to automate mundane tasks, like answering common inquiries and delivering simple emails. As technology advances, the use of email bots has become more commonplace when dealing with customer service. However, although they are useful in providing generic responses quickly, they lack the capacity to understand complex requests and act accordingly, making them very simplistic in nature. It's estimated that 80% of customer service interactions involve email bots, and yet only 7% of customers feel recognized or valued by them.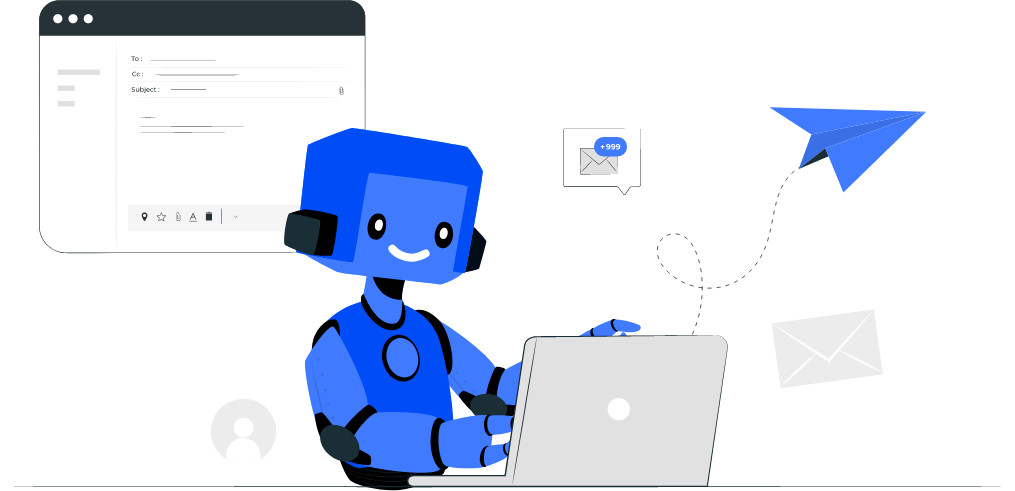 With so much potential for automation, it's clear that email bots must improve if businesses want to give their customers an enhanced user experience. It is only by investing efforts into making these bots smarter that we can make a real difference in how people interact with brands.

Email bots, in their current forms, are very limited in nature. One of the biggest reasons being that we have the technology to parse incoming emails; however, there is no easy way for computers to "craft" a response. Further, how do we integrate email servers with enterprise backend systems? How do they tap into the unstructured information inside a company?

Hence, email chatbot adoption has been limited thus far.
Enter ChatGPT from Open.AI
The advent of GPT-3 (Generative Pre-Trained Transformer) language model series from Open.AI, the GPT 3 technology is a powerful Generative AI Engine. While we had Natural Language Processing Engines like IBM Watson, Google Dialog from GCP and Amazon Lex from AWS around for a few years and they could parse emails – however, there was no easy way for us to then construct responses . GPT 3 has revolutionized that as we all now know it can generate text at human-level and even solve complex problems like those related to natural language processing and computer vision. This technology marks a new era of what human-computer interaction could be, one where algorithms make more creative decisions while still relying on data provided by humans. With GPT 3, we are seeing a new level of collaboration between people and machines, which will lead to more efficient programs, better results from predictive models, and an entirely new standard for how artificial intelligence should work in the future.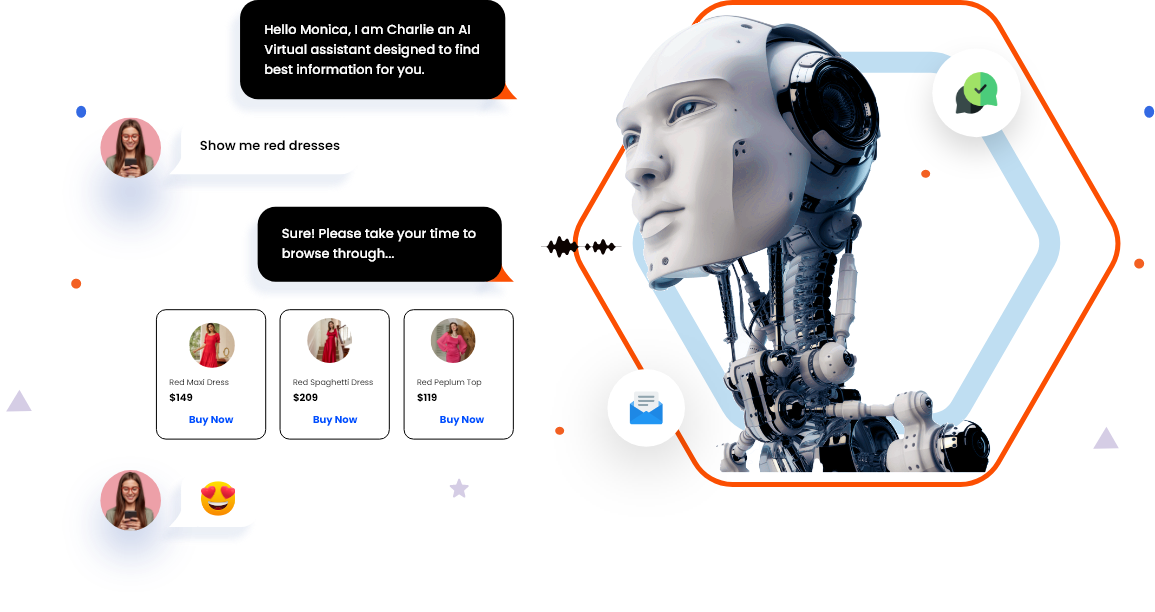 GPT 3 is a set of models that offer immense potential when it comes to understanding and generating natural language. With four different tiers, each model is tailored to suit different tasks conveniently. The most comprehensive and powerful model, Davinci can be used for any task the other models can, often with superior quality of output, longer outputs, and higher levels of instruction-following. For faster and lower cost options, there are Curie, Babbage, and Ada— each with their own specific capabilities. Curie provides quite capable output but is still speedier than Davinci. Babbage is more suitable for straightforward tasks yet still provides fast output, albeit at a lower cost. Last but not least, Ada can help facilitate simple tasks within GPT-3 series accurately in no time, as it is the fastest model available with the lowest pricing.
Powerful Email Bots powered by NLP & GPT
By combining the power of one of the Natural Language processing engines such as IBM Watson Assistant or Amazon Lex from AWS, Google Dialog from GCP, Microsoft Luis from Microsoft, and GPT's Generative AI capabilities now, we can create powerful Email Bots. One can use GPT alone to create these powerful human-like Email Bots as well as the GPT platform that comes with both the NLP and the Generative capabilities. However, building these bots using a combination of these two technologies (NLP and GPT) can yield tremendously powerful Email Bots.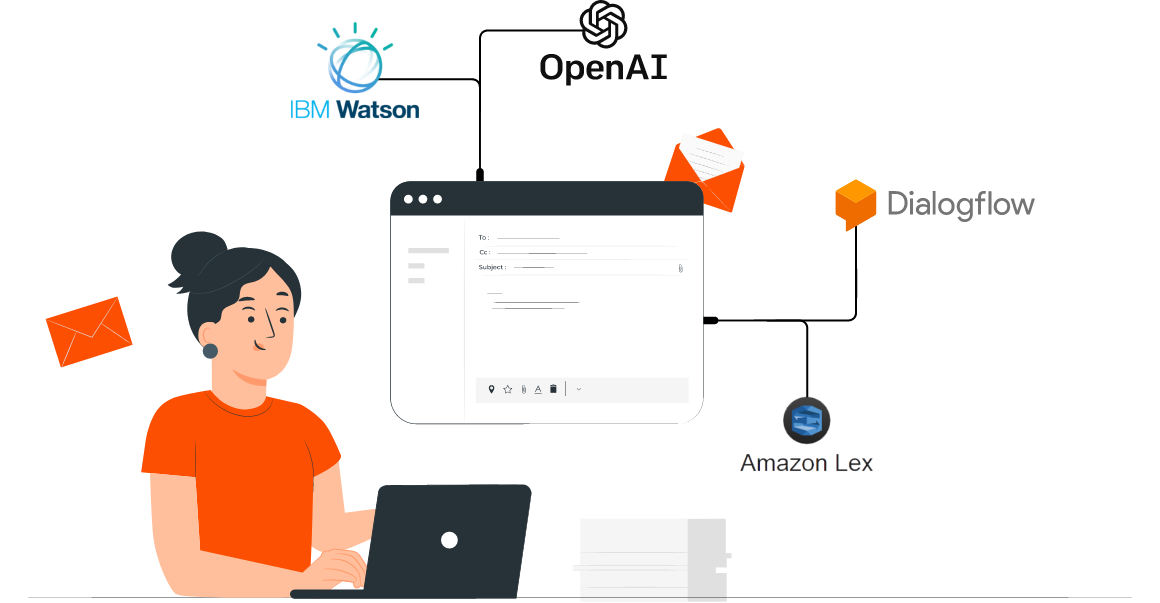 If designed correctly, these Email bots can both understand and comprehend complex incoming requests, integrate with enterprise backend systems, and then respond like humans by providing relevant information to the end user.
A ChatGPT kind of powerful GPT powered Email Bot
Email Bot Solution from Streebo powered by NLP and GPT
Streebo is a Conversational AI company based out of Houston, TX. We are providers of Chatbot solutions powered by Natural Language Processing Engines, such as IBM Watson, Amazon Lex, Google Dialog and Wit.AI from Meta.

Now in our latest release, we have added the GPT technology to our stack to create ChatGPT kind of Bots for the Enterprise. We have now extended our bot to Email as well. While the Natural Language processing engines allow us to parse incoming information and integrate with legacy backends – the GPT platform allows us to respond in a human-like fashion by generating email.

This bot can hold a complete conversation and go back and forth until the user's queries are resolved. Further, it has an in-built sentiment analysis that allows it to forward the request to a live agent in case the bot is not able to resolve a query. The live agent solution is also part of the overall Email Bot bundle.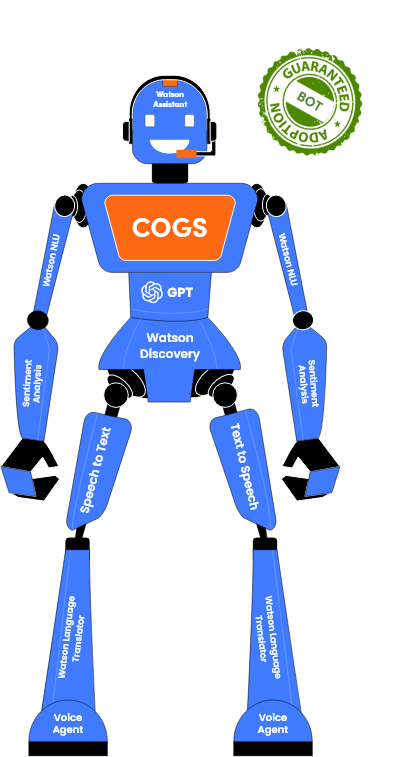 Features of our ChatGPT-powered Email Chatbot

Works with Top Email Providers
Streebo's Email Bot is a solution powered by a combination of NLP and GPT and currently supports many email technologies such as Microsoft Outlook, Google Gmail, and HCL Domino, among others. With this integration, one can now create an Outlook ChatGPT or a Gmail ChatGPT, Domino with ChatGPT, and so on and so forth.

Secured Access to Enterprise Systems
By using a combination of NLP engines from the likes of IBM, Google, Amazon, and now Microsoft, we ensure that parsing of emails and access to legacy systems is done in a secure way. Further, any sensitive information sent to GPT is encrypted and thus ensures a secured Email Chatbot solution that is compliant with most Enterprise requirements.

Complex Conversation with Human-Like Responses
By leveraging the GPT platform from Open.AI, our Bot is able to carry on human-like conversations and ensure query resolution even for complex queries quickly and efficiently.

Multi-lingual
Our Email bot solution uses Language Translation capabilities of NLPs and GPT, thus ensuring support for over 38+ languages.

In-Built Sentiment Analysis
Our Email Bot solution comes with in-built sentiment analysis and it can transfer

Live-Agent Support
Our Email Bot solution comes bundled in with a Live Agent that forwards the request to both specific email address(es) (including a list) and a Live Agent solution where real humans can take over conversations in case the user is not satisfied

Advance Analytics
The email bot solution comes with Advance Analytics Dashboard where the business user can review how the Bot is performing and train it further if required

Tap into Structured and Unstructured Information
Our Email Bot solution can tap into both structured and unstructured information silos within the enterprise. This includes enterprise backends such as SAP, Workday, and ServiceNow and unstructured content repositories such as Word docs, PDFs, and Email repositories, among others.

Summarization of Information
Thanks to GPT capabilities, we can summarize large chunks of information prior to sending it back to the user over email. Thus, ensuring that email has concise and summarized information that can be easily consumed by humans.

Pin-Point Answers to Specific Queries
The Advance ChatGPT Email Bot can not only summarize large chunks but can also find precise information from large chunks of text. By using a combination of technologies like IBM Watson Discovery, Amazon Comprehend, along with GPT we can find specific pieces of information asked by the user, thus increasing its accuracy.

High Degree of Accuracy
We continue to train our bot using supervised and unsupervised techniques until they are 99% accurate for the tasks they are trained on, thus ensuring reliability and powerful ROI for our end clients.

Adoption Guaranteed
We continue to add training data to the bot until it becomes accurate and thus guarantee that the email bot will get adopted.

Built using Open Standards
Our Email ChatGPT bot solution is built using open standards and technologies such as node.js. It is sold as a solution/services asset and after delivery, all source code is handed over to the IT team supporting it. There is no dependency on Streebo to further enhance or extend the Email bot to other business functions.
Business Benefits

Increased Revenue

Providing customers with quick, accurate responses to their inquiries is fundamental to optimizing both customer satisfaction and business revenue. With an increasingly competitive market and rising customer expectations, deploying sophisticated ChatGPT & NLP-powered email chatbots is a great way for companies to gain an edge over the competition.

Decreased Cost

Automation is proving to be a major game-changer in business operations. By integrating AI-powered tools such as an email bot built on IBM Watson and GPT from Open.AI, organizations can gain huge advantages when it comes to managing their business functions.
Pricing Model
MVP (Minimum Viable Product) virtual assistant includes :

3 transaction used cases.

1 backend integrations

50 FAQ's

Channels – Web, Mobile App, 1 Social media channel such as WhatsApp, Facebook Messenger

Capex Option
You can choose to buy the Bot solution.

Opex Option
You can choose to Subscribe to tour Bot solution for a fixed monthly charge.

Pay Per Usage
This is a conversation-based subscription and tied to the number of conversations & messages the bot handles. Thus, you only pay if the Bot is getting used and is actually deflecting calls.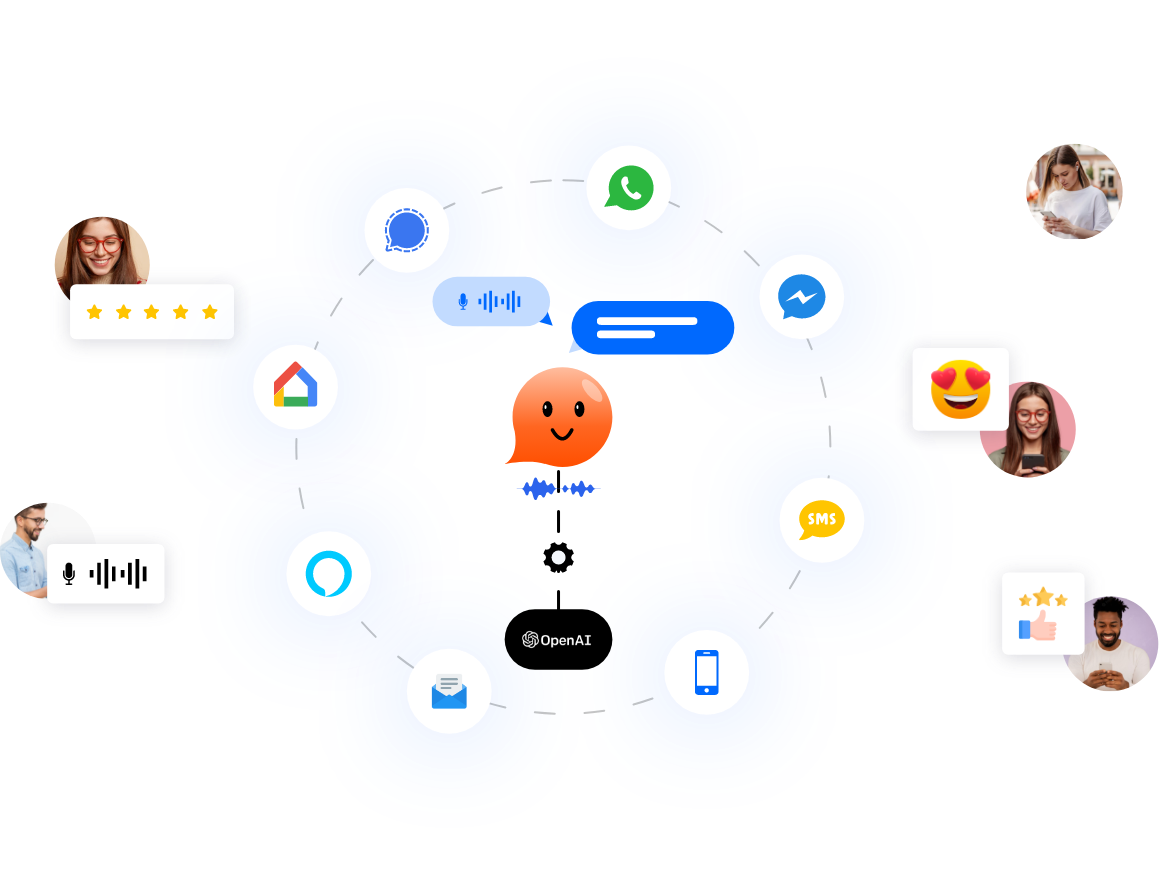 Streebo's Email Bot solution is an incredibly powerful form of artificial intelligence system tailored specifically to your business needs. Our advanced GPT-3 powered Email Bot offers a personalized and efficient experience to deliver top-notch support by using natural language processing technology. Our solution is not only specific to industries, but it also covers the entire spectrum. Whether you're in finance, retail, or hospitality, our email bot can be leveraged on any industry requirement.
So, what are you waiting for?
To schedule a demo and experience the power of our AI for yourself, feel free to reach out us anytime!
Schedule your demo today!!