Accelerating Digital Transformation with Streebo Digital Experience Accelerator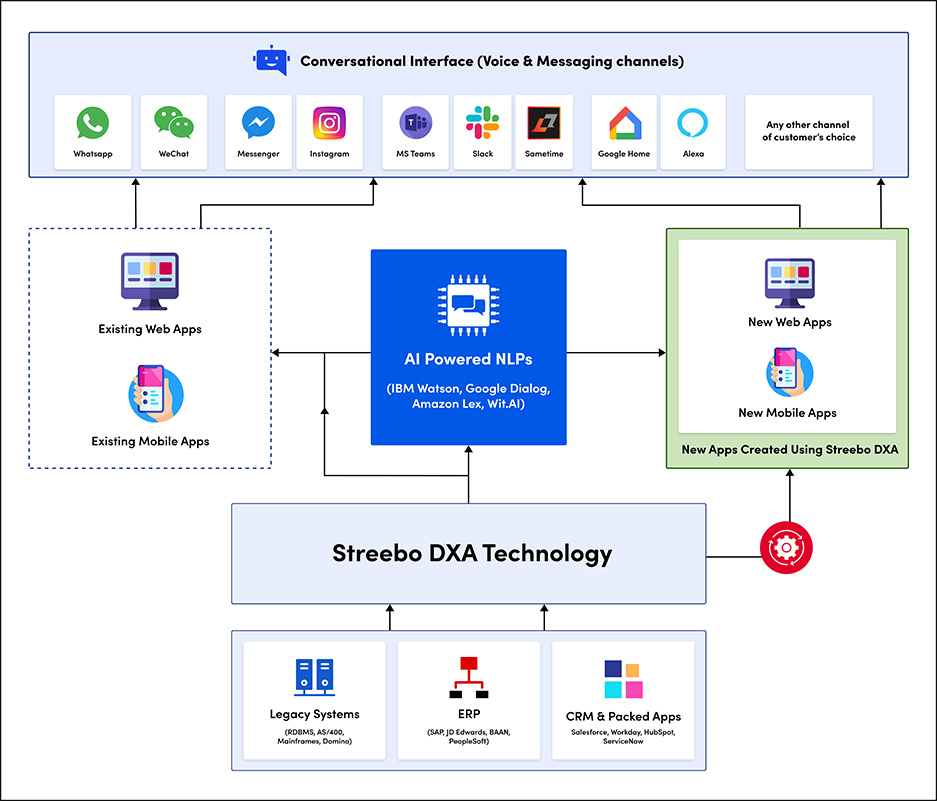 Streebo Digital Experience Accelerator
Streebo's Digital Experience Accelerator is an offering that is a combination of Platform and Tooling that accelerates the Digital Transformation Journey for our customers. Streebo DXA is built on top of platforms and technology from the likes of Google (GCP & Google Dialog), Amazon (AWS & Amazon Lex) and IBM & RedHat (Websphere, OpenShift and Watson). It is a robust, secure and scalable platform that allows Enterprise to rapidly assemble and deploy applications across channels. Streebo DXA can be leveraged on top of existing applications (Web & Mobile) and allows our customers to extend their current application to Conversational Interface. It contains the following components: Platform –
Digital & Conversational AI Platform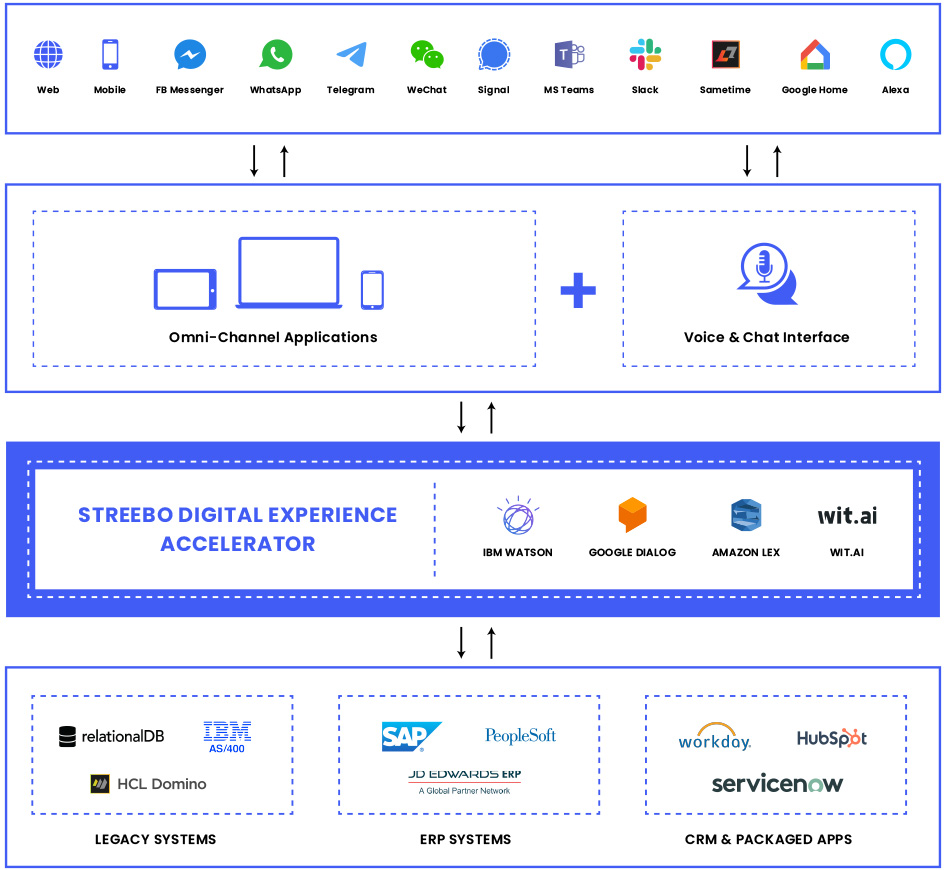 The Digital Experience & Conversational AI platform that is part of Streebo DXA allows hosting of multi-experience and omni-channel applications. It manages the navigation, layout, access control and single sign-on (SSO) to various legacy and backend systems thus serving as a Central Governance Platform for hosting your web, mobile and conversational Interface applications.

Streebo DXA also comes bundled in with a set of tools that allows developers and non-IT folks to rapidly assemble omni-channel experiences. Following tools are available as part of the Streebo DXA suite.
Streebo Chatbot Builder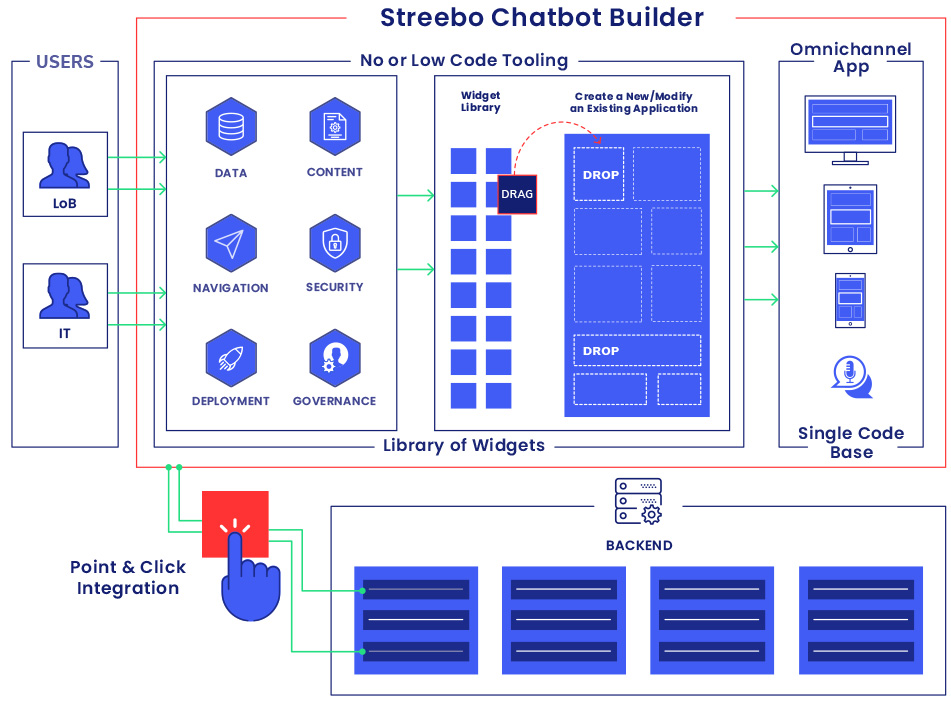 This is a browser-based development tooling that has a set of drag and drop components that allows rapid assembly of conversational interfaces across a variety of channels. The Chatbot builder readily ties into a variety of Natural Language Processing engines such as Google Dialog, Amazon Lex, IBM Watson, Wit.AI, Rasa and even Bot Libre. It allows rapid assembly of Dialogs using drag and drop components plus it has "point and click" back-end integration capabilities as well., Thus folks with both IT and non-IT background can assemble transactional "Conversational Interfaces" tied into a range of legacy systems with speed and agility.

WhatsApp

Fb Messenger

WeChat

BiP

Skype

Android Messaging

Telegram

Signal

SMS

Viber

Phone/IVR

Apple Messaging

Google Home

Amazon Alexa

MS teams

Slack

HCL Smaetime

Google chat
These Conversational Interfaces created using Streebo Chatbot Builder support conversations on WhatsApp, Facebook Messenger, Google Chat, Skype, WeChat, Telegram, Signal and even SMS. Support for voice channels such as Amazon Alexa, Google Home and phone IVR systems is also provided. Lastly Streebo Chatbot builder supports markups for internal messaging platforms such as Microsoft Teams, HCL Sametime, Slack among others. Conversational Interfaces created by Streebo Chatbot Builder can be deployed on Web, Mobile Web applications and even Mobile app as well thus allowing customers to easily extend their current web and mobile app to conversational interfaces. Streebo Chatbot Builder comes bundled in with Workflow engine that allows for easy management of workflows across the enterprise. The built-in workflow engine is an optional component and developers can tie these Conversational Interfaces into existing Enterprise Workflow engine as well.
Streebo App Builder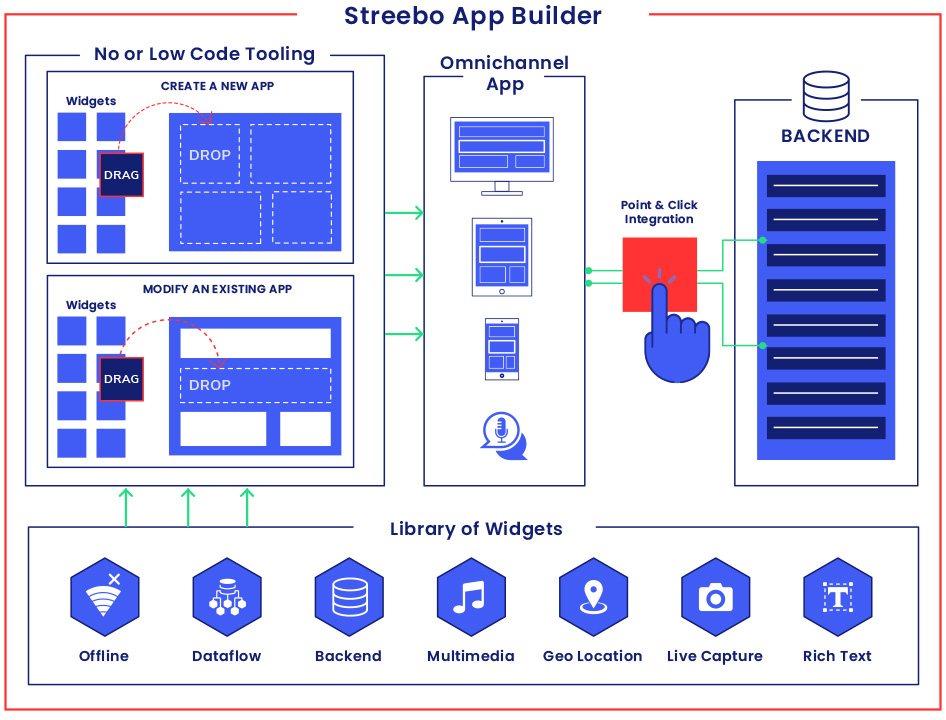 Streebo's App Builder is a browser-based development time tooling that has a set of drag and drop components that allows rapid assembly of Omni-Channel Interfaces. Applications assembled using Streebo App Builder can be deployed as web application, mobile web applications, downloadable mobile cross-platform application that can be deployed on both Android and IOS. Further, apps created using Streebo App Builder have Conversational Interfaces baked in which means these apps are automatically "Voice and Chat" activated. Thus they will work across social media channels, enterprise messaging platforms and voice channels. The "Point and Click" backend integration capabilities allows these apps to be integrated with any backend systems using REST or SOAP services. This way developers with little or no background in AI and conversational Interfaces can create omni-channel and multi-experience applications that can be deployed across channels. Streebo App Builder comes with a built-in Workflow engine that can manage simple and complex workflows.
Streebo Form Builder
Streebo's is Form Builder browser-based development time tooling that has a set of drag and drop components that allows rapid assembly of Omni-Channel Data Collection Forms. These forms can be deployed as a web application, mobile application or as conversational interfaces or a combination of all of the above. Thus Streebo Mobile Forms creates true omni-channel experiences across devices. Streebo Form builder has a "point and click" back-end integration capabilities as well which allows easy tie up into existing backend and legacy systems thus allowing organizations to tie these multi-experience forms created using Streebo Form Builder into legacy systems in real-time. Streebo Form Builder has support for various mobile sensors and has support for offline.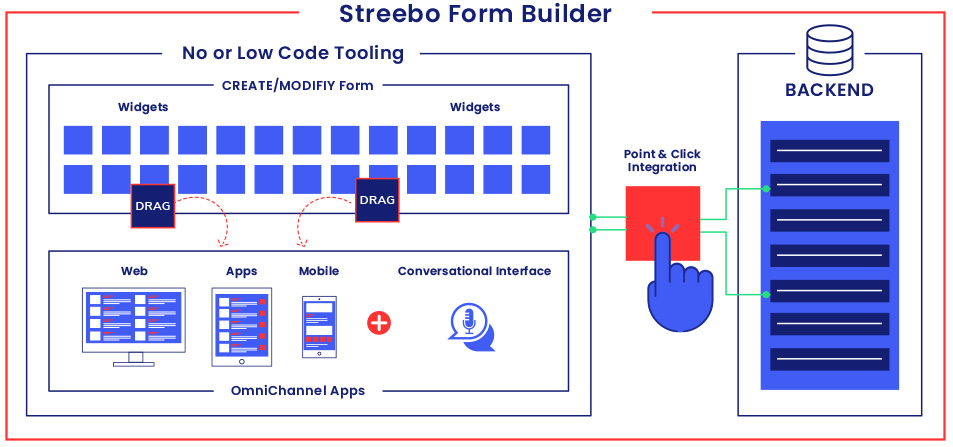 So whether you are trying to create Forms or Apps or Conversational Interfaces. Using a combination of our Digital and Conversational Interface Platform and our set of tools you can rapidly assemble these omni-channel experiences. The low-code no-code tooling lowers the barrier of entry for developers and folks with little or no IT background can assemble these applications thus lowering the manufacturing cost of these applications. Further these tools are development time only tooling and produce can be deployed as standard Java/J2EE applications that are built on open frameworks such as Angular. So Developers can choose to continue to enhance the application using the set of Streebo tooling are can manage them using standard IDEs such as Eclipse or Visual Studio and such. Lastly, as all experiences are created form a single code base ongoing maintenance and enhancements to the applications created by Streebo DXA is a breeze.
Industries we Serve

Retail

Banking

Insurance

Healthcare

Finance

Telecom

Government

Education

Oil & Gas

Manufacturing

Airline

Logistic
Redefining the mobile enterprise, one industry at a time.
Resources
Still researching? Check our resources for best practices, tips and research on mobile apps and omni-channel solutions.