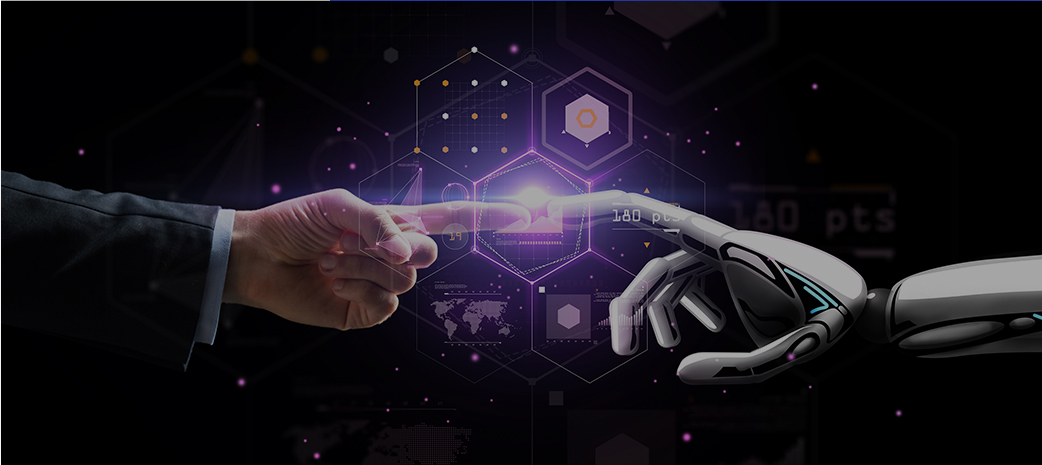 Streebo, an AI & Digital Transformation Company and a trusted Amazon Partner, has over a decade of experience in deploying AI powered Chatbots and Virtual Assistants built on a range of AWS services including Amazon Lex and Amazon Comprehend. This brief is built for AWS Partners and Sellers that resell AWS and it shows you how you can accelerate the sale of AWS licenses in the Enterprise Segment. As per our experience and learning from positioning and selling Chatbots and Virtual Assistants, we found that customers are looking for end-solutions, not API, not Platforms, rather a solution to their business problems.

Retail

Banking

Insurance

Healthcare

Finance

Telecom

Goverment

Education

Oil & Gas

Manufacturing

Airline

Logistic
Catalog of Pre-Trained Chatbots & Virtual Assistants across variety of Industries and Domains
Hence in conjunction with Amazon, we created a Bot store – a catalog of Pre-Trained Chatbots and Virtual Assistants all powered by Amazon Lex. Just like an App Store, the Amazon Eco-system now has access to a Bot Store, a store that has a library of 50+ pre-trained Amazon Lex Powered Bots solutions across 16+ industries. As you can see here, there are Bots for Banking, Insurance, Retail, Government and so on so forth.

Customer
Service Bot

Agent/
Distributor Bot

Employee
Service Bot

Marketing
Bot
Pre-trained Bots for Specific Roles
These Bots are also available to Partners, Amazon Seller (for resell) and end customers can choose to purchase even through the Amazon Marketplace. Streebo's Enterprise Bot store is now listed on the AWS Marketplace and customers can choose to buy or subscribe to Bot Services.
Amazon Powered Chatbot by Streebo
Streebo, an AI & Digital Transformation Company and an Amazon Partner, has created a very powerful, highly intelligent Pre-trained Amazon Lex Chatbots for Enterprises. Streebo's Chatbot is guaranteed to be 99% accurate and can be made available across different channels using conversational style requests via Voice & Chat commands. This means they can be deployed over the web, mobile and even asynchronous messaging channels such as WhatsApp, Facebook Messenger among others.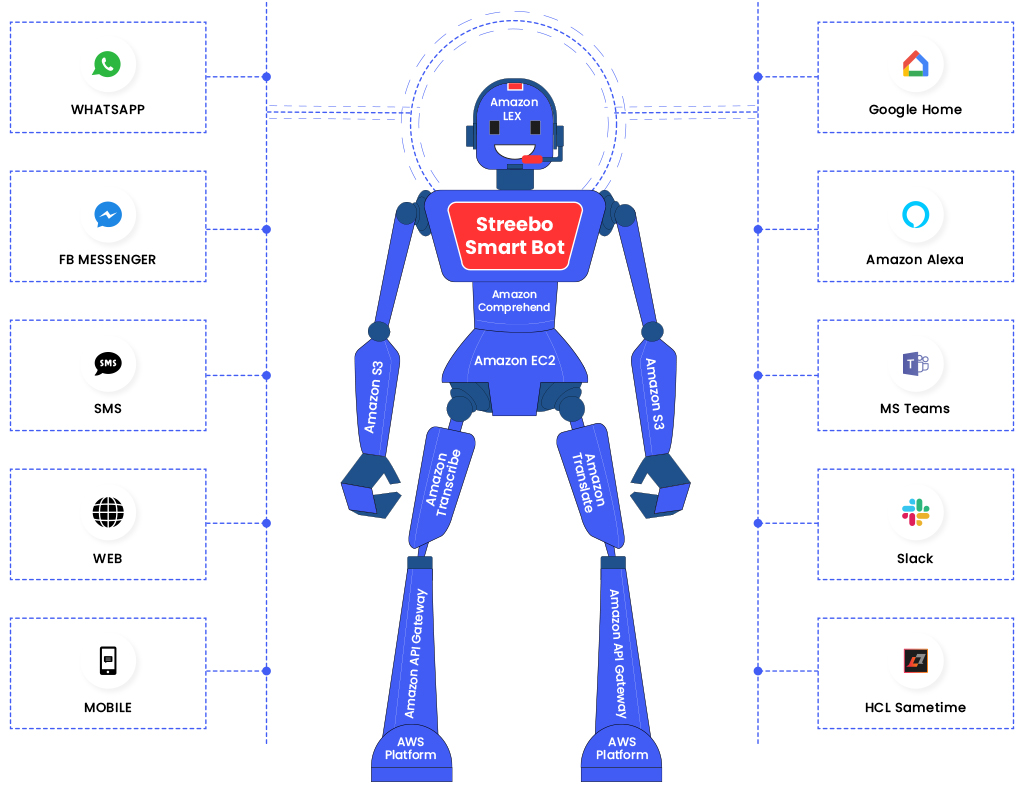 This is a 24X7 available Amazon Lex powered Chatbot, and is multilingual – provides support in 38+ languages over voice and chat channels. This chatbot comes pre-integrated with enterprise backends like SAP, ServiceNow, FileNet, IBM AS/400, among others and with built-in live agent support.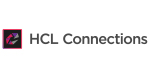 Chatbots Integrated with variety of common backends
App Modernization with Streebo & AWS
We are an Amazon partner empowering businesses with solutions on AWS to drive innovation and cloud transformation. Our products, capabilities and expertise are helping organizations of all sizes to seamlessly migrate to AWS, modernize applications by infusing AI powered Conversational Interface and build AI/ML powered solutions at scale.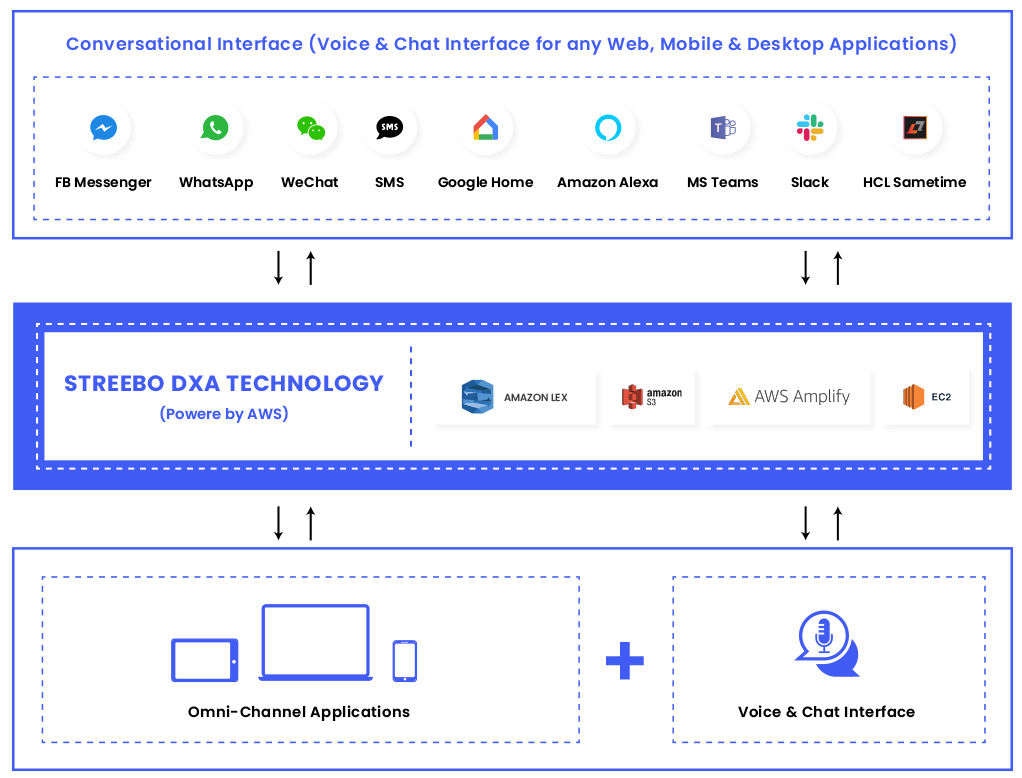 Learn how businesses leverage Amazon Lex and AWS Cloud
Pricing Models
Pay Per Usage Pricing for End Customer
With Streebo's Pay Per Usage model, there is no set-up fee. Streebo will deploy the pre-trained bot and integrate it with the customer's backend at no upfront charge. The customer simply pays based on the number of messages handled by the Bot. This model shifts the risk in the buyer's mind and accelerates AWS powered Bot deal to closure.