WhatsApp Usage and Its Implications for the Enterprise
WhatsApp is one of the most pervasive messaging platforms available out there. It is a free messaging platform and is now fully owned and operated by Meta. During the Covid years, social media usage zoomed by more than 40% and the general public increased usage of messaging platforms to communicate with their friends & family at first and then started using the same to interact with businesses. This trend is here to stay and asynchronous messaging is now pervasive and preferred.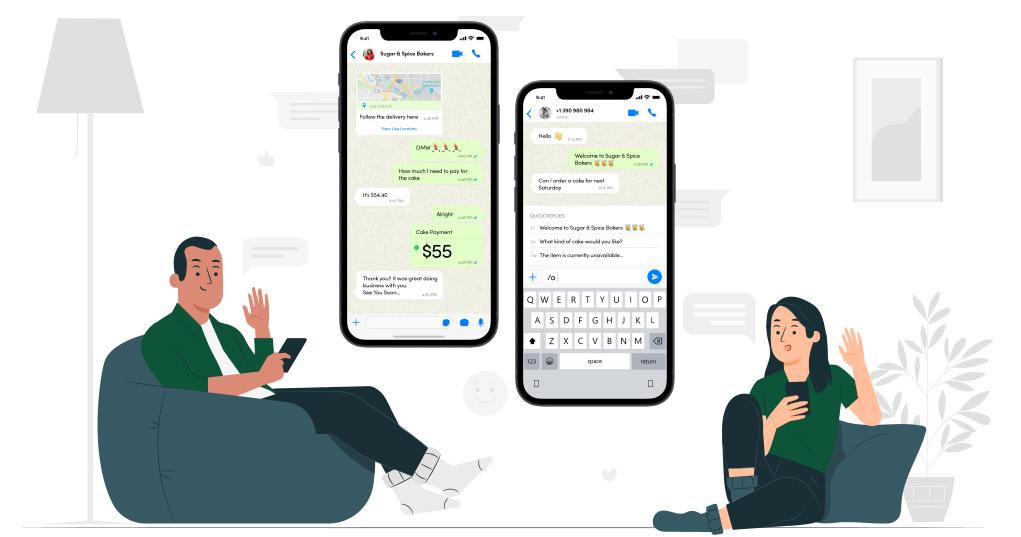 As of the publishing date of this article, according to Statista, an internet agency that gathers online statistics, there were over 2 Billion active users of WhatsApp worldwide. On the other hand, Meta (the company that owns WhatsApp) has opened up the platform for Businesses to communicate with their customers and prospects. They have introduced a product line called "WhatsApp for Business" that allows both small and large businesses to use WhatsApp for communicating with their end customers. In addition to "WhatsApp for Business", they have also opened up the WhatsApp API so companies can integrate their enterprise systems with WhatsApp messaging platform and leverage the same to communicate with their prospects and customers. This includes both notifications and two-way messaging. For small and large Enterprises operating in countries where WhatsApp is in vogue, this represents a business opportunity. If they bring their products and services to WhatsApp then it could open up a new communication and sales channel for their offerings. WhatsApp for Business means a new way to increase revenue and lower costs.
WhatsApp for Business Pricing and ROI
The WhatsApp for Business Product line contains both interfaces that allows businesses to create templates, product catalogs and such and also the WhatsApp API that allows for programmatic interaction with the WhatsApp platform. While the WhatsApp for Business App is a good starting point for small businesses, for more automation they will have to interact with WhatsApp API. For Large Enterprises that have their own legacy systems, WhatsApp API is the way to go and they can weave this additional messaging platform as part of their overall processes and systems they use to interact with prospects, customers and even agents and distributors (where applicable).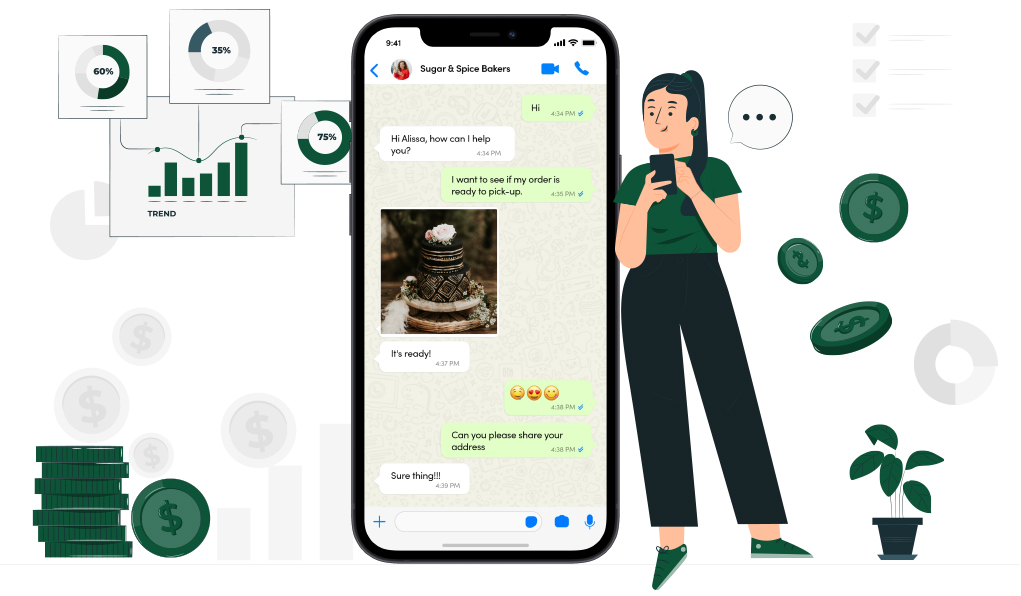 Starting Feb 2022, Meta has introduced a new conversation pricing model that allows businesses both large and small to communicate with their end clients for a fee. There are two fee structures for this communication –

Business Initiated Conversations
$50 USD – $1500 USD
10K Conversations
depending on the country where the end user (the person receiving the message) resides

User-Initiated Conversations
$40 USD – $1000 USD
10K Conversations
again the charges are levied based on where the user is residing and the country that the WhatsApp number is tied to
The ROI for customers that have used the WhatsApp Business App and more importantly the WhatsApp API is compelling. On an average, customers have seen a 6-month ROI of well over 200%, a 31% reduction in call center volumes and a 150% increase in leads as compared to the web. These metrics are from case studies published by Facebook from countries where WhatsApp usage is very high. The key to success is to ensure that the channel is continually monitored, and customers receive almost an instant response. Manning the channel with human agents is of course very effective, however, cost-prohibitive. This is where rolling out a chatbot that can both understand the conversational style requests and respond in real-time could be an effective replacement to live humans.
What is a Chatbot
The chatbot is a software program based on Artificial Intelligence technology that understands conversational style requests and can respond to these requests in real-time. Chatbot software has two components:

Natural Language Processing (NLP) Engine
The NLP engine that has the network structure and algorithms to decipher the conversations with real humans

Large Dataset used to train the Software
This dataset helps the Chatbot understand the "intent" of the users
As shown in the picture below, the WhatsApp API needs to be wired with the Chatbot Software so user messages can be passed on to the AI powered NLP engine. Once the NLP engine understands the intent, further programming can be done to build the appropriate response or action. This could mean tying this information back to the existing systems and processes especially in the case of medium and large enterprises that already have legacy systems in place.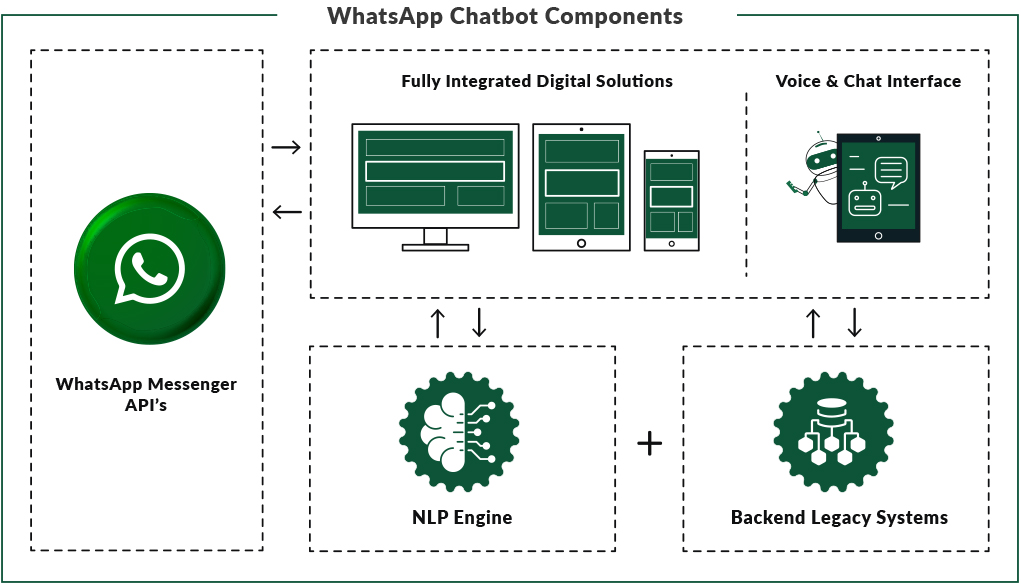 Why Chatbot for WhatsApp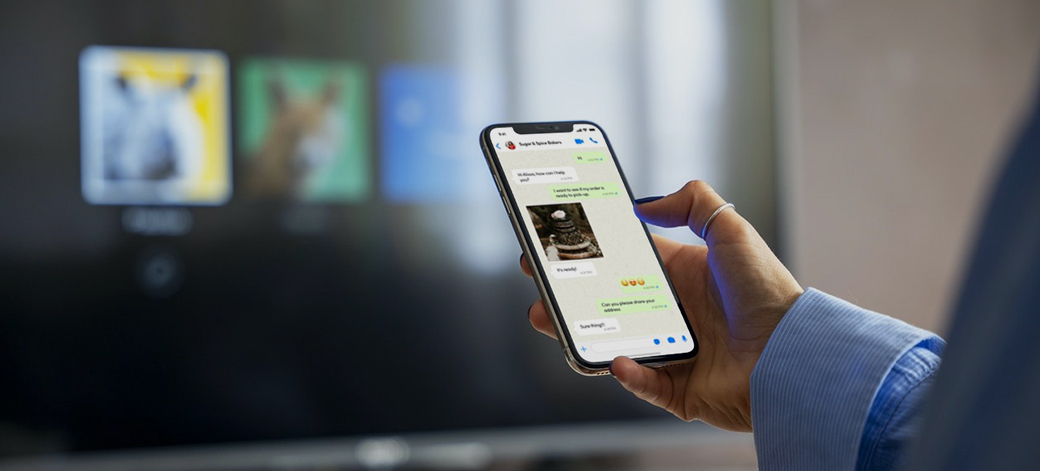 While WhatsApp is a pervasive and powerful platform for communicating with customers and prospects – it is imperative to give almost instant response for this channel to be effective. Now one can set up a "messaging center" where real humans can respond to these WhatsApp messages coming from end-users in real-time, however, this comes with a high cost. Advancements in Artificial Intelligence and Natural Language Understanding software have now made it possible to deploy software programs called Chatbots to answer requests received over channels like WhatsApp. This allows companies to standardize the responses and man these channels 24 X 7. The key is to roll out a smart and highly intelligent bot and integrate it with WhatsApp API. The companies that saw success with WhatsApp messaging platform have all done it using Chatbots and integrated the same with WhatsApp API.
How to Get Started with a Chatbot for WhatsApp
The steps to roll out a WhatsApp chatbot are simple and straightforward:
01

Create a Business Account for WhatsApp.
02

Register a number with your WhatsApp for Business account.
03

Upon Approval, rollout your Bot using WhatsApp for Business App (for small companies)
04

For Medium and Large Enterprises WhatsApp API will make more sense.
05

Roll-out a Chatbot that ties your legacy systems with WhatsApp API.
Tools and Options to rollout a Chatbot for WhatsApp
Once a Business Account for WhatsApp has been approved and you have a number registered, building a simple Frequently Asked Questions (FAQs) chatbot is straightforward. The WhatsApp for Business App is comprehensive and allows for the creation of FAQs and even a complete product catalog. Businesses can use pre-built templates or build their own using the specifications provided by Meta. Notifications (for end-users that have opted-in) and two-way messaging with pre-built templates can be handled with ease. However, all these tools are good for small businesses only where the products, services and processes are simple and limited.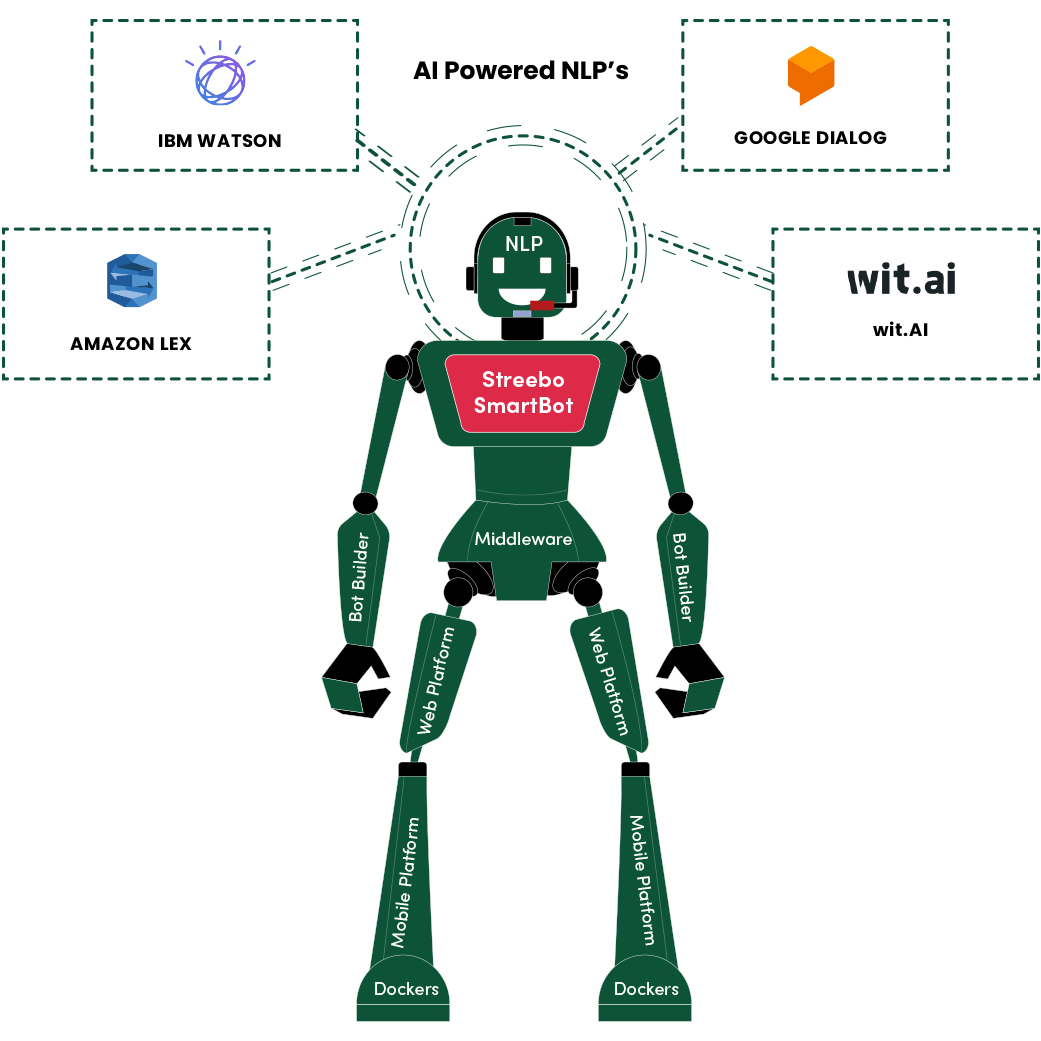 For large and medium enterprises, the WhatsApp for Business App will not cut it. This is where a more sophisticated Chatbot for WhatsApp will be required that ties in the WhatsApp API to the company's existing systems and processes. An "Intelligent Chatbot" that can connect to the company's CRM, ERP and legacy systems is needed. To roll out a Smart Chatbot a good Natural Language Processing (NLP) Engine is required. The top leaders (according to Gartner and Forrester) for sophisticated NLP engines are Google Dialogflow, Amazon Lex, IBM Watson and Wit.AI (now owned by Meta). These NLP engines use sophisticated data structures to organize their data, smart algorithms to sift through the conversations and finally large data sets to pre-train the engine so as to accurately decipher the user intent. In addition to a sophisticated NLP engine, a good integration implementation partner will be needed that can bring the WhatsApp API for Business, the NLP engine and the enterprise legacy systems together. Only an intelligent bot that accurately understands the user-intents and is able to provide a meaningful response will get you the right ROI. Hence, picking the right Chatbot Platform and a good implementation partner is key for rolling out a Chatbot for WhatsApp.
Streebo, a Conversational AI company
At Streebo, we specialize in Conversational AI, Chatbots and Virtual Agents and have rolled out a whole library of pre-trained Chatbots for a variety of Industries and Domains. Our Chatbots are powered by leading NLP engines like IBM Watson, Wit.AI, Amazon Lex and Google Dialogflow and work on a variety of channels including WhatsApp. Key Differentiators of our Chatbot solutions are as follows:

Retail

Banking

Insurance

Healthcare

Finance

Telecom

Government

Education

Oil & Gas

Manufacturing

Airline

Logistic
Library of Pre-Trained Chatbots or Virtual Assistants across a variety of Industries and Domains

Built-in Domain Intelligence
Streebo has over 50+ pre-trained Bots available for a variety of use-cases and industries. Check out our Bot store and take a tour of bots that are relevant to your industry or use case.

Omni-Channel Bots
Streebo's bots are omnichannel that is they work across social media channels such as WhatsApp, Facebook Messenger, Google Chat, Skype and even SMS. They are integrated with voice channels including Amazon Alexa, Google Home and common Phone IVR systems. Finally, our internally facing bots are compatible with Microsoft Teams, Slack, HCL Sametime among others.

Smart & Intelligent Bots
Streebo's Bots are guaranteed to be 99% accurate which means they will answer at least 99 out of 100 relevant questions correctly. Further, our industry-specific bots are pre-trained with domain and use-case-specific intents.

Pre-Integrated with Enterprise Systems
Streebo's Bots are pre-integrated with common enterprise backend such as SAP, ServiceNow, Workday, Cognos, FileNet, Commerce, Connections among others. This allows rapid deployment of intelligent and transactional bots across different use-cases.

Built-In Live Agent Support
Streebo's Bots come in with built-in Live Agent Support. Further connectors to common Live Agent software such as Zen Desk, Avaya and Mavenir are also available.

Multi-Lingual
Streebo's Bots are multi-lingual with support for over 38 languages.
So Whether you are looking for Chatbot Consultants, Chatbot Developers or Chatbot Testers that are well versed in WhatsApp API or the process to integrate with them or platforms like IBM Watson Assistant, Google Dialogflow, Wit.AI, Amazon Lex or open-source platforms such as RASA and can code with technologies like Node.js, Javascript and Java … we say look no further. With 1000s of Bot projects under our belt, our chatbot development team has much experience with rolling out highly intelligent, enterprise-grade secured Bots both on WhatsApp and other social media channels.

Further, with our pre-built assets, we can accelerate your Bot journey and rapidly roll out highly intelligent and smart bots. Check out some of our case studies of successful Chatbot projects particularly with WhatsApp API.
Case Studies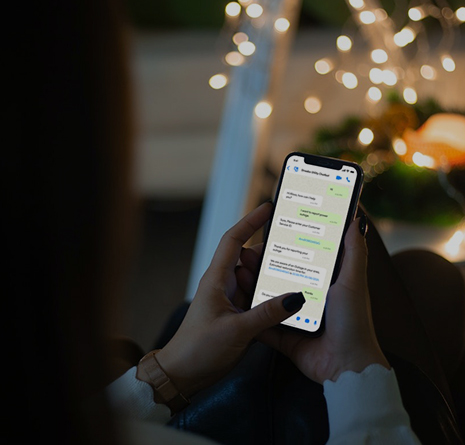 A Government Administration Agency in the Middle East initiates its Digital Transformation via the development of a Mobile App & a Conversational Interface powered by Streebo.
Streebo has developed a sleek and dynamic application along with its Mobile App and Conversational Interface. The Mobile App will also have a Chatbot solution that will give the end-users, capability to converse with the App in multiple languages including Arabic and English.
READ MORE