HCL Leap – "A Low Code No Code Tool"
Try out HCL LEAP and our powerful Digital Experience Accelerator add-on today!
Request a Demo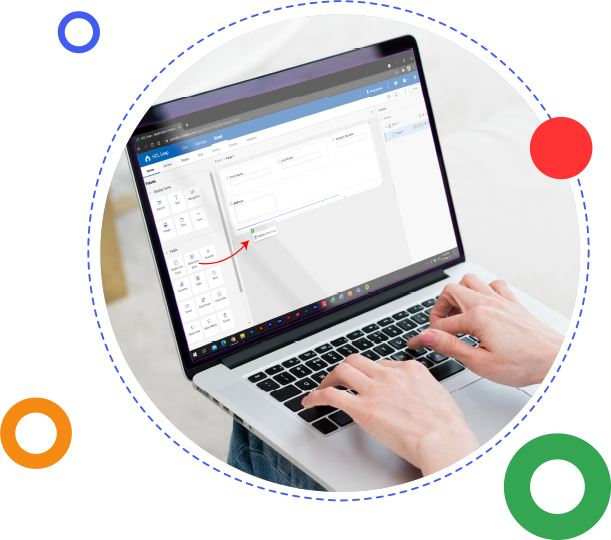 Trusted By




















Request a Personalized Demo from our Experts
We ensure you're matched with the right talent based on your requirement.
Changing Trends in the Software Industry
Software Industry is experiencing a massive transformation. Gartner forecasts that low-code application platforms will account for 65 percent of all app development by 2024. This means majority of the apps will be developed using these platforms and tools and hence Low Code No Code Software will be more pervasive than it is today. It will open the gate for the new opportunities which will allow businesses to move faster and be more innovative than ever before.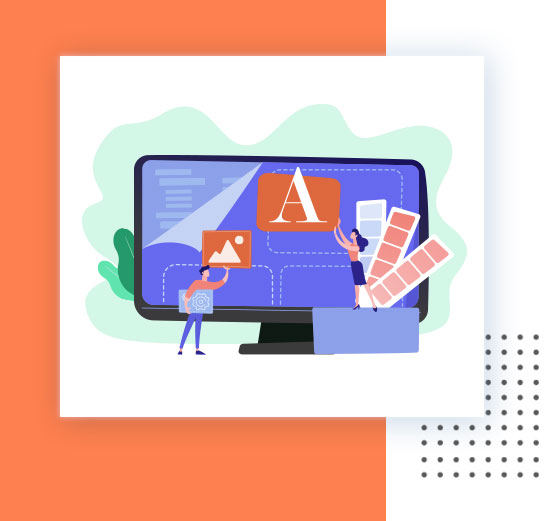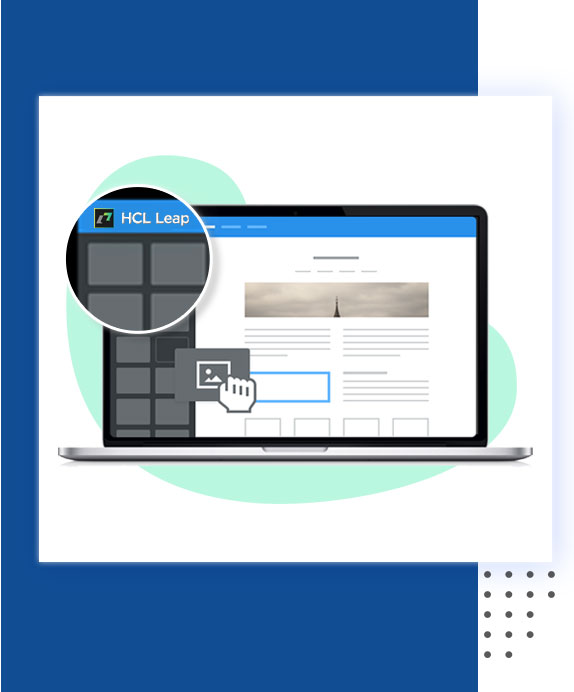 HCL Leap and its Features
HCL Leap (formerly known as IBM Form Experience Builder) is one such low code no code tool for creating Light Weight Web Applications. It has a library of pre-built components which helps a business analyst or an IT developer to design an application by a simple drag and drop interface. Due to such flexible interface anyone with little or no programming background can tailor an application based upon their requirement. Also, the main advantage of leveraging HCL Leap is that one can develop custom applications from scratch within weeks/days instead of months/years. As, it accelerates the design, build and deployment of custom digital applications, HCL LEAP proves to be cost effective as well. HCL Leap even has a dynamic workflow support which means roles can be assigned dynamically as per the organizational hierarchy in every workflow stage.
Need of Omnichannel Apps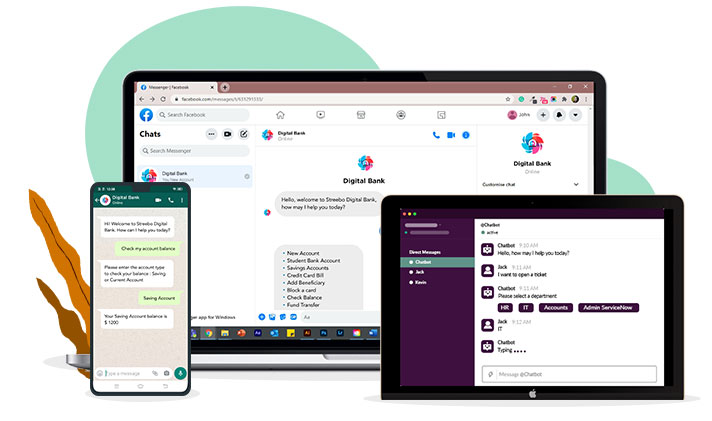 Streebo, a leading Artificial Intelligence (AI) and a Digital Transformation Company has come up with an add-on "Digital Experience Accelerator (DXA)" bundle that extends the power of = HCL Leap even further. Streebo's DXA and its toolings such as Form Builder, App builder and Chatbot Builder extends HCL LEAP application to other channels such as Mobile Apps, Social Media, and internal messaging platforms. Thus, Streebo's DXA coupled with HCL LEAP allows an IT team and/or Line of Business (LOB) Analyst to build a true omnichannel application collaboratively and rapidly by a simple drag and drop. It allows the application to be easily integrated with the desired third-party software through point and click interface. Moreover, the application is built using a single code base and hence it becomes very easy to manage and update the application across all the platforms. Thus, Streebo's DXA accelerates the development cycle and fastens the Time to Market by almost 40%.

Furthermore, Streebo 's DXA leverages Natural Language Processing Engine such as IBM Watson, Google Dialog or Amazon Lex and this allows clients to embed AI features such as conversational interface into existing digital properties. Streebo has created over 50+ AI Powered Pretrained Bots pertaining to various industries and domains all powered by a combination of HCL LEAP and the DXA add-on. All these Solutions are powered by Low Code No Code Tool HCL Leap. Businesses can even extend these applications to variety of social media platforms of their choice such as WhatsApp, Facebook Messenger and even SMS. For internal facing applications these apps can be extended to the likes of Microsoft Teams and HCL Sametime.

Streebo's DXA coupled with HCL LEAP lets you build cross platform application complying with the Industry leading frameworks such as IBM Mobile First, Cordova, Angular and these applications can integrate with multiple backend systems with an ease and can even embed AI feature which will help the businesses to improve their sales and ROI and that too at the lower cost of digitization.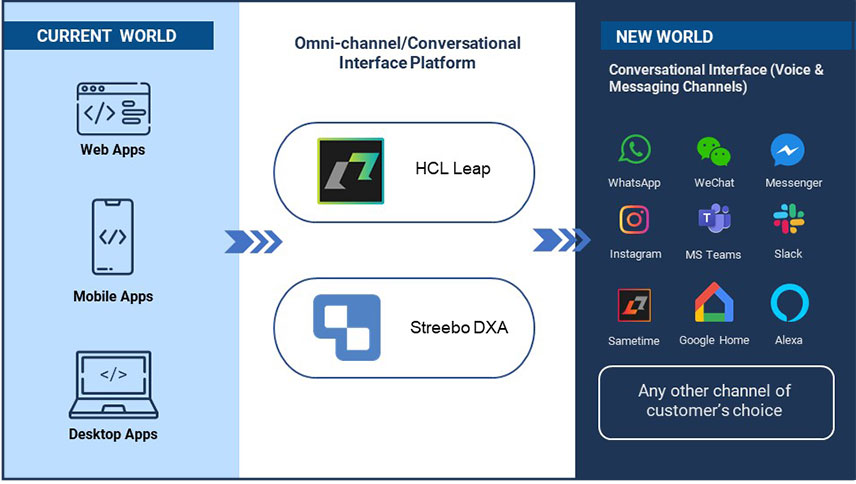 Benefits of Leveraging Streebo's DXA Powered by HCL Leap

Convenient Hosting Options
Streebo provides flexible deployment options: HCL LEAP and Streebo can be hosted on-prem or on the cloud. We support IBM Cloud, Amazon AWS, Microsoft Azure and Google Cloud.

Easy to Manage
By Leveraging HCL LEAP and Streebo DXA, LOB can easily manage and update an application by a simple drag and drop powered by low code no code tooling.

Omnichannel Support
HCL LEAP and Streebo DXA makes your application up and running across various platforms (web, mobile, chatbot) without any incremental efforts.

Faster Time to Market
Streebo's DXA comprises of prebuilt widgets powered by HCL LEAP which reduces the development time and efforts to almost half.

One Click Deployment
By leveraging Streebo DXA, applications built in HCL LEAP can be deployed by a single click across variety of platforms.

Quick and Easy Integrations
HCL LEAP offers point and click interface wherein through a single click the application can be integrated through a desired third-party software.
Powered by HCL Leap, Streebo DXA
and NLP of customer's choice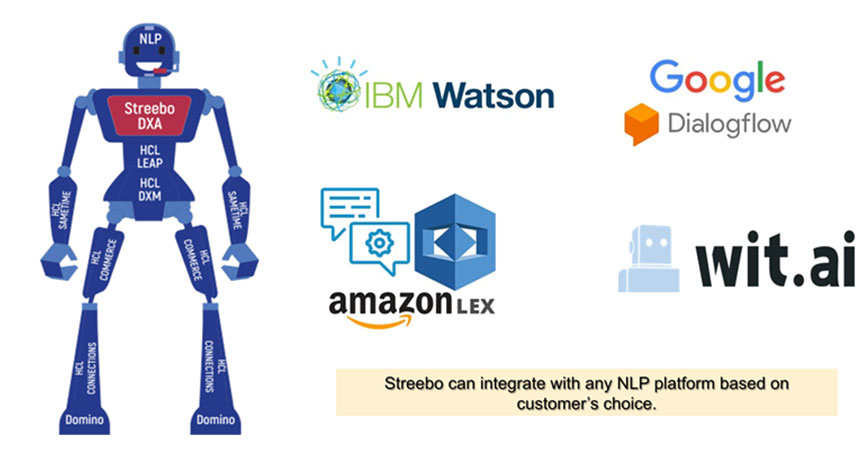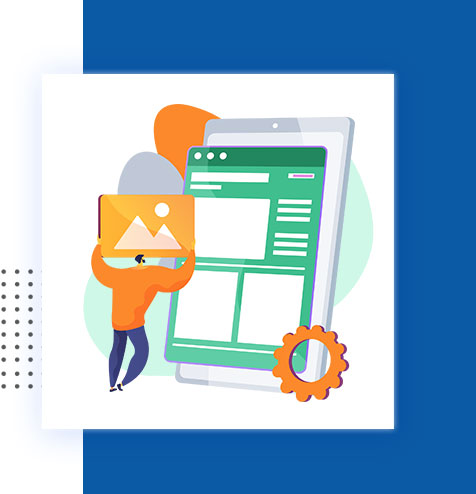 So, are you looking to grow and lead your business online across channels faster? Try out HCL LEAP and our powerful Digital Experience Accelerator add-on today.
Get A Personalized Demo