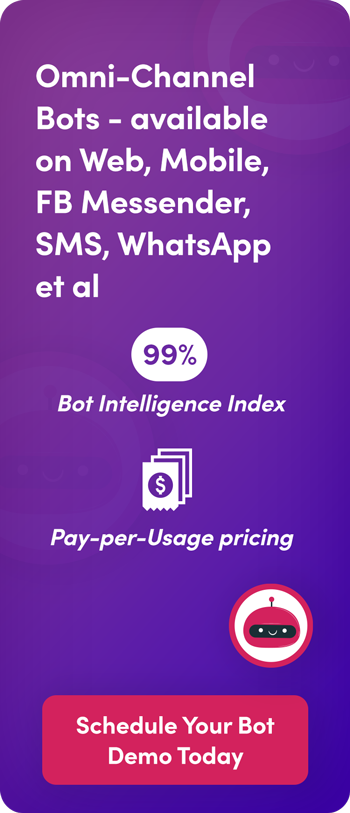 Crafting the Finest Conversational
Experience for Patients.
Adopting a Holistic Approach to Patient Services, Care and Management.
GET PERSONALIZED DEMO
Digital Transformation for the Healthcare Business
Modern consumers want to be able to fix an appointment, access their prescriptions, see old medical records, get test records and so on easily. They want their interactions with the hospital to be engaging and interactive. The expectations of patients, from a healthcare facility, are no different than the other consumer sectors. Hence, in addition to having a holistic approach to patient care, healthcare industry also needs to adopt a holistic approach to patient services, care and management. Management of disparate systems of records, effective patient interactions, 24×7 availability to answer patient queries and to provide information are the prime concerns the industry needs to address.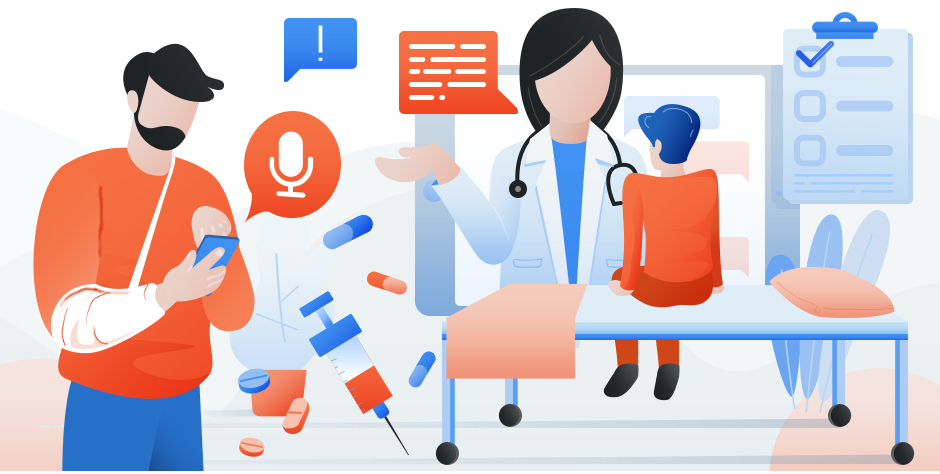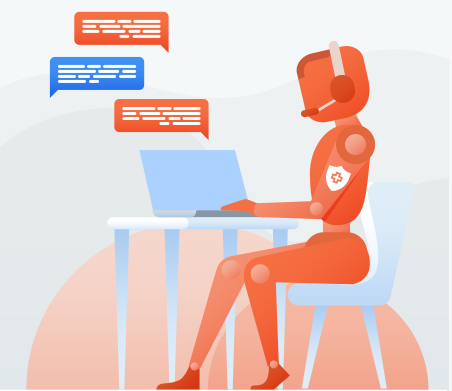 Digitalization Powered by AI


When patients call a healthcare facility, most of the questions they ask are very common, or they want to fix an appointment. Hospital staff spends a lot of time answering these questions, or worse these questions go unanswered and patients unattended. Deployment of a pretrained Chatbot to answer commonly asked questions and FAQs can cut a lot of slack. Transactional Chatbot can be integrated with multiple backends to retrieve relevant information for patients and healthcare providers alike. Further – powered by IBM NLP engine, the chatbot can be trained to understand intent of the user and provide satisfactory replies and keep the consumer engaged. Only in event when intent is not understood the bot seeks human intervention and customer interaction happens seamlessly.
Responsive Healthcare with Conversational Chatbot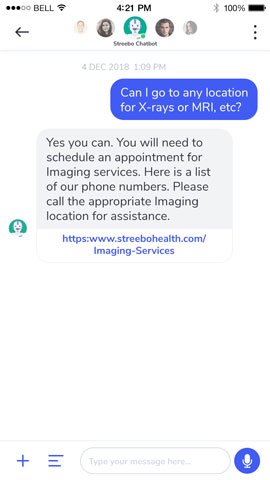 Provide prompt response to frequently asked questions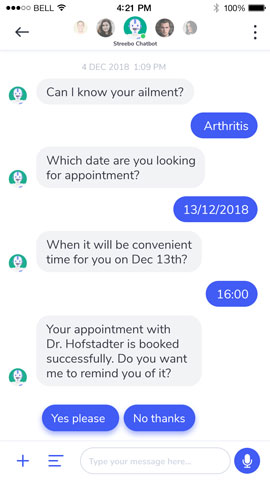 Schedule appointment and consultation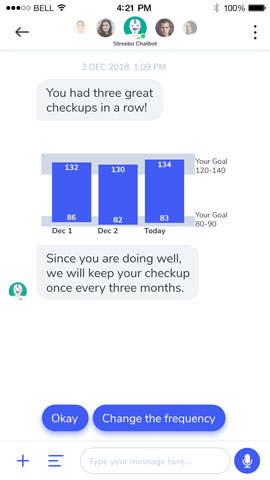 Manage patient records and medical history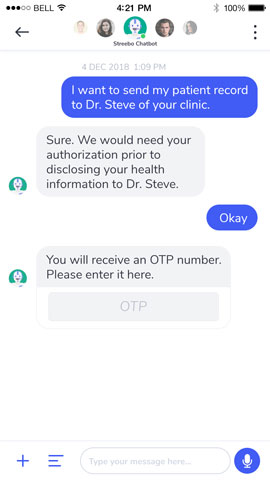 Provide patient records to doctors on demand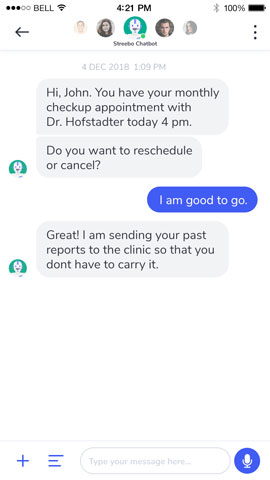 Notify the patient for upcoming appointments or tests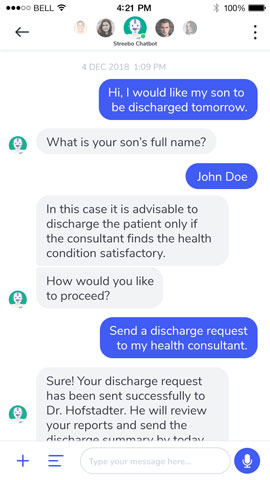 Attend to requests for admission, transfer, and discharge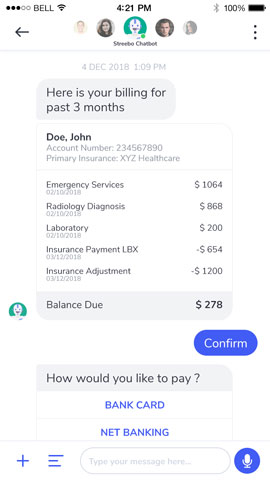 Easily process payments and maintain records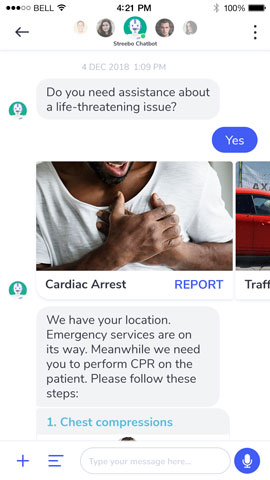 Notify patient care teams about any emergency
Transform the Way you Communicate with Patients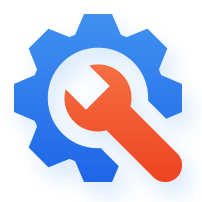 Personalized Interaction
The healthcare bot personalizes communication for each patient. It sets the tone of communication with the patients and is available on-demand, 24×7 – to extend support in filling forms, retrieving information, setting up appointments, making payments and more.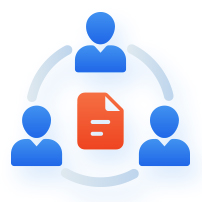 Centralized Documentation
Personalized interaction can only be useful when the information retrieved, and the help extended is accurate. Our healthcare chatbot maintains centralized documentation. This means that although interaction is personalized, there is no discrepancy in furnishing information to different people.
Streebo's Healthcare Chatbot Solution – powered by IBM technology
Experience seamless conversations with Streebo's healthcare chatbot solution, powered by IBM technology. Streebo's Natural Language Processing based chatbot platform, with deep machine learning capabilities, connects healthcare providers and patients naturally. The bot competently handles commonly raised requests and provides immediate solutions. It can also be programmed to transfer the non-standard questions to a representative. Easily integrate Chatbot with EHR, and other backends like HCM, CRM, and ERP and cut the slack for your workforce.
Build conversation with ease
Easily train the bot to understand intent
Integrate with backend database to make information access easy
Setup security, governance and access control for HIPAA compliance
Make modification and sync the bot with other digital properties without complete reliance on IT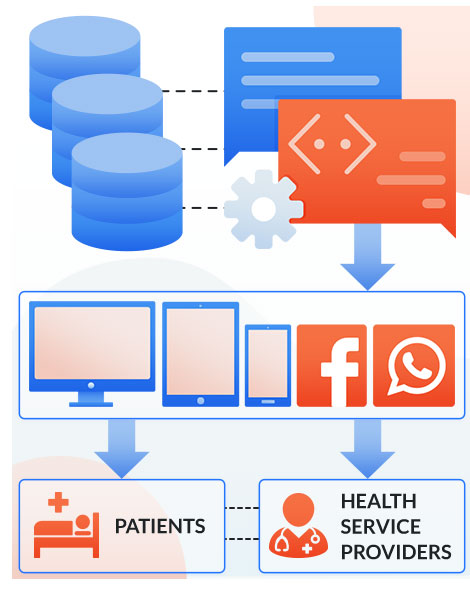 Why Streebo Chatbot Builder Is the Best Choice

Drag and Drop Interface
Easily create and manage chat interfaces with low code/no code tooling

Single Code Base
Instantly update the bot across all the devices for an app, website and third-party apps like Facebook, WhatsApp or Slack

Cross-Platform Compatibility
Deploy the chatbot across all the operating systems and devices without any hassle

Security
Never compromise on the security aspect with the IBM powered Streebo enterprise chatbots

Flexible NLP Selection
Choose from the most advanced NLP options like IBM Watson Wit.ai, bot libre and more

Lower Development & Maintenance Cost
with a single code base for all digital assets and automation tool
Watch Streebo Chatbot Builder in action!