Facebook Messenger Usage and Its Implications for the Enterprise
Facebook Messenger is one of the most pervasive messaging platforms available out there. During the Covid years, social media usage zoomed by more than 40% and the general public increased usage of messaging platforms to communicate with their friends & family at first and then started using the same to interact with businesses. This trend is here to stay and asynchronous messaging is now pervasive and preferred.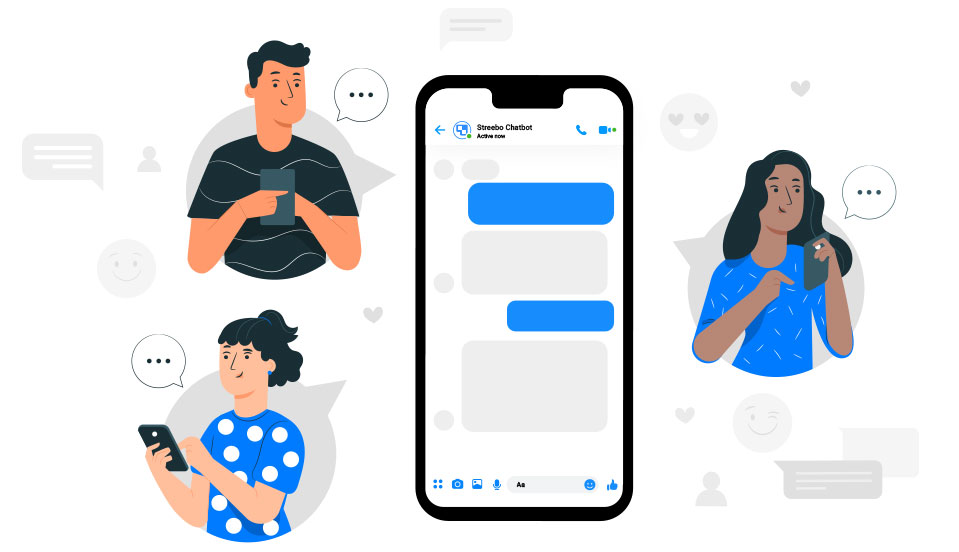 Facebook Messenger is Facebook's dedicated messaging app and platform. It is a free messaging platform and is now fully owned and operated by Meta with over 1.3 Billion (and 181 million in the United States alone) active users of Facebook Messenger worldwide. Every month, businesses exchange more than 20 billion messages with people on Messenger. On the other hand, Meta (the company that owns Facebook) has the platform for Businesses to communicate with their customers and prospects. They already have a product line called "Facebook for Business" (now Meta for Business) that allows both small and large businesses to use Facebook Messenger for communicating with their end customers. For small and large Enterprises operating in countries where Facebook is in vogue, this represents a business opportunity. If they bring their products and services to Facebook then it could open up a new communication and sales channel for their offerings. Facebook for Business means a new way to increase revenue and lower costs.
Facebook Messenger ROI
It is Free. Creating a Facebook Page for your business is free, and so is instantly addressing customer concerns through Messenger. The feature is free for both businesses and their customers, and all they need is a customer's phone or laptop and internet access.

The Meta for Business Product line contains both interfaces that allow businesses to create templates, product catalogs and such, and also the Facebook Messenger API that allows sending messages to users, including text, documents attachments, structured message templates, sender actions, and more.
4th most downloaded app in the app store is Facebook Messenger.
18.3%
of U.S. adults made a purchase through Facebook in the last year.
2/3
of Facebook users visit a local business Page at least once a week.
23%
increase seen in Facebook clicks on searches for local businesses from February to May, 2021.
1.3 Bn
people use Facebook Messenger. That's 23% of the world population over the age of 13.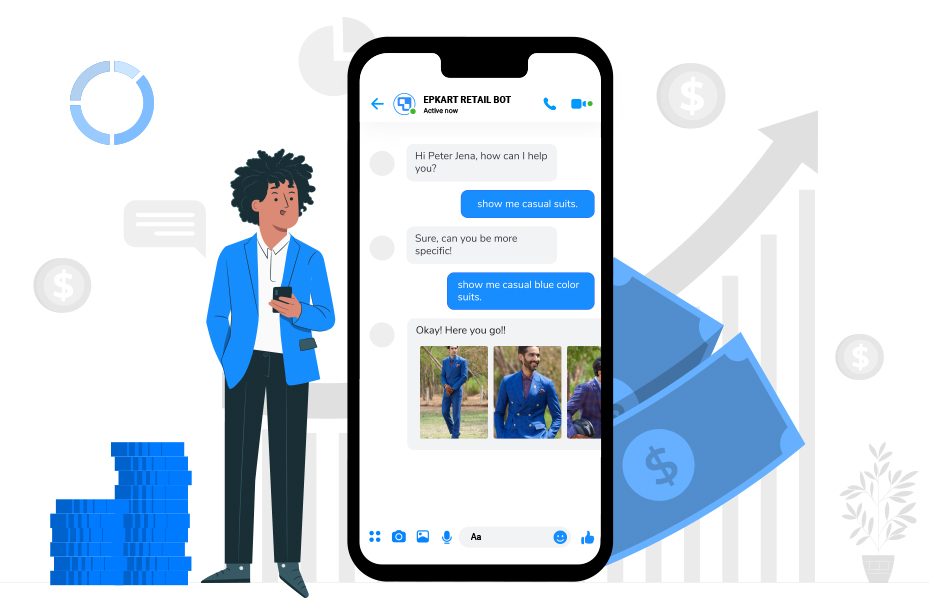 Integrating SMS into the messenger app allows users to connect with Facebook friends and SMS users who are not on Facebook. The capability of sending and receiving SMS likely played a part in the quick rise in the popularity of Facebook Messenger.

Exchange Payments in a Secure Environment using Facebook Pay, making payments is simple on Messenger. Users can simply add their payment information, and they're good to go. The Messenger is a multi-purpose tool and a game-changer for streamlining communications with people. There are innumerable benefits to using it for your business, whether it is for improving customer interactions, facilitating consumer concerns, generating leads or establishing a trustworthy brand.
What is a Chatbot
The chatbot is a software program based on Artificial Intelligence technology that understands conversational style requests and can respond to these requests in real-time. Chatbot software has two components:

Natural Language Processing (NLP) Engine
The NLP engine that has the network structure and algorithms to decipher the conversations with real humans

Large Dataset used to train the Software
This dataset helps the Chatbot understand the "intent" of the users
As shown in the picture below, the Facebook API needs to be wired with the Chatbot Software so user messages can be passed on to the AI powered NLP engine. Once the NLP engine understands the intent, further programming can be done to build the appropriate response or action. This could mean tying this information back to the existing systems and processes especially in the case of medium and large enterprises that already have legacy systems in place.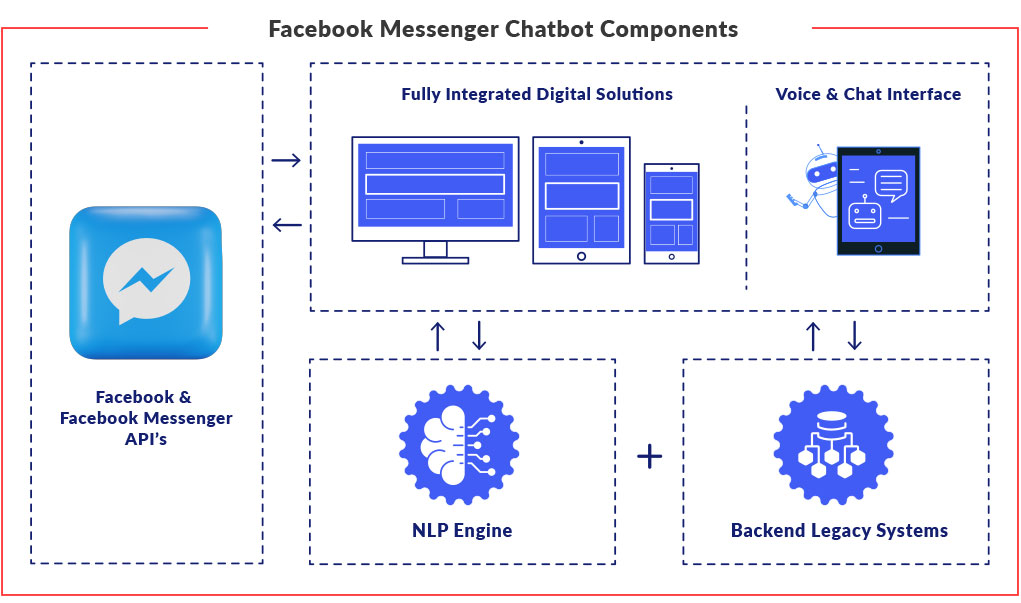 Engage Customers and Prospects at Scale
With Facebook Messenger, you can engage with customers and prospects at scale. You can provide round-the-clock assistance to customers with a personalized experience, provide recommendations to prospects, and drive business outcomes.

Engage Customers Where they are already present
Facebook has 1.3 billion users who spend their 58 minutes on the platform daily. Also, they check Facebook 14 times a day. With Chatbots for Facebook Messenger, you can reach potential customers and engage them where they spend a significant amount of their time.

Personalized Experience
Natural Language Processing (NLP) aided and Artificial Intelligence (AI) powered Chatbots for E-commerce businesses identify customer intents and respond accordingly, and help customers find relevant products and reply to queries that they can get converted quickly, helps to return prospects to the buying process, especially in large product catalogs.

Improved Marketing Strategies
According to HubSpot, 70% of marketers are engaging in content marketing. Content marketing can be effective when customers and prospects must seamlessly access the content. Facebook Messenger for Business guides users to the most relevant content based on their preferences and drives higher value traffic.
Why Chatbot for Facebook Messenger?
Advancements in Artificial Intelligence and Natural Language Understanding software have now made it possible to deploy software programs called Chatbots to answer requests received over channels like Facebook. This allows companies to standardize the responses and man these channels 24 X 7. The key is to roll out a smart and highly intelligent bot and integrate it with Facebook Messenger API. There's a lot of hype floating around right now about chatbots in general, and Facebook Messenger bots in particular. According to a survey by Oracle, 80 percent of businesses want a chatbot in place by 2022.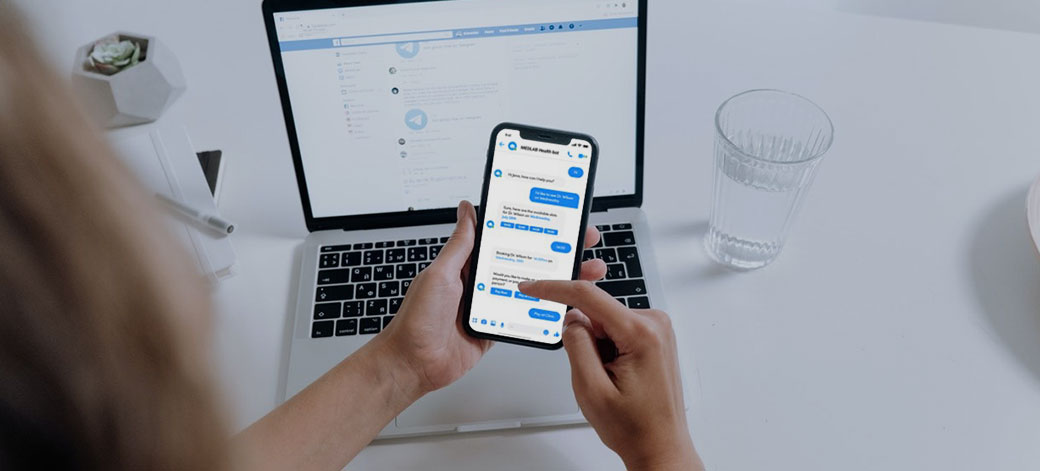 If you want to communicate with your customers, building a mobile app is much costlier than building a Facebook Messenger bot. And in case if you go for email marketing, the click-through rates (3.1 percent, on average) haven't improved in years, and only 30% of marketing emails are even opened. Chatbots can help you bypass inbox competition too.
How to Get Started with a Chatbot for Facebook
The steps to roll out a Facebook chatbot are simple and straightforward:
01

Open your Facebook account through which you want to integrate and access the chatbot.
02

Go to the "Create" section and proceed to "Create Page".
03

Go to developers.facebook.com and register yourself as a "Developer".
04

Now create an app in the developer account and integrate the chatbot.
05

For Medium and Large Enterprises Facebook API will make more sense.
06

Roll out a Chatbot that ties your legacy systems with Facebook API.
Tools and Options to rollout a Chatbot for Facebook
After all, to roll out a Smart Chatbot, a good Natural Language Processing (NLP) Engine is required and the top leaders (according to Gartner and Forrester) for sophisticated NLP engines are Google Dialogflow, Amazon Lex, IBM Watson and Wit.AI (now owned by Meta). These NLP engines use sophisticated data structures to organize their data, smart algorithms to sift through the conversations and finally large data sets to pre-train the engine so as to accurately decipher the user intent.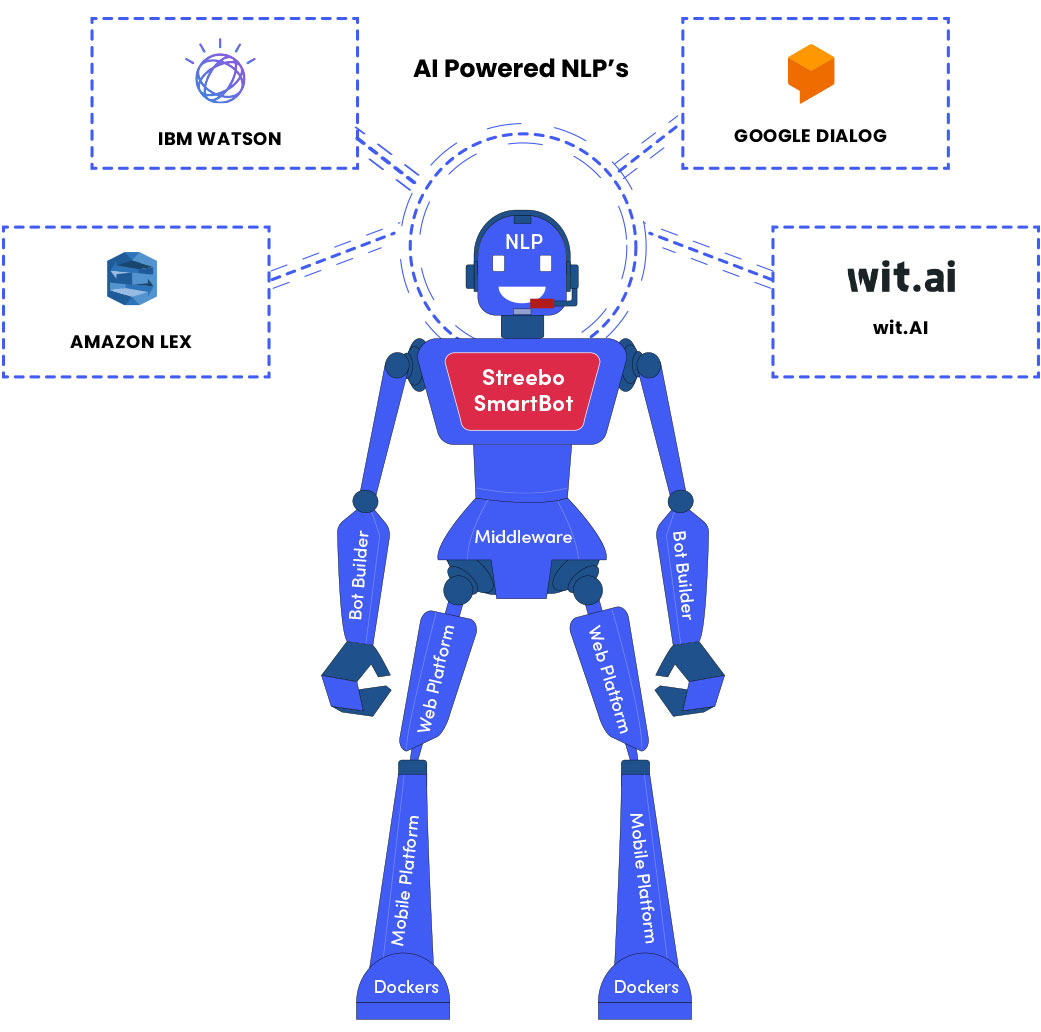 In addition to a sophisticated NLP engine, a good integration implementation partner will be needed that can bring the Facebook API, the NLP engine and the enterprise legacy systems together where our backend legacy software comes into the picture. For the chatbot integration in Facebook, A Facebook Developer account is required, where we can build a simple Frequently Asked Questions (FAQs) chatbot which provides us pre-built functionality and two-way messaging can be handled with ease. However, all these things are good for small businesses only where the products, services and processes are simple and limited. For large and medium enterprises, the Facebook Messenger App will not cut it. This is where a more sophisticated Chatbot for Facebook will be required that ties in the Facebook API to the company's existing systems and processes. An "Intelligent Chatbot" that can connect to the company's CRM, ERP and legacy systems is needed.
Streebo, a Conversational AI company
At Streebo, we specialize in Conversational AI, Chatbots and Virtual Agents and have rolled out a whole library of pre-trained Chatbots for a variety of Industries and Domains. Our Chatbots are powered by leading NLP engines like IBM Watson, Wit.AI, Amazon Lex and Google Dialogflow and work on a variety of channels including Facebook Messenger. Key Differentiators of our Chatbot solutions are as follows:

Retail

Banking

Insurance

Healthcare

Finance

Telecom

Government

Education

Oil & Gas

Manufacturing

Airline

Logistic
Library of Pre-Trained Chatbots or Virtual Assistants across a variety of Industries and Domains
Embed Chatbots on Facebook Messenger and Increase reach with 24*7 customer service and transactional capabilities

Built-in Domain Intelligence
Streebo has over 50+ pre-trained Bots available for a variety of use-cases and industries. Check out our Bot store and take a tour of bots that are relevant to your industry or use-case

Omni-Channel Bots
Streebo's bots are omnichannel that is they work across social media channels such as WhatsApp, Facebook Messenger, Google Chat, Skype and even SMS. They are integrated with voice channels including Amazon Alexa, Google Home and common Phone IVR systems. Finally, our internally facing bots are compatible with Microsoft Teams, Slack, HCL Sametime among others.

Smart & Intelligent Bots
Streebo's Bots are guaranteed to be 99% accurate which means they will answer at least 99 out of 100 relevant questions correctly. Further, our industry-specific bots are pre-trained with domain and use-case-specific intents.

Pre-Integrated with Enterprise Systems
Streebo's Bots are pre-integrated with common enterprise backend such as SAP, ServiceNow, Workday, Cognos, FileNet, Commerce, Connections among others. This allows rapid deployment of intelligent and transactional bots across different use-cases.

Built-In Live Agent Support
Streebo's Bots come in with built-in Live Agent Support. Further connectors to common Live Agent software such as Zen Desk, Avaya and Mavenir are also available.

Multi-Lingual
Streebo's Bots are multi-lingual with support for over 38 languages.
So Whether you are looking for Chatbot Consultants, Chatbot Developers or Chatbot Testers that are well versed in Facebook Messenger API or the process to integrate with them or platforms like IBM Watson Assistant, Google Dialogflow, Wit.AI, Amazon Lex or open-source platforms such as RASA and can code with technologies like Node.js, Javascript and Java … we say look no further. With 1000s of Bot projects under our belt, our chatbot development team has much experience with rolling out highly intelligent, enterprise-grade secured Bots both on WhatsApp and other social media channels.

Further, with our pre-built assets, we can accelerate your Bot journey and rapidly roll out highly intelligent and smart bots. Check out some of our case studies of successful Chatbot projects particularly with Facebook Messenger API.
Case Studies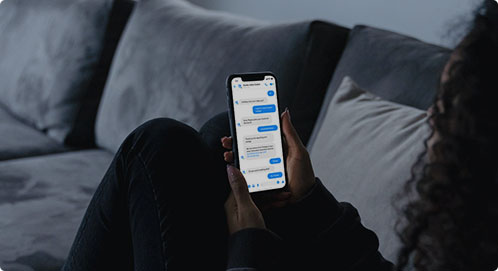 A Government Administration Agency in the Middle East initiates its Digital Transformation via the development of a Mobile App & a Conversational Interface powered by Streebo.
Streebo developed an application that will help client's end user track their e-service applications and pay the levied service fee easily via the Mobile App. The Mobile App Chatbot will give the end users, capability to converse with the App in multiple languages including Arabic and English.
READ MORE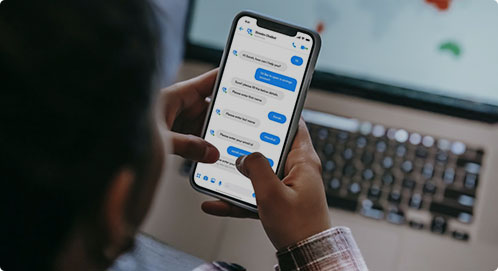 AI-driven Chatbot on Facebook Messenger transforms customer service for Medium-sized co-operative credit society
Medium-sized co-operative credit society relied on Streebo's expertise to roll out a chatbot on Facebook Messenger. Streebo designed a powerful virtual assistant for transforming the way a Medium-sized cooperative credit society dealt with its customers.
READ MORE