SMS Bots – The Future of Business Communication
SMS is an inevitable part of our lives. It has been the most popular communication channel since 1984. There are an estimated 7.26 billion mobile phone users, including smartphones and feature phones worldwide. This shows that 91% of the world's population own a mobile phone and prefer texting without undue dependence on any third-party app or having access to the internet. Even in remote areas where connectivity is an issue, people can rely on SMS to stay in touch with their loved ones. In short, in today's fast-paced world, SMS is the most convenient way to stay connected and it is here to stay.

fig 1. Consumers preferred channels for receiving brand update
Source: FinancesOnline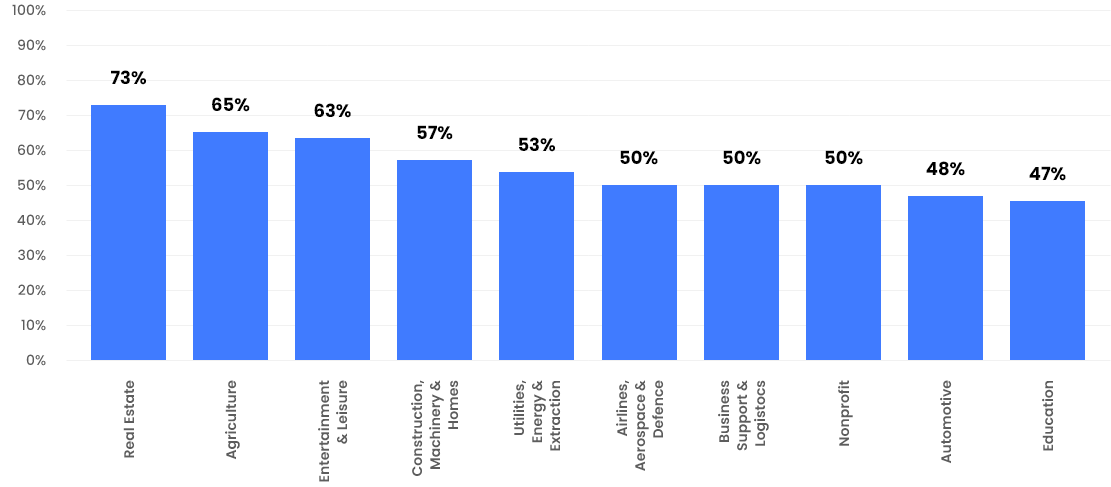 fig 2. Top industries that use texting with customers
Source: FinancesOnline

fig 3. State of SMS business use
Source: FinancesOnline
Now, in a world where we are constantly bombarded with marketing messages and sales calls, it's no wonder that SMS has become one of the most popular communication channels for BUSINESSES. Not only is it a quick and easy way to reach your customers, but it's also an incredibly effective tool for marketing and sales.
Faster Sales and ROI With Data-Driven SMS Marketing
According to a report by Forbes, 96% of marketers who leveraged SMS marketing drove more revenue. And 60% of marketers admitted that texting increased their revenue rapidly.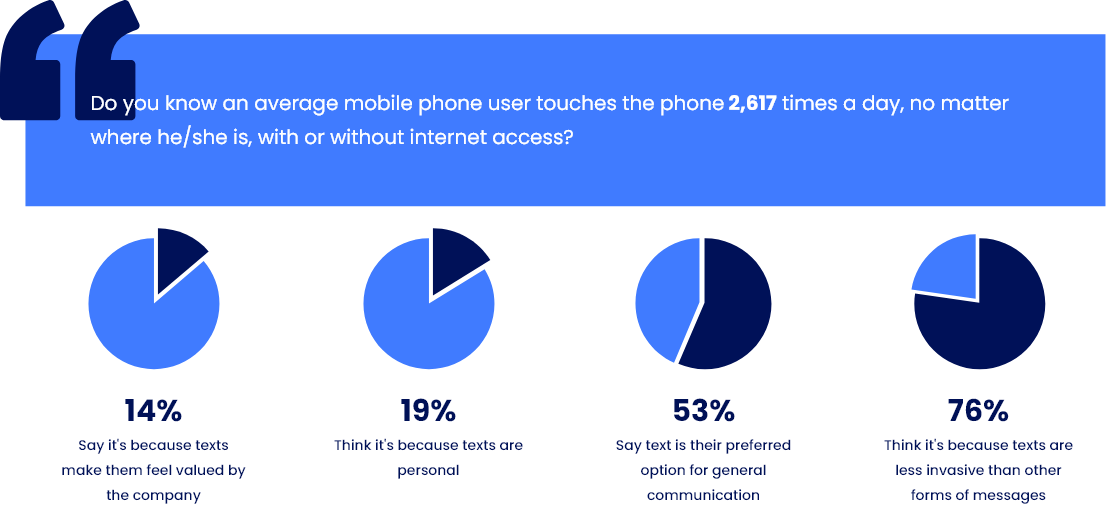 Source: FinancesOnline
Moreover, more than 85% of customers prefer SMS as a customer service option. As a result, Global brands like Coca-Cola and many large-scale companies are distributing most of their marketing budgets towards it.

Further, sales conversions and ROI are the two prominent aspects of a successful business. And technology eases our lives and is modernizing the world by automating business processes. As technology advances, businesses take advantage of potential marketing channels to expand their customer outreach. But do all customer touchpoints are of equal significance? Definitely not!! More businesses have realized the marketing benefits of text messages. The texts are convenient, simple, and quick. This omnichannel approach is more effective than email marketing, social media, and paid advertising but only when done right.

Further, know that
45%
SMS messages receive a 45% response rate as compared to just 8% for email
82%
SMS open rates average around 82%, as compared to email open rates of about 21%
19%
Text message promotions have a click-through rate of 19%
$71
SMS marketers generate $71 for every dollar spent!
Source: FinancesOnline

For illustration, Good Humor's ice cream SMS program boosted sales by focusing more on customer engagement. With this program, customers bought $20 million worth of qualifying Good Humor products to receive a $5 digital award and a sweepstakes entry to win free ice cream. For this, participants texted their bill/receipt in order to earn tempting rewards. This resulted in better customer engagement and more sales conversions with a surge in ROI.
Now that we are convinced that SMS is an effective communication, marketing as well as Sales Channel for Businesses, Let's discuss why should we leverage AI-powered Smart Bots for SMS.
SMS bots, also known as AI SMS Cognitive Assistants, are a type of artificial intelligence that can send and receive text messages on your behalf. SMS bots are designed to help you automate your text message conversations, saving you time and effort. You can program them to respond to certain keywords or phrases, or you can set them up to handle entire conversations from start to finish.

Time Sensitive Updates

Sales & Promotions

Booking Confirmations

Billing Reminders

Internal Updates

Webinars & Event Invitations

Appointment Reminders
SMS bots can even be used to make appointments or reservations, schedule reminders, and provide customer support. In short, SMS bots are a powerful tool that can help you take your text message game to the next level. The beauty of SMS bots is that they can be customized to fit the specific needs of your business. Whether you're looking to increase sales, improve customer service, or simply reduce the amount of time your employees spend on menial tasks, there's an SMS bot for that.

In short, SMS bots can help businesses in many ways, and here are some of them, we have shortlisted for you in detail:

Handle Customer Queries
SMS bots can handle customer queries quickly and efficiently. They can answer common questions, such as "What are your store hours?" or "Where is your product located?" quickly and easily. This saves businesses time and resources that would otherwise be spent on handling customer queries manually. Also used for sending alerts, notifications, and reminders whenever an order has been placed or processed.

Provide Support
SMS bots can also provide support to customers who need it. They can help customers troubleshoot problems, find answers to their questions, and even escalate issues to human agents when necessary. This helps businesses keep their customers happy and satisfied with their products and services.

Make Recommendations
SMS bots can also make recommendations to customers based on their needs. For example, if a customer is looking for a new pair of shoes, an SMS bot can recommend a few different options based on the customer's preferences. This helps businesses upsell their products and services, which can improve their bottom line.

Marketing Products or Services
SMS drives customer engagement and sales through shopper promotions. When an enterprise wants to give urgent updates or promotional offers to users, SMS Marketing service proves to be a great asset. According to a Gartner report in 2022, 90% of text messages are read in the first 3 minutes. Reason? SMS is used by all sorts of users regardless of the technology platform or type of device (Smartphone or basic phone) they own.

• SMS messages have a high open rate of 98% which means SMS messages get read right away. This makes it stand out from other marketing methods.

Increased Reach
SMS messages are generally small and transmitted over a cellular network, so they use a lower bandwidth. This results in the cost-effective broadcasting of messages to even those remote areas where the technology has not evolved much. Its compatibility with all sorts of hardware and software platforms makes it handy for enterprises to boost conversions.

Conducting surveys or polls
Conducting Surveys or Polls to have genuine feedback or opinion of the service or product provided to have a better picture and to bridge the gap between customer expectations and enterprise-grade solutions.

Security Authentication
SMS Bots are frequently and efficiently used in maintaining the security of customers' confidential information with two-factor authentication messages as well!
A debt collection agency, Time Warner surged bill collections by 49% after implementing SMS strategies.

In the simple version, a regular text about any promotional offer sent from an organization is a one-way communication. But with the integration of a Smart Virtual Assistant, it becomes two-way communication as it can ask questions, process answers, and follows the communication path to generate lead and sales over the same conversational route.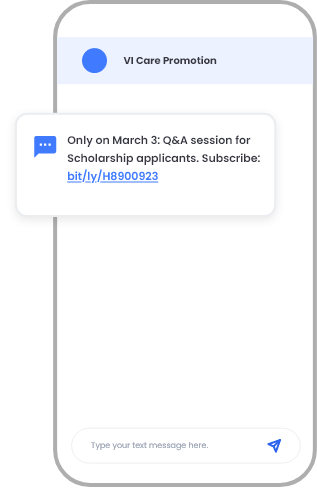 A Simple Text Message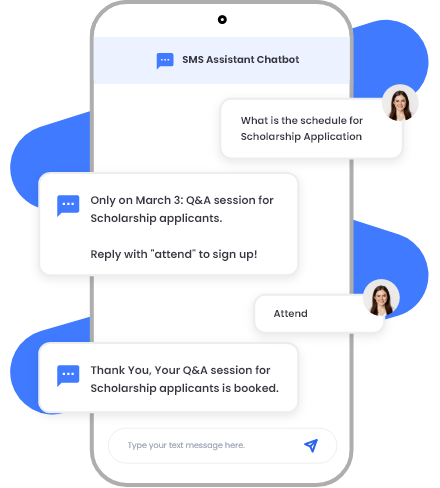 An SMS Chatbot
Don't forget!

SMS virtual agents scale up the business's customer support without human intervention. According to Business Insider, 61% of marketers still do not use SMS, so, by using this marketing method, you can get ahead of your competitors.
How do Streebo's Conversational AI-powered Cognitive Assistants power SMS Messaging as compared to other players in the market?
At Streebo, we take a judicious, comprehensive, and holistic approach to understanding the necessary value drivers for businesses and deploy hand-picked business use cases with qualitative benefits like improved cost savings, higher productivity, and better customer retention. Our Smart SMS Virtual Agents are sophisticated solutions powered by the latest, cutting-edge technology platforms such as IBM Watson Assistant, Google Dialog Flow, and Amazon Lex. By automating tasks like giving order-related notifications and avail shipment arrival/pick-up details via Smart Cognitive Bots built using Streebo's latest, advanced software, businesses can focus on their core competencies and leave the menial tasks to smart SMS virtual assistant solutions. Some of the use cases that we have automated thus far for Businesses and Brands are:

Order-related notifications

Shipment arrival/pick-up details

Updates related to product delivery

Offers and discounts notifications

Customer relationship nurturing texts

Survey conducting texts

Marketing and sales promotions texts that generate leads

User feedback gathering texts to improve offerings

Abandoned cart reminder texts
Streebo's Smart Cognitive Bots (COGS) can process the user input, provide a logical answer and perform certain actions instantly without any delay or due. In addition, It can also hand off complex queries to agents whenever human intervention is required!
Getting Started with smart SMS Virtual Assistants powered by Streebo's Conversational AI interface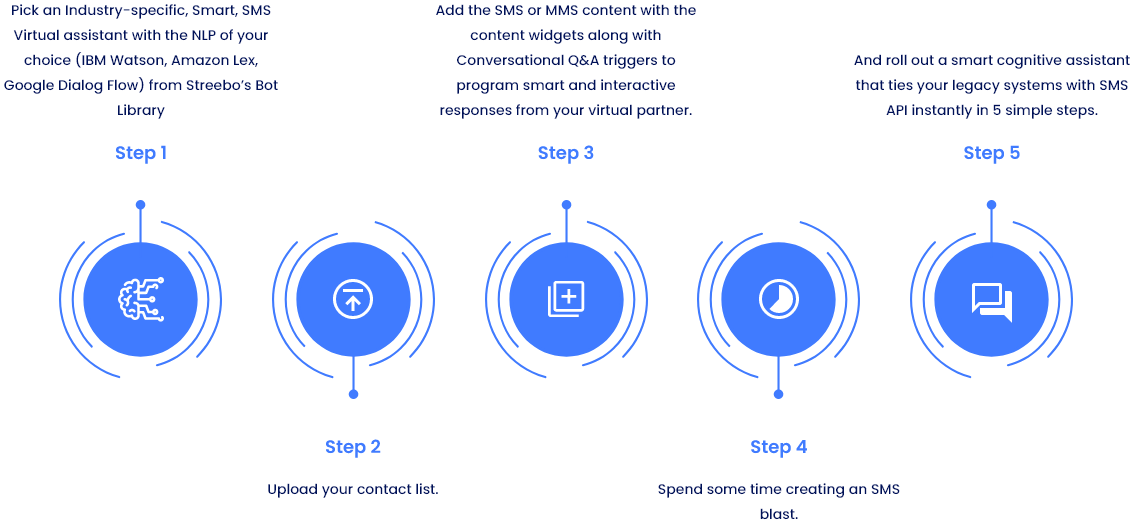 fig 4. Simple 5 steps for getting started with Smart SMS Virtual Assistants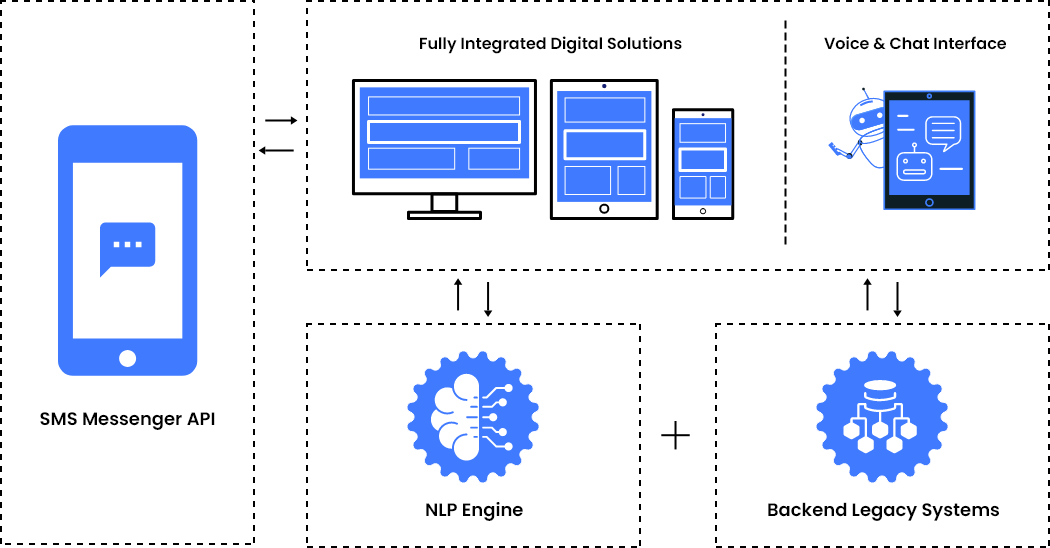 fig 5. SMS Chatbot Components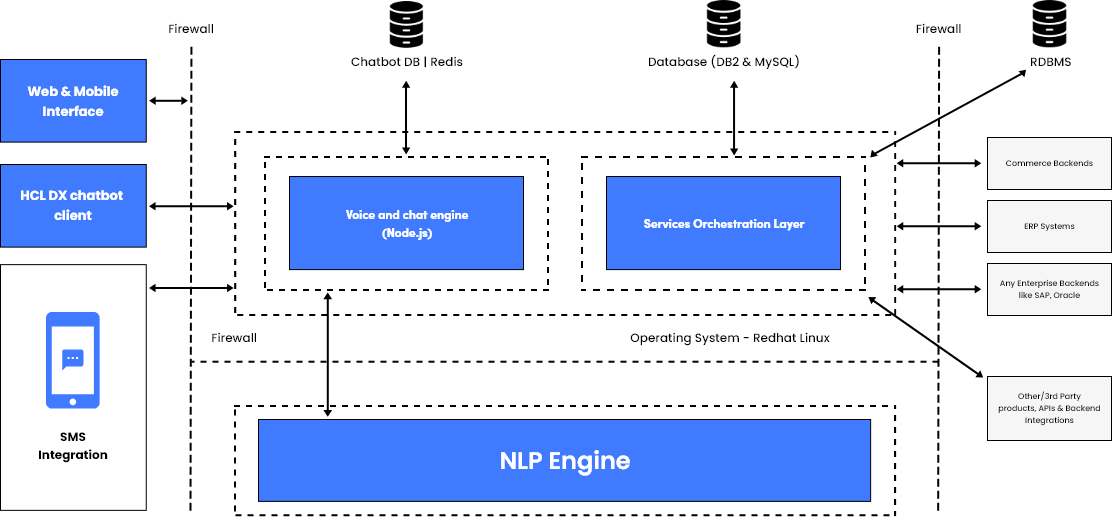 fig 6. Detailed Chatbot Architecture
Conclusion
If you're looking for a quick, easy, and effective way to communicate with your customers, look no further than SMS bots. These powerful tools allow you to automate your customer interactions, saving you time and money while still delivering high-quality, personalized messages.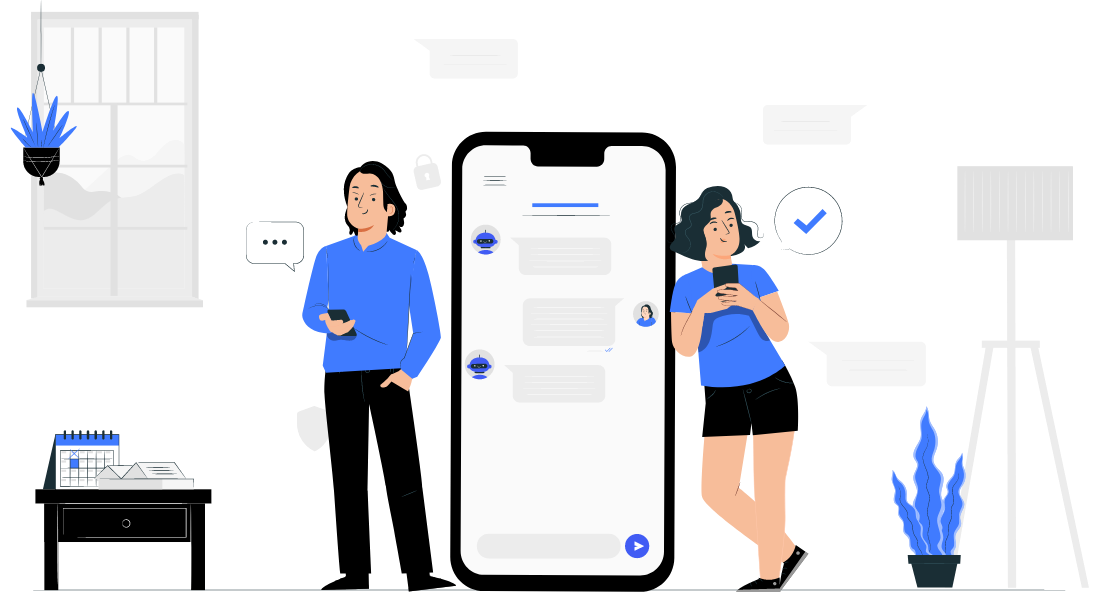 Why Streebo?
At Streebo, we believe that the future of work is smart and intelligent. Our team of experts have developed a range of enterprise-specific Virtual Assistants and Cognitive Assistants, powered by leading NLP engines like IBM Watson Assistant, Amazon Lex, and Google Dialog flow. These Smart solutions are Omnichannel and Multilingual, with a 99% accuracy rate. In addition, our Virtual Assistants come with pre-built adapters for a variety of enterprise backend systems, including Oracle, SAP, ServiceNow, Workday, and Salesforce. Whether you're looking for a Customer Service Bot or a Knowledge Management Assistant, we're confident that we have a solution to meet your needs.

The key differentiators of our Smart, Cognitive Assistants are:

Powerful NLP Engine
Streebo's Conversational AI Virtual Assistants are powered by leading NLP engines like IBM Watson, Google Dialog Flow, and Amazon Lex. Streebo's smart Cognitive Assistants (COGS) process the customer's requests and engage the customer…


Omnichannel
Streebo's Cognitive Assistants are highly dynamic and integrate well with a plethora of social media channels like Facebook Messenger, WhatsApp, Google Chat, Skype, Slack, Microsoft Teams, and HCL Sametime including SMS.


Multilingual
Our ready-made, smart solutions ease communication with customers in their native language with the excellent support of 38+ languages.


Guaranteed Bot Intelligence Index
Streebo's Smart, Virtual Assistants ensure a guaranteed Bot Intelligence Index* of 99% (*BII= No. of questions answered correctly/No. of relevant questions asked.


Pre-integrated with Back-end systems
Streebo's Smart Bots are pre-trained to integrate with any enterprise back-end systems like Oracle, SAP, ServiceNow, and more.
/span>

High-Quality Support
Our smart solutions reduce customers' churn rate and increase customer engagement by effectively solving their queries 24*7.


Built-In Live Agent Support
Our enterprise-grade solutions come with Live Agent Support. Bot-to-human handoff can be integrated with common live agent software like Zen Desk, Avaya, and Mavenir whenever queries get complex.

Further, with the advancements in Artificial Intelligence, unlike any other player in the market, Streebo's Smart Conversational AI interfaces are automating SMS prompts like never before. Our Smart Bots or COGS are effective at bundling up vital information about the customers – Who is interacting with what type of product? And more. These ideas or patterns lead to increased sales and also improve customer satisfaction and customer retention index.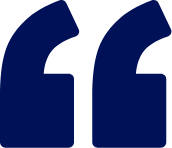 Recently, one of our clients – a large finance organization with millions of customers was struggling to provide quality customer service. The client turned to us for help. We quickly turned around and deployed Streebo's Conversational AI on their SMS channel which allowed the client to automate their important customer service tasks thereby improving customer satisfaction levels. It also freed up agents to provide more personalized service to customers and as a result, the client saw a 60% increase in conversion rates!
So, If you are looking for an Enterprise-grade solution, Virtual agents, or Virtual Assistants, that can integrate well with the SMS API, look no further. Being a digital transformation expert, we have Pre-built, Pre-trained, Smart, and Ready-to-deploy AI Bots that are powered by industry-leading NLP engines like IBM Watson Assistant, Google Dialog flow, Wit.AI, Amazon Lex, and also open-source platforms such as RASA. With expertise for over a decade, our team of experts can roll out highly secure, omnichannel, industry-specific, and personalized smart solutions that can outstretch your presence across diversified social media channels including SMS.
Our Pricing Model
Customers have an option to "Buy" the virtual agent with a one-time fee or "Subscribe" for a fixed monthly charge.
MVP (Minimum Viable Product) virtual agent includes:

3 transaction used cases.

1 backend integrations

50 FAQ's

Channels – Web, Mobile App, 1 Social media channel such as WhatsApp, Facebook Messenger, SMS, et.al.

Capex Option
You can choose to buy the product with an upfront amount

Opex Option
You can opt for a monthly subscription-based service with no upfront setup fee.

Pay Per Usage
This is a conversation-based subscription as you have to pay according to your usage.
So, what are you waiting for?
Get your personalized smart Cognitive Assistant ready with Streebo now!
Schedule a demo