Enhance your Customer Experience with Streebo's AI Powered Banking Bots
Need for Next-Gen Technology in Banking Industry
Request a Demo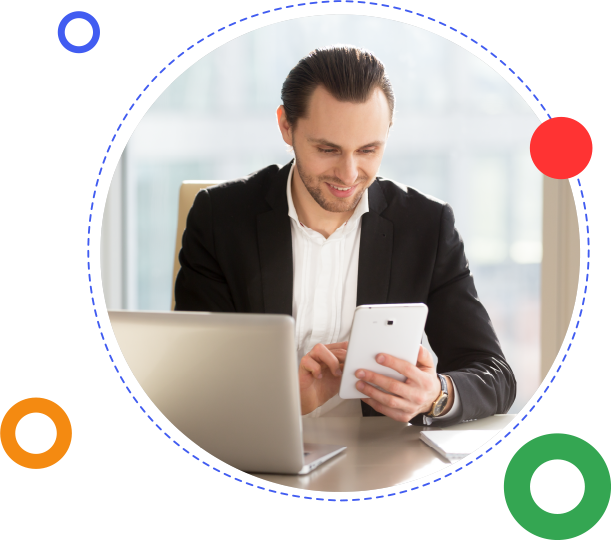 Trusted By




















Pandemic has accelerated Digital Transformation across various sectors including Banking. Due to covid-19, foot falls in the Banks have drastically reduced whereas the usage of digital properties including web and mobile as well as asynchronous messaging channels such as WhatsApp, Facebook, SMS have increased. As per the global survey by Forbes, 95% of consumers tend to use Digital Banking post pandemic. To meet the customers' expectations, to deliver 24*7 customer service and to enhance their digital experience, Banks will have to extend their digital presence where its consumers are. But assigning humans to these channels to resolve customer queries can increase expenses significantly and is highly unscalable. So, the major point of concern for the banking executives is…
Request a Personalized Pre-Trained Bot Store Demo
from our Chatbot Experts
We ensure you're matched with the right talent based on your requirement.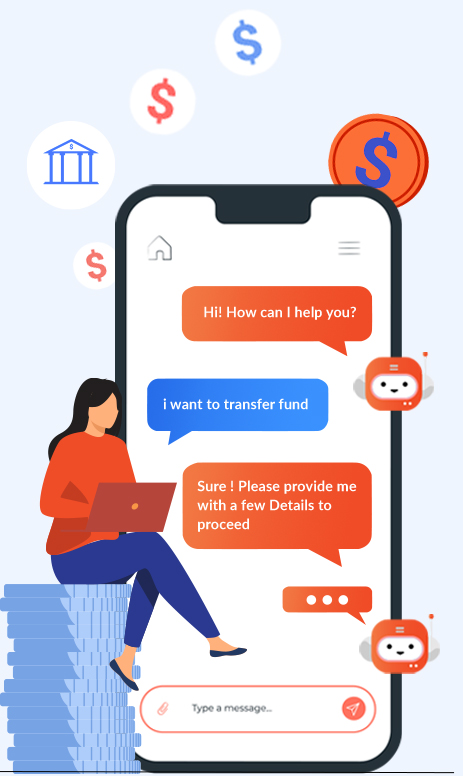 How can a Banking Industry meet the changing customer demands?
Emerging technology such as Artificial Intelligence (AI) and its advancements in Natural Language Processing (NLP) has made it possible to deliver a smart AI Powered Chatbot/Virtual Assistant which can readily assist the customers with their queries by reducing the operational cost and maximizing the revenue.

Streebo, a leading AI and a Digital Transformation Company have come up with a smart AI Powered Pre-trained Banking Bot which can handle all the banking related activities including Fund Transfer, Opening a New A/c, Loan Application, among others. All these Banking transactions require confidential information of the customers and so to ensure the security of the conversations which happens via chatbot, Streebo's AI Powered Banking Bot leverages a leading NLP engine such as IBM Watson Assistant, Google Dialog flow, Amazon Lex, among others. These Bots are guaranteed to be 99% accurate and are extended across widely used social media channels including WhatsApp, Facebook Messenger, SMS, WeChat, Viber, Signal, among others & can further be extended to voice channels including Google Home, Amazon Alexa. These Bots are pre-integrated with the core-banking system including Finacle, SAP Core Banking, Oracle Flex Cube, among others. Moreover, Streebo's Banking Bots includes advanced analytics and reporting allowing the banks to understand customers usage pattern. This helps in improving the sales and thereby increasing the ROI for the organizations deploying the chatbots.
Business Benefits
As per Gartner's report 85% of customer interactions will happen via chatbot and will save upto $8 billion annually.

By leveraging Streebo's AI Powered Banking Bots – banks can avail below mentioned benefits:

Increased Customer Outreach

Extending the chatbot across multiple channels including web, mobile, fb messenger, WhatsApp, SMS, Viber, etc. helps to reach larger audience.

Enhanced Customer Engagement and improved customer satisfaction

by catering to customer queries 24*7 across the channel of their choice

Increased Customer Retention

Since all the customer queries will be answered readily and due to live agent support – the customer retention ratio increases.

Decreased Operational Cost

All the customer queries will be handled via chatbot itself and will remarkably increase the conversion rate by 15%.

Improved Sales

By generating Analytics can help to revamp the strategies as per the customer's choice which in turn can help in improving the sales.
Pre-trained Bots/Virtual Assistants
AI Powered Chatbot extended on Social Media Channels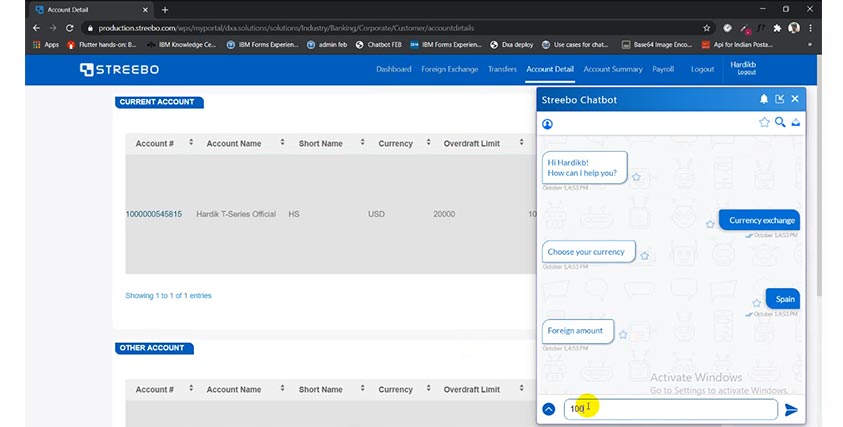 Web Application Bot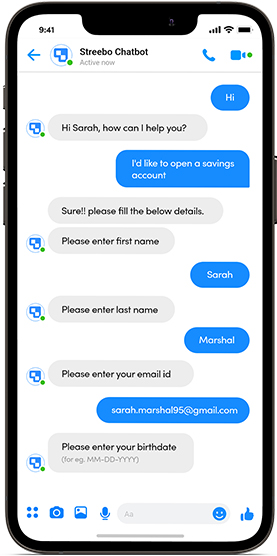 Messenger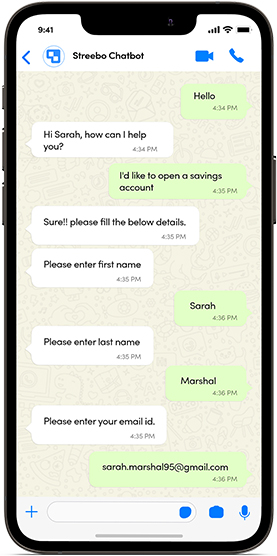 WhatsApp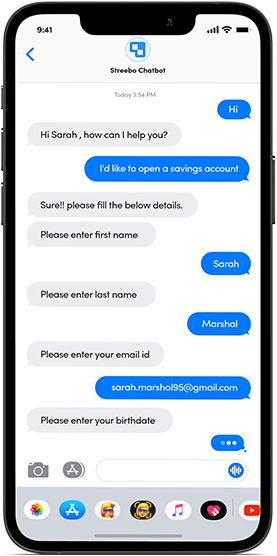 SMS
Why Streebo's AI Powered Banking Bot?
Key differentiators of Streebo's Pre-Trained and pre-integrated banking bot:

Built-in Domain Intelligence
Streebo in collaboration with its technology partner deploys highly intelligent pretrained Bots that can emulate business processes pertaining to various Banking and Financial Sectors.

Omni-Channel Benefit
Streebo's AI Powered Banking chatbot can be deployed across social media channels such as FB Messenger, WhatsApp, Signal, WeChat, Viber, and even SMS. Bots can even be deployed to existing digital properties such as the website and mobile App.

Pre-Integrated with Backends
Streebo's Banking Bot comes in pre-integrated with common core banking systems such as SAP Core banking, Oracle Flex cube, Finacle.

Flexible Deployment Options
Streebo's Banking Bot can be deployed on-premises or on IBM Cloud, Microsoft Azure, Amazon AWS or Google Cloud Platform.

99% Accuracy
Streebo Chatbot comes with Guaranteed Bot Intelligence Index* of 99% (*BII= No. of questions answered correctly/No. of relevant questions asked)

Ease of Development & Maintenance
Streebo's Pre-Trained Banking Bot is built using open standards such as Java and JavaScript. Also comes bundled in with Streebo's Bot Builder a low code no code tooling to assemble, integrate and manage the bot. Thus, making it easy for both Line of Business and people in IT with minimal or no background in Artificial Intelligence to assemble, integrate and manage the bot moving forward. Streebo's Bot Builder is an optional development only tooling that customer can choose or they can directly develop and manage it using standard IDEs such as Eclipse and Visual Studio

Advanced Chat Analytics
Streebo's analytics dashboard is developed to record and display systemic data, metrics, preferences, and trends which eventually help in monitoring user interactions, and can be adapted accordingly to give relevant responses and take business decisions.

Multi-lingual Support
Streebo's Customer Service Chatbot provides support for over 38+ languages. They can even handle voice requests on channels such as IVR, Amazon Alexa, and Google Home.
Our AI Powered Banking Chatbot Supports Below mentioned Features:

99% Accurate

Omni-channel Solution

Secure with Role-based access

Multilingual Support for over 38 languages

Support for both voice and chat channels

Advanced Analytics

In-built Live Agent Support

Pre-integrated with Enterprise Systems
Our pretrained Banking Bots supports below mentioned use cases:
Customer Facing Bots:

FAQs (Frequently Asked Questions)

Branch Locator

Open an Account

Apply for a Credit Card

Apply for an FD

Avail a Loan

Personal Loan Calculator

Learning Center (Videos/Articles)

Talk to a Live Agent for assistance

Check Balance

Check last 5 Transactions

View Account Statement

Add Beneficiary

Fund Transfer

Apply for Mortgage Loan

Block Credit/Debit Card

Check/Download Statement

Check/Download FD Summary

Request a Cheque Book

Reset PIN

Bill Payment

Mobile Recharge

Track Loan Application

Update KYC

Submit Form 15G/15H

Update Personal Details

Rewards Point – Balance, History, Redemption, Queries

Find IFSC

Value Added Services – All type of Recharges (Mobile, Data card, DTH), All type of Utility Bill Payment and Wallet Recharge, Travel Booking (Cab, Bus, Rail, Flight), Hotel Booking, Holiday Booking, Movies (One Third party integration), Browse plans for recharge
Agent Facing Bots:

FAQs

Branch Locator

Check offers/contests

Performance Management

Check customer list

Filter customers to check individual customer details

Check customer specific offers and reminders if any

Open an account on behalf of customers

Request Information & Tracking Customer Service Requests

Role Based Login

Access Control

New Member Creation

Add/View/Update customer KYC details

Investment Calculator

Talk to a Live Agent for assistance

Find IFSC

Agent Registration and Password Reset

Agent Dashboard – DD collection, RD collection, Services, Share Purchase, Request info and Mini statement.
Pricing Options
MVP (Minimum Viable Product) bot includes:

3 transactional use cases

1 backend integrations

50 FAQ's

Channels – Web, Mobile App, 1 Social media channel such as WhatsApp, Facebook Messenger, SMS, et.al.
Capex Option

You can choose to buy the MVP Bot.
Opex Option

You can choose to Subscribe to the MVP Bot at a monthly charge with no upfront setup fee.
Pay Per Usage

This is a conversation-based subscription and tied to the number of conversations, hence there is no constraint on the scope.