Overview
The Manufacturing Industry is recovering from the pandemic disruption. Digital services in this industry have widely adopted Web and Mobile Apps, which are proven channels to interact with customers. Effective marketing and customer service are still key challenges in front of manufacturers. Consumer behavior has changed as they are spending most of their time in front of screens using asynchronous messaging channels. A recent TechCrunch study points out a 40% surge in traffic on messaging channels such as Facebook Messenger, WhatsApp and even SMS . Players that will recognize and respond to this change will stand to gain market share and generate net new revenue by adopting an Omnichannel Manufacturing Platform for Customers.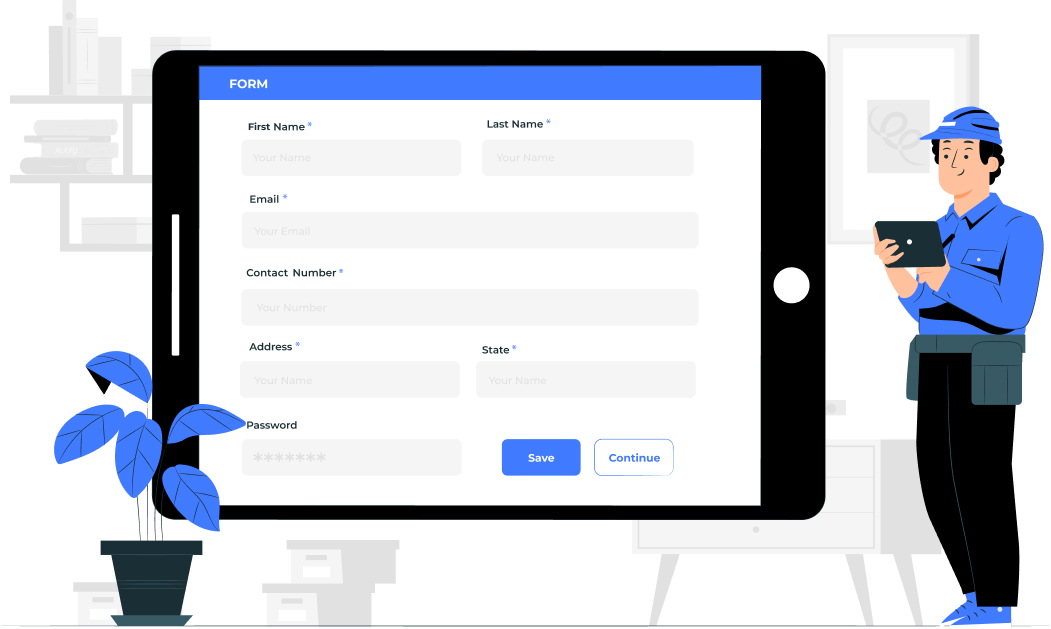 Smart Manufacturing Industry Omnichannel Solution
Building the New Edge Manufacturing Industry
Manufacturers have to deal with business operations and customer queries on a large scale. Keeping communications manual presents the issues of inefficiency, delayed response to customers, and loss of time and money in the process. The Manufacturing Industry is going through Digital Transformation and the advancement in Artificial Intelligence (AI) & its adjacent technologies are sweeping across various digital platforms. By leveraging this opportunity, Streebo has tried to resolve the key business challenges around marketing, sales, and support in Manufacturing Industry by extending the businesses across widely-used Voice and Chat channels. AI Powered Omnichannel Platform can be a game-changer in the Manufacturing Industry as it increases the overall present across messaging channels and automates the conversations in order to revolutionize the Prospect and Customer journey at a Manufacturing Business.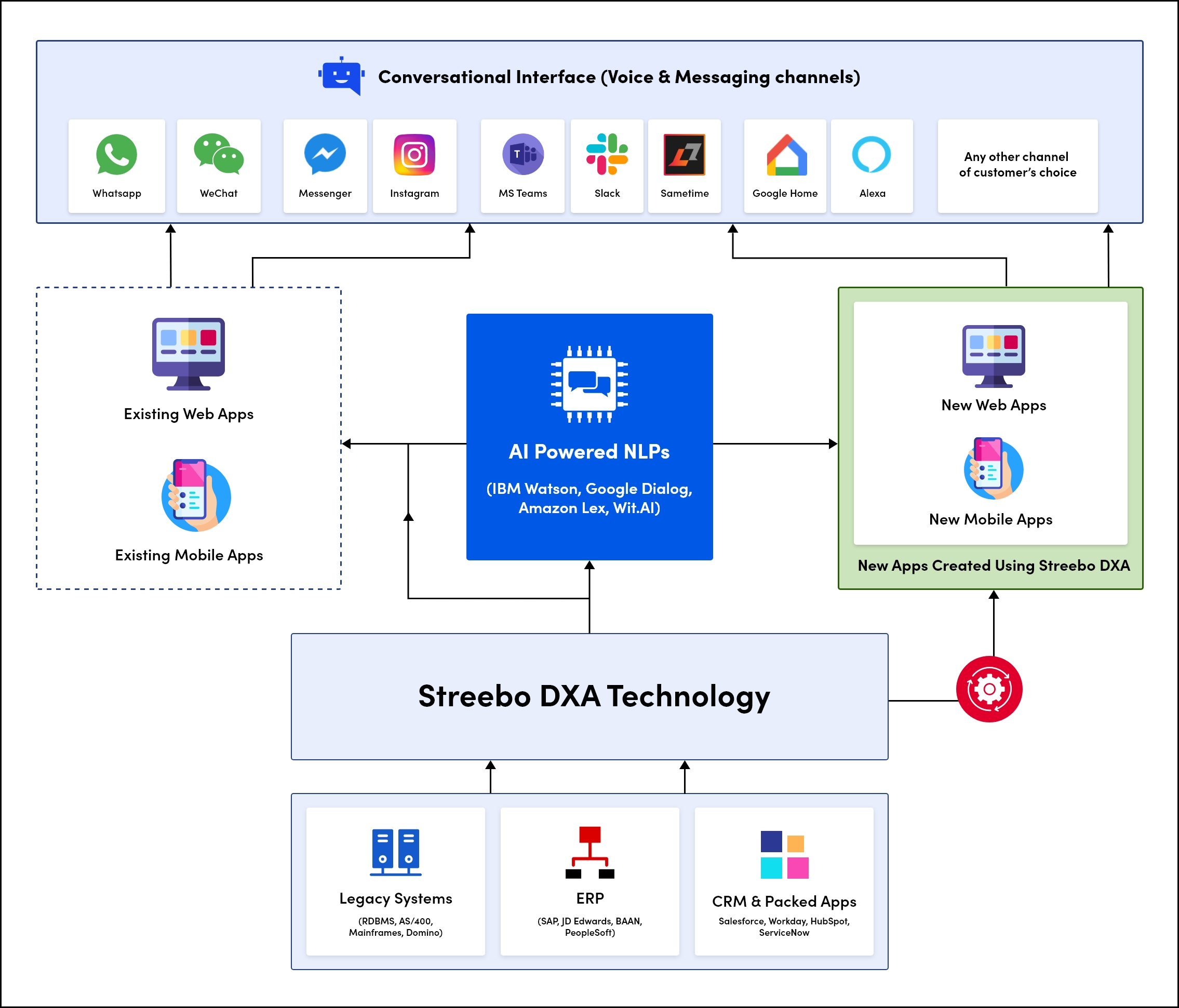 fig 1. Logical Architecture of Streebo's Pre-Packaged Omni-Channel Solution
Streebo's Pre-Packaged Omni-Channel Solution for Manufacturing Industry
Streebo has rolled out a pre-packaged, ready-to-use omnichannel Manufacturing Solution (COTS) to elevate and improve your customer experience. To cope up with the changing customer demands these solutions can be further extended to your existing Web & Mobile applications as well as to various Voice and Chat interfaces. Powered by Streebo's Digital Experience Accelerator (DXA) and Streebo's (low-code no-code) App Builder, the single code base solution can be managed by both IT as well as Non-IT Team members. The Point and Click Interface feature in the App Builder allows integration of these solutions to the desired backend system.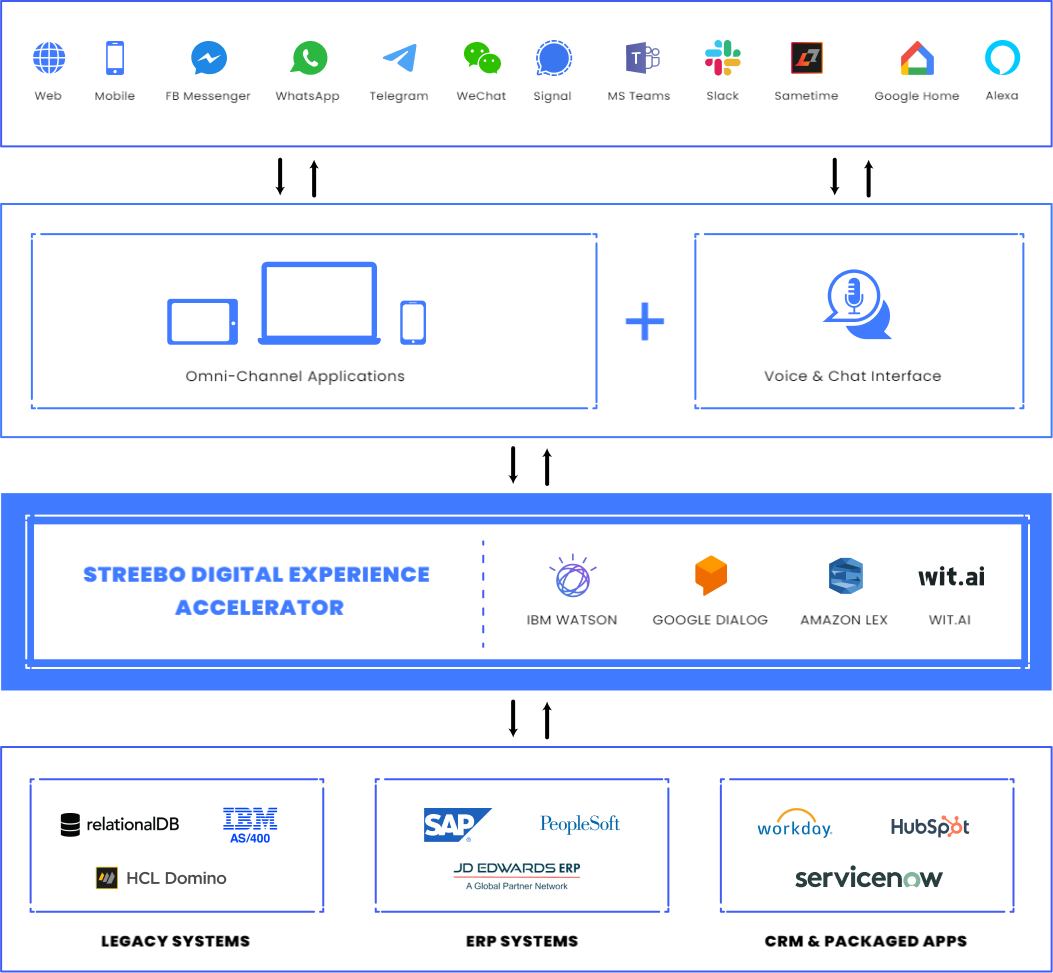 Leveraging AI and leading Natural Language Processing (NLP) Platforms such as IBM Watson, Google Dialogflow and Amazon Lex allows easy extension of the Web & Mobile application across various messaging platforms including WhatsApp, Facebook Messenger, SMS, Telegram, Viber, Instagram, Signal, Google Home, Amazon Alexa , among others. You can even choose to simply upgrade and extend your existing Web & Mobile applications to various Voice and Chat channels by leveraging leading NLP engines from IBM, Google and Amazon.
Key Modules

FAQs

Track Shipment

Sign up or Register

Update Profile

Reset Password

Place/Modify Order

See Products/Service Brochure

Provide Feedback

Payment Transactions

Document Upload

Generate Invoice/Bill

Cancel Order

Request Refund

Register Complain
Business Benefits
Manufacturing Businesses will experience the below benefits by automating Customer and Prospect interaction to Voice and Chat channels and upgrading their system with AI powered Streebo Smart Digital Manufacturing Solution.

Customer Support in Local Language
Multilingual Conversational AI removes the language barrier with local language support, as the Digital Manufacturing Solution provides support for 38+ languages on chat as well as voice interface which gains more preference.

Improved SEO
The Conversational Interface can engage buyers on the public website thus increasing your session time and reducing your bounce rate. This improves SEO page ranking and improves lead generation by an average of 17% thus even making your online ad spending more effective.

Increased Revenue
the AI powered Smart Manufacturing Solution helps in reducing the sales cycle and increasing the overall loyal customer base resulting in increased revenue. Our client can differentiate their services and gain a competitive advantage.

Decreased Customer Support Cost
As the Omnichannel Solution for Manufacturing Prospects and Customer handles most of the level-1 queries and saves on query resolution time & effort – this, in turn, decreases the cost of a call center.

Improved Customer Satisfaction
Streebo Omnichannel Manufacturing Solution provides a seamless experience to customers of online ordering and maintenance service and real-time shipment tracking. It also provides an instant response with round-the-clock customer assistance on the channel of their choice. This significantly increases Customer Satisfaction and Customer Retention rates.
Solution for Customer extended on Web and Social Media Channels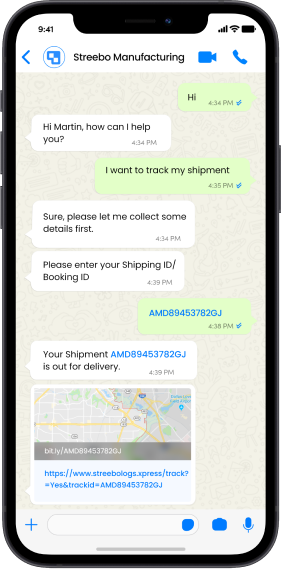 Facebook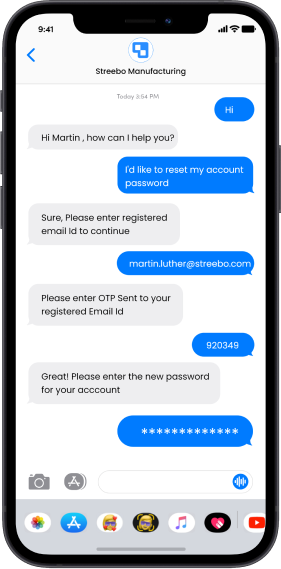 WhatsApp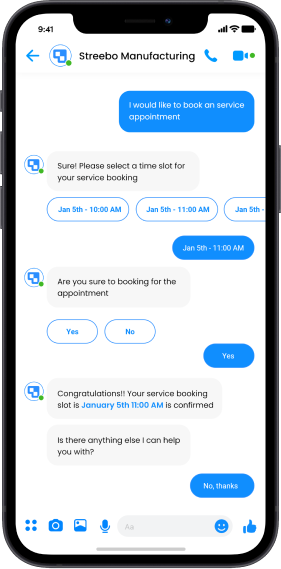 Mobile App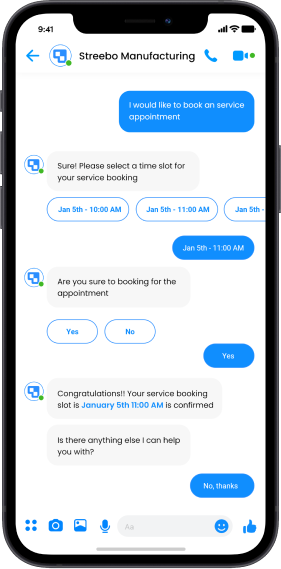 MS Team
Key Features & Differentiators
Hence adopting AI-Powered Smart Manufacturing Solutions for Customers across channels will result in the following benefits:

In-Built Domain Intelligence
Streebo with its AI Experts Team deploys a cognitive intelligent omnichannel solution that can emulate your business processes specifically for Manufacturing Industry.

Omni-Channel Presence
Streebo's Omnichannel Manufacturing Solutions can be deployed across Web, Mobile App and Social Media channels including WhatsApp, Facebook Messenger, SMS, Signal, WeChat, Viber, Google Chat and Telegram among others. This solution can further be deployed on voice channels like Google Home, Amazon Alexa, Siri and even IVR.

Role-based & Secure access
Streebo's Digital Manufacturing Solution is built on top of robust infrastructure from top technology providers such as IBM, Google and Amazon. Hence, they have tight security and scalable infrastructure in place.

Lower Maintenance Cost
As the Digital Manufacturing Solution is built with a Single Code Base for all the Digital Assets– the application can be updated and deployed in one single click, thus saving the cost of managing individual applications across various platforms.

Flexible Deployment Options
Streebo's Smart Manufacturing Solution can be deployed on-premise or on IBM Cloud, Microsoft Azure, Amazon AWS or Google Cloud Platform.

Pre-Integrated with Backends
Streebo's Digital Solution for the Manufacturing Industry comes in pre-integrated with backend systems such as SAP, ServiceNow, Oracle, CRM, ERP, etc.

Ease of Development & Maintenance
Streebo's Omnichannel Manufacturing Platform is built using a low code no code tooling thus, making it easy for both Line of Business and people in IT to assemble, integrate and manage the solution moving forward.

Flexible NLP Selection
Streebo's AI Powered Manufacturing Solution is NLP Agnostic, be it IBM Watson Assistant, Google Dialogflow or Amazon Lex based on customer preference.

Advance Analytics
Streebo's Analytics Dashboard is developed to record and display systemic data, metrics, preferences, and trends which eventually help in monitoring user interactions, and can be adapted accordingly to give relevant responses and take business decisions.
Pricing Options

Capex Option
You can choose to buy the Omnichannel Manufacturing Solution.

Opex Option
You can choose to Subscribe to the Omnichannel Manufacturing Solution at a monthly charge with no upfront setup fee.

Pay Per Usage
You can get the Conversational Interface "add-on" for your existing Web and Mobile app and simply pay per usage for voice and chat channels.
Are you looking to deliver a consistent customer experience? Contact Streebo today and schedule an online demo with us!
Schedule a demo