Chatbot for Agents of Life Insurance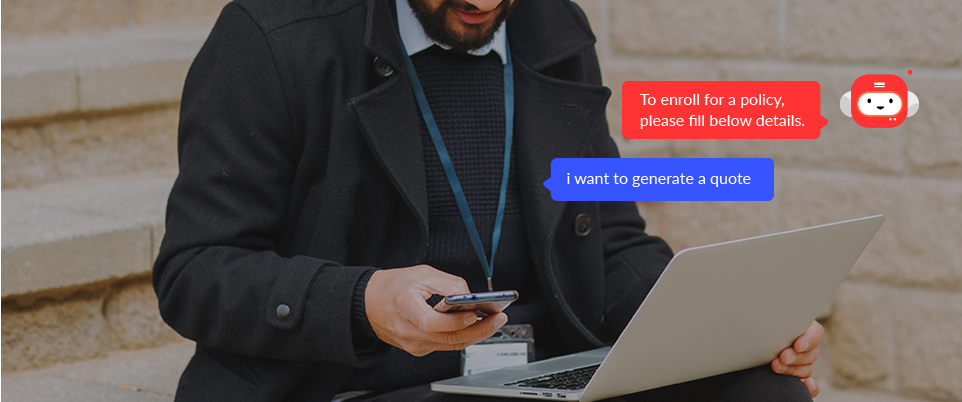 The Insurance industry is undergoing a perfect storm. Changing customer demands, advancements in AI technology, and a move towards digital and mobile channels are causing a tectonic shift. Post pandemic digital channels are experiencing heavy traffic and the maximum amount of business is generated via mobile channels like Apps and now even social media.
What Insurance Companies can do to adapt and
overcome the Industry Change
Technology is creating a wealth of new possibilities. The advent of the Chatbots creates opportunities for insurance agents to make use of unprecedented channels such as Facebook Messenger, WhatsApp, SMS, Amazon Alexa, Google Assistant, Siri, etc. for their end customers. Advances in Artificial Intelligence (AI) are allowing insurance agents to shift through these channels quickly and efficiently, enabling more personalized approaches to increase sales, reduce operations costs, and to saves time & effort. 86% of Insurance CEOs believe the technology advancements like Artificial Intelligence (AI), Chatbot, Natural Language Processing (NLP) have changed the business completely over the past 3-5 years.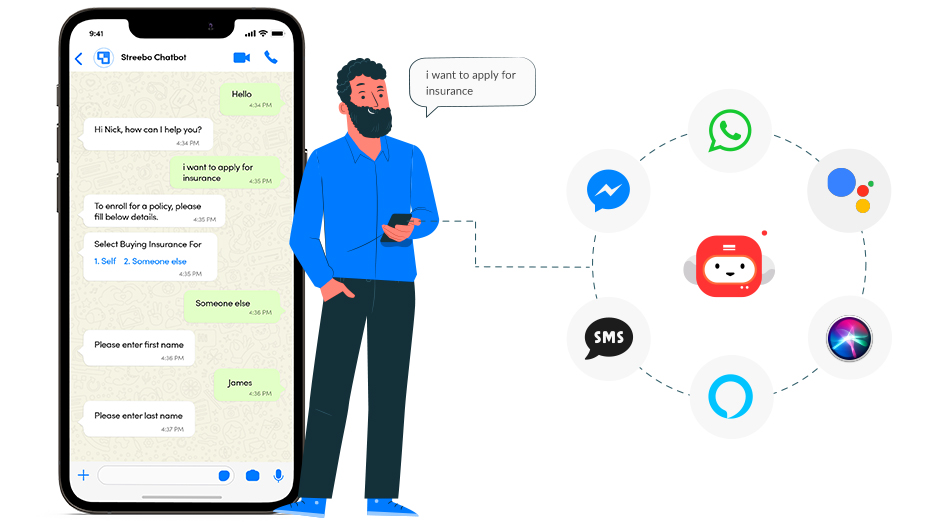 Streebo a leading AI and Digital Transformation Company has created a highly intelligent bot that is guaranteed to be 99% accurate. Streebo's Pre-trained AI-Powered Life Insurance Agent Chatbot can help agents with a variety of common Insurance functions including create a quote, sign up a new customer, issue the policy and even filing of claims. These bots are pre-integrated with a wide variety of Insurance Solutions such as Ingenium, Genelco and even IBM's AS/400 systems among others. Moreover, these Bots leverage leading NLP engines such as IBM Watson, Google Dialog, and Amazon Lex thus making them very smart. With Streebo's 24X7 available Conversational AI for Life Insurance Agent, Insurance companies can improve their customer satisfaction by an average of 23% while reducing their call center costs as well. That's why this AI-powered Insurance Agent Chatbot has a powerful ROI as it can improve sales, can assist with cross-sell & up-sell while reducing costs for organizations deploying them.
Business Benefits of Deploying a Life Insurance Agent Bot
Insurance Businesses that have deployed Bots to assist their insurance agents have realized measurable benefits including a saving of about $0.60 per chatbot interaction.

Other benefits include:

Choice of Communication Channel
Agent gets to leverage existing digital properties like website and mobile App along with multiple digital channels such as WhatsApp, Facebook Messenger, SMS among others to easily reach out to their leads and prospects

Reduced Workload
Streebo's Life Insurance Agents Chatbot acts as an agent for low complexity policies, and helps purchase or initiates a purchase, of simple policies. They can also perform plenty of low-complexity service requeststhus allowing agents to focus on complex cases.

Underwriting Assistance
Conversational AI Life Insurance Agent communicates with all parties (agent, carrier, prospect) on basic underwriting questions, seeks additional or missing data to perform the underwriting process.

Reduced Cost
Having a Conversational AI Life Insurance Agent in your Force results in a decreased operational cost and remarkably increases the conversion rate on an average by 15%.

Expand Agents Network
Significant growth in Agent's Network as more and more agents will join for the perks of increased revenue & better customer outreach compared to other insurance companies

Increase Productivity
NLP improves Agents' productivity by automating business processes, thus allowing them to work more effectively thus increasing their bandwidth..
Insurance Bots for Agents extended on Web, Mobile and Social Media Channels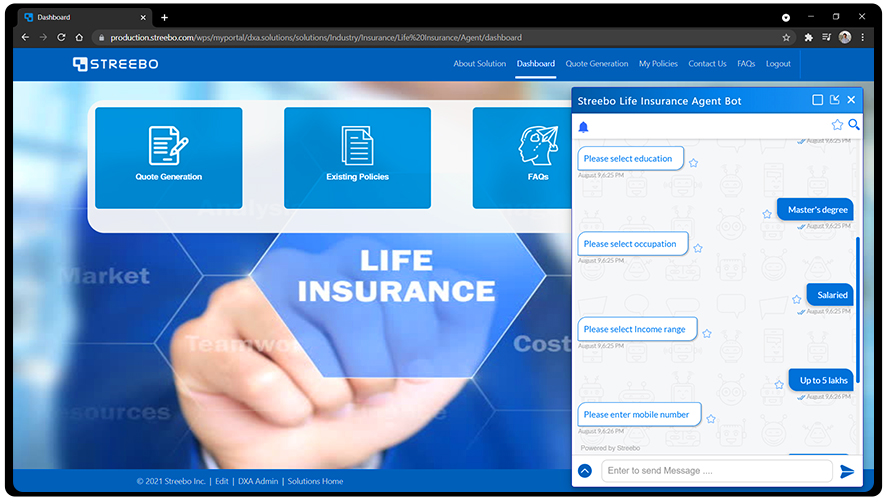 WebApp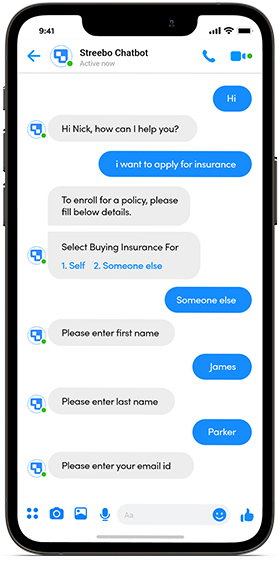 FB Messenger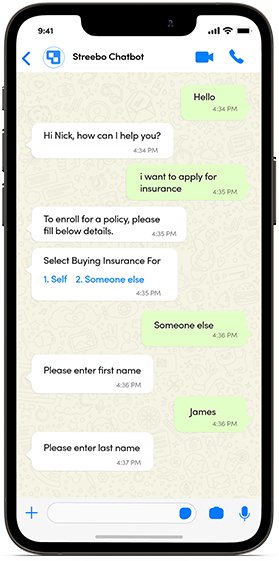 WhatsApp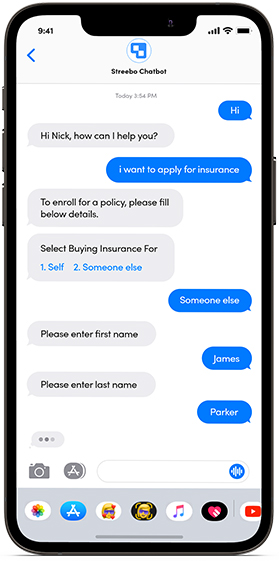 SMS