Disruptive Forces that are Changing
the Banking Industry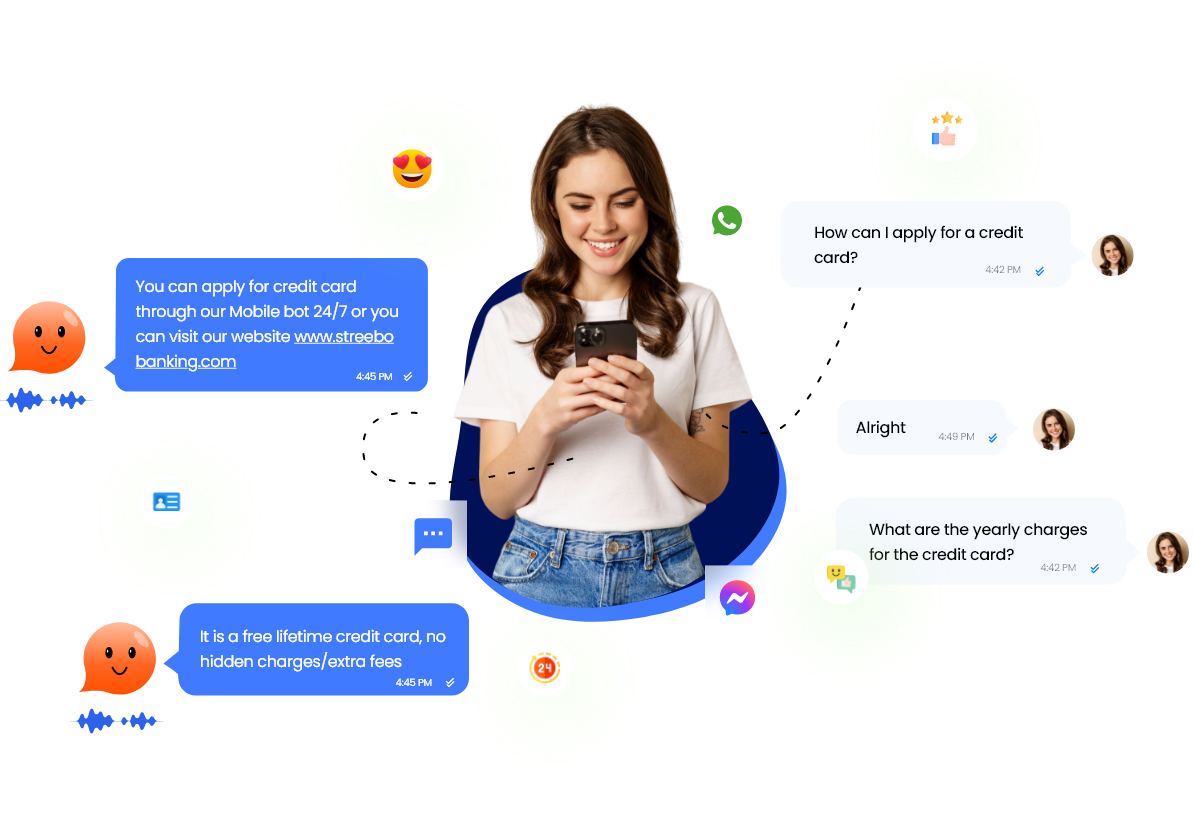 Schedule a demo

Online and mobile banking have been at the heart of Banks and Financial Institutions Digital Transformation Strategy However, with the rise of social media channels more consumers are shifting to asynchronous messaging such as WhatsApp, FB Messenger, SMS amongst others. There is now an opportunity for banks to tap into these new channels to streamline their communication with agents and customers alike. A recent TechCrunch study showed a 40% jump in messaging app usage— a change that is irreversible. Deploying more humans to manage these channels is not a viable solution, so what's next?
Advancements in Artificial Intelligence and Natural Language Processing
Artificial Intelligence (AI) has made huge strides over the last few years and with the arrival of ChatGPT from Open.AI powered by their GPT platform, Conversational AI has matured to a point where it can match human cognition. Banks can combine these two disruptive forces, i.e. rise of Messaging Apps and Advancements in AI to automate customer service and agent interactions across channels.

AI-powered Cognitive Assistants for Banks offer several key benefits that make them attractive to banks. First, they provide an automated customer service solution that is available 24/7, allowing customers to get their questions answered quickly and accurately. This improves customer satisfaction and reduces customer churn rates. AI-powered banking bots can also be used to target customers with personalized marketing campaigns based on their preferences or behaviour patterns. This helps banks build relationships with their customers and increase brand loyalty.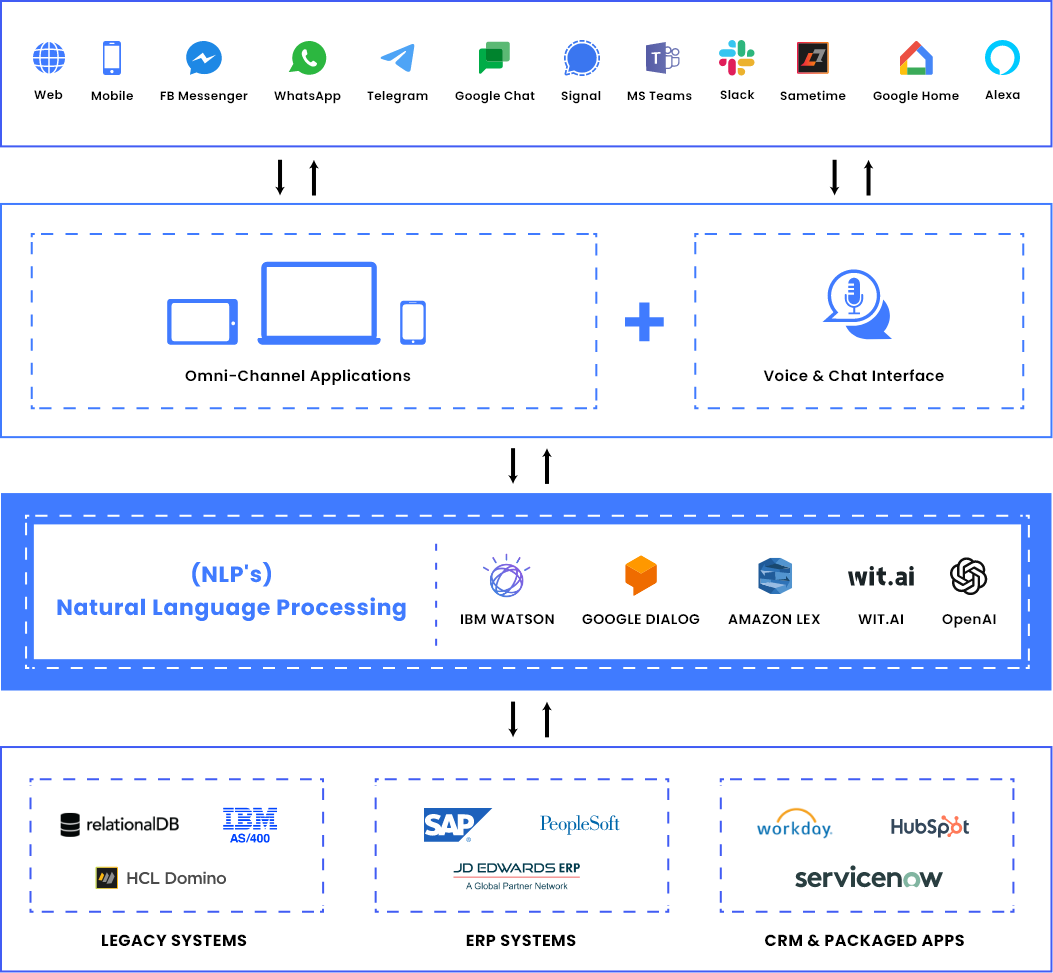 These Chatbots create an opportunity to leverage unprecedented channels such as Facebook Messenger, WhatsApp, SMS, Amazon Alexa, Google Assistant, Siri, etc. for agents and banks to interact with their end customers. The Retail Banking Chatbot allows to shift through these channels quickly and efficiently, enabling more personalized approaches to increase sales and collections reduce operations costs, and saves time & effort.

Streebo, a Conversational AI company focused on Chat, Voice and Email Bots has taken its technology to the next level by integrating its bots with GPT series language models using open.AI APIs to create ChatGPT kind of solution specifically for Banks.

Streebot, the type of ChatGPT for Banks and Financial Institutions, is a game-changing chatbot with human-like conversation prompts and responses. And with it comes an opportunity to revolutionize your banking business, customer retention rates, and CSAT rating.
Our type of ChatGPT for Banking are Virtual Assistants created specifically for Banking and Financial Industry. They are powered by leading Natural Language Processing Engines such as IBM Watson, Google Dialog from GCP, Amazon Lex from AWS and now GPT series language models that enable them to have natural conversations with customers over text or voice or email chat. The bots use NLP (Natural Language Processing) algorithms to understand customer queries accurately and respond accordingly in real time.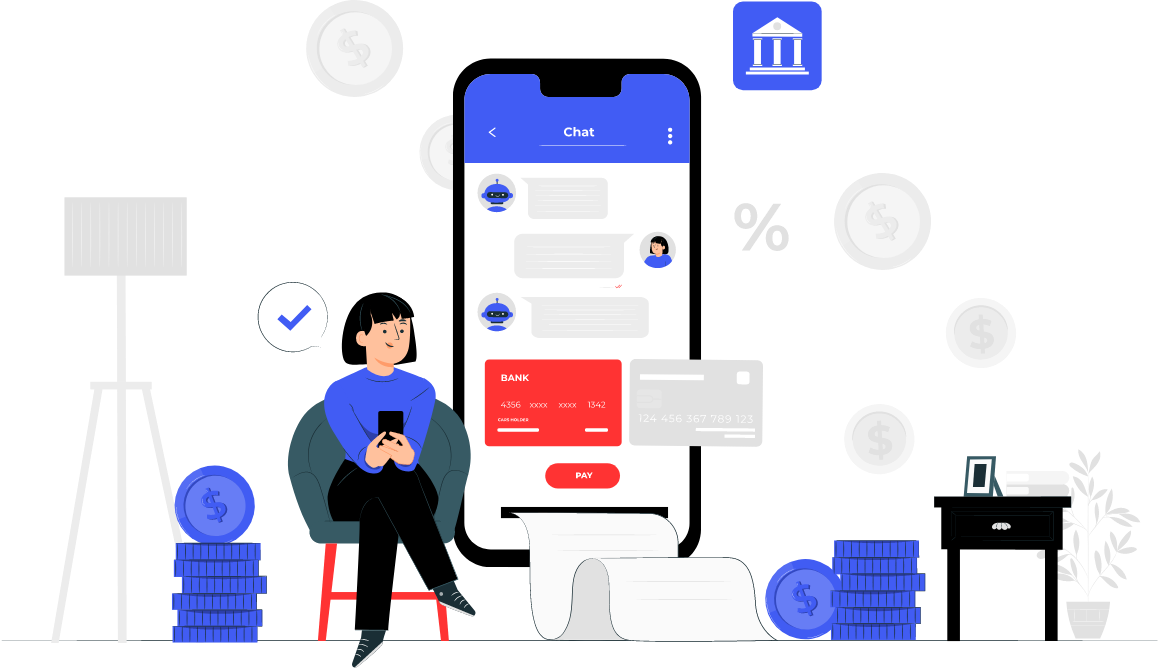 Additionally, they are capable of context switching capabilities which allow them to shift from one conversation topic to another without any disruption in the flow of conversation. This makes them ideal for dealing with complex topics such as banking regulations and policies that require detailed explanations or instructions from an experienced banker or financial advisor. Streebo's ChatGPT type bots are 99% accurate and are pre-integrated with a wide variety of Core Banking Softwares such as EdgeVerve Finacle, Oracle FLEXCUBE Core Banking, and SAP Core Banking Services among others.
Key Business Benefits of these cutting-edge Bots
designed specifically for Banks & Financial Institutions

Superior Engagement & Automation

Streebo bots can be used for automated customer service tasks like offering help on opening new accounts or educating customers about products and services offered by a particular bank or financial institution. This results in a more efficient way of providing customer service while freeing up valuable time for other tasks like expanding business opportunities or improving existing operations within a bank or financial institution.

Resounding ROI

Additionally, these bots can be easily integrated into existing systems so that they can be deployed quickly without any issues. This allows businesses to benefit from their capabilities immediately after implementation – allowing them to increase their ROI quickly and efficiently.
Banking Bots extended on the Web, Mobile and
Social Media Channels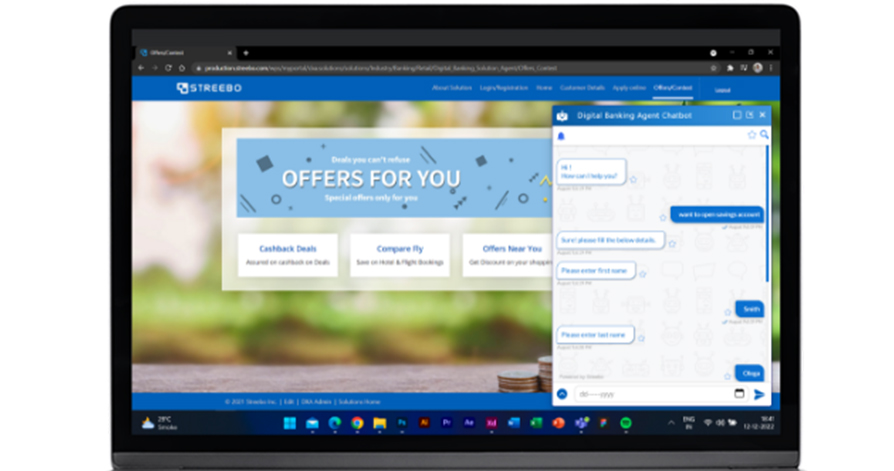 Web Application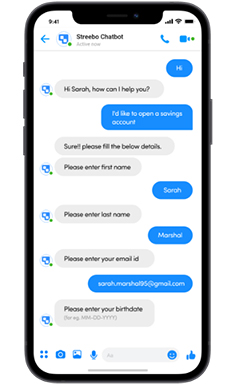 Facebook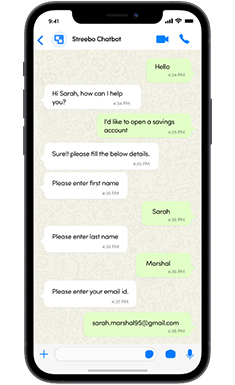 WhatsApp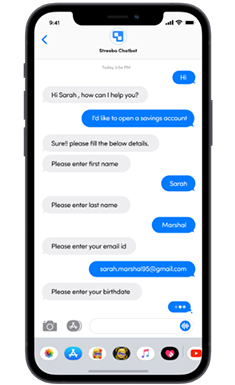 Mobile App
What Sets Streebo Apart & Confident to get you Guaranteed Success with its Bleeding-Edge Banking Bots?
Streebo stands out from the competition with its revolutionary type of ChatGPT bots for banks and the Financial Services industry. Let's break down the features that make Streebo's chatbot solution so unique.

Built-in Domain Intelligence
Streebo's team holds deep domain knowledge in collaboration with its technology partner, deploying highly intelligent pre-trained Retail Banking Agent Bots that can emulate business processes of various Retail Banks. This gives customers a more personalized experience as the bots are able to understand customer requests quickly and accurately.

Omni-Channel Experience
Another key feature of Streebo's kind of ChatGPT Banking Solution is its omni-channel experience. The Retail Banking Agent Chatbot can be deployed across social media channels such as Facebook Messenger, WhatsApp, WeChat, Skype, and even SMS. It can even handle voice channels such as IVR, Amazon Alexa, and Google Home. Additionally, bots can be deployed to existing digital properties such as websites and mobile apps. This ensures that customers have access to the same level of service no matter which channel they use to contact their bank.

Data Security & Compliance
Streebots are powered by technology from large and matured companies like IBM Watson, Google Dialog, Amazon Lex from AWS and hence Data security and compliance are two areas where Streebo's Bot solutions are solid. These ChatGPT, like Bots for Banks, use state-of-the-art encryption technologies from companies like IBM, Google and AWS to ensure customer data remains secure at all times and comply with applicable regulations—such as GDPR—to protect customer privacy rights.

Guaranteed Adoption
Businesses such as banks and financial institutions have been struggling when it comes to adopting chatbots due to various challenges such as lack of technical knowledge, and understanding customer needs, etc. However, with Streebo's kind of ChatGPT Banking Bots specifically designed for banks & retail banking agents which is powered by GPT series language models along with open APIs they can now overcome those challenges quickly & efficiently.

Guaranteed Bot Intelligence Index (BII) of 99%:
Streebo Banking ChatGPT type of solution comes with a Guaranteed Bot Intelligence Index* of 99% (*BII= No. of questions answered correctly/No. of relevant questions asked). This high accuracy effectively reduces any manual intervention on the part of the bank's staff, thus improving overall efficiency and performance. Additionally, it provides customers with accurate answers to their queries quickly and easily, allowing them to get the right information they need in no time.

Pre-Integrated with Backends
Another noteworthy feature of Streebo's Retail Banking Bot for Agent is that it comes in pre-integrated with Core Banking Solutions such as EdgeVerve Finacle, Oracle FLEXCUBE Core Banking and SAP Core Banking Services among others. This eliminates the need to manually configure or integrate backends or 3rd party systems which saves both time and resources.

Advanced Chat Analytics
Streebo's analytics dashboard is designed specifically to record and display systemic data, metrics, preferences, and trends which eventually help in monitoring user interactions and can be adapted accordingly to give relevant responses as well as aid business decisions making processes. It enables financial institutions to keep track of customer behaviour patterns as well as understand their specific needs so that they can tweak their services accordingly.

Lower TCO 
Streebo's bot builder is optional development-only tooling that customers can choose or they can directly develop and manage it using standard IDEs such as Eclipse and Visual Studio that significantly lower app development costs as well as reduced support & maintenance costs. This makes it a cost-effective solution for banks looking to integrate bots into their customer service operations without incurring high costs.

Inbuilt Live Agent Support
The Banking ChatGPT also comes with inbuilt live agent support which allows customers to get help from a real person if they cannot find what they are looking for by engaging with the bot. Customers can switch back and forth between the chatbot and live agents seamlessly, ensuring that their queries are answered quickly and efficiently.

Flexible NLP Selection
Another feature that sets Streebo's Banking Virtual Assistant apart from other chatbots is its multi-lingual support which allows customers to communicate with it in multiple languages, including English, Spanish, French and Chinese. This makes it easier for banks to cater to customers who do not speak English or have limited proficiency in English.

Supports Voice & Chat
The Banking ChatGPT Bot also supports voice as well as text-based conversations making it easy for users to interact with it regardless of their preferred mode of communication. Users can even switch back and forth between voice and text-based conversations within the same conversation thread, adding an extra layer of convenience for customers who may want to use both modes of communication during certain interactions.

Secured
All customer data collected by Streebo's kind of ChatGPT Bot for Banks is securely stored on its servers which ensures that any personal or confidential information shared by customers remains safe at all times. This helps banks provide peace of mind to their customers when interacting with the bot knowing their data is protected against unauthorized access or misuse at all times.

Customization
Streebo's type of ChatGPT Retail Bank Bots offer banks an unparalleled level of customization that allows them to tailor their chatbot experience specific to their needs and preferences. This level of customization allows banks to create unique experiences for customers that are tailored specifically for their target audience – something that is essential for any organization looking to attract new customers or retain existing ones in today's highly competitive marketplace.
Our Pre-trained Retail Banking Chatbot is trained in the following Retail Operations
Our ChatGPT kind of Virtual Assistant is a pre-trained Retail Banking Chatbot specifically created for banking customers and agents. ChatGPT Banking Bot is tailor-made to support the following operations within retail banking help desk:

FAQs

Locating branches

Browsing product details

Generating quotes

Applying for loans

Creating accounts

Updating profiles

Uploading documents

Worklist management

Feedbacks and Rreviews

Offers and Promotions

Customer support

Query resolution

Underwriting

Payments

Repayment transactions
In addition to these operations

ChatGPT Conversational AI Bot for Banks also helps with settlements and tracking the status of loan accounts.

It has also been proven to increase both customer engagement as well as agent productivity in many companies with great results by providing Product Recommendations based on Credit Scores.
Our Pricing Model
Our ChatGPT kind of Banking Bot offers a variety of pricing options including MVP Bot, Capex Option, Opex Option, and Pay Per Usage.

Customers can choose to buy the ChatGPT Chatbot or subscribe to it at no upfront setup fees. Alternatively, customers may opt for a conversation-based subscription which is tied to the number of conversations and customer only pays for the bot if it gets used.
Pricing Model:

3 transaction used cases.

1 backend integrations

50 FAQ's

Channels – Web, Mobile App, 1 Social media channel such as WhatsApp/Facebook messenger.
View more


Capex Option
You can choose to buy the product with an upfront amount

Opex Option
You can opt for monthly subscription-based service with no upfront set up fee.

Pay Per Usage
This is conversation-based subscription as you have to pay according to your usage.
Growth Mindset for Banking Leadership! Final Food for Thought!
All in all, Streebo's revolutionary ChatGPT kind of bots are transforming the way banks interact with their customers by providing an unprecedented level of accuracy and customization while reducing costs associated with app development and energy consumption.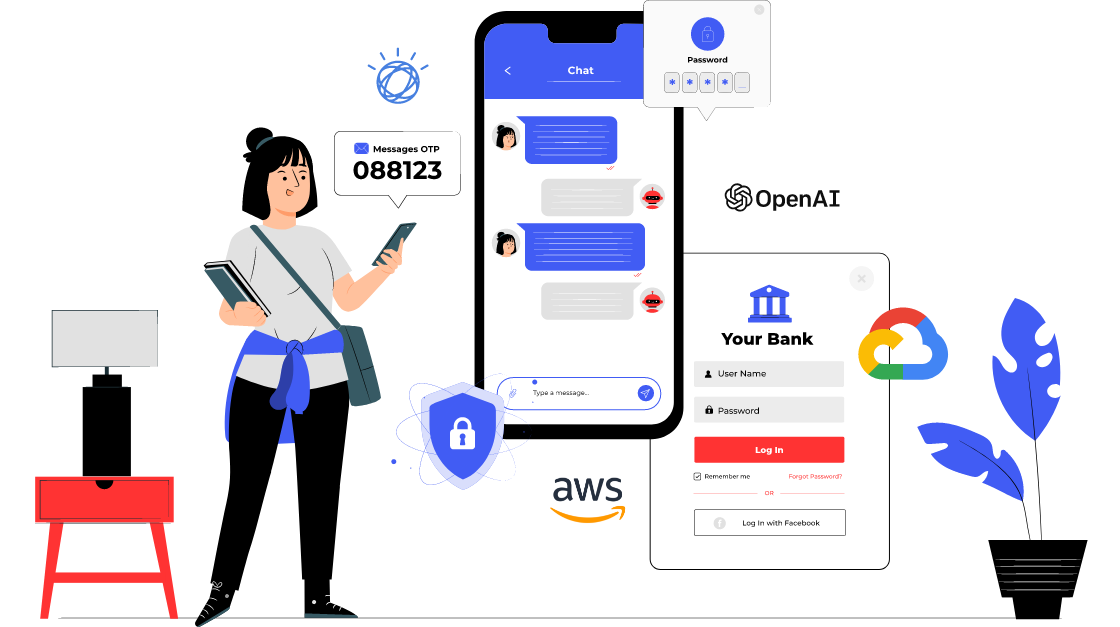 We are using best of breed from companies like IBM Watson, GCP, AWS and now Open.AI thus bringing top technologies together to create elegant solutions. Banks can create unique customer experiences tailored specifically for their target audience while also reducing errors and increasing accuracy in predicting user behaviour over time.
Disclaimer: ChatGPT and GPT are registered trademarks and terms fully owned by Open.AI. Author has used the term "ChatGPT for Banks" to convey the idea of a ChatGPT kind of Bot, but for the Banks and Financial Institutions.
If you're looking for ways to stay ahead of the competition in
the banking industry, then Streebo's revolutionary ChatGPT type bots are
just what you need. Check out our bot store
Schedule a demo