Engage your visitors with automated conversations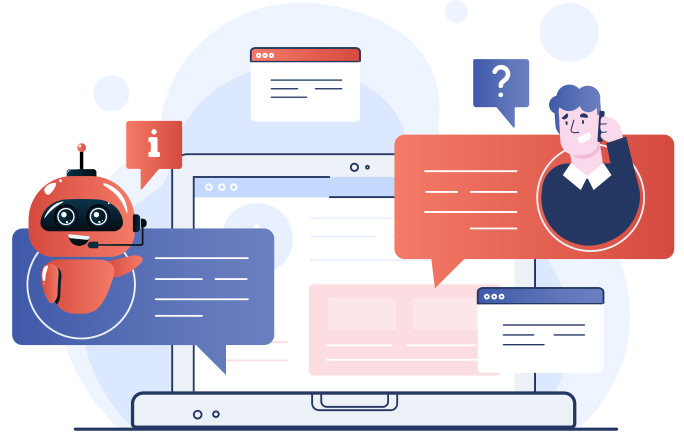 The biggest problems currently faced by the company is the diminishing reach of your content. Due to changing algorithms of social media platform and the transition to mobile, It is difficult to reach more customers. Imagine you cannot only increase your reach but also make your customers consume your content regularly.

A highly interactive AI infused chatbot will increase the conversion rate by three-time through handcrafted questions and will engage your visitors on the website.
Perks of WordPress Website Chatbot

Delight your visitors
Influence the behavior formulated through a new dimension of user experience.

Embrace messaging
Don't let the visitors fill out long forms, ask them through messages. Be more friendly through conversational bots.

Quick Access
Give visitors information available at their fingertips, don't leave them navigating through the whole website.

Multilingual
Keep your global visitors comfortable by giving them access to communicate in their native language
Streebo ChatBot for WordPress
Quick Installation
Enable the chatbot plugin and build the bot with 'Drag and drop' interface.

Add Plugin
Design the chatbot
Embed the conversation
Deploy

Simple to use
Embedding machine learning and AI technology to your fully automated bot. It will collect the data without any involvement of human. The representatives are needed when the lead is at the closure stage.
Influential
Chatbot supports sales & marketing techniques, which will upsell and cross-sell the products or services eventually will increase more sales leads from your website than any other tool.
Why Streebo?

Comprehensive Security
3rd party integrations and secure payment gateways

Compliance
ChatBots built using bot-builder is compliant with the industry-standard frameworks like Ionic, Angular JS, etc.

Low code no code tooling
ChatBots built using bot-builder a low code/no-code tool, can be built in half the development time and can be easily updated or modified even by LOBs.

Power to Business
With 'Drag and Drop' interface for IT/LoB to modify and manage apps at ease.

Single Code Base
ChatBots built using Streebo's revolutionary tool, bot-builder follows a one code base approach thus giving users a true omnichannel experience.

Flexible Deployment Options
ChatBots built using bot-builder have flexible deployment options of on-premise or on the cloud.