With the boom in messaging apps, almost 50% of businesses have integrated chatbots with their websites or apps on various media channels as they minimize the expenditure on handling user queries as extended in Business Insider's report. 61% of customers believe that having Chatbots in customer service is the way of the future as it is revolutionizing the businesses by allowing manual efforts to be deployed for more productive tasks as chatbots work 24/7, don't get ill, don't take leaves and above all, don't get exhausted with monotonous repetitive tasks. This means by automating, organizations can do more in less time and deliver subsidiary benefits in terms of employee productivity and capacity.

According to Gartner report 2022, Chatbot adoption is speculated to lead to annual business cost savings of $11 billion by 2023. This leads to the bigger question – "how much a business can save and earn with a chatbot?" Chatbots usage is rapidly ascending and at such times, having an efficient system to understand what return on investment (ROI) you can get from this adoption is of paramount importance for any successful roll out.
What is ROI on chatbot?
The ROI (Return on investment) is profit from the investment to the cost of investment. It assesses how efficient and beneficial the investment on chatbot is. It depends on multiple factors like:

Number of call center agents employed

Monthly salary of each call center agent

Unique users every month

Average handling time per enquiry

Number of customer queries handled every month

Percentage of repeated calls
How should you compute your chatbot's ROI?

One way is to keep a check at the cost savings that the chatbot has produced.

Another method is to compute the chatbot ROI by analyzing the revenue generated after rolling out of chatbots.

Alternative way can be – Calculate the number of customers or users retained with chatbots.
But, since chatbots' realm is spread across multiple domains, so the ways of assessing ROI from chatbots may vary on purpose grounds. For instance, an insurance chatbot or a banking chatbot ROI differs from that of an HR operational chatbot.
How do we calculate the ROI of a chatbot?
Taking the route of a judicious and holistic approach to recognize the necessary value drivers for the businesses leads to a more sophisticated business case. Advancing the qualitative benefits comes with improved cost savings, higher productivity and scalability, better customer retention and process insights along with governance and controls.
Consider a group of live agents spend 3000 hours per month and average wage is $11 per hour, then
Per month live agents cost = 3000 * $11 = $33000

So, Total Live agents cost for the year becomes = $33000 * 12 = $396,000

For instance, if the current cost of live agents is $396,000, and if you deploy Streebo's smart bot powered by IBM Watson at the cost of $57,380
Streebo Chatbot Cost and Direct Cost Benefits as % of current cost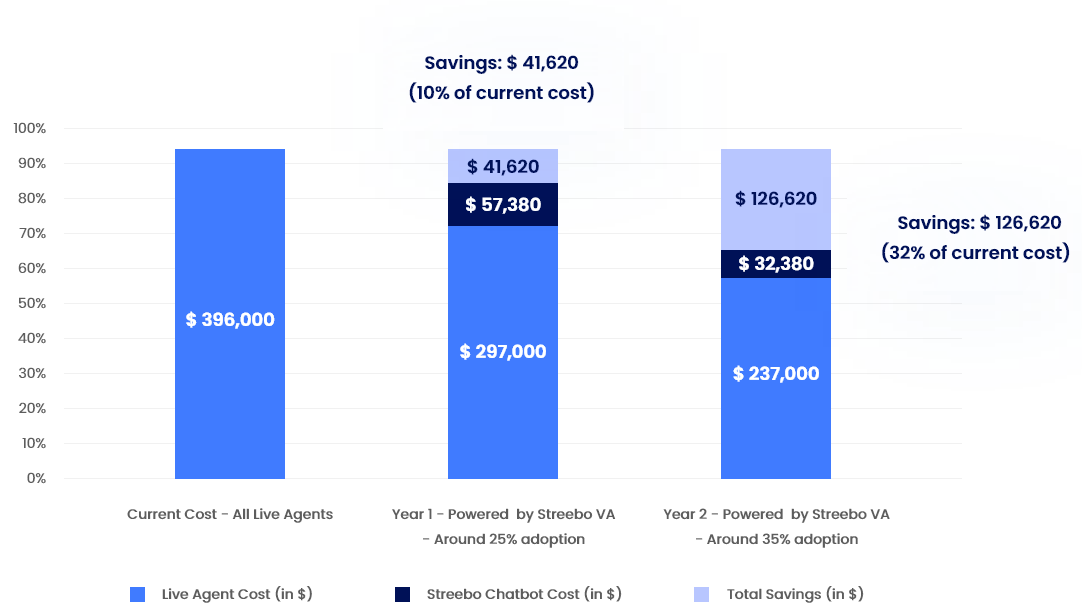 For Year 1:
With 25% chatbot adoption, it will reduce the live agent cost and it will become $297,000 which means

Savings = Current cost of live agents – (cost of live agent after deploying chatbot + Chatbot cost)

Savings = $396,000 – ($297,000 + $57,380)

Savings = $41,620

Which means, 10% saving of current cost.
For Year 2:
Similarly, with 35% chatbot adoption, group of Live agents' cost will be reduced to $237,000 and this time with chatbot cost (Maintenance) $32,380,

Using formula, (Savings = Current cost of live agents – (cost of live agents after deploying chatbot + Chatbot cost))

the savings will become $126,620 with 32% savings.
Now let's calculate ROI
For calculation of chatbot ROI:
Percentage of Chatbot ROI for FIRST YEAR
Percentage of chatbot ROI = (Savings / Chatbot investment) * 100

For the above instance of the first year, Savings = $220,000

Chatbot investment for first year = $50,000

Savings = $41,620

So, ROI becomes = ($220,000/ $50,000) X 100 = 72% (first year)
Chatbot ROI for second year
Savings in the second year = $126,620

Chatbot cost= $32,380

Percentage of chatbot ROI = ($126,620/$32,380) X 100 = 391 % (Second year)

Using Formula of ROI = (Savings/Chatbot Investment) X 100
If we calculate cumulative ROI of both years, then it will become 187%
ROI as % of investment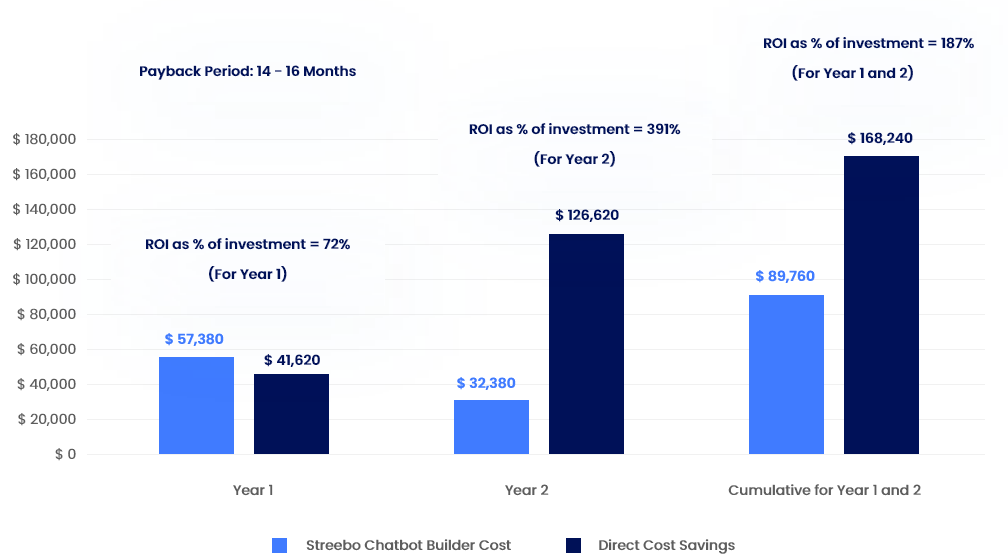 Best practices to Calculate Chatbot ROI effectively
Calculation of chatbot ROI depends hugely on type of industry and purpose, chatbots are serving to. Still, there are some common parameters that need to be checked across all diverse domains.

Pin-Out eligible queries
You must have a reliable analytics platform that can keep a check on the type of queries your chatbots put up with over live chat. With this, you can recognize the most asked queries that are relevant and can be resolved by your virtual assistant.

Quantify the percentage of chats dealing with eligible queries
Quantify the number of simple queries that a bot could answer vs complex queries that an agent should answer. Here 80:20 rule is applied which means – 20% of queries represent 80% of query traffic.

Enumerate agent time invested on relevant eligible chats
Calculate the stipulated handle time for resolving simple queries.

Evaluate the annual cost of handling eligible chats
You can multiply the hourly pay of your agent with the hours spent by them handling the interactions. Now estimate your annual cost by multiplying your monthly cost by 12.

Measure the number of customer service inquiries handled by the chatbot
This evaluation can be performed by stacking up historical data, business records and thorough market research.
Estimate the cost of implementing and maintaining the chatbot
This gauging figure will bundle up aspects like the cost of the software and the salaries of any staff members who will handle and manage the chatbots.

Counter Chatbot Performance
Here, contrasts your annual calculated cost with the quoted estimated chatbot cost to understand how much you could save.

Enumerate Average Human Live-chat Cost
For this, evaluate the number of tickets raised and the number of human agents indulged per month. This will give you an estimation of the average cost per chat. Furthermore, based on the number of agents involved and their compensation, you can estimate the expenditure made by your business on customer support.

Measure Bot Installation Cost
This cost bundles up charges involved in brainstorming sessions, integration and training of agents and bots.

Calculate Gains through Bots
According to Deloitte's study, personalizing the customer experience while making optimal utilization of data, analytics and AI, can give an 8X return on investment on marketing spend and hence accelerate the sales by 10% or more.
Moreover, for a chatbot to perform the way business desired with accuracy, bots need to be passed through various testing phases and only after that, integration of bots occurs on the organization's website. So, this cost is also factored into bot installation cost. But this development charge is a one-time charge, and after successful deployment, only maintenance charges are incurred. An optimal project plan that briefly defines the scope, goals and responsibilities and customizes the chatbot according to the client's expectations and covers all possible use cases leads to a reduction in the time invested in alterations later.

A well-sophisticated quality chatbot powered by strong NLP engines like IBM Watson, Google Dialog or Amazon Lex, with transactional abilities and a high accuracy index can reduce the acquisition costs by as much as 50% and pushes the efficiency of marketing spend by 10% to 30%.

So, in nutshell, a quality chatbot product is the ultimate foundation for a successful chatbot adoption and high customer satisfaction index. Rolling out vague bots will only increase the cost of investment, time and effort, but will not add any value to your organization's ROI. Early movers always have an added advantage on a competitive edge.
How to get the best chatbot ROI?
According to Gartner report 2022, with successful chatbot adoption, businesses can save up to $20 million globally. This means by the end of the year 2022, the chatbots will lower down the business cost by more than $8 billion. 29% of customer service positions are already automated by leading organizations In the US through their cost-effective chatbots.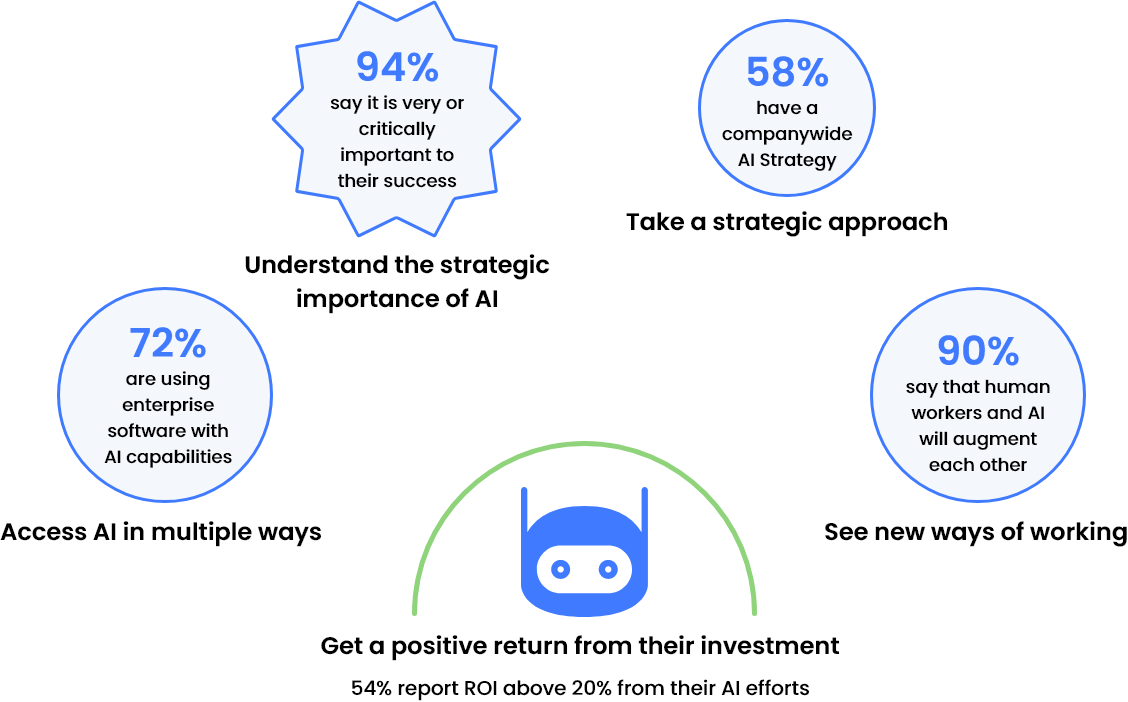 For successful chatbot adoption and surge in ROI of chatbot, the bot must possess the following characteristics:

Solve the right issue

Optimal On-the-job training

Scale to other channels too

Built on quality NLP engine
(IBM Watson, Google Dialog, Amazon Lex)

Integrate with back-end systems

Deploy chatbots on the right channels
Since, mere rolling out of bots will not benefit the organization anyway. For this, successful bot adoption is the fundamental aspect. As only successful adoption of chatbot can add surge up the chatbot ROI for the organization. For this, only approach for professional services that have expertise in rolling out quality bots with high customer satisfaction index. Researchers predict that, in the upcoming five years, with quality chatbot services, 75%-90% queries will be dealt with by smart virtual assistants that will save up to $0.70 per human-bot interaction.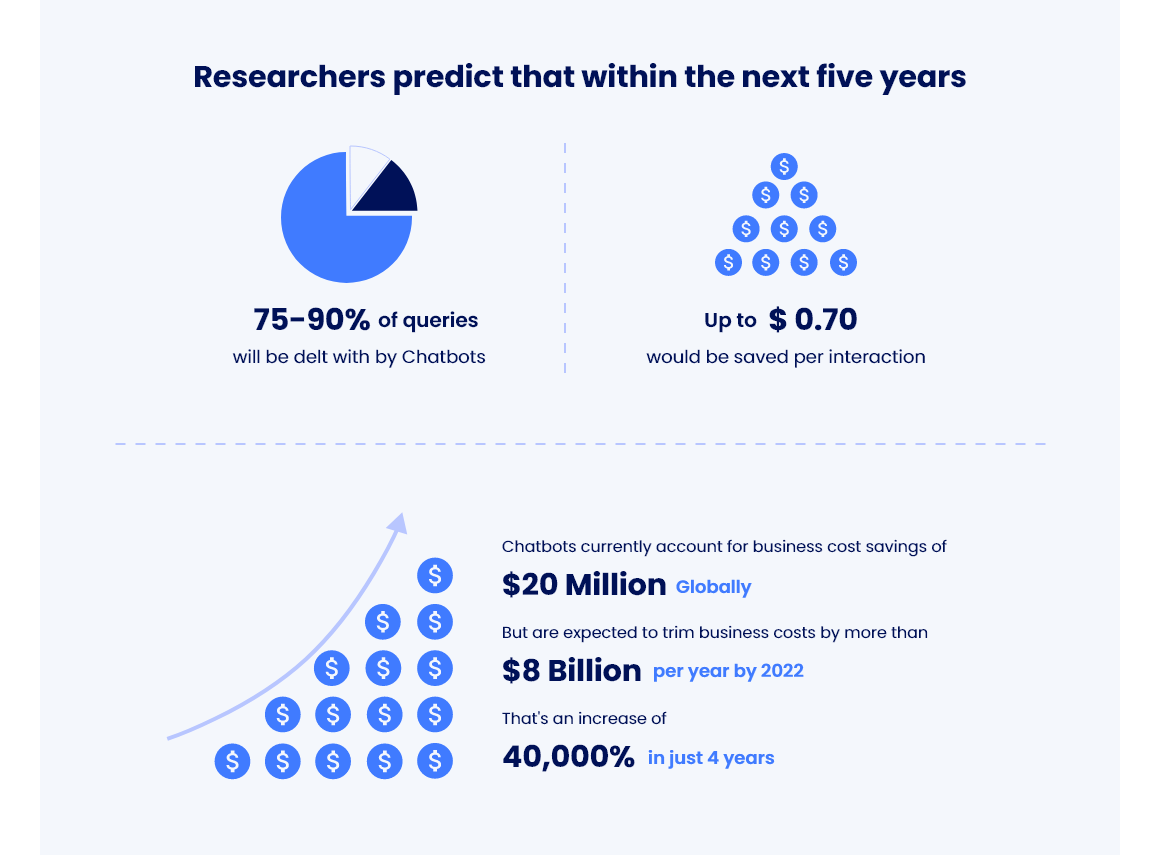 Bottom Line
By deploying high quality, powerful, studded and scalable bots, the business can set breathtaking records, since according to a report by CX, only 16% organizations have high quality bots that deliver high customer satisfaction index. So, deploying a quality bot has become a necessity from a competitive differentiator. According to Juniper research report Chatbots currently account for business cost savings of $20 million globally, but their ability to deal comprehensively with human problems is limited. The success rate of bot interactions (those completed without relocation to a human operator) is just 12 percent. But with the right approach, quality bot built on powerful NLP engines, consistent on-the-job training and efficient analytics, this stat can be transformed.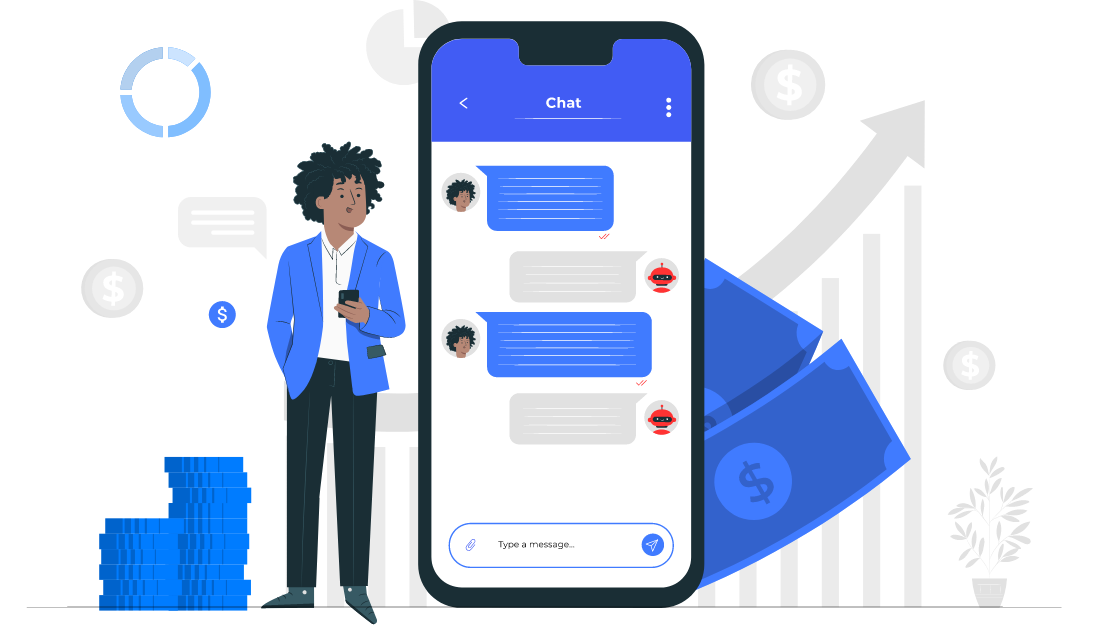 As per Juniper's report, with successful bot adoption, average time saved could be 4 minutes per enquiry, that will eventually result in average cost savings in the range of $0.50-$0.70 per interaction. A successful chatbot adoption can lead to allowing human agents to work more productively and guide customers visiting your website, that turns user's curiosity into legitimate interest and generate hot leads for your agents to focus on.
Roll out Streebo smart Virtual Assistants – A smart solution to leverage AI for your business and surge your ROI
Streebo, a pioneer in rolling out best of breed and highly intelligent smart bots powered by Artificial intelligence, digital transformation technology and leading NLP engines IBM Watson, Amazon lex and Google DialogFlow for diverse domains like banking, finance, retail, utility, telecom, utility, airlines, insurance, hospitality, government and healthcare etc.

To magnify your return on investment, you'll need to ensure that your chatbots are deciphering the right issues, their training is well-optimized and highly result oriented, and are rolled out onto the correct channels, and can integrate with your back-end-based systems.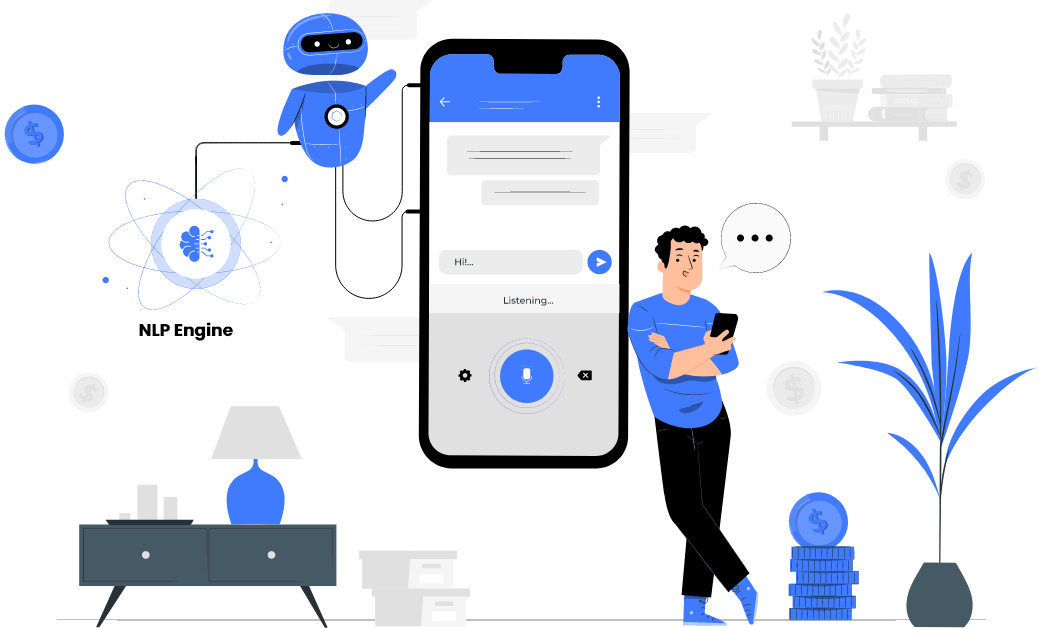 Recently, we helped a leading automotive company in Americas in automating and streamlining its entire business processes and elevates their ROI with the decrease of 30% in operational costs by implementing an AI Powered Conversational Interface powered by IBM and Streebo. This resulted in a 60% increase in employee productivity with a 40% reduction in human involvement tasks.
Smart solutions for smart businesses – Our key differentiators
Streebo, with over a decade of experience, has successfully rolled out a library of pre-trained cognitive assistants that can handle the multiple roles within the enterprise like customer service, marketing service, agent or distributor service and employee service across versatile domains with an efficient Return on investment (ROI).These productive and cost-effective cogs are powered by one of the best Natural language processing providers IBM Watson, Google Dialog and Amazon Lex are Omni-channel, multi-linguistic and are highly extensible bots that plays variety of roles with 99% accuracy.

Our smart cognitive assistants can be deployed on Enterprise Messaging Platforms such as Microsoft Teams, Slack, HCL Sametime, WeChat etc along with voice channels like Amazon Alexa, Google Home and can be integrated with company's existing IVR system as well.

The premium product has pre-built adapters for a variety of enterprise backend systems such as Oracle, SAP, ServiceNow, Salesforce among others.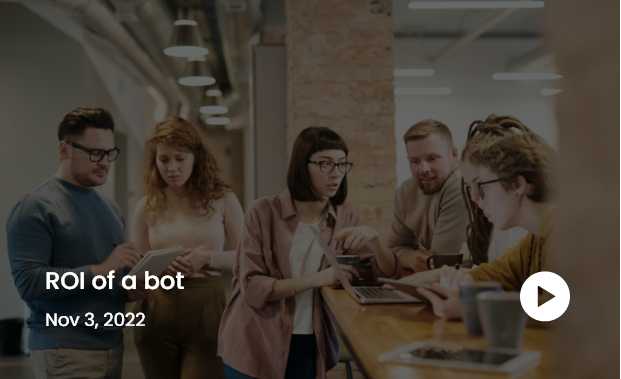 Video Center
Check out this video to see our Bot in action!
See our video channel to explore our variety of available service.
View more

Pricing Options
Customers have an option to "Buy" the Bot with a one-time-fee or "Subscribe" to the Bot for a fixed monthly charge. Streebo also offers a unique "Pay-Per-Usage" pricing model, with it, the customer has to pay a monthly subscription fee based on the actual usage of the bot.
MVP(Minimum Viable Product) bot includes:

3 transaction used cases.

1 backend integrations

50 FAQ's

Channels – Web, Mobile App, 1 Social media channel such as WhatsApp/Facebook messenger.
View more


Capex Option
You can choose to buy the MVP Bot.

Opex Option
You can choose to Subscribe to the MVP Bot for a fixed monthly charge with no upfront setup fee.

Pay Per Usage
This is a conversation-based subscription and tied to the number of conversations & messages the bot handles. Thus you only pay if the Bot is getting used and is actually deflecting calls.