The Use of AI Bots in the Airline Sector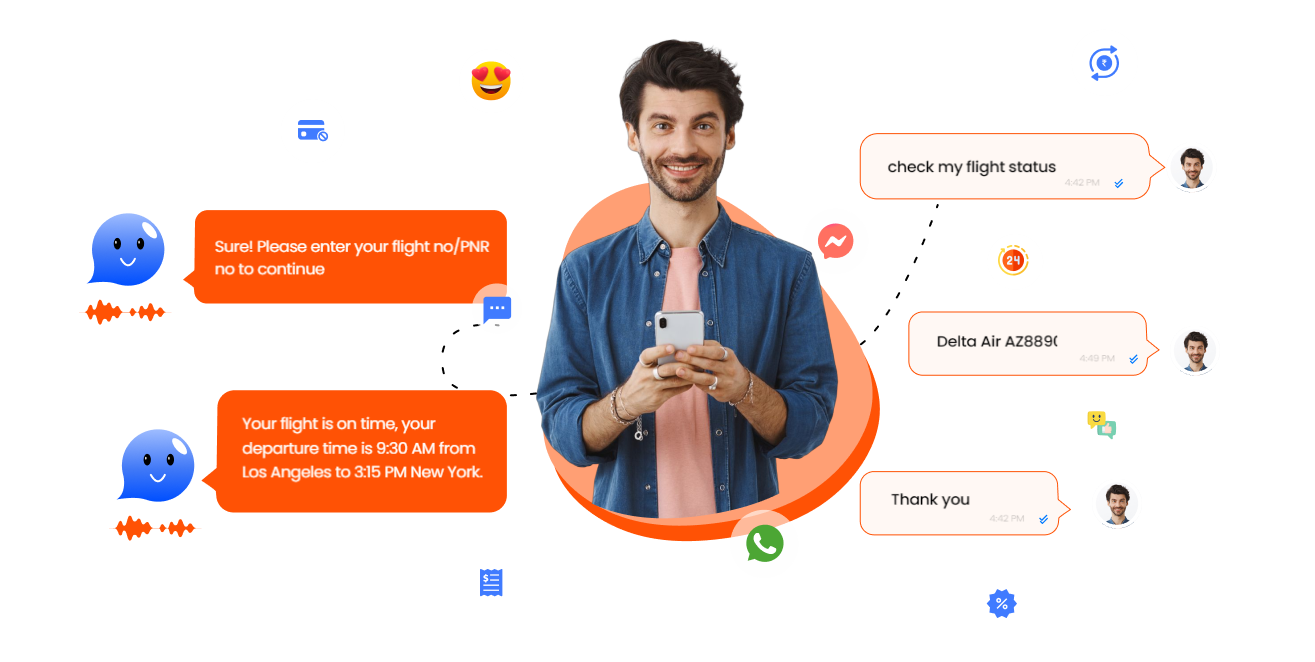 Schedule your demo today!!

Artificial Intelligence (AI) bots or chatbots like they are commonly called, have become a part of everyday life. We use them when we shop online, search the internet, access customer service support and even fly on airplanes. The airline sector has been particularly active in the development of AI bots over the past few years, with many airlines now using AI bots to improves customer service, generate cost savings, and increase safety.

AI bots have been used in aviation since as early as 2007 when British Airways launched their first conversational bot interface called "Ask BA". The bot was designed to provide customers with answers to basic questions regarding flight times, delays, and cancellations. Since then, other airlines, such as KLM Royal Dutch Airlines, have followed suit by launching their own chatbot platform called "KLM Bot", which allows customers to book flights, check in for flights, and track their luggage status.
Current AI Bot Trends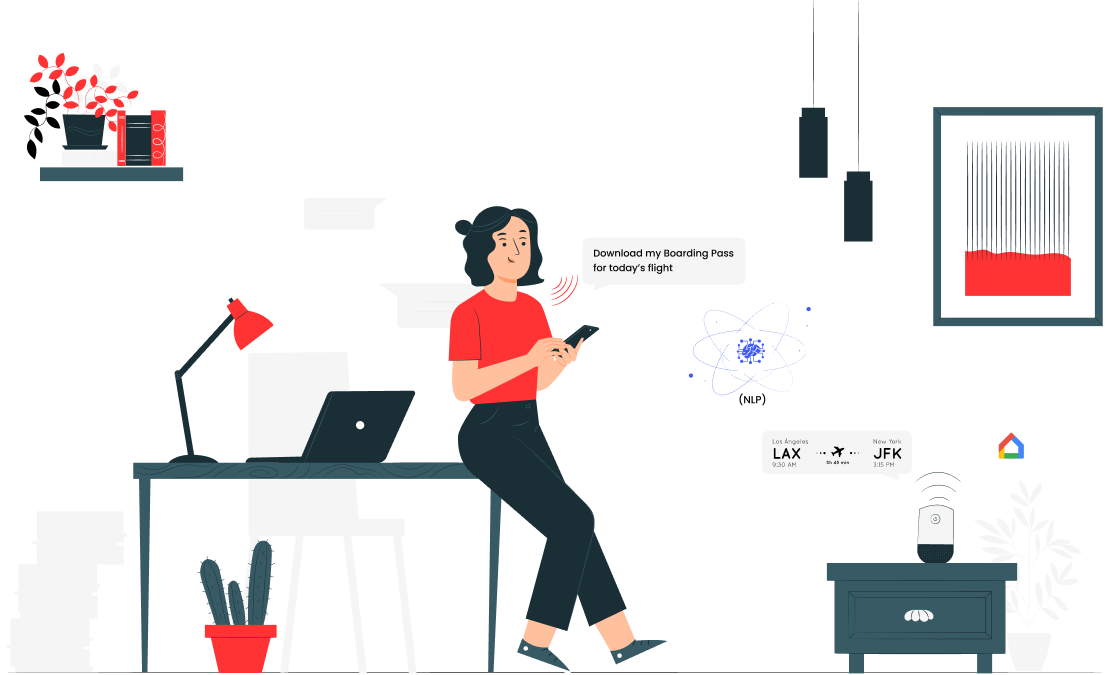 Today's more advanced AI bots can perform an array of tasks that would traditionally require human labor, such as analyzing booking patterns for better route planning or predicting maintenance issues before they occur to avoid costly delays. According to a study by Microsoft Corporation, airlines are also starting to use virtual assistants like Alexa or Siri to help travelers with tasks like checking flight statuses or booking flights without ever having to go through a call center or website. This has resulted in improved customer satisfaction scores and fewer complaints related to customer experience. However, lot of the current bots are still static in nature and not adopted so well.
A Tectonic Shift in User Behavior
The pandemic caused a major disruption in the user behavior. The fact that all of us were forced to go virtual, drove immense growth in usage of social media platforms such as WhatsApp, FB messenger, Instagram et al. Users started to use it heavily to communicate with each other. Techcrunch reported a 40% jump in usage of social media channel over the last two years.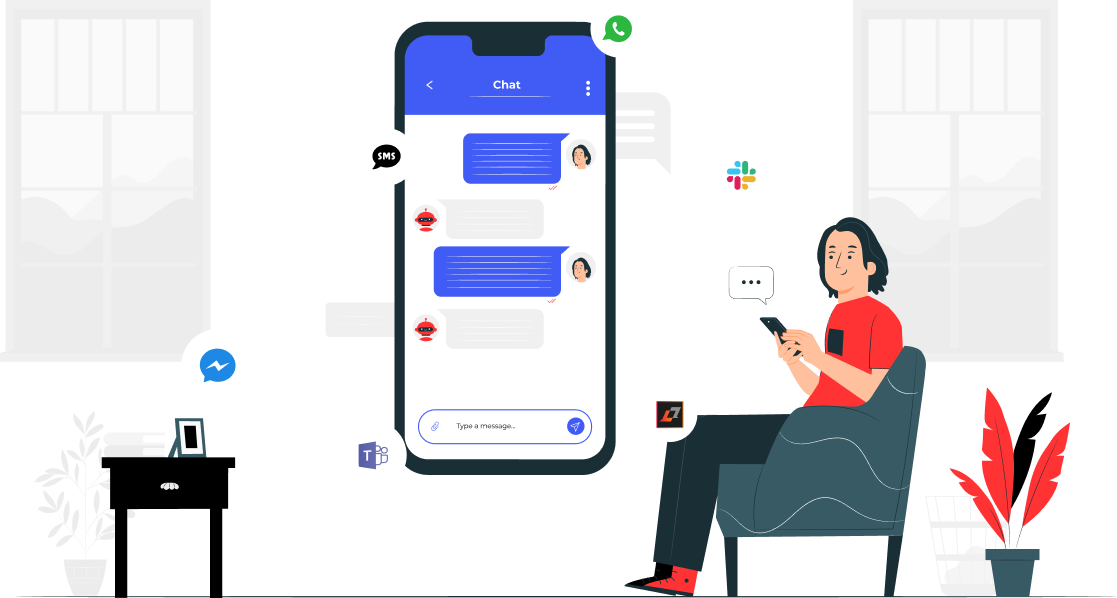 Further, work was shifted to internal messaging platforms like Microsoft Teams, Slack and HCL Sametime. These channels are now powerful channels for both outreach to new prospects and servicing existing customer and employees. Smart Airlines are not only leveraging these channels but also automating these with bots.
Future Potential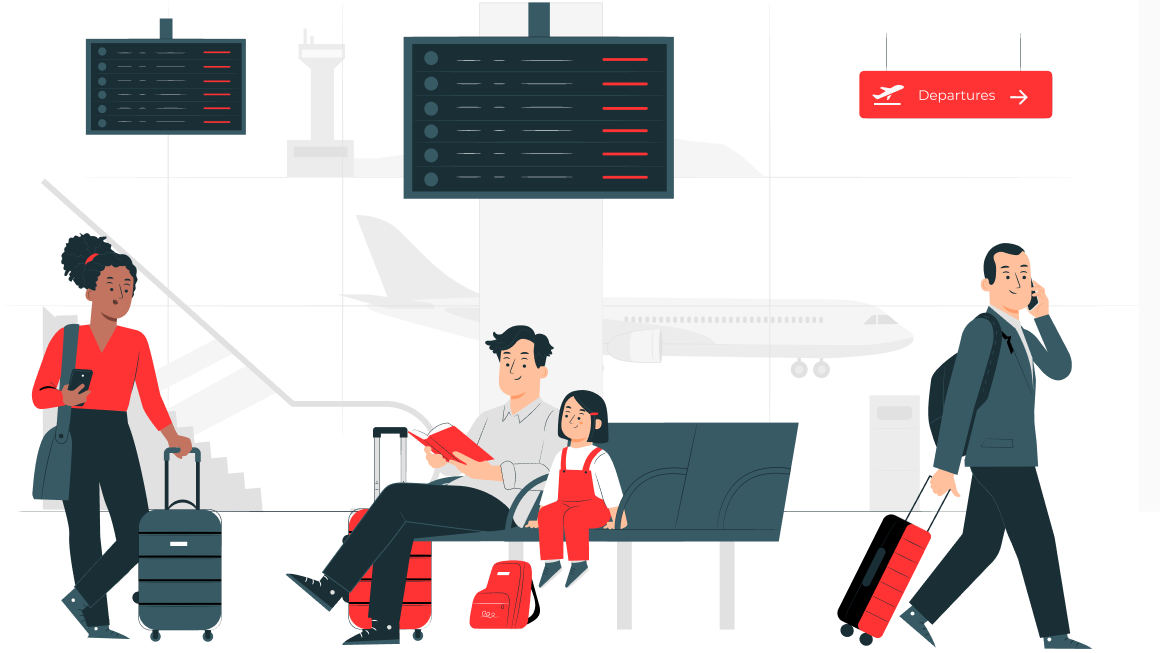 In 2020 alone, it was estimated that over 7 billion passengers were serviced by air transport companies worldwide. This number is expected to reach 10 billion within the next decade, according to data from Airbus Group SE – which shows that there is still plenty of potential for growth in the industry – especially when it comes to utilizing AI technology for automation purposes. According to Boeing Co., around 35% of all airline operations will be automated by 2030 – which could result in cost savings upwards of 10-15% per year, depending on how well these systems are implemented into existing business models.
Harnessing the Power of ChatGPT to Reimagine the Airline Sector
With the rise of Artificial Intelligence (AI) in recent years, a number of technologies have emerged that are helping businesses take advantage of AI to improve their operations. One such technology is Conversational AI, and it's advanced Bot from Open.AI, ChatGPT (Generative Pre-trained Transformer), which packs great potential.

ChatGPT is an AI-based natural language processing system developed by Open.AI. It is a type of transformer model that uses unsupervised learning techniques to generate accurate and meaningful answers to questions posed in natural language. Essentially, it takes input from users in the form of text or voice commands and provides relevant output based on its understanding of the context. This makes it well suited for use in customer service applications, as it can quickly provide customers with accurate responses without requiring manual intervention from customer service agents.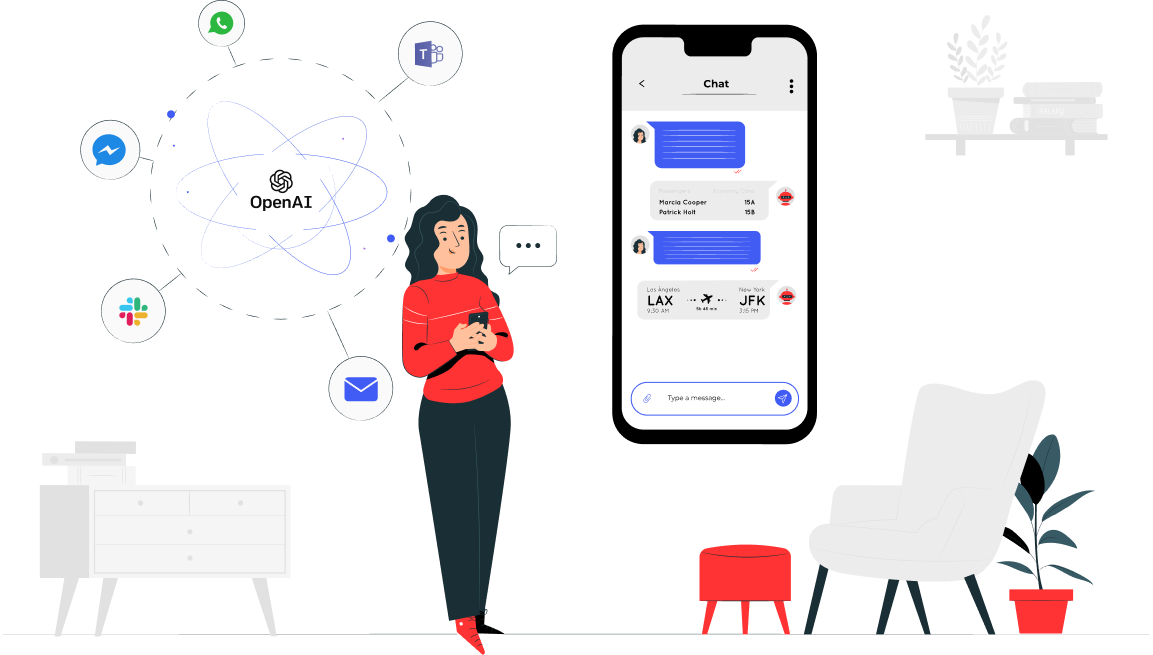 The airline industry relies heavily on customer support, so leveraging a solution like ChatGPT could prove immensely beneficial for airlines. ChatGPT could be used to automate customer service requests such as booking tickets, changing flights and checking flight status – all without needing an agent to manually respond. It could also be used for more complex tasks such as making recommendations based on past purchases or providing personalized offers based on user preferences and data gathered from previous interactions with customers. Additionally, using ChatGPT could reduce operational costs associated with managing customer inquiries since there would no longer be a need for manual intervention from agents when responding to inquiries.
Introducing Streebots
Streebo, a Conversational AI company, offers a series of Bots powered by leading NLP engines such as IBM Watson, Google Dialog from GCP, Amazon Lex from AWS and Wit.AI from Meta. In our latest release we have integrated GPT 3.5 series language models and APIs to create ChatGPT-like solutions for the Airline Sector. As a result, businesses can now enjoy increased revenues and reduced expenses while simultaneously providing customers with enhanced experiences.

Streebo Bots are highly intelligent AI-enabled devices that can rapidly connect business owners to their customers across a variety of communication channels without having to resort to traditional methods. An omnichannel strategy coupled with bleeding-edge tech such as GPT 3.5 can lead businesses to access a wider range of users in novel and more effective ways. Therefore, utilizing this advanced technology is sure to be a great benefit for the Airline Industry.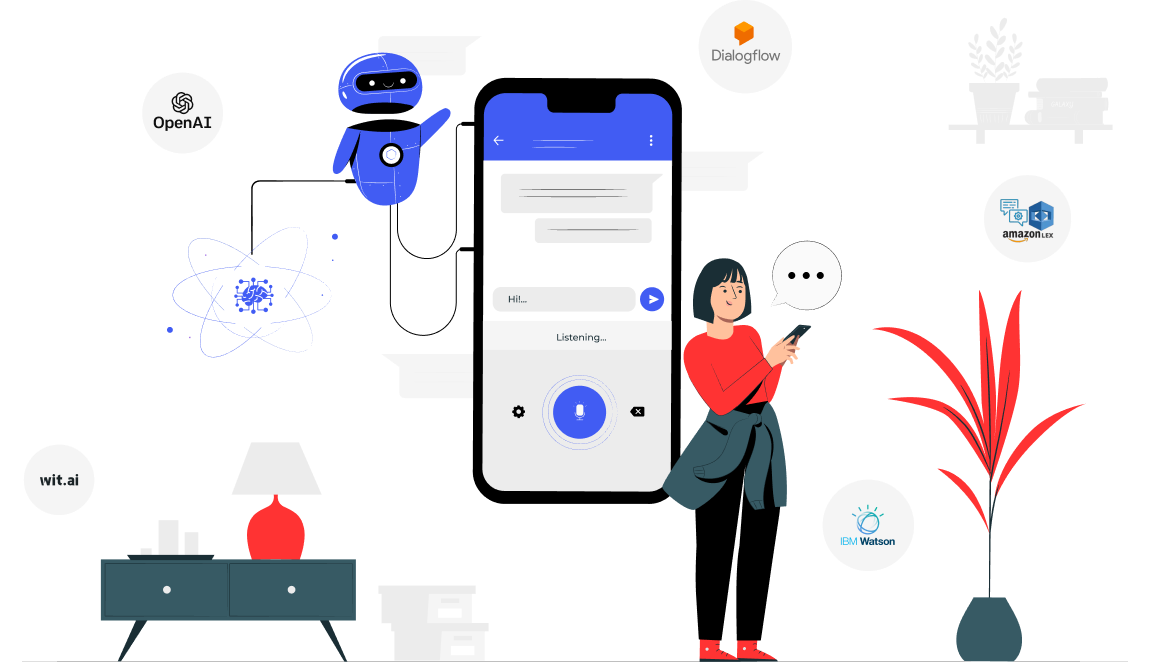 Streebo's Smart Bots are highly intuitive, making them ideal for customers with complex queries. Leveraging leading Natural Language Processing Engines such as IBM Watson, Google Dialogflow from GCP, and Amazon Lex from AWS, and generative AI technology now from Open.AI, the bots have context-switching capabilities to effectively switch topics without disrupting the conversation

Moreover, these bots provide accuracy levels of up to 99% ,and are pre-integrated with a wide range of enterprise backend \systems such as CRM software, SAP, and ServiceNow, plus legacy systems such as IBM AS/400. As a result, customers are provided with a consistent flow of valuable information when they require assistance on specific topics.
Our Pre-trained Bot for Customers of Airlines supports the following Operations
Our advanced GPT Platform Integrated Bots offer cutting-edge support to Airline and Transport sector operations. The Streebots, powered by GPT 3.5, are equipped with sophisticated data analytics tools and a user-friendly interface, allowing quick and easy interaction without the learning curve of newer platforms.

Our bots don't only come with myriad functions, ranging from maintenance logging to customer relationship management; they also include predictive analytics based on specific customer criteria, enabling companies in this sector to drastically improve and simplify efficiency in their operations. While more can be added, here's a brief pre-trained list of use cases: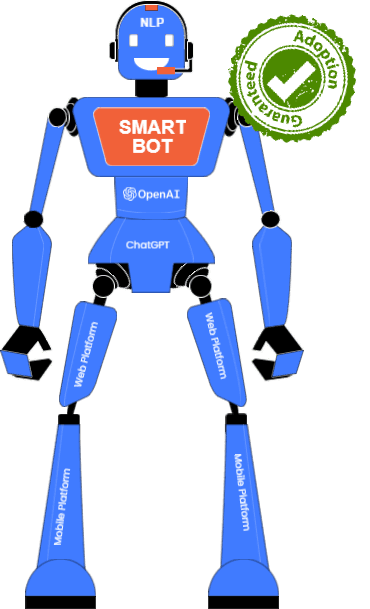 FAQs (Frequently Asked Questions)

Manage Inquieries

Search For a Flight

Fetch Services in Detail

Cost Estimates & Comparisons

Create an Account

Manage your Booking

Insurance/Food/Luggage Add-ons

Arranging for a wheelchair

Changing Travel Dates

Choosing Flight Seats

Online check-ins

Customer Support and Query Resolution

Payment Transactions

Feedbacks and Reviews

Reward Points
In addition to these operations,

We can also bake in Flight Booking convenience and also provide personalized recommendations with respect to the individual passenger based on the flight booking history. This has been proven to improve customer satisfaction and build a loyal customer base.
Key Business Benefits of these latest ChatGPT Powered Bots designed specifically for Airlines Businesses:
According to a study conducted by Travelers Magazine: of consumers would Book Flights from Chatbots of consumers interested in chatbots for quick responses
By rolling out, advanced AI-Powered Customer Bots like Streebots for Airlines businesses can realize the following benefits:

Increased Revenue
Streebo's omnichannel Virtual Assistant for the Airlines Industry can reside on existing digital properties such as web and mobile apps in addition to multiple digital channels such as WhatsApp, Google Chat, Facebook Messenger, Slack, and SMS, among others, to bring inquiries for the respective business. In addition to generating leads, Streebots are proven to improve the conversion rate.

No Language Barrier
Streebo's Multilingual Bots for Flight Booking removes language barriers with local language support for travelers from across the world. The bot provides support to 38+ languages on chat as well as a voice interface which gives a more personal experience.

Upselling
Streebo's Smart Bot, powered by the latest ChatGPT 3.5 Platform, comes with a 99% Bot Intelligence Index (BII) and can help upsell services with suggestions on bookings by gathering a history of booking for a particular customer based on information and analysis of chat.

Effortless Booking Process
Streebo's Airlines Virtual Assistant reduces the need for intervention of Airport/Airlines Staff by fastening the flight booking process and check-ins. It also improves the passenger experience by providing quick assistance as and when needed on or before their journey.

Virtual Concierge
Streebo's Smart Bots for Airline Customers can operate as a 24×7 virtual concierge and can recommend add-ons & services in a flight for a comfortable and safer journey.

Reduced Cost
With the presence of an advanced Cognitive Assistant (COGS) such as Streebot for Flight Booking Services, onboarding approvals saves on customer support resources & training costs and thereby increasing operational efficiency.
Streebots offers guaranteed success!
With its advanced Airline Industry Bot powered by the latest ChatGPT 3.5 Platform Streebo stands out from the competition. Here's a breakdown of the features that make Streebo's Airlines Chatbot Solution unique and unbeatable:

Built-in Domain Intelligence
Streebo's AI experts team holds over a decade of deep domain knowledge deploying highly intelligent pre-trained Virtual Assistants for the Airline Industry that can emulate the business processes of various Airline Businesses, Airports, and Flight Booking Services. This gives airline passengers a more personalized experience as the virtual assistants are able to understand customer requests quickly and accurately.

Omnichannel Experience
Another key feature of Streebo's super-sophisticated Airline Solution is its omnichannel experience. The Flight Booking Smart Virtual Assistant can be deployed across social media channels such as Facebook Messenger, WhatsApp, WeChat, Skype, and even SMS. It can even handle voice channels such as IVR, Amazon Alexa, and Google Home. Additionally, bots can be deployed to existing digital properties such as websites and mobile apps. This ensures that customers have access to the same level of service no matter which channel they use to contact their airline company.

Data Security & Compliance
Further, Streebots are powered by technologies from leading tech companies like IBM Watson, Google Dialogflow, and Amazon Lex from AWS, making them clear winners in two key areas of data security and compliance. Essentially, these cutting-edge Bots for Airline Businesses use state-of-the-art encryption technologies from companies like IBM, Google, and AWS to ensure customer data remains secure at all times and comply with applicable regulations while operating in multiple countries.

Guaranteed Adoption
Streebo's bleeding-edge Smart Flight Booking Bots specifically designed for Airline Companies, Airports and Booking Service Agencies guarantees adoption. With plethora of features in combination with it's latest advancement of integration with GPT 3.5platform, Streebots have become unmatched for their performance and guarantees success!

Guaranteed Bot Intelligence Index (BII) of 99%
Streebo's Smart and Savvy Virtual Assistant comes with a Guaranteed Bot Intelligence Index* of 99% (*BII= No. of questions answered correctly/No. of relevant questions asked). This high accuracy rate effectively reduces any manual intervention on the part of the support staff, thus improving overall efficiency and performance. Additionally, it provides users with accurate answersto their queries quickly and easily, allowing them to get the right information they need in no time.

Pre-Integrated with Backends
Another noteworthy feature of Streebo's Airline Bot is that it comes pre-integrated with a wide variety of enterprise backend systems such as Flight Booking Software and other renowned backend systems such as CRM, and ERP, among others. This eliminates the need to manually configure or integrate backends or 3rd party systems, which saves both time and resources.

Advanced Chat Analytics
Streebo's Bot analytics dashboard is designed specifically to record and display systemic data, metrics, preferences, and trends, which eventually helps in monitoring user interactions and can be adapted accordingly to give relevant responses as well as aid business decisions making processes. It also enables airline businesses to keep track of passenger behavior patterns as well as understand their specific needs so that they can tweak their services accordingly.

Lower TCO
Streebo's advanced, Bot solution makes it a cost-effective solution for Airlines looking to integrate bots into their customer service operations without incurring high costs.

Inbuilt Live Agent Support
Streebo's Airline ChatGPT-like Bots also comes with inbuilt live agent support which allows customers to get help from a real person if they cannot find what they are looking for by engaging with the bot. Airline service prospects and customers can switch back and forth between the chatbot and live agents seamlessly, ensuring that their queries are answered quickly and efficiently.

Supports Voice & Chat
Streebo's advanced Airline Bots also supports voice as well as text-based conversations, making it easy for users to interact with it regardless of their preferred mode of communication. Users can even switch back and forth between voice and text-based conversations within the same conversation thread, adding an extra layer of convenience for customers who may want to use both modes of communication during certain interactions.

Technically Advanced
Streebo Bots also incorporate innovative technologies such as Whisper (beta) from Open.AI and other Speech-To-Text technologies from IBM Watson, Google Dialog and Amazon Lex.. Whisper is an AI-powered voice platform that helps enable companies to better understand their customers and respond quickly with virtual support. STT, or Speech To Text technology, is a real-time transcription service which can scan conversations for keywords to help ensure the correct information is collected from each call. With the help of this modern technology, customer service agents can provide faster, more accurate responses to customers. Faster response time leads to improved customer relationship, loyalty and profitability. . Thus, whisper and STT technology in general represent an incredibly valuable asset for modern Airline companies who seek success in a globalized economy.

Secured
All customer data collected by Streebo's ChatGPT like super smart bots for Airline Companies is securely stored on the airline'sown private servers which ensures that any personal or confidential information shared by customers remains safe at all times.This helps airline businesses provide peace of mind to their customers while interacting with the bot knowing their data is protected against unauthorized access or misuse at all times.

Customization
Streebo's intelligent Flight Booking Services Bots offers airline businesses an unparalleled level of customization that allows them to tailor their chatbot experience specific to their needs and preferences. This level of customization allows airline businesses to create unique experiences for passengers that are tailored specifically for their target audience – something that is essential for any organization looking to attract new customers or retain existing ones in today's highly competitive market.
Pricing Model
MVP (Minimum Viable Product) virtual assistant includes :

3 transaction used cases.

1 backend integrations

50 FAQ's

Channels – Web, Mobile App, 1 Social media channel such as WhatsApp, Facebook Messenger

Capex Option
You can choose to buy the Bot solution.

Opex Option
You can choose to Subscribe to the MVP Bot for a fixed monthly charge with no upfront setup fee.

Pay Per Usage
This is a conversation-based subscription and tied to the number of conversations & messages the bot handles. Thus you only pay if the Bot is getting used and is actually deflecting calls.
Growth Mindset for Airline Leadership! Final Food for
Thought!
With the airline industry rapidly adapting to a "new normal" arising from the global Covid-19 pandemic, there is an unparalleled opportunity to leverage advanced chatbot technologies like ChatGPT to optimize customer experience. These automated agents help provide passengers with more bespoke travel services while freeing up crucial manpower for other essential services.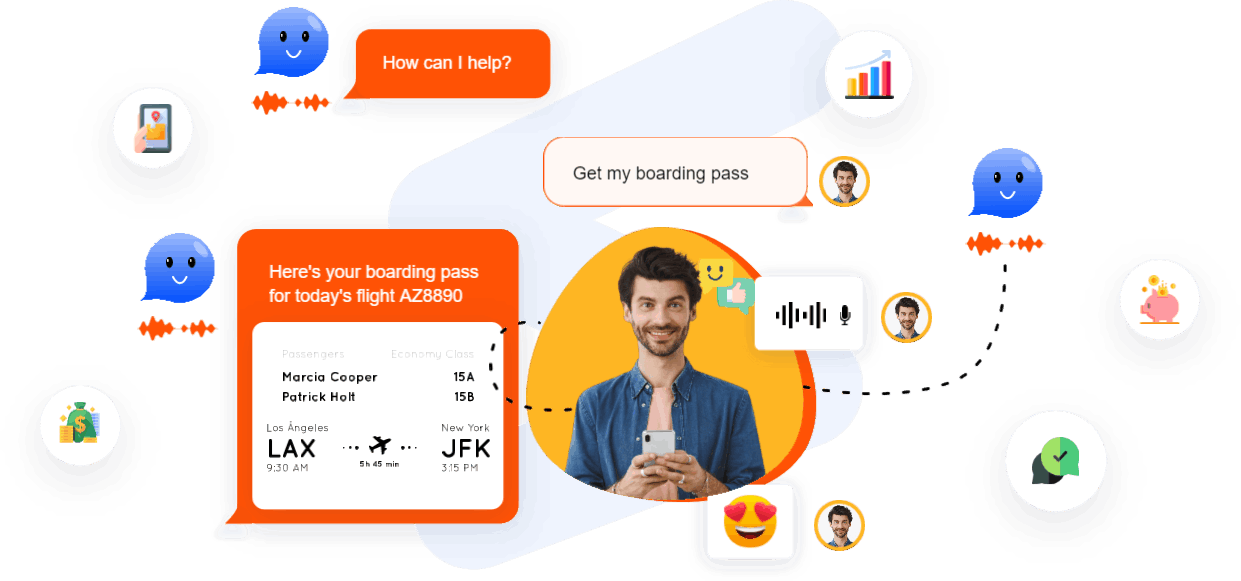 In addition, many airlines across the world are rallying their resources and allocating extra care towards their employees by prioritizing recruitment, training and people management at a heightened level according to a recent study by Deloitte. This is coupled with changes around supply chain management in order to better meet the demands of an ever-evolving consumer environment alongside offering greater incentives via loyalty programs while simultaneously rewarding traveler's dedication as well creating increased ROI for carriers.
Disclaimer:ChatGPT and GPT are registered trademarks and terms fully owned by Open.AI.Author has used the term"ChatGPT for Airline" to convey the idea of a ChatGPT kind of Bot,but for the Banks and Financial Institutions.
So, what are you waiting for?
Contact us today to help you bring your ideas to life and let our team of skilled ChatGPT developers help you build futuristic solutions that will take your business to unprecedented heights!
Schedule your demo today!!