Technology that is changing the way we do
Finance! The Growth Mindset!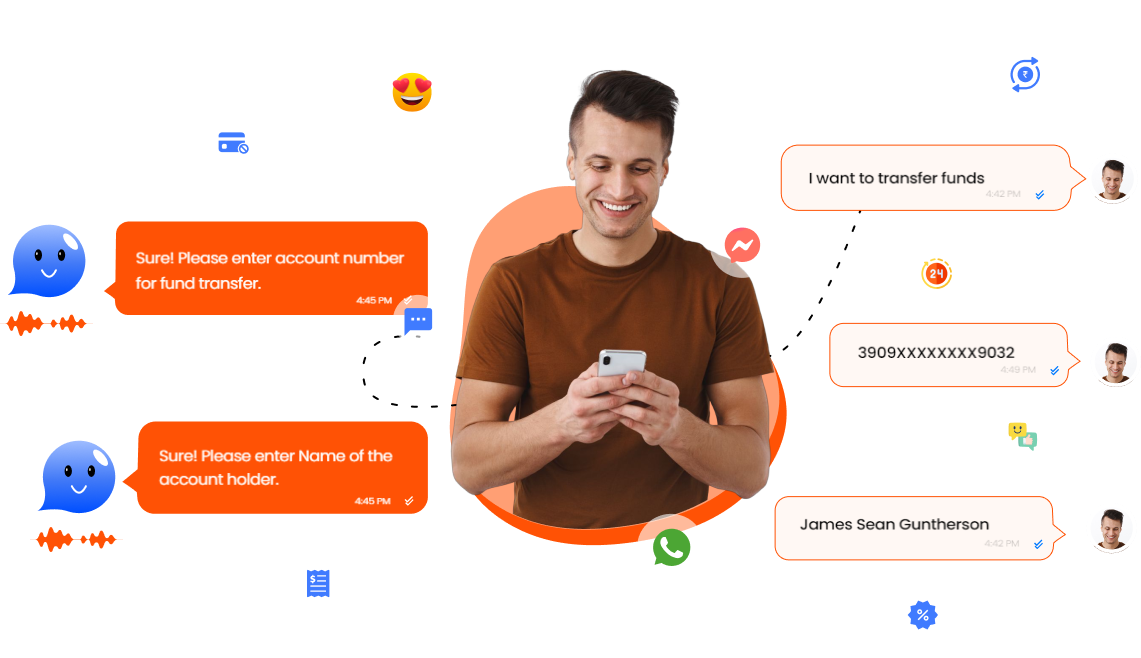 Schedule a demo

The rise of social media messaging platform has been unprecedented. According to Tech Crunch there has been a 40% rise in usage of these platforms and an average adult spends about 2.3 hours on these platforms communicating and consuming information. Clearly this is a tectonic shift in user behavior. Companies that will respond to this change and increase their outreach will stand to gain market share. Manning these channels with live agents is not a scalable solution.

Advancements in Al-on the other hand, advancements in artificial intelligence has now made it possible to automate the interactions on these channels both for prospect outreach and handling inbound requests for customer service.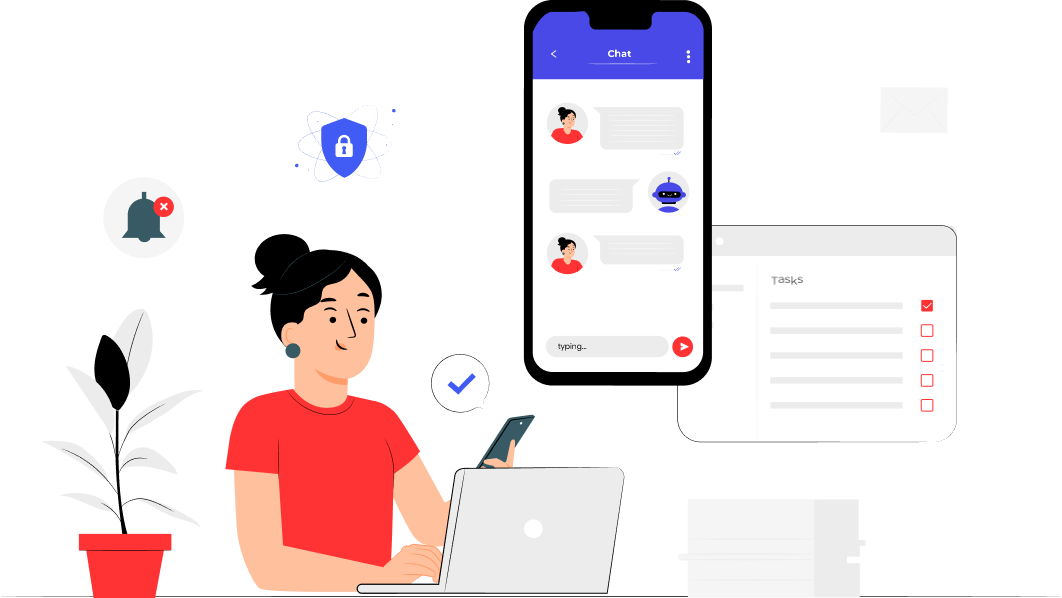 The rise of Al chatbots in the financial industry indicates how quickly the business landscape is changing, even in traditionally conservative areas. Chatbots have massive potential within the realm of finance, whether it be associates within SMEs/larger enterprises or personal end-users. The use of financial services chatbots is projected to save businesses $7.3 billion in the next two years.

Conversational Al is changing how financial institutions and firms engage with their customers in more frictionless and convenient ways. The incorporation of natural language processing (NLP) and Al capabilities is extending new ways for consumers to engage, a natural progression from their social and mobile interactions. It has become extremely convenient for customers to access financial services via Al Chatbots like reporting potential fraud of their credit or debit cards, loan account management and generating statement or fund transfers, among others. These Al-powered Conversational Interfaces can automate routine tasks and serve customers day and night at a faster pace with less friction.

According to Business Wire research, one-third of customers said they would consider switching companies after they experience a single case of poor customer service. Thus, Brands are adopting innovative approaches to offer their clients top-notch customer service in order to mitigate such conflicts.
Enter ChatGPT in the Financial Services Space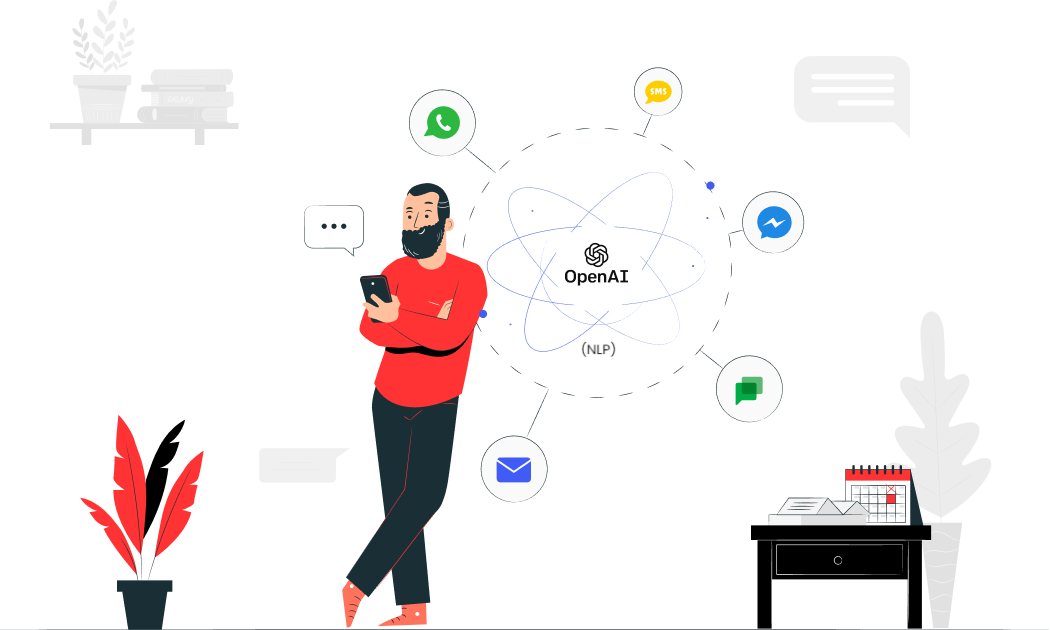 One of the most promising emerging technologies in the Chatbot space is ChatGPT-a natural language processing (NLP) platform from Open.Al that combines Al and machine learning algorithms to enable intelligent conversations between machines and humans. This technology has the potential to revolutionize customer service in the financial services sector.
The Benefits of ChatGPT for Financial Services
ChatGPT can help financial services firms improve customer service by providing customers with instant access to information and services via natural language processing. This technology can also be used to automate mundane tasks such as setting up appointments, checking account balances, or transferring funds between accounts. By using ChatGPT, financial services firms can save time and money while providing their customers with a better experience.

Another potential benefit of ChatGPT is its ability to provide more personalized service to customers By collecting data on customers' preferences and behaviors ChatGPT can tailor its responses to each individual customer's needs.
For example, if a customer asks about a certain type of loan or investment product, ChatGPT can provide them with tailored recommendations based on their past behavior or preferences. This could help financial services firms increase engagement with their customers as well as drive sales and revenue growth

Acditionally, ChatGPT can be used for customer segmentation in order to personalize marketing campaigns Based on customer preferences and interests. This allows companies to target the right customers with the most appropriate offers and improve their return on investment (ROI). Financial services companies can use ChatGPT for automated data entry, which helps reduce errors that are commonly associated with manual data entry processes.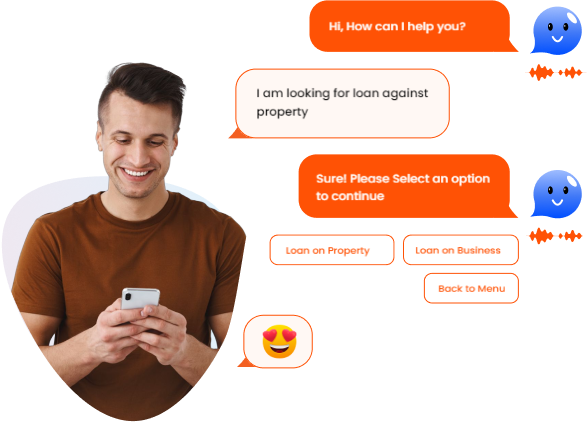 Streebo's GPT 3.5 Powered Conversational Al Solution fo Financial Service
Streebo, a Houston Texas based company focuses on Conversational Al. Streebo has a series of bots powered by Watson, Google Dialog on GCP, Amazon Lex from AWS and Wit.Al from Meta. In its latest release now Streebo has integrated the their bots with from Open.Al..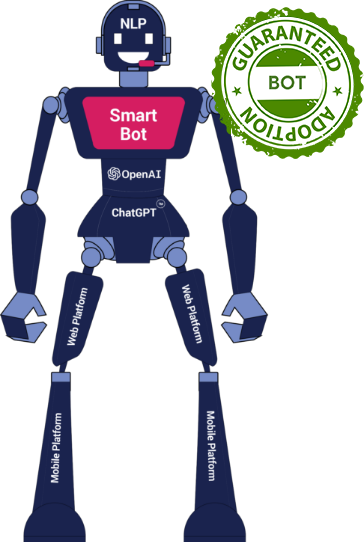 By incorporating the GPT 3.5 Platform API into Streebo's Al- powered chatbot, customers receive a more personalized approach that is both engaging and efficient. This drastically Improves customer experience and satisfactior increasing the chance of customers staying loyal to a particular financial institution. The Generative Al capabilities of GPT 3.5 takes the bot experience to the next level.

Further, Streebo's Al-Powered Financial Services Chatbot for Customer Service provides customers with premier service. Through the incorporation of Whisper (in beta) the STT Technology from Open.Al, customers are able to access financial information more conveniently than ever before.

As a result, customers can have their questions answered more quickly and customer service agents are able to handle inquiries without manually typing out, answers for each individual one. This streamlines the customer service process to provide even better service every time.
The customer experience is also improved as communication is easier due to the professional tone of voice provided through Al technology. All that is needed is a few words or phrases and the chatbot will respond seamlessly, making it easier for customers to ask their questions and get informative answers fast.
The game-changing Streebo's Pre-Trained
Voice & Chat Bot
cutting-edge technology solution from Streebo streamlines financial services, enabling customers to access basic information quickly and accurately, while allowing customer service teams to devote more time to complex queries.

By leveraging Streebo's Al Bot, customer service staff can quickly provide answers that are personalized to meet each individual customer's needs. No longer will customers have to wait on hold or sift through long forms for basic queries-Streebo's voice & chatbot has paved the way for lightning-fast response times and easy access to customer service needs.

FAQs (Frequently Asked Questions)

Branch Locator

Generate a Statement

Manage Service Request

Apply for a loan/credit card

Loan Account Management

Update Profile

Loan Management

Fund Transfor

Feedbacks and Reviews

Offer and promotions

Report a lost/block card

Customer support & Query Resolution

Bill Payment/Repayment Transactions
Key Business Benefits that Streebo's cutting-edge Bots
designed specifically for Finance Enterprises offer:

Increased Customer Base and Revenue
Our innovative Al-powered bot can help you increase your presence on various social media channels

Reduced Call Center Volume
Financial institutions are in a constant struggle between offering customers timely resolutions to issues and cost-effectiveness for their operations Streebos GPI 35-powered Finance Chatbot otters reliet trom this challenge.

Reduced Cost
Utilizing Streebo's Chatbot solution for customer support allows your financial organization to benefit from reduced costs upon adoption. By having a personalized chatbot that can take care of frequently asked questions, the need for resource and training costs associated with live agent operations is cut down significantly.

Improved Customer Satisfaction
Streebo's Charger integrated financial Bot offers 24/7 customer service helping you to improve customer satisfaction through enhanced personalized experiences. Our intelligent bots are capable of recognizing and verifying customers at automatic levels according to the login credentials
What Sets Streebo Apart & Confident to get you
Guaranteed Adoption & Success with its Bleeding-Edge
Financial Bots?
Streebo in collaboration with leading technology organizations like IBM, RedHat, Google, Amazon, HCL Technologies, and now GPT 3.5 Platform from Open.Al has created a powerful and secure solution.

Here are some of the key differentiator's of Streebo's Pre-Trained bots-
Built-in Domain Intelligence
Streebo's Team, with its Finance domain intelligence and experience gained over the years building Conversational Al Chatbots for Customers, deploys highly intelligent pre-trained Bot that can emulate business processes.These smart bots can decipher the user's context effectively by assessing inputs like time, place conversation history, tone sentence structure, and sentiment and gives a more personalized experience.
Omni-Channel Experience
Streebo's ChatGPT like super smart Financial bots gives an omnichannel experience. They can be deployed across social media channels such as FB Messenger, Google Chat,WhatsApp. Instagram. Signals, WeChat, Skype, and even SMS. Bots can even be deployedto existing digital properties such as the website and mobile app.They can even handle voice requests on channels such as IVR Amazon Alexa, and Google Home. Thisensures the customers get prompt responses on whatever platform they are.

Multi-lingual Support
Another feature that sets Streebo's Finance VirtualAssistant apart from other chatbots is its multi-lingual support which allows customers to communicate with it inmultiple languages. Streebo's Customer Service solution for Financial Services provides support for over 38+languages. That helps customers to make informed decisions by making them understand all clauses in asimplified manner. The advanced training of bots to understand the dialects and accents of end usersaccording to their demographics and geography inculcates a sense of trust and confidence in customers.

Pre-Integrated with Backends
Streebo's GPT 3.5 powered bots forFinancial Services comes inpre-integrated with Core FinancialSolutions such as Edgeverve Finacle Oracle FLEXCUBE Core Finance, and SAP Core FinancialServices among others.

Flexible Deployment Options
Streebo's Pre-Trained Cognitive assistants for Financial Services can be deployed on-premise or on IBM Cloud, Microsoft Azure, Amazon AWS, or Google Cloud Platform.

99% Accurate
Streebo's Al Bot for Finance comes with a Guaranteed Bot intelligence Index of 99% ("BI No. of questions answered correctly/ No of relevant questions asked). This high accuracy effectively reduces any manual intervention on the part of the finance staff thus improving overall efficiency and performance Additionally it provides customers with accurate answers to their queries quickly and easily, allowing them to get the right information they need in no time.

Open Standards
Build on Natural Language Processing engines such as Amazon Lex, Google Dialog, and IBM Watson Assistant, Streebo's Smart ChatGPT-like Bots are built on open standards.

Advanced Chat Analytics
Streebo's analytics dashboard is developed to record and display systemic data, metrics preferences, and trends which eventually help in monitoring user interactions, and can be adapted accordingly to give relevant responses and take business decisions.

Data Security & Compliance
Streebo's bots for financial services are highly secure as they are powered by the likes of IBM Watson, Google Dialog and Amazon Lex. Further, all communication with the GTP platform from Open Al is masked using encryption libraries from IBM, Google or Amazon (depending on the NLP the customer has chosen for their Bat). Lastly the solution is hosted on the customer's premise or in their private cloud thus allaying any concern on data privacy.
For our ChatGPT integrated bot solution, Customers have on option to "Buy" the virtual agent with a one-time fee or "Subscribe" for a fixed monthly charge with no upfront fees.

It comes with three pricing options including MVP Bot, Capex Option, Opex Option, and Pay Per Usage

ChatGPT integrated MVP (Minimum Viable Product) virtual assistant includes :


3 transaction use-cases

1 backend integration

50 FAQ's

Channels – Web, Mobile App. 1 Secial media channel such as WhatsApp, Facebook Messenger SMS. et.al

Capex Option
You can choose to buy the product with an upfront amount

Opex Option
You can choose to Subscribe to the MVP Bot for a fixed monthly charge with no upfront setup fee

Pay Per Usage
This is a conversation-based subscription and is tied to the number of conversations & messages the bot handles. Thus, you only pay if the Bot is getting used and is actually deflecting calls.
Final Food for thought – For Finance Leader
45%
43% of customers prefer using chatbots over going to the branch of financial services company to complete their task and this number is set to swell further in the next few years.
4 min
The use of financial services chatbots can help them save 4 minutes per inquiry which will directly value to customer satisfaction.
30%
Financial chatbots can help businesses reduce customer service costs by up to 30%
11
Financial Bots will allow you to tap into newer channels like WhatsApp, Facebook and Instagram for your business thus increasing your outreach by an average of 11 basis points.
According to Insider Intelligence
The above-mentioned stats are quintessential to understanding the importance of Al bots in the Finance industry.

Artificial intelligence (AI) bots and conversational interfaces are key to providing crisp financial services in a digital landscape. Streebo provides such a platform and its IBM Watson, Google Dialog, Amazon Lex and now GPT 3.5-powered finance bots champion industry-geared solutions that secure your customer data while remaining compliant with GDPR regulations. Sur innovative tools offer an unrivaled chance to optimize operations while providing great customer service that can meet any standard of excellence.
Disclaimer: ChatGPT and GPT are registered trademarks and terms fully owned by Open.AI. Author has used the term "ChatGPT for Financial Services" to convey the idea of a ChatGPT kind of Bot, but for the Banks and Financial Institutions.
So, what are you waiting for?
Make a visit to our bot store and book a demo today to preview the library of entire Smart Solutions.
Schedule a demo