This article delves into a significant shift into customer base, unleashing an excellent opportunity for health insurance providers to enhance their profits and customer satisfaction index. It also talks about how the insurance companies can utilize cutting edge artificial intelligence technology by leveraging Natural Language Processing and Generative AI with platforms like OpenAI's GPT 3.5 to automate routine business operations and customer interactions.

The latter part of the article proposes an ultimate comprehensive solution powered by leading NLP technologies like IBM Watson, Google Dialog, Amazon Lex and now GPT from Open.AI. This approach enables clients to employ any combination of the powerful AI providers to create a one-shot solution that capitalizes on the user base shift to increase revenue and customer satisfaction while managing interaction costs with customers/prospects.
The Tectonic Transformation of Health Insurance: How Providers Can Stay Ahead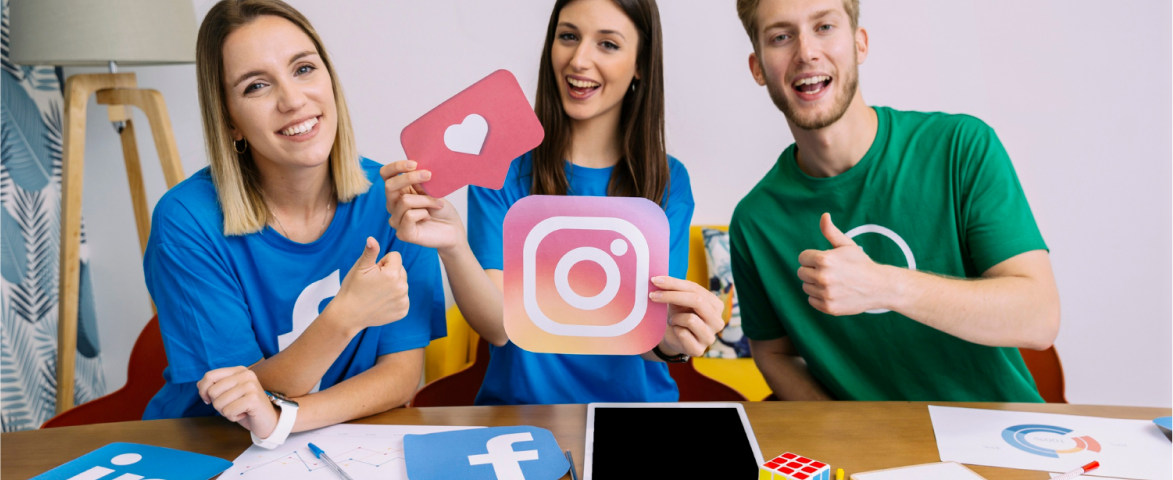 The usage of social media channels by people to access health insurance services has grown in recent years.
4.70 billion people, or 59% of the world's population, are using social media. This means that 60% of people on the planet have a social media account.
million social media users view at least one business profile every day.
On average, an individual spends 2 hours and 29 minutes using social media every day.
(Source :-Smart Insights)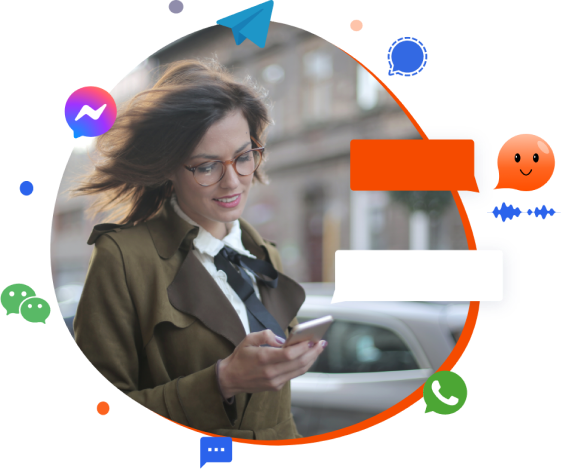 The above social media facts demonstrate that it's imperative for businesses to utilize social media platforms to grow their brand awareness and stay relevant to the audience. Indeed, Healthcare and social media can be a very powerful combination. Now Customers are more advanced and inclined towards social media platforms to research and compare different health insurance policies.

These online resources make it convenient for customers to manage their health insurance policies, make payments, file claims, and communicate with health insurance providers. Thus, if insurance companies want to stay competitive then they must serve their customers where they are. But deploying more humans to manage different platforms is not a viable solution. So, what's next? To address this issue, insurers and insurtech companies around the world must invest in AI-powered health insurance bots to enhance the customer experience by serving them with extended presence.
The AI & Bot Advantage: How Health Insurance Can Benefit from Technology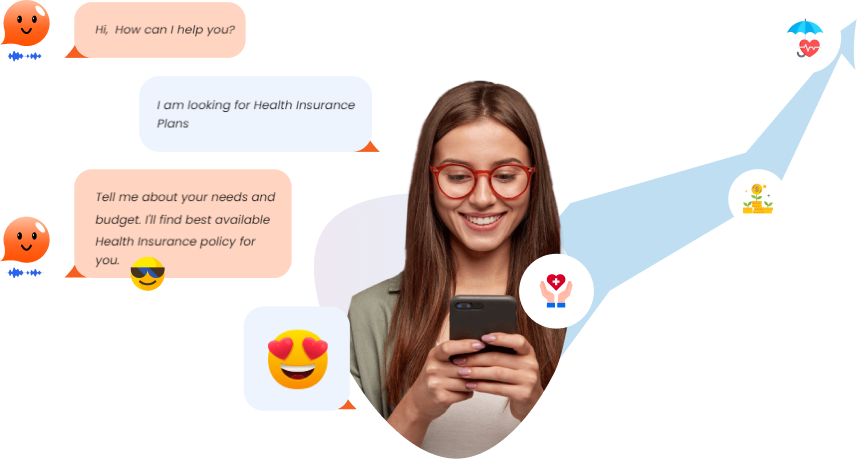 Conversational AI and powerful NLP engines have transformed the health insurance industry by streamlining the business operations. Conversational AI has matured to a point where it can match human cognition. By leveraging the power of AI and machine learning algorithms, health insurance companies can automate their routine tasks such as policy renewals, claim settlements etc. This increases productivity by allowing employees to focus more on complicated tasks where a higher degree of expertise is required. The initial line of communication can be handled effectively with AI-powered Health Insurance Chatbots. The Conversational AI solutions for insurance sector can analyze data and offer personalized recommendations to the customers. Thus, delivering a more sophisticated customer experience.

The AI-powered chatbots indeed handled customer interactions efficiently with NLP capabilities. They listened to their audience effectively and generated accurate responses but with a fixed set of phrases. The responses were static. But with the arrival of GPT 3.5 from Open. AI, the responses have become dynamic as they generate dynamic text in a human-like manner.
Arrival of Tech-Driven Health Insurance Chatbots powered by GPT 3.5 Platform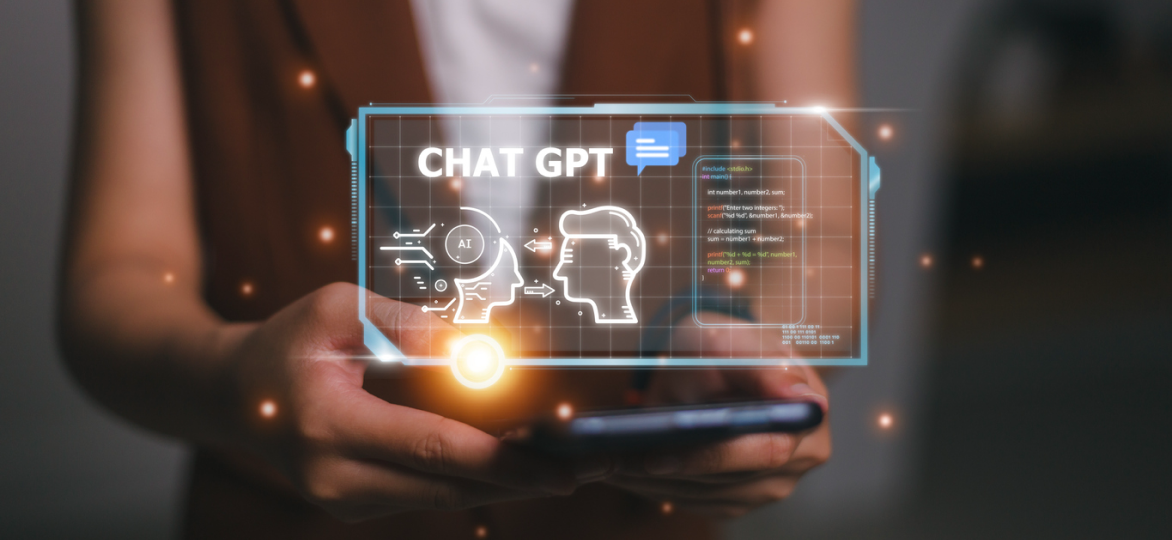 The advent of GPT 3.5 Platform from Open.AI has become a game changer for health insurance industries. GPT 3.5 is an updated version of Open. Ai's Generative Pretrained Transformer, that can generate human-like texts and complete complex tasks like customer support, claims processing with least requirement of human intervention.

ChatGPT powered chatbots have immense potential to bring significant advancements in terms of efficiency, accuracy and customer satisfaction.
They are engineered with Advanced context switching capabilities, thus can make smooth transitions from one task to another without disrupting the conversational flow.
With the Sentiment Analysis feature, ChatGPT powered bots could automatically analyze text sentiment, such as whether a text is positive, negative, or neutral.
With Text classification feature, ChatGPT integrated health insurance bots can automatically classify text into different categories, such as spam, fake, or sensitive content.
With Summarization feature ChatGPT health insurance chatbots can automatically summarize long pieces of text, such as important clauses and terms and conditions of policies in a precised manner.
Customers' needs keep changing. Businesses that don't keep up with these changes by being innovative might have a hard time because consumers are setting new rules for the market. The ChatGPT technology has surged the chatbot adoption index significantly by making them more intelligent and cost-effective.
Why Streebo's ChatGPT powered Smart Bots for
Health Insurance Industry?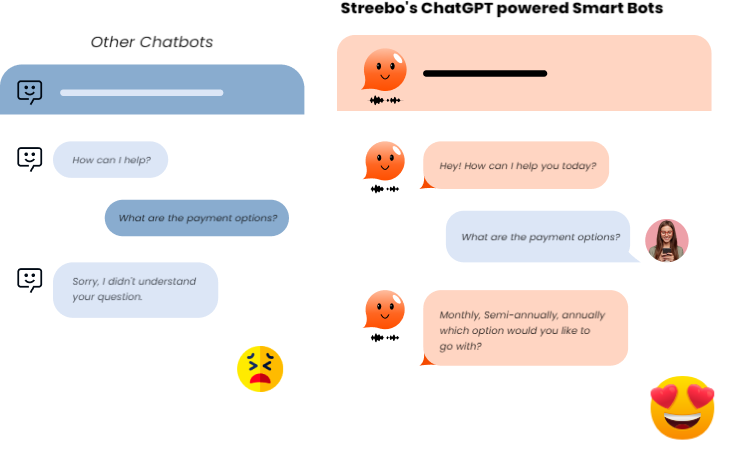 At Streebo, a leading Digital Transformation & AI Company, we have developed a series of pre-trained voice, chat and email bots, that are powered by top notch NLP engines including IBM Watson, Amazon Lex from AWS, Google Dialog Flow from GCP, and Wit.AI from Meta. In the latest release, we have extended our services by integrating with GPT 3.5 Platform from Open.AI.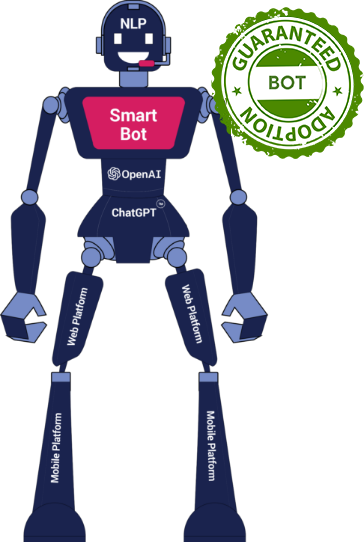 With this new addition, our smart bots have become immensely powerful and intelligent. Initially with advanced NLP engines we were able to give customers a hassle-free customer service but with a limited set of fixed responses. But now with ChatGPT integration, we have taken our premium chatbots to another level. They can now generate text, versatile responses with human like cognition. Our ChatGPT powered insurance chatbots can generate creative and interesting dynamic texts. They can now answer wider range of questions from simple factual questions to more complex ones requiring common sense knowledge.

They come with advance context-switching capabilities, and omnichannel presence on asynchronous messaging platforms like Facebook, WhatsApp, SMS and voice-enabled platforms like Google Home, Amazon Alexa and now Email as well. Our AI-powered health insurance bots can provide ease of access to your insurance service users on whatever platform they are active. On top of providing greater convenience for customers, these AI-powered technology solutions can also deliver extensive ROI for organizations that deploy it due to higher customer satisfaction and retention.

Leveraging the latest advancements in generative AI technology, Our sophisticated and intuitive Streebots provide a superior customer experience across multiple channels. The highly intelligent bots for health insurance are pre-integrated with SAP, Oracle ERP, IBM AS/400 Systems and offer a consistent and accurate delivery of valuable information with an accuracy rate of up to 99%.
Key Business Benefits of Our cutting-edge Bots designed specifically for Health Insurance Sector
According to a Juniper Study, the use of conversational AI chatbots for insurance will lead to cost savings of almost $1.3 billion by 2023, across motor, life, property and health insurance, up from $300 million in 2019.

The insurance sector will be benefited from AI-powered bots by the increase in productivity as employees can focus on higher-value more productive work, and avoid working on repetitive, mundane tasks. By rolling out our AI-Powered Health Insurance Bot and Conversational Interfaces across channels, Insurance Industry will witness benefits such as: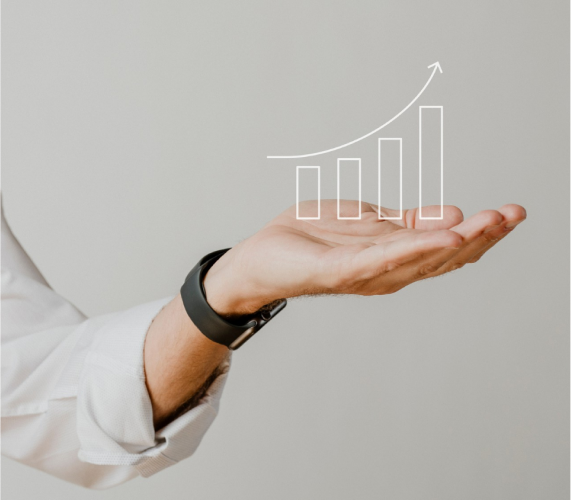 Automating sales procedures and utilizing social media platforms with our ChatGPT like Health insurance virtual assistants can result in a substantial rise in policy sales volume. This approach reduces operational costs by employing chatbots to handle customer inquiries and increases the conversion rate. Therefore, implementing virtual assistants will not only be cost-effective but also simplify business management by providing automated customer support.
Insurance companies provide users with versatile policies and advisories. Keeping tabs on customer preferences from previous conversations is a tremendous way to offer customers well-tailored and proactive suggestions, or upgrades. Our health insurance virtual assistants offer personalized responses with accuracy. Round-the-clock availability and quick query resolution increase customer engagement and satisfaction index.
Our AI-powered Conversational interfaces for health insurance companies can help businesses increase productivity by automating routine tasks such as policy tracking, premium reminders, claim settlements and freeing up valuable time for human agents to focus on high-value tasks.
Our Industry-geared, pre-trained, Omnichannel Health Insurance Cognitive Assistants are
trained in the following Operations
FAQs (Frequently Asked Questions)
Learning Center (Videos/Articles)
Quote Generation
Product Catalogue
Order Management
Policy Service (View, Download)
Online Payment
Newsletters
Branch Locator
Browse Products
Quote Management
Purchase a Policy
Claim Management
Policy Renewal
Login/Registration
Profile Management
Key-differentiators of Our ChatGPT-powered Smart, Omnichannel, Industry-Relevant, Cognitive Assistants for Health Insurance

Built-in Domain Intelligence
In collaboration with leading technology partners, Streebo leverages cutting-edge technology to deploy highly intelligent pre-trained bots.These bots are specifically designed to emulate complex business processes that are unique to the insurance industry. With their advanced intelligence, the bots are capable of handling a wide range of tasks, from processing insurance claims to providing customer support.

Omni-Channel Experience
This ensures that customers receive prompt responses on their preferred platform, enhancing their overall experience. Our health insurance virtual assistants, powered by the GPT-3.5 Platform, offer a comprehensive and seamless experience across various channels, allowing companies to connect with customers regardless of the platform they prefer. Customers can interact with the bots via popular channels such as WhatsApp, Facebook Messenger, SMS, Telegram, Signal, WeChat, Skype, IVR, Amazon Alexa, Google Home, and even email.

Email Bots
Incorporating the GPT technology, our bots have now extended their versatility to support email communication as well, that has turned out to be a significant game-changer in the domain of virtual assistants. With this advancement, our bots can generate emails with human-like interactions. They facilitate transactions effectively by managing the backend integrations. This represents a significant milestone in our journey towards unparalleled customer satisfaction.

Pre-Integrated with Backends
Our health insurance bot is designed to be highly intuitive and is already integrated with many of the commonly used ERP/Insurance Management Systems, such as SAP, Oracle ERP, IBM AS/400 Systems, and CRM, including Salesforce, SugarCRM, and others. As a result, there is no need for manual configuration or integration of backends or third-party systems, saving valuable resources and time.

Access to Unstructured Data
With advanced technologies like Classification, Clustering, Embedding, and Generative AI available through the GPT platform, it is now possible for businesses of any size to quickly and easily access unstructured data sources, such as web pages, user manuals, product documentation, logs, and emails. This can help end-users find the information they need regarding lengthy policies in a precise manner. By integrating our chatbots with the GPT platform, we can make use of these cutting-edge capabilities to provide timely and relevant information to customers during the product sales or service process.

Voice Technology from GPT
Our bots incorporate cutting-edge technologies in voice such as Whisper(beta) from Open.AI and Speech-To-Text technologies from IBM Watson, Google Dialog flow and Amazon Lex. Whisper is an AI-based voice platform that enables insurance companies to gain a better understanding of their customers and provide timely virtual support. STT technology offers real-time transcription services that analyze conversations for specific keywords, ensuring accurate and complete information is collected during each call. This results in superior customer experience, with customers receiving prompt and precise responses to their queries. The quicker response times foster better relationships between health insurance companies and their clients, which leads to increased loyalty and profitability.

Flexible Deployment Models
Our pre-trained health insurance bot can be seamlessly deployed on-premises or on IBM Cloud, Microsoft Azure, Amazon AWS, or Google Cloud Platform effectively in hassle –free manner.

Advanced Chat Analytics
Our sophisticated analytics dashboard is designed to capture and present comprehensive data, key metrics, preferences, and trends that enable effective monitoring of user interactions. The insights gained from this analytical system can then be used to tailor responses and make informed business decisions that positively impact customer experience and drive growth.

99% Accurate
Our AI Bot for Insurance, integrated with ChatGPT, boasts an outstanding accuracy rate of up to 99% (*BII= No. of questions answered correctly/No. of relevant questions asked). We remain committed to ongoing training of our chatbots to achieve the highest level of accuracy. This impressive level of accuracy significantly reduces the need for insurance staff to intervene manually, thereby enhancing overall efficiency and performance. Moreover, it empowers customers to get the precise information they need promptly, providing them with accurate responses to their inquiries.

Multi-lingual Support
Another feature that sets our insurance virtual assistants apart from other chatbots is its multilingual support which allows customers to communicate with it in multiple languages. They provide support for over 38+ languages. To have breakthrough exposure and smoothen the path to enter global markets, disintegrating language barriers is highly recommended. That helps customers to make informed decisions by making them understand all clauses in a simplified manner. The advanced training of bots to understand the dialects and accents of end users according to their demographics and geography inculcates a sense of trust and confidence in customers

Data Security & Compliance
Our GPT 3.5 powered health insurance chatbots are designed to comply with industry standards and regulations to ensure that all data is handled and stored securely. Thus, users can rest assured that their personal and health-related data remains safe and protected at all times with advanced encryption algorithms and access control mechanisms.

Inbuilt Live Agent Support
Our health insurance solution comes with an integrated feature for live agent support. This feature provides users with immediate assistance if they are unable to find a solution by interacting with the bot. Customers can easily switch from chatbots to human operators, ensuring their inquiries are handled promptly and effectively.
Pricing Options
MVP(Minimum Viable Product) bot includes:
Capex Option

You can choose to buy the MVP Bot.
Opex Option

You can choose to Subscribe to tour Bot solution for a fixed monthly charge with no upfront setup fee.
Pay Per Usage

This is a conversation-based subscription and tied to the number of conversations & messages the bot handles. Thus, you only pay if the Bot is getting used and is actually deflecting calls.
Conclusion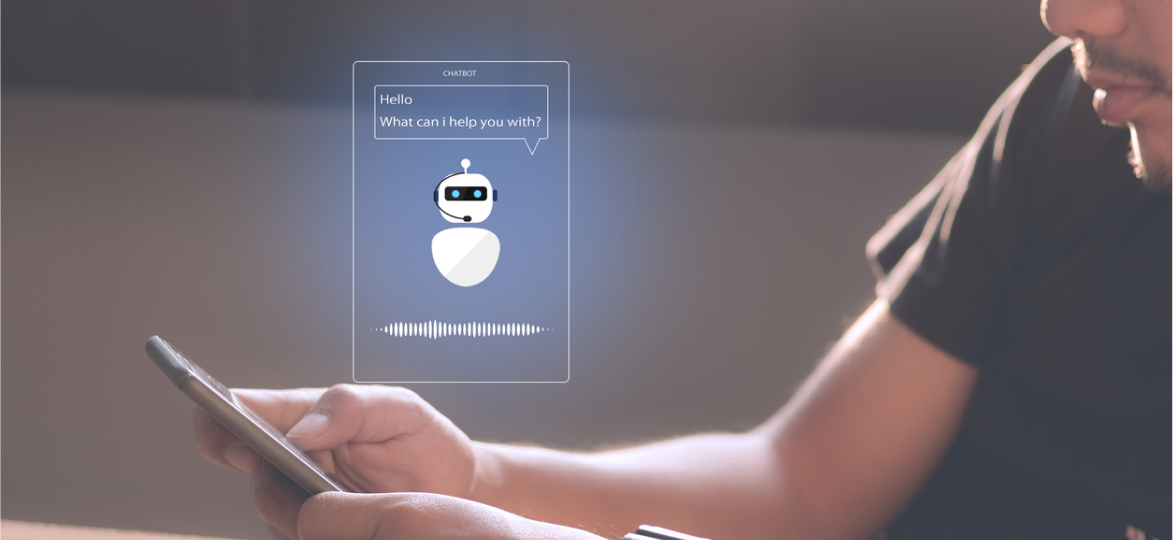 Artificial intelligence is widely used in the insurance industry, with chatbots being one of the most sought-after applications. The presence of chatbots on asynchronous messaging platforms to generate new leads can bring huge traction to the health insurance business as audience is more inclined towards social media to exchange thoughts while considering policy options. To stay competitive, deploying an AI-powered smart bot on multiple platforms is now a "must-have" differentiator. Just deploying a chatbot on various platforms is not enough, since there are many vogue bots available on the web that were never adopted due to limited capabilities. They lack Enterprise specific transactional abilities.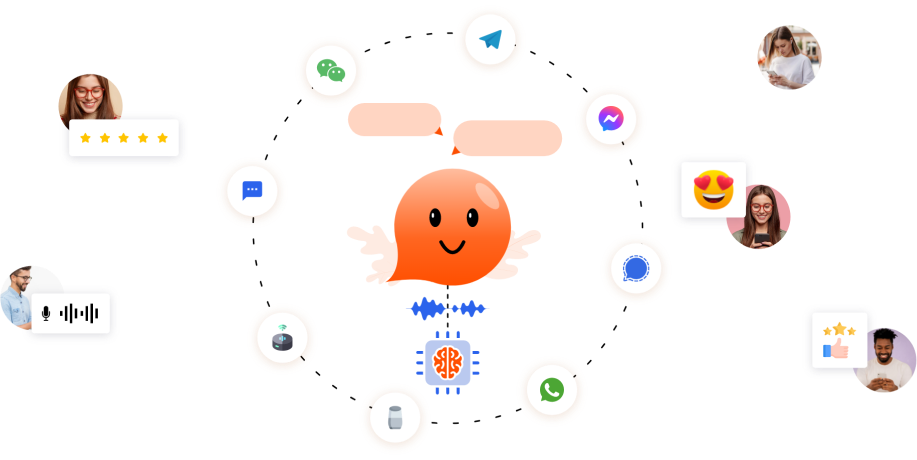 Here, Streebo's ChatGPT powered chatbots come into play. Our team of experts hold a deep domain knowledge in Conversational AI solutions. With expertise for over a decade, our team is rolling out highly secure, omnichannel, industry-specific, pre-trained, and personalized smart solutions that can expand your presence. Our top-of-the-line bot adoption and implementation practices in conjunction with top-notch leaders IBM Watson, Google Dialog and Amazon Lex and now GPT 3.5 also from Open.AI have transformed the way customers engage with the company. The latest integration with Generative pre-trained transformer 3.5 has levelled up the conversations by generating dynamic responses. Our intelligent Cognitive Solutions can be made available across different channels such as Websites, Mobile Apps, and Social Media Platforms using conversational style requests via Voice & Chat commands. They take the customer experience beyond the voice menu or fixed command with control phrases, while delivering insight and trends that transform the bottom line.
So, if you are looking for a solution that can scale your business presence across multiple channels, then Streebo's enterprise-grade, ready-to-deploy, smart omnichannel solutions are your best bet!
Make a visit to our bot store and book a demo today to preview the library of entire Smart, cloud-ready solutions.
Schedule your demo today!!