The article commences by highlighting a substantial transformation of customers towards social media platforms. This shift presents a great opportunity for Non-Banking Finance Companies to enhance their agents' productivity and expand their reach. The article further delves into how non-banking finance companies can utilize advanced artificial intelligence technology, such as Natural Language Processing and Generative AI (GPT) to automate mundane business tasks and customer interactions. Subsequently, the article advances a unique solution that combines the powerful capabilities of NLP technologies such as IBM Watson, Google Dialog, Microsoft CLU, Amazon Lex, and Open.AI's GPT.. The proposed solution offers an effective approach to increase market share, enhance customer satisfaction, and improve efficiency while utilizing resources judiciously.
The Changing Landscape of NBFC Customers: A Tectonic Shift
Social media has become a new get away for customers to access banking and Non-Banking Financial Company (NBFC) services rapidly. Smart customers don't wait in queues or visit NBFC offices to get information about newly launched products or services by NBFCs. They follow official social media accounts of their NBFCs to stay updated. Customers can fill out loan applications and submit them directly through social media platforms. Social media platforms like Facebook, Twitter and many others have become a popular channel for customers to contact the customer support team of their bank or NBFC. Approximately 75% of customers use social media platforms to give review /feedback or exchange their opinions whenever financial matters or advisories are considered according to Statista Report. They share tips and insights on budgeting, saving, investing, and other financial topics to help each other and take informed financial decisions.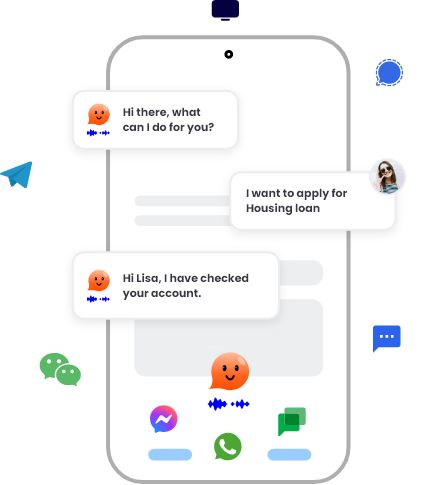 A report by Salesforce in 2022 found that 61% of consumers expect their financial institution to interact with them through social media. This inclination of customers towards social media has clearly demonstrated that- if banks or Non-Banking Financial Services Companies want to stay in the competition, they must leverage the power of this unbeatable platform. To expand customer outreach and level up customer experience, one can't overlook the growing importance of social media in the Finance industry and to engage with their customers.
Arrival of GPT – A Game Changer Move for NBFCs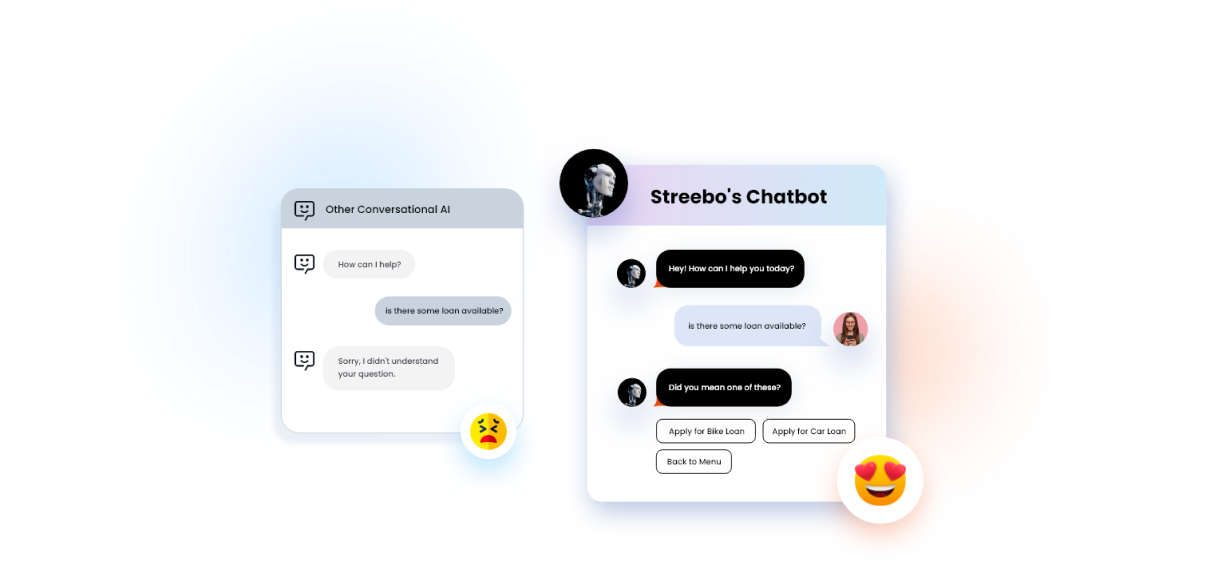 The emergence of the GPT platform by Open.AI has revolutionized the NBFC sector, enabling the industry to operate in new and innovative ways. ChatGPT is a powerful language processing tool that can understand and generate written text in a way that closely resembles human speech, highlighting its exceptional ability to interpret natural human language. With this cutting-edge technology, non-banking finance companies can leverage messaging apps to automate and streamline operations and interact with their customers across communication channels.

Streebot, a smart bot designed for NBFCs that comes with ChatGPT capabilities, is a transformative virtual assistant that is capable of engaging in conversation with human-like prompts and responses powered by Generative AI technology. It presents a unique opportunity to completely change the way NBFCs interact with their customers and increase satisfaction index.

Now, let's explore how Streebot can assist NBFCs in achieving this objective-
Streebo's AI-powered, Smart, Omnichannel Bots with ChatGPT-like capabilities for NBFCs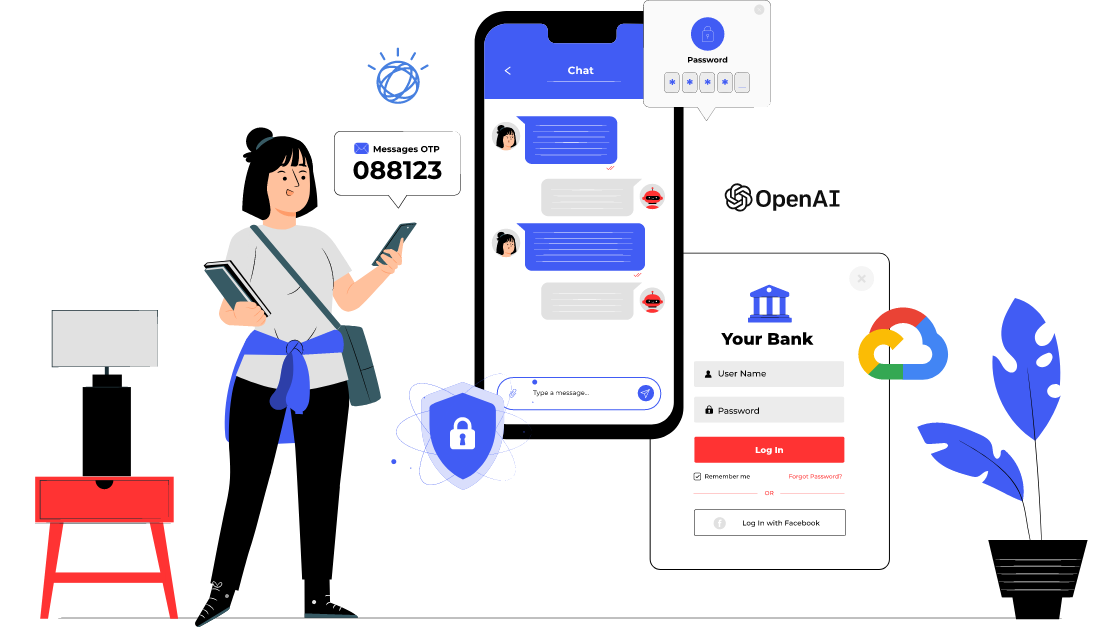 At Streebo, with expertise in Conversational AI solutions, we have developed a Pre-trained AI-Powered NBFC agent Chatbot that has been fortified by the integration of powerful NLP engines such as IBM Watson, Amazon Lex from AWS, Google Dialog from GCP, Wit.AI from Meta, and the latest addition, GPT from Open.AI. In our latest release, we have expanded our range of services by integrating ChatGPT capabilities from Open.AI into our chatbot, resulting in a more powerful, robust, and versatile solution. Previously, our chatbots, powered by industry-leading NLP engines, provided customers with seamless experiences but with limited pre-programmed responses. However, with the integration of Generative AI technology, our NBFC cognitive assistants for agents have become more advanced, enabling them to generate more natural and dynamic responses, thus enhancing customer interactions.

Our chatbots, Streebots leverage the strength of NLP (Natural Language Processing) algorithms and Generative AI to effectively interpret and respond to customer queries in real-time. Additionally, they possess impressive context-switching capabilities, allowing them to handle more complex issues such as answering questions that may involve managing multiple dialogue elements. This makes them well-suited for tackling intricate tasks as our bots can adeptly transition between different conversation topics seamlessly around the clock. This is particularly advantageous given the NBFCs' diverse range of services to customers.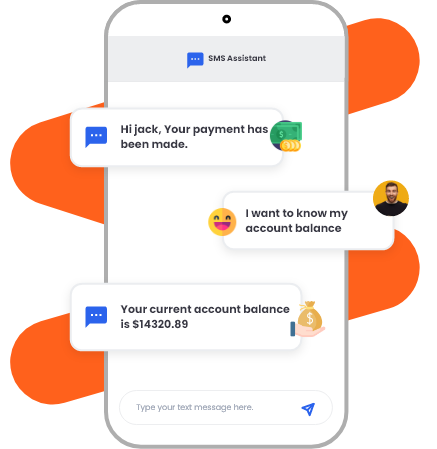 Our NBFC virtual assistants for agents are designed to offer a highly intuitive experience to customers, regardless of the channel they prefer to interact with. Whether it's through web, mobile app, or different channels such as Facebook Messenger, WhatsApp, Google Chat, SMS, Email, WeChat, Telegram, Signal, or voice-enabled platforms such as Google Home and Amazon Alexa, our virtual assistants can seamlessly adapt and provide support. Moreover, they can be easily embedded into a range of enterprise backend systems such as- EdgeVerve Finacle, Oracle FLEXCUBE Core Finance, and SAP Core Fin ancial Services.
Streebot's ability to serve prospects, customers, and employees in a variety of use cases with a high level of accuracy of up to 99% gives non-banking finance companies a competitive advantage over their competitors with an increased ROI.
Our Pre-trained Voice, Chat & Email Bots are trained in the following NBFC Agent operations

FAQs (Frequently Asked Questions)

Branch Locator

Generate a Statement

Apply for a loan/credit card

Report a lost/block my card

Manage Service Request

Customer Support & Query Resolution

Loan Management

Fund Transfor

Bill Payment/Repayment Transactions

Update Profile

Product Recommendations

Feedbacks and Reviews

Offers and Promotions
Key Business Benefits that Streebo's cutting- edge Bots designed specifically for NBFCs
A new study from Juniper Research has found that the operational cost savings from using chatbots in banking and non-banking finance companies will reach $7.3 billion globally by 2023, up from an estimated $209 million in 2019. This represents time saved for financial institutions in 2023 of 862 million hours, equivalent to nearly half a million working years.

Increased Revenue & Cost Savings:
Our ChatGPT powered NBFC bots deployed on different social & digital platforms help in generating new leads, and increasing conversion/sales, resulting in increased market share and profitability. Our smart NBFC cognitive assistant is preloaded with financial institute's most common FAQs and website navigational questions from customers and can address up to 80% of commonly asked Tier 1 support questions rapidly. Having our Chatbot 24*7 for customer support helps financial companies to save on the cost of call centers, resource costs & training costs for the operations.

Improved customer service and experience:
With up to 99% accuracy and prompt responses, Our NBFC chatbots level up customer experience by delivering quick resolution of their queries in a hassle-free manner. Applying for a loan or using any service of NBFC requires a maze of paperwork and many hidden clauses with complex terms & conditions. With our smart chatbots' efficiency to give precise information powered by GPT, customers get required information in no time. Hence increased customer satisfaction and retention index.

Increased efficiency and productivity:
With up to 99% accuracy and prompt responses, Our NBFC chatbots level up customer experience by delivering quick resolution of their queries in a hassle-free manner. Applying for a loan or using any service of NBFC requires a maze of paperwork and many hidden clauses with complex terms & conditions. With our smart chatbots' efficiency to give precise information powered by GPT, customers get required information in no time. Hence increased customer satisfaction and retention index.
Key Differentiators of Our Highly Advanced Cognitive Assistants for NBFCs

Built-in Domain Intelligence Streebo's
Team with its domain expertise in Non-Banking Financial Services has built a highly intelligent pre-trained Bot that can emulate customer service processes efficiently for your financial institute. By providing fast and accurate responses, our chatbots can help to build strong relationships with customers, increasing their loyalty to the brand.

Omni-Channel Experience
Our ChatGPT like NBFC Chatbot can be deployed across social media channels such as FB Messenger, Google Chat, WhatsApp, Signals, WeChat, Skype,SMS and even Email. Bots can even be deployed to existing digital properties such as the website and mobile App. They can even handle voice channels such as IVR, Amazon Alexa, and Google Home.

Email assistance
Using GPT in NBFC virtual assistants, we have come up with email assistance that can aid in email communication. By emulating human interactions, our email bot can generate more effective responses, while also managing backend integrations. This marks a major accomplishment in our ongoing efforts to deliver unparalleled customer satisfaction.

Multi-lingual Support
Streebo's NBFC Virtual Assistant supports multiple languages, allowing customers to communicate with it in a variety of languages. Our Customer Service solution for Non-Banking Financial Company Services is designed to support over 38+ languages, helping customers to understand complex clauses in a simplified manner and make informed decisions. The advanced training of the chatbots enables them to understand regional dialects and accents of end-users based on their demographics and geography, creating a sense of trust and confidence in customers.

Voice technology from GPT
Our NBFC chatbots use Speech-To-Text (STT) technology to analyze conversations in real-time, detect relevant words, and collect accurate data. They can easily connect with Whisper (Beta), a voice platform powered by artificial intelligence developed by Open.AI, as well as other STT technologies from IBM Watson, Google Dialog Flow, and Amazon Lex. This feature enables businesses to better understand their customers and offer virtual assistance with faster response times. As a result, customer satisfaction can increase, which can lead to stronger relationships between the company and its clients.

Data Classification
The Data classification feature of our ChatGPT powered chatbots for NBFCs can assist in organizing and categorizing large amounts of unstructured data, such as customer inquiries and complaints. Our NBFC bots for agents have access to unstructured data through advanced classification, clustering, embedding, and generative AI technology. This can help NBFCs to quickly identify the nature and urgency of each issue and route it to the appropriate department for resolution. This can lead to faster response times, increased efficiency, and improved customer service by tapping into various types of unstructured data sources, including web pages, customer feedback, logs, and emails.

Pre-Integrated with Backends
Our AI-powered Conversational Interfaces for NBFCs come in pre-integrated with Core Financial Solutions such as EdgeVerve Finacle, Oracle FLEXCUBE Core Finance, and SAP Core Financial Services among others. This eliminates the need to manually configure or integrate backends or 3rd party systems which saves both time and resources.

Flexible Deployment Options
Streebo'sPre-Trained Cognitive assistants for NBFCs can be deployed on-premise or on IBM Cloud, Microsoft Azure, Amazon AWS, or Google Cloud Platform. With this flexibility, Businesses can improve the effectiveness of their chatbot services by choosing the most suitable engagement model for their customers.

99% Accuracy
Streebo'sAI Bot comes with a Guaranteed Bot Intelligence Index* of up to 99% (*BII= No. of questions answered correctly/No. of relevant questions asked). We persist in training our chatbots until they attain the highest level of precision through the use of advanced testing procedures. By achieving a high level of accuracy, there is minimal need for manual intervention which enhances overall efficiency and performance. This also enables customers to receive quick and precise answers to their inquiries, facilitating easy access to the right information.

Data Security and Compliance
Our solution leverages the latest NLP engines, including IBM Watson, Google Dialog, Microsoft CLU, and Amazon Lex, ensuring that all processed data is both secure and compliant. Moreover, all data transmitted between GPT, and our solution is encrypted and masked, guaranteeing that all information, not just sensitive data, remains protected.

In-built Live Agent Support
Our AI powered NBFC Bot comes with a built-in feature for live agent support, which enables users to receive assistance from an actual person if they are unable to locate the information, they need through the chatbot. This allows individuals to switch between interacting with the bot and communicating with live agents without any disruptions, ensuring that their questions are addressed promptly and effectively.
Pricing Model

Capex Option
You can choose to buy the Bot solution

Opex Option
You can choose to Subscribe to tour Bot solution for a fixed monthly charge

Pay Per Usage
This is a conversation-based subscription and tied to the number of conversations & messages the bot handles. Thus, you only pay if the Bot is getting used and is actually deflecting calls.
Conclusion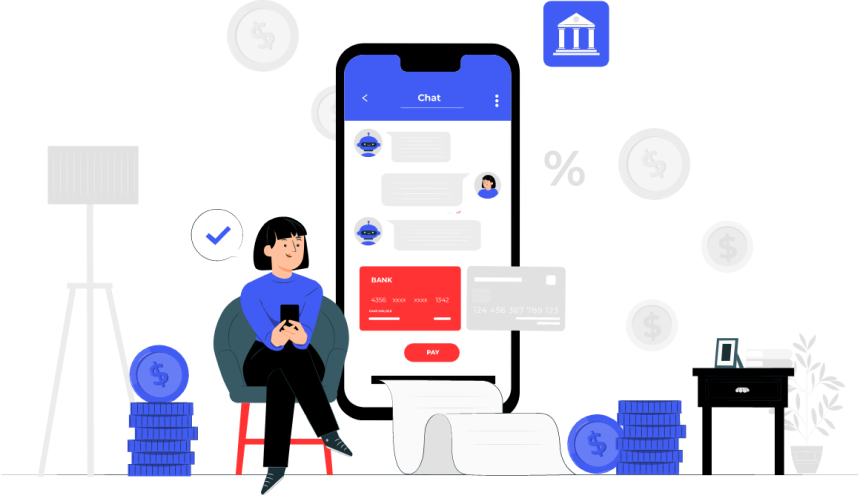 According to a survey conducted by Accenture, AI-powered chatbots can help NBFCs reduce their customer service costs by up to 30%. Also, a report by McKinsey states that by leveraging chatbots and other advanced technologies, NBFCs can increase their operating income by up to 15%. Hence, it is imperative for Banking and Non-Banking Finacial Institutions to leverage the advancements in NLP and Generative AI technology to level up customer experiences.

Streebo's AI-powered bots, equipped with ChatGPT-like capabilities, have proven to be effective companions for Non-Banking Financial Companies (NBFCs) seeking to expand their customer outreach and enhance their profitability. By generating dynamic, human-like responses and leveraging the latest NLP engines, our chatbots have achieved significant advancements in their AI capabilities. Our intelligent Cognitive Solutions can be easily deployed on various platforms such as Websites, Mobile Apps, and Social Media Channels through conversational-style requests made via voice or chat commands. Our NBFC bots go beyond the conventional voice menu and predefined commands, empowering customers with more influence over their own experience. Additionally, they offer valuable insights and trends that can make a significant difference to your company's financial performance.

If you are seeking a virtual partner to help grow your company's presence, then look no further. Make a visit to our demo store to preview the library of entire Smart, cloud-ready solutions.
Disclaimer: ChatGPT and GPT are registered trademarks and terms fully owned by Open.AI. The Author has used the term "ChatGPT for NBFC" to convey the idea of a ChatGPT kind of Bot, but for NBFC.
Make a visit to our demo store to preview the library of entire Smart, cloud-ready solutions
Book your demo today!!