Social Media and AI have transformed the retail industry by giving customers a new platform for customers to discover, research, and purchase products. Customers are leveraging asynchronous messaging channels, such as Facebook, Instagram, and Twitter, to learn about new products, promotions, and sales and also to interact with the brands. Retailers can also use social media to target specific groups of customers with personalized advertising, making the shopping experience more personal and convenient. Overall, social media has transformed the retail customer experience by making it more interactive, personalized, and convenient.

Retail companies have been increasingly using social media to connect with customers and promote their products.

Many shoppers visit their preferred social media platform multiple times a day, and 53% of shoppers that follow brands are much more loyal to them.
How Conversational AI is powering
the Retail Sector?
We are currently in the midst of a revolution in retail, and AI-powered retail bots are at the forefront. These aptly named robots capitalize on artificial intelligence technology to engage with customers, answer their questions, and even offer recommendations. With the help of these robots, businesses are able to innovate their customer service initiatives in ways that weren't possible before. As AI becomes more advanced and gets incorporated into both physical stores and online markets, an increasing number of retailers are turning to sophisticated bots for assistance. From conversational commerce to price comparison services, these AI-powered retail bots are ushering in exciting new possibilities for retailers everywhere.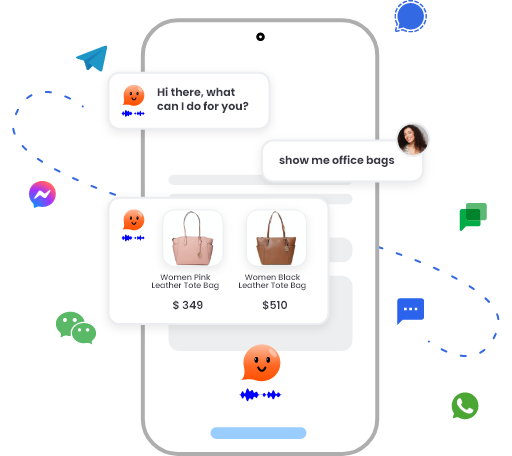 According to Statista's report, consumer spending via Retail bots is predicted to hit $142 billion USD by 2024 which means – a massive 4,971% increase from 2019's $2.8 billion USD. Not only this, but Retail bots are also effective at handling simple requests, order tracking queries, product-based recommendations, and FAQ answers at a great pace-thus bridging the gap between online and offline interactions with enhanced customer satisfaction.

29% of conversations in the Decathlon happened outside the opening hours. Since chatbots can serve and convert customers even when you are closed.
Harnessing the Power of ChatGPT to transform
Retail Sector
ChatGPT bots are an exciting, cutting-edge technology that is making a splash in the retail industry. With voice and text recognition capabilities, these AI-powered bots can answer customer inquiries, provide product recommendations and facilitate e-commerce transactions. As chatbot technology continues to improve and become more lifelike in its interactions, this streamlined approach to interacting with customers will become a competitive advantage for retailers and help them maintain high levels of customer service. The retail industry stands to benefit from this enhanced customer experience, resulting in improved customer satisfaction, higher conversion rates, and stronger customer loyalty.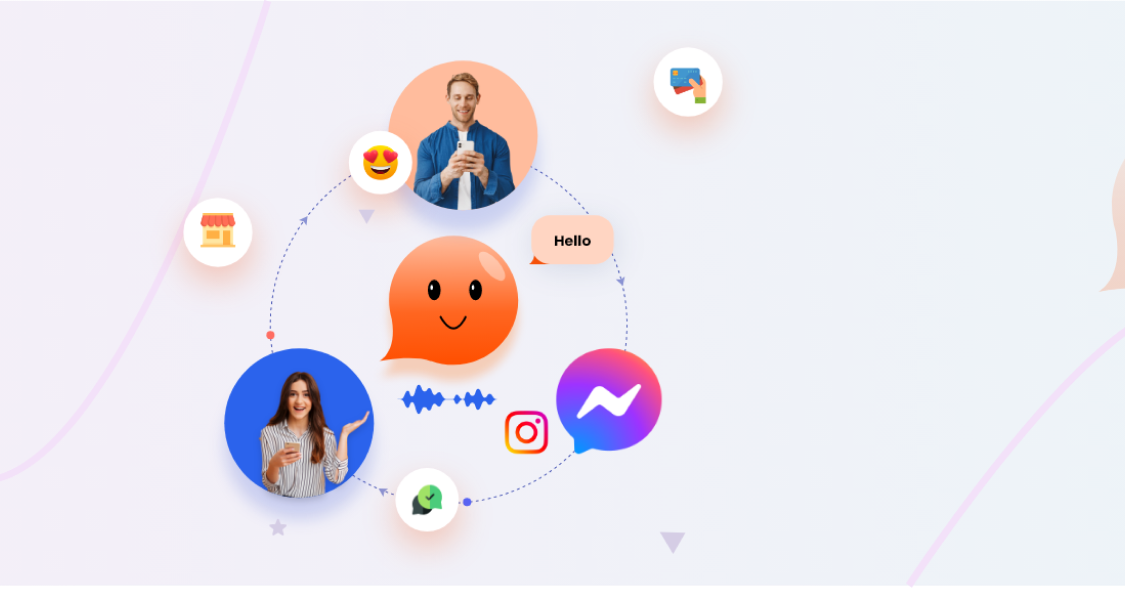 The potential of bots, whisper & STT (speech-to-text) technology to revolutionize the retail industry is undeniable. For example, bots allow retailers to engage with customers via messaging platforms and respond to their questions quickly and easily, while voice recognition technology can enable customers to complete transactions without ever having to type in the information. Not only will this save valuable time for both customers and retail employees alike, but it could also create a more enjoyable shopping experience for customers. Furthermore, this technology opens up the possibility of extending customer service beyond traditional business hours, further improving the customer experience. It's no wonder that so many retailers are now adapting these technologies — it could be the key to success in today's digital age.

Streebo's remarkable kind of ChatGPT for Enterprise solution is a game-changer in Conversational AI. This cutting-edge solution harnesses the power of three top NLP engines — IBM Watson, Amazon Lex from AWS, and Google Dialog from GCP — with an impressive addition: Open.AI's Generative AI technology GPT. Together, this combination provides the highest level of accuracy and performance across multiple industry verticals. Businesses can leverage ChatGPT to create improved customer experiences and increase employee engagement through smarter, more intuitive conversations. As Conversational AI swiftly gains traction in the market, Streebo is poised to lead the way with its innovative solutions.
According to a study by Juniper,

Chatbots will save Retailers globally $439 million a year by 2023 compared to $7 million in 2019.

57% of businesses claim that chatbot delivers a big ROI on minimal investment
Streebo's kind of GPT Powered Conversational AI Solution for Retail Sector
Streebo's ChatGPT-like bots are powered by the latest and most cutting-edge GPT platform. They have been pre-integrated with a variety of enterprise backend systems such as
HCL Commerce,

Shopify,

Magento,
SAP Hybris Commerce,

and Oracle Commerce
Streebo's advanced Retail bots powered by GPT from Open.AI are designed to offer more seamless conversations with customers, switching topics without disrupting the flow and remaining conscious of context. On top of providing greater convenience for customers, these AI-powered technology solutions can also deliver extensive ROI for organizations that deploy it. It has a high accuracy rate, delivering essential services with pinpoint accuracy and reliability. Furthermore, these innovative bots also help to improve SEO (Page ranking), consequently increasing customer outreach and ultimately sales. Additionally, companies find themselves able to drastically reduce call center costs when they utilize these 24/7 intelligent bots instead. In sum, it's a straightforward win-win situation: improved sales, as well as cost savings resulting from improved customer satisfaction, make Streebo's intelligent Retail bots an invaluable asset for companies in the retail industry.
Key Business Benefits of these cutting-edge Bots designed specifically for Retail Enterprises
Keeping in mind the numerous benefits of implementing chatbots in Retail, it's high time for Retailers to start strategizing and integrating chatbots across their ecosystem


Having an in-store assistant powered by GPT is a great way to enhance the customer experience, and can be highly beneficial to salespeople. With this technology, associates have access to valuable pieces of information like inventory lookup, cross-sell and up-sell recommendations, as well as discount information that can help close a deal. Furthermore, purchase histories and customer preferences are displayed at ease enabling staff members to create an interactive experience based on trust and confidence. In store assistants with ChatGPT like Bots have certainly improved the shopping process for everyone.
Conversational Commerce has been transforming businesses of every size and sector, especially retail. The capability to understand natural language, provide personalized product recommendations and handle contextual feedback make ChatGPT-integrated retail bots an ideal option for providing customers with a better experience. Companies can enhance their customer experience by providing them with efficient search results on their website along with the facility of a conversational AI that remembers past interactions to provide better product suggestions to the customer. This will greatly benefit their business as customers prefer a user-friendly interface that can offer them what they need.
Streebo's kind of GPT powered Retail solution provides retail businesses with an advantage when it comes to increasing revenue. By using advanced learning capabilities, Streebo's technology can make educated guesses in order to recommend the right products and services for the customer at the right time. This sort of interactive experience keeps customers engaged and adds to higher revenue margins, as well as decreasing operational costs due to a more efficient line of communication. As a result, the conversion rate is improved significantly, translating into increased revenue overall.
Customer service satisfaction is an essential feature of any successful business, as improved customer retention and brand trust are directly linked to it. Streebo's cutting-edge bots for retail can reduce customer wait times, which is often cited as the number one reason for customer dissatisfaction. Moreover, by offering round-the-clock customer query resolution, customer satisfaction and loyalty can be greatly increased. Through its presence on multiple digital channels such as WhatsApp, Facebook Messenger, SMS, Telegram, Signal, WeChat,Skype and Email – customers have easy access to the help they need from any location; thereby boosting customer satisfaction tremendously
Having an in-store assistant powered by GPT is a great way to enhance the customer experience, and can be highly beneficial to salespeople. With this technology, associates have access to valuable pieces of information like inventory lookup, cross-sell and up-sell recommendations, as well as discount information that can help close a deal. Furthermore, purchase histories and customer preferences are displayed at ease enabling staff members to create an interactive experience based on trust and confidence. In store assistants with ChatGPT like Bots have certainly improved the shopping process for everyone.
Our pre-trained Retail Bots are trained in the
following Retail Operations
Cognitive engagement is an increasingly powerful tool for meeting patients' needs. By leveraging the power of intelligent agents and assistants to personalize healthcare services. The healthcare industry is now recognizing the value of making the patients' system smarter, and tailor made to care for an individual patient, in order to enhance their experience. In the Healthcare space, smart, intelligent digital assistants can help with mundane tasks such as schedule an appointment, call an ambulance, admit and discharge facilities, making them run more efficiently while also delivering a pleasant experience.

Our latest series of Streebots are powered by GPT 3.5 platform and are pre-trained the following Hospitals & Healthcare operations:

FAQs

(Frequently Asked Questions)

Browse Products

Purchase Management

Online Payment

Profile Management

Prre Locator

Ordoduct Reviews

Wallet

Gift Cards

Stoer Tracking

Return/Cancel Order

Push Notification to Multimedia Channels

Offers and Promotions

Contact Us/Customer Support (Live Agent)

Digital Cognification between Chatbot and Webpage

Smart Assist –

Product Recommendations based on Purchased/Browsed Items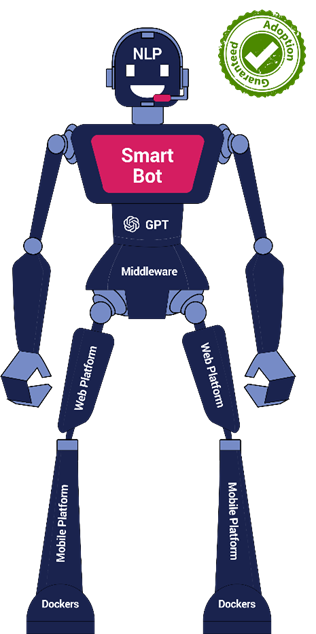 What Sets Streebo Apart & Confident to get you
Guaranteed Success with its Bleeding-Edge Retail Bots?
Streebo stands out from the competition with its revolutionary ChatGPT-like bots for Retail Industry. Let's break down the key differentiators of Streebo's Pre-Trained and pre-integrated AI-Powered Retail Bots for Customers:

Built-in Domain Intelligence
Streebo has revolutionized the way the Retail Industry conducts its business operations. With the help of its technology partner, pre-trained Retail Bots equipped with built-in Domain Intelligence have been deployed. These intelligent AI-powered Conversational Interfaces are aptly suited to handle all manner of crucial business operations - right from Order tracking, Feedback collection and Product Recommendations to more sophisticated customer interactions. The advanced understanding enabled by these bots is significantly improving customer satisfaction levels while also optimizing cost efficiencies in the long run.

Omni-Channel Experience
Streebo's kind of GPT Integrated Retail Bots provide a truly comprehensive omni-channel experience that businesses can use to connect with customers, no matter what platform they choose. Customers have the flexibility and convenience to interact with the bots via channels such as WhatsApp, Facebook Messenger, SMS, Telegram, Signal, WeChat, Skype, IVR, Amazon Alexa, Google Home, and now even email. With ChatGPT integration now even email responses can be automated thus making it a powerful solution for sales and services alike. Furthermore, businesses can even deploy bots on an existing e-commerce website or mobile application without any hassle so their customers can benefit from the cutting-edge technologies being used.

Pre-Integrated with Backends
Streebo offers a revolutionary retail Bot solution for retailers that is pre-integrated with popular E-commerce engines, making it easy and hassle-free to set up and use. Our solution supports backends such as HCL Commerce, Magento, Shopify, Oracle Commerce, and SAP Hybris Commerce – eliminating the complexity of design, development and upkeep of bots manually. The end result? A seamless experience that can drive improved customer engagement without the hassle of hardcoded solutions. With Streebo's retail bot solution, you can stay ahead of the competition through faster implementation cycles.

Access to Unstructured Data
With Powerful Classification, Clustering, Embedding, and Generative AI technology available in the GPT platform now it is possible for Enterprises to tap into unstructured information silos as well. This includes Web Pages, User Manuals, Product Documentation, and other unstructured information such as logs, and emails to find the relevant information for the end user. Streebo bots integrated with GPT can leverage this powerful capability and bring the right information to the product sales or servicing cycle at the right time.

Flexible Deployment Models
By utilizing Streebo's cutting-edge Pre-Trained Retail ChatGPT-like bleeding-edge Bot, businesses in the retail industry can stay ahead of the curve while streamlining operations. This powerful chatbot is available with flexible deployment models, allowing customers to choose between hosting it on-premises, or on popular cloud providers such as IBM Cloud, Microsoft Azure, Amazon AWS, and Google Cloud Platform. This way, customers can benefit from optimum flexibility depending on their security requirements and usage scenarios.

Advanced Chat Analytics
This advanced analytics dashboard keeps track of metrics that help in getting valuable customer insights from customer interactions. By automatically analyzing user interactions and preferences, Streebo's Retail Conversational Interface enables you to gain meaningful insights into customer behavior, predict demand for certain products, get an understanding of their feedback on your services and products, and tailor your offerings to boost customer satisfaction. The advanced chat analytics dashboard also provides detailed reports on best-selling items, further allowing you to make more informed decisions while fine-tuning your business processes.

Inbuilt Live Agent Support
Streebo's super advanced Retail solution is designed to provide customers the best experience possible with the help of its inbuilt Live Agent Support. This support system allows users to receive real-time assistance if they have any difficulty finding a resolution to their queries by interacting with the bot. In addition, customers can seamlessly transition between human operators and chatbots which guarantees that their enquiries are answered and resolved quickly. By providing such comprehensive support, Streebo aims to ensure that customer needs are met quickly and efficiently.

Guaranteed Bot Intelligence Index
Streebo's ChatGPT- type of powered bots for the Retail industry have undergone careful development to ensure their accuracy and efficiency. This commitment to excellence is demonstrated through a Guaranteed Bot Intelligence Index of 99%, which is calculated by measuring the questions answered correctly relative to relevant questions asked.

Multilingual-Support
Multilingual support plays a vital role in creating a seamless online retail experience. The ability to engage with customers in their own language not only makes them feel valued, but also helps foster positive relationships between brands and their customers, ultimately leading to an increase in sales. Streebo's kind of GPT Powered Retail bots enable brands to extend this service and taps into the millions of non-English speakers around the world – supporting 38+ languages – giving them access to unparalleled customer support and experienced service providers at the click of a button. This is an invaluable asset for businesses looking to gain maximum outreach and prepare for the future of customer interaction.

Advance Security
Streebo Bots offer advanced security through encryption technology which guarantees secure conversations and transactions. Their design takes advantage of the most trusted platforms, including IBM Watson, Google Dialog flow, and Amazon Lex. This attention to detail adds value to any business, granting a distinct and unrivaled competitive edge. With Streebo Bots on your side, you can trust that all sensitive material is secure at all times.
54% of customers have daily AI-based interactions with brands, and only 21% of those customers found their interactions with AI to be trustworthy according to Business Insider's research.
Pricing Model
MVP bot includes

3 transactional use cases

1 back-end integrations

50 FAQ's

Channels – Web, Mobile App, 1 Social media channel such as WhatsApp/Facebook messenger
Learn More


Capex Option
You can choose to buy the MVP Bot.

Opex Option
You can choose to Subscribe to the MVP Bot for a fixed monthly charge with no upfront setup fee.

Pay Per Usage
This is a conversation-based subscription and tied to the number of conversations & messages the bot handles. Thus you only pay if the Bot is getting used and is actually deflecting calls.
Final food for Thought?
What's in it for your business growth?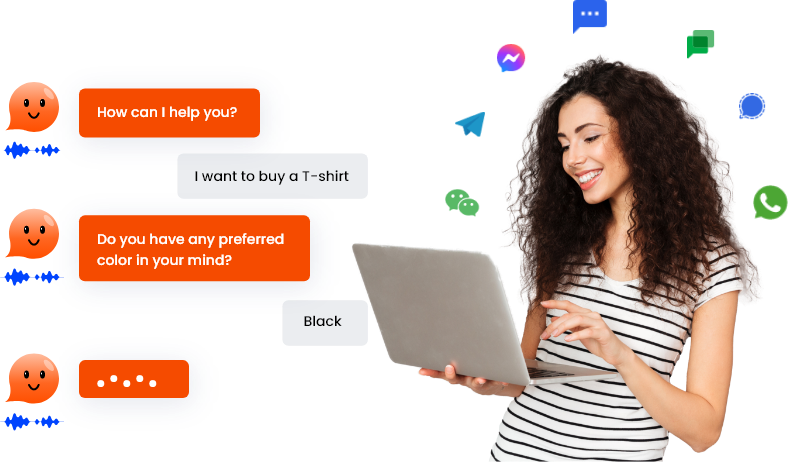 The statistics speak for themselves – according to McKinsey & Company, retail companies that have adopted AI-driven technologies have seen average revenue increases of up to 55%. Additionally, AI technologies have been shown to improve customer satisfaction by up to 20%. These numbers demonstrate just how powerful these technologies can be when properly implemented in a retail setting.

As the digital transformation continues to reshape the retail industry, more organizations are turning towards artificial intelligence as a way of improving their operations and staying competitive in today's market. OpenAI's ChatGPT Bot, Whisper, and STT technologies are revolutionizing how retailers interact with customers and providing them with valuable insights into consumer behavior while simultaneously reducing costs and increasing revenues. With these powerful tools at their disposal, businesses in the retail sector are poised for success well into the future!

Our bot store is your go-to destination for industry-leading AI solutions and access to cutting-edge technology. With our library of Smart, Cloud-ready APIs for Retail, you can preview our AI GPT integrated Bot solutions and see first hand how they can bring your business to the next level. Book a demo today and discover the endless potential of our powerful tools and services. Leverage AI technology that helps you get ahead of the competition, automates tasks, and reduces costs - all with minimal effort!