How Can Chatbot be Used in Education

Institutes to Improve Student Enrollment?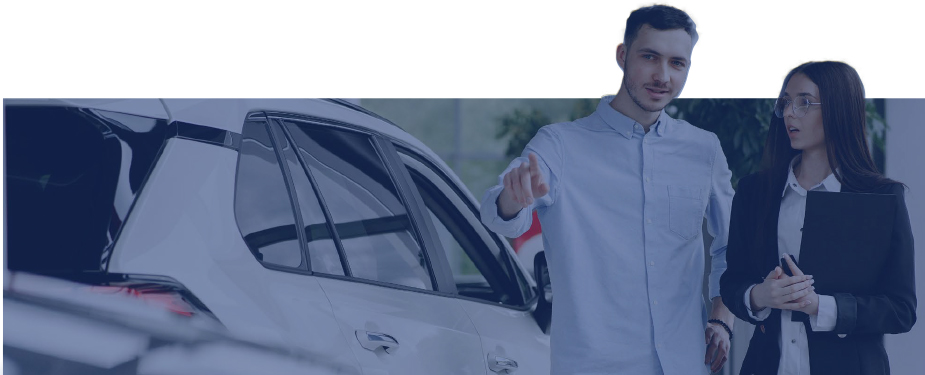 The Education industry has evolved during the pandemic. Digital services in these industries have widely adopted web and mobile apps, which are proven channels to interact with students and prospects alike. As the education system completely shifted online during the pandemic, students have also adapted to the change and started interacting with it online. Millennials who are using messaging channels are now spending most of their time on it and it has become the prime mode of communication for them. A recent Tech crunch study states a 40% jump in traffic on messaging channels such as Facebook Messenger, WhatsApp, Google Chat and even SMS. Even though, after the pandemic, the offline schools and colleges have opened, the consumer behavioral change (shift to asynchronous channels) is here to stay. Universities and Education Institutes that will recognize and respond to this change will stand to gain market share and generate net new revenue from these social media channels.
What Marketeers can do to adapt and overcome the industry change?
Emerging Artificial Intelligence (AI) and bot technologies have now opened up new possibilities for customer and prospect interaction, with the use of Natural Language Processing (NLP) becoming the major market driver. As stated earlier, messaging apps are now in vogue and organizations that will open up these asynchronous messaging channels for prospect interactions by leveraging NLP & AI will stand to gain market share, improve customer experience and decrease customer interaction costs.

With Chatbots and multi-channel integrations, institutes can meet their students' expectations by resorting to a new and improved way of interaction. Therefore, more education institutes are adopting Chatbots and leaving traditional channels behind. This increases efficiency across the entire education value chain. According to a recent survey, 81% of universities agreed that Chatbots help to improve student enrollment. That's why colleges and universities are keen to leverage the benefits of AI to enhance their reach-out program. Education Institutes are increasingly embracing AI-powered educational chatbots to streamline their interactions with applicants and new or existing students.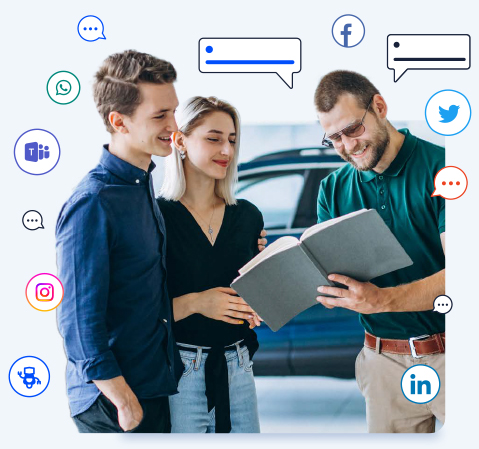 Lastly, by adding Chatbot to the university website, marketeers can increase the average time spent by users on their web page which in turn has a direct effect on their SEO rankings. According to a recent Deloitte study, on an average, businesses improved their bounce rate by over 17% by deploying chatbots on their website.
Streebo's SMART® Bots
Streebo a leading Artificial Intelligence (AI) and Digital Transformation Company has created a very powerful, intelligent, and Pre-trained AI-Powered Chatbot for handling Marketing functions for the Universities & Education Sector. These bots are 99% accurate and can seamlessly integrate with a wide variety of 3rd party enterprise backend systems (ERPs, CRMs) systems such as SAP, Salesforce, ServiceNow, Workday among others. Moreover, these Chatbots for Universities & Education Institutes leverage leading NLP engines such as IBM Watson, Google Dialogflow, and Amazon Lex. By leveraging these NLP engines Streebo Smart Bots for Marketing extend the enrollment process to a variety of social media platforms, mainly Facebook Messenger (Meta), WhatsApp, Google Chat and SMS among others. Streebo's Conversational AI for Marketing makes the student interaction effortless and faster. An increasing number of students and parents prefer it over the traditional web and mobile app interface.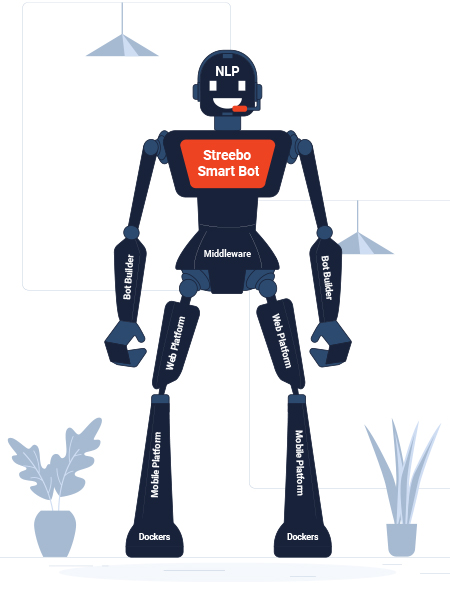 Our AI-Powered University & Education Sector Chatbot Supports below Features

99% Accuracy

Support for both Voice and Chat Channels

Omni-channel

Inbuilt Live Agent Support

Secured

Advanced Analytics

Multi-lingual
Our pre-trained Chatbot is trained in the following Operations for University & Education Sector

Answer FAQs

Browse Courses

Enroll in a Course

Download Fees Structure

Check Scholarship Eligibility

Apply for Scholarship

Pay Tuition Fee

Enroll in Online Quiz / Test Series

Exam Form Submission / Upload

Academic Calendar & Timetable

Apply for Membership – Library / Gym / Club

Update Student Profile

Download / Upload Assignments

Download Lecture Notes / Lecture Schedule

Provide Feedback and Complaints with Form

Download Result
Streebo's SMART® Bots extended on Web and Various Social Medias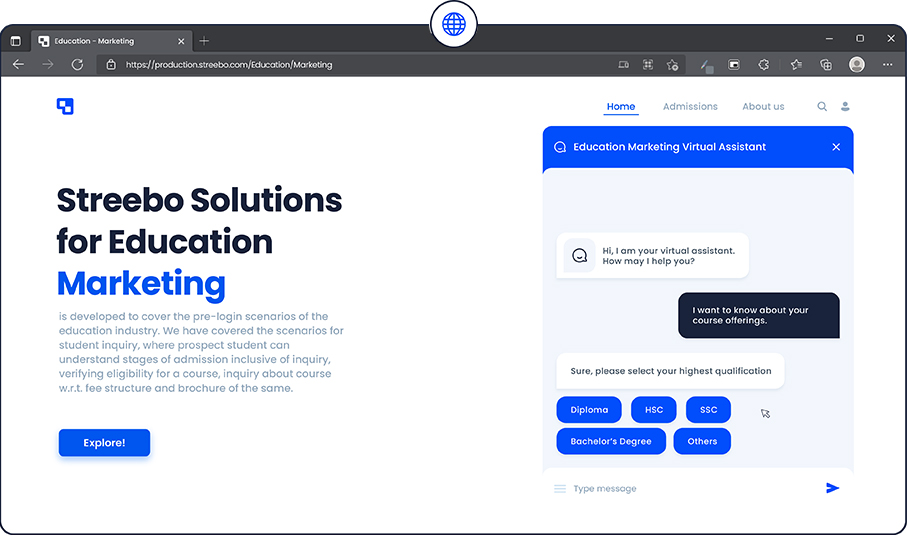 Web Application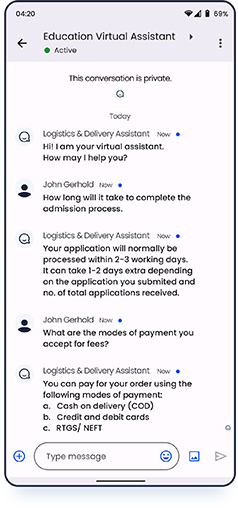 Google Chat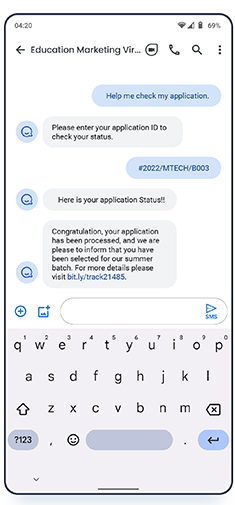 SMS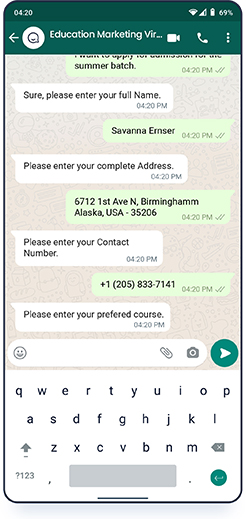 WhatsApp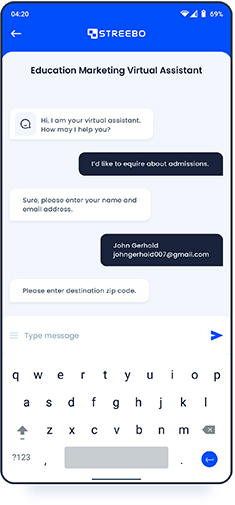 Mobile Application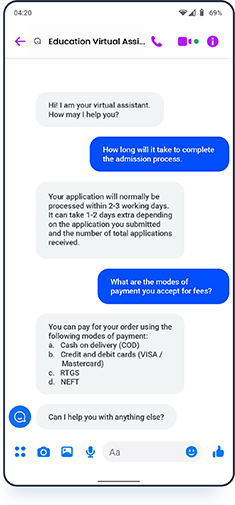 Facebook Messenger
Why Streebo's Chatbot for Marketing?
Key differentiators of Streebo's Pre-Trained and pre-integrated AI-Powered Bots for Marketing:

Built-in Domain Intelligence
Streebo has built-in domain knowledge into its Bots and has deployed highly intelligent pre-trained chatbots that can emulate human interactions pretty closely for universities and education institutes.

Omni-Channel Engagement
Our Smart Bot for Marketing extends the student enrollment process across social media channels such as FB Messenger, WhatsApp, Google Chat, WeChat, Skype, and even SMS. They can even handle voice channels such as IVR, Amazon Alexa, and Google Home. Bots can even be deployed to existing digital properties such as the university website and mobile App.

Multi-lingual Interaction
Our Chatbots are multi-lingual and support over 38+ languages.

Pre-Integrated with Backends
Streebo's University & College Bot comes pre-integrated with a wide variety of 3rd party backend systems (ERPs, CRMs) systems and enterprise backends such as SAP, Salesforce, ServiceNow, Workday among others.

99% Intelligent Bot
Streebo Chatbot comes with a Guaranteed Bot Intelligence Index* of 99% (*BII = No. of questions answered correctly/No. of relevant questions asked)

Flexible Deployment Options
Streebo's Pre-Trained Conversational Interface can be deployed on-premise or on IBM Cloud, Microsoft Azure, Amazon AWS, or Google Cloud Platform.

Lower TCO
Streebo's Chatbot is built using open standards such as Java and Javascript. Streebo's bot builder is optional development-only tooling that customers can choose or they can directly develop and manage it using standard IDEs such as Eclipse and Visual Studio that significantly lower app development costs as well as reduce support & maintenance costs.

Advanced Analytics
Streebo's analytics dashboard is developed to record and display systemic data, metrics, preferences, and trends which eventually help in monitoring user interactions, and can be adapted accordingly to give relevant responses and take business decisions.
Business Benefits
By upgrading their systems with Streebo Smart Bot in Universities & Education Institutes across channels like web, mobile, WhatsApp, FB messenger, Google Chat and SMS, etc. our clients will witness benefits such as:

Increased Student Engagement:
Millennials today don't like waiting for too long. The Omnichannel Bot across social media channels is available 24×7 and is proven to help increase engagement.

Increased Enrollment and Revenue:
Instant resolution of student queries related to a course, fastens the decision to enroll in a course. This results in increased revenue.

Increased Conversion:
Prospect to Student conversion ratio improves with the deployment of a chatbot to manage conversations.

Student Satisfaction & Retention:
A chatbot for university students instantly resolves the queries and suggests different ways of getting scholarships and financial aid. This results in increased student satisfaction & retention.

Decrease in Student-Interaction Cost:
As the chatbot handles student queries and saves on query resolution time & effort – this, in turn, decreases the cost of a call center and increases the productivity of university staff.

Improved SEO:
The bot can engage your students on your website thus increasing your session time and reducing your bounce rate. This improves SEO page ranking and improves lead-generation by an average of 17% thus even making your online ad spending more effective.
Pricing Options
MVP (Minimum Viable Product) bot includes

3 transactional use cases

1 backend integrations

50 FAQ's

Channels – Web, Mobile App & 1 Social Media Chanel such as WhatsApp/Facebook Messenger
Capex Option

You can choose to buy the MVP Bot.
Opex Option

You can choose to Subscribe to the MVP Bot for a fixed monthly charge with no upfront setup fee.
Pay Per Usage

This is a conversation-based subscription and tied to the number of conversations & messages the bot handles. Thus you only pay if the Bot is getting used and is actually deflecting calls.