Hire Chatbot Developers
Build chatbots on IBM Watson and engage users
through Intelligent Conversations
CONTACT US
Hire Chatbot Developers to Transform Business Processes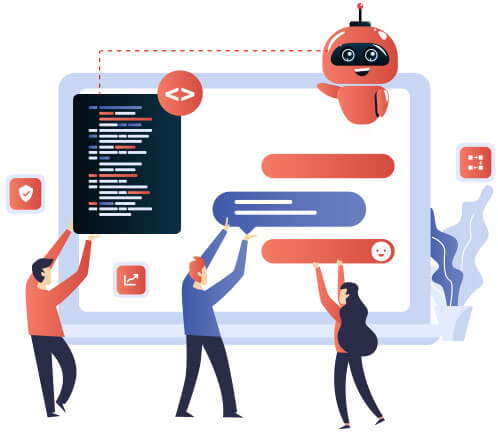 Meet your organizational objectives with Streebo's expert consultants, architects, and programmers – who develop feature-rich, robust and secure Chatbots on IBM Watson as the NLP engine. Leveraging IBM Watson and Streebo's Digital experience accelerator – a unique set of 'no or low code' tooling that allows IT and Line of Business teams to rapidly assemble sleek and intuitive Chatbot interfaces, our developers craft the best chatbots to automate the simplest to the most complex process. Hire Streebo's chatbot development team to create a highly intelligent conversational chatbot that unlock the value of your data!
Watson products & services offerings
Natural language understanding
Natural Language Classifier
Put Watson to work in any Industry
Use data to your advantage
Tools you need to drive success
Make purchases more often
Empower staff and make sustainable changes
Connect and collaborate to deliver solutions
Key differentiator of Streebo
Transparent cost model

Our teams work transparently and follow strict NDAs
Rapid access to experts

Our team of highly experienced consultants are available to offer you a cost-efficient solution.
Security

Maintaining, assuring and validating the accuracy and completeness of data.
Choose your own team

Draft your data and build your star team
Why Streebo?

Drag and Drop Interface

Easily create and manage chat interfaces with low code/no code tooling

Single Code Base

Instantly update the bot across all the devices for an app, website and third-party apps like Facebook or slack

Cross-Platform Compatibility

Deploy the chatbot across all the operating systems and devices without any hassle

Security

Never compromise on the security aspect with the IBM powered Streebo enterprise chatbots