Dumb Chatbots–Destroying Brands,
Causing Business Loss
With the advancements and breakthroughs in artificial intelligence, Chatbots are buzzing everywhere in the industry. The chatbots have been stationed even at the most unexpected platforms. But the conversion rate and lead generation via chatbots is still limited in many organizations, Know Why? The obvious reason is – They can survive the basic queries but when a little complexity is added, most of the time, they break or fail as they are not smart enough to understand a customer's intent and respond effectively without human intervention.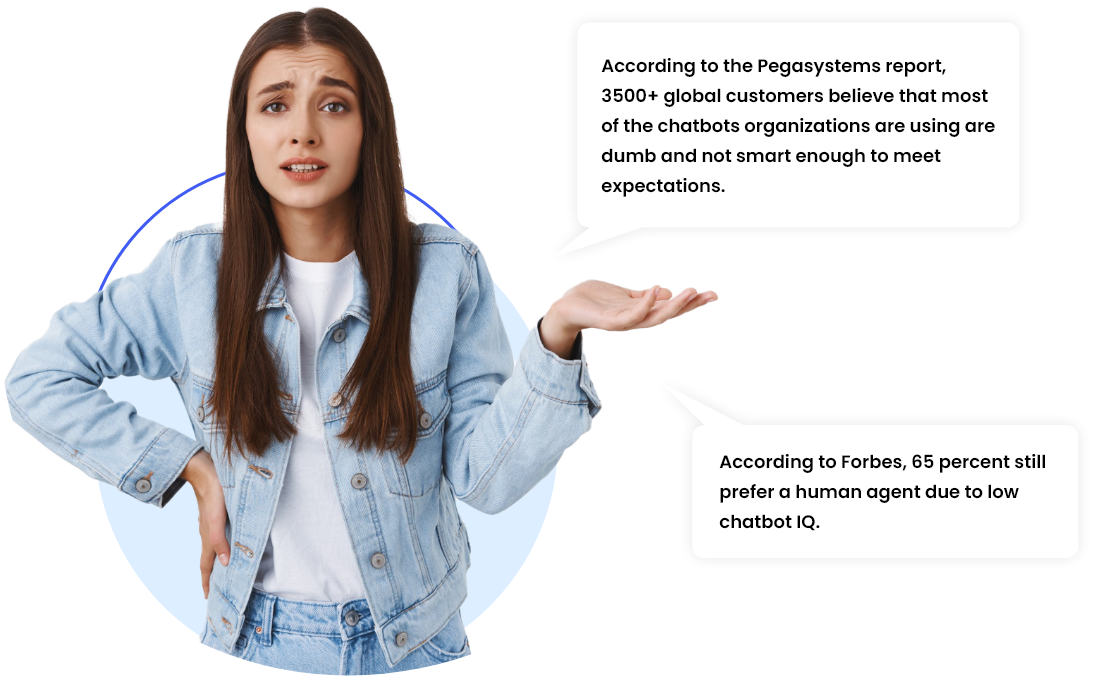 Most of the chatbots industries using currently are highly scripted, channel-specific and limited in their ability. Only 16 percent of enterprises have smart bots that have high-quality ratings from customers as reported by CX.

The result – an annoying experience for the customers. This put an adverse impact on your business reputation. A dumb bot always remains clueless and direction-less like a dumb employee that results producing a wrong impression about the company's product or service.

The end user wants a smart and professional interaction with your virtual assistant, so it becomes essential to understand that dumb bots can bring down the intrinsic brand value of the organization.
Examples Of A Dumb Chatbot
Reaching out to potential customers and retaining the older ones is a prominent challenge for businesses to grow. To make loyal customers, innovative approaches to improve customer retention and experience are obligatory since there is no other option.

Dumb chatbot is a replica of a new employee that does not know the way around. With lack of NLP and NLU capabilities, they cannot even comprehend or understand the users' conversational flow, and often ends up by prompting users unwanted or repetitive questions. Result –Low customer satisfaction index.

Below are some examples that we have recorded from various chatbots deployed on multiple customer sites.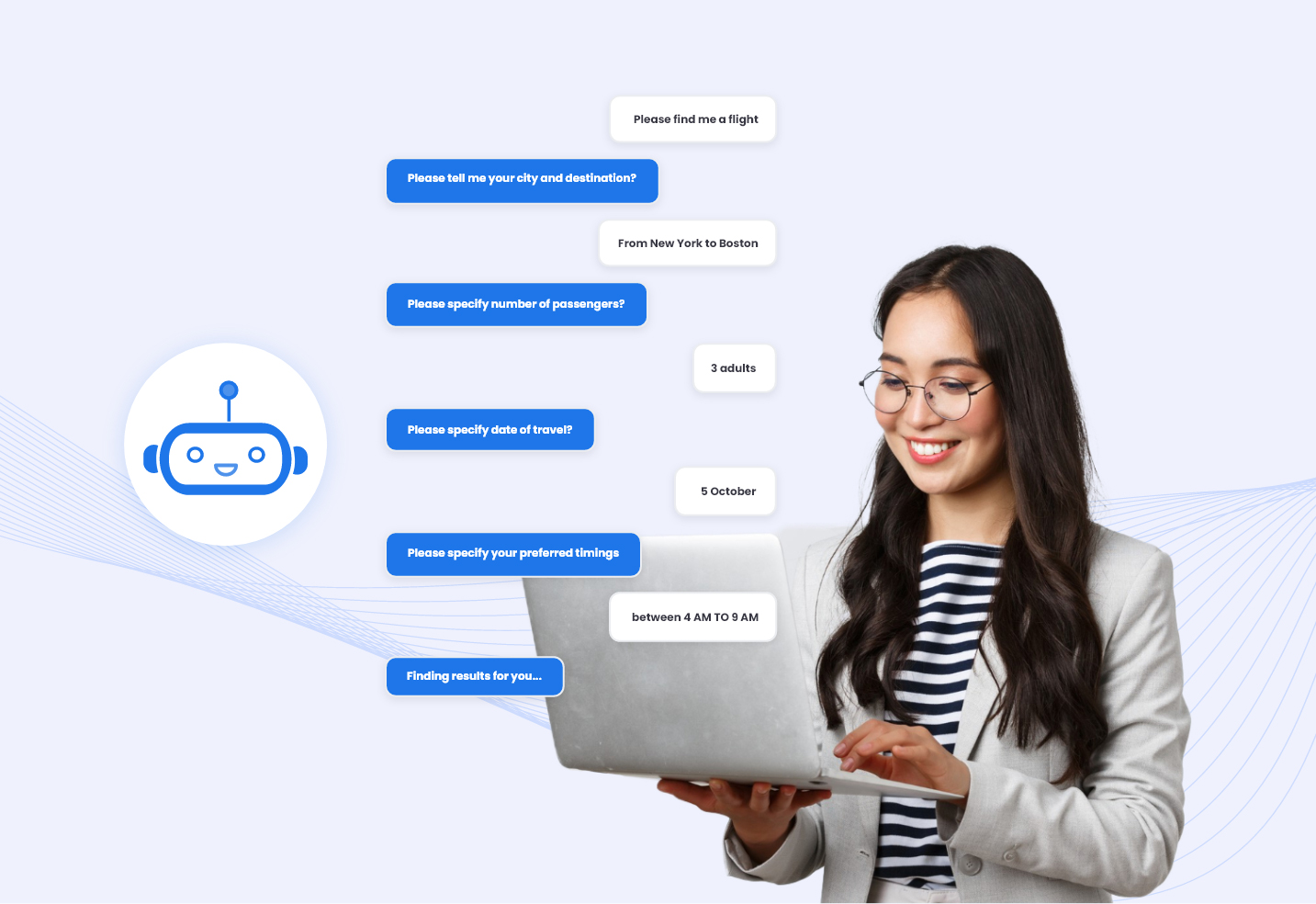 Here chatbot performed extremely well as it asked relevant questions to give accurate results to consumers and searches the results based on the parameters and replies with all the answers.

Now, let's have a look at another scenario: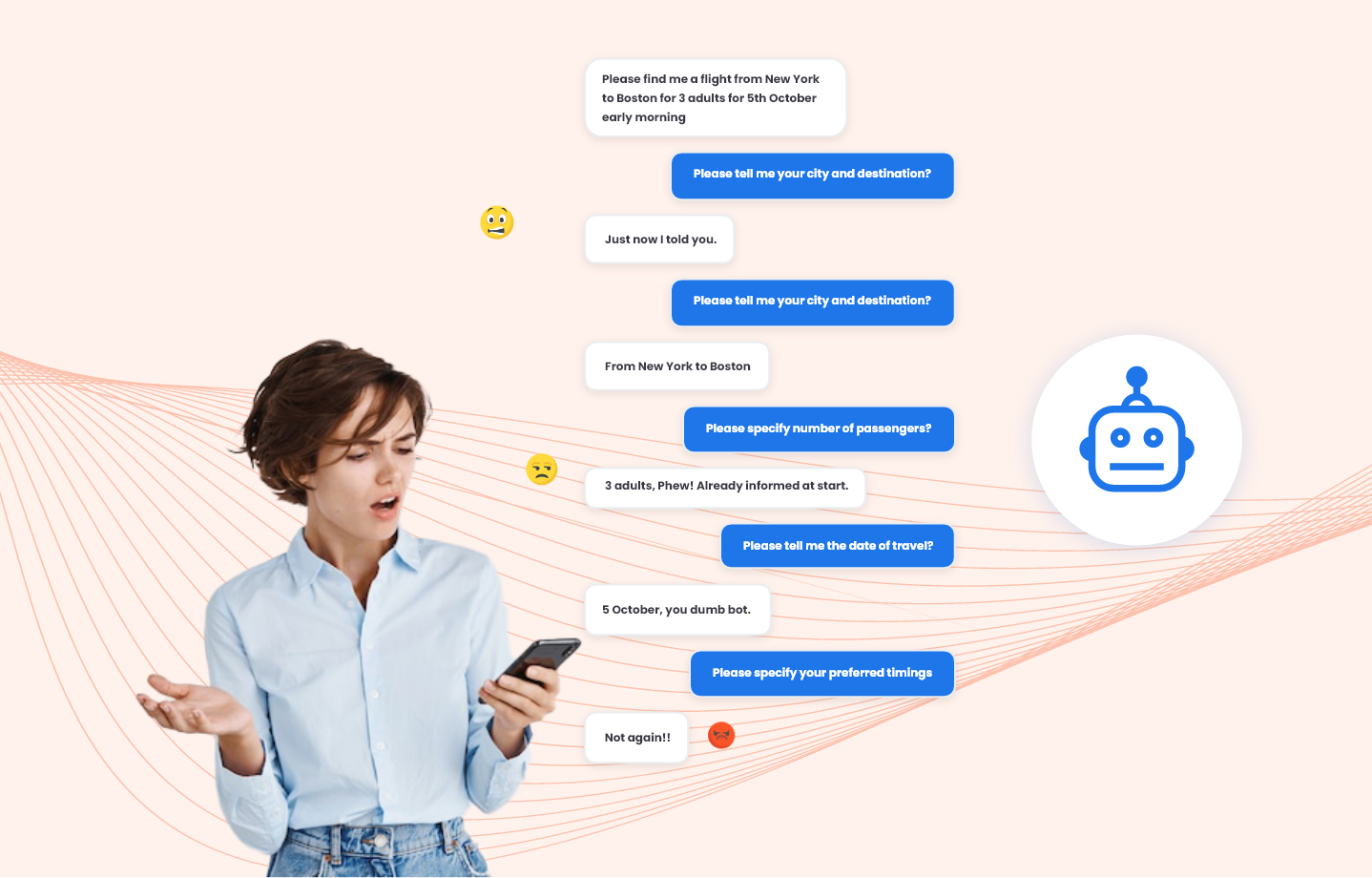 In this scenario, the user gave multiple parameters at the start, but the bot stayed in line with the pre-defined set of questions in the same sequence to collect all the required parameters. This dumb bot does not consider the number of parameters specified by the user at the start and kept on asking the similar questions, hence user gets frustrated and leaves the conversation. This is the story of most of the businesses chatbots today.
Now, let's explore how a

smart chatbot

improved this conversation –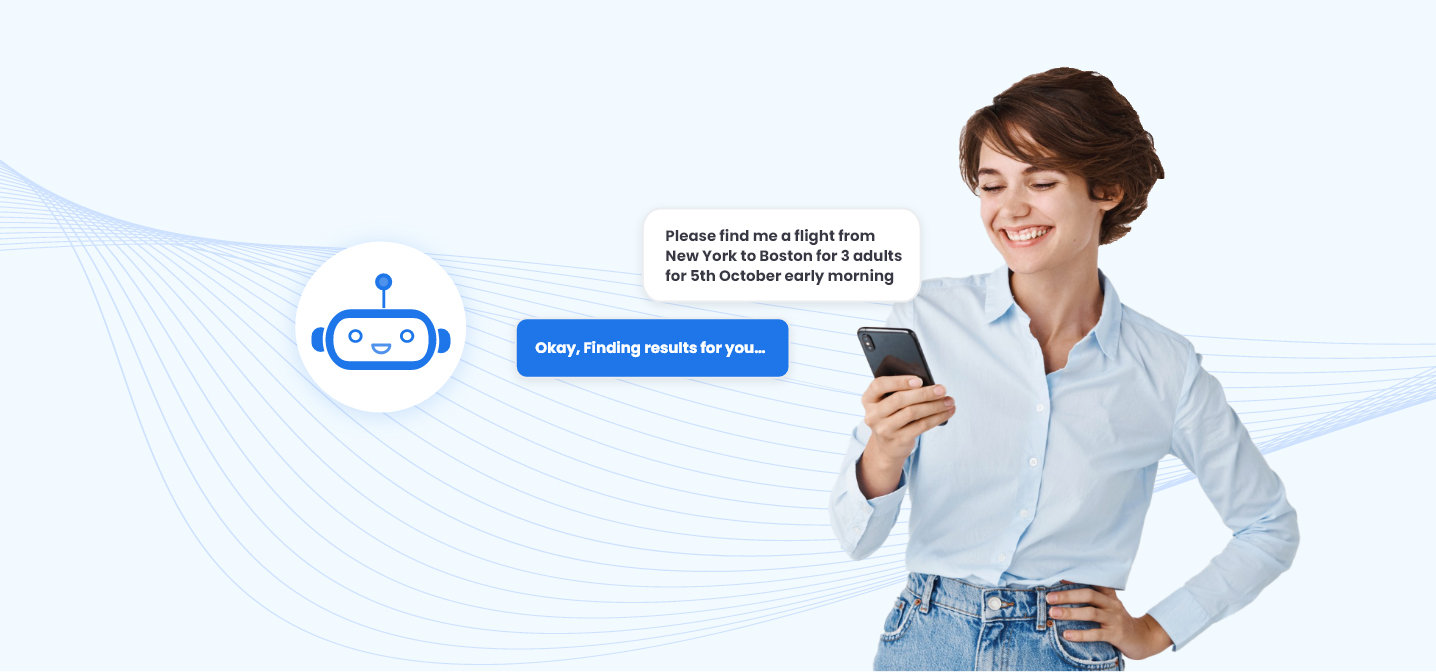 This smart bot collected all relevant details from the very first query user made and started processing the request.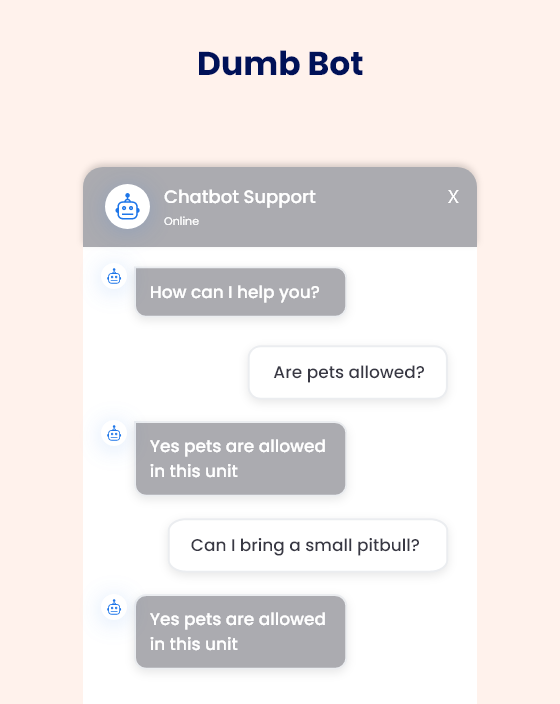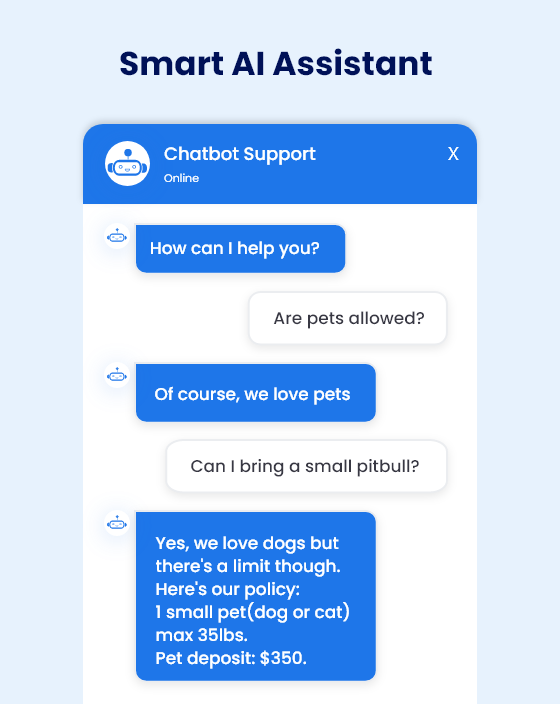 In a nutshell, deploying a chatbot that is just keyword based comes with multiple flaws and ends up with low customer satisfaction index.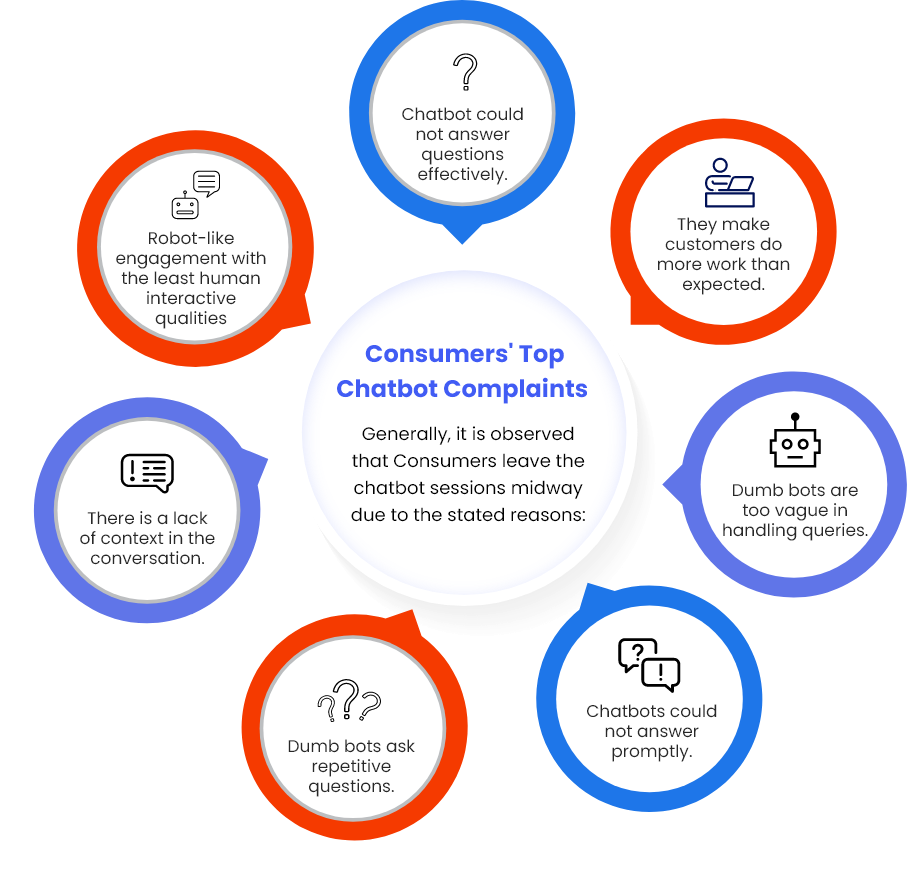 How To Roll Out A Smart Chatbot?
Businesses are already incorporating aspects like demographics, and affinity to stay competitive while utilizing the marketing channels like WhatsApp, Facebook Messenger, Instagram, Signal, Telegram but lacking one tremendous element- Chatbot IQ.

On-demand services become exemplary with smart bots. This gives an add-on value in the market. That's why, before approaching a chatbot service provider, keep these questions handy-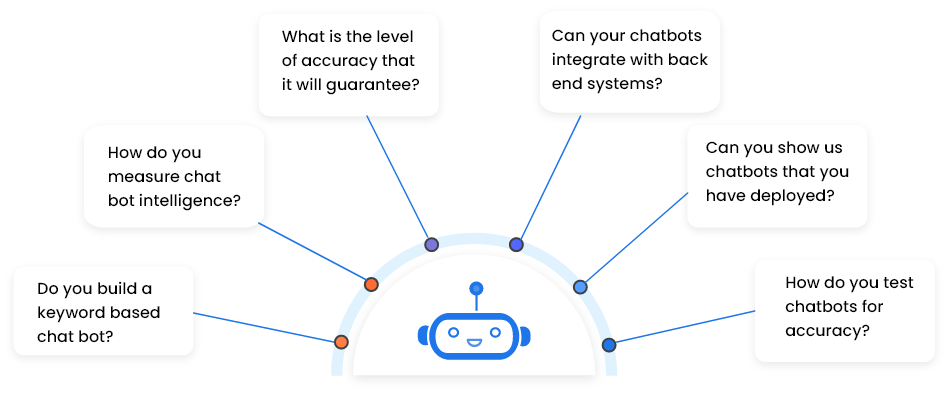 Roll Out A Smart Bot To Revolutionize Business
With a plethora of online product options, Online commerce has set breathtaking records. This comes as an opportunity for the users to pick the one that suits them best in all respects. To earn customer loyalty, it's high time to think out of the box and avail customers of a smart solution with an innovative approach.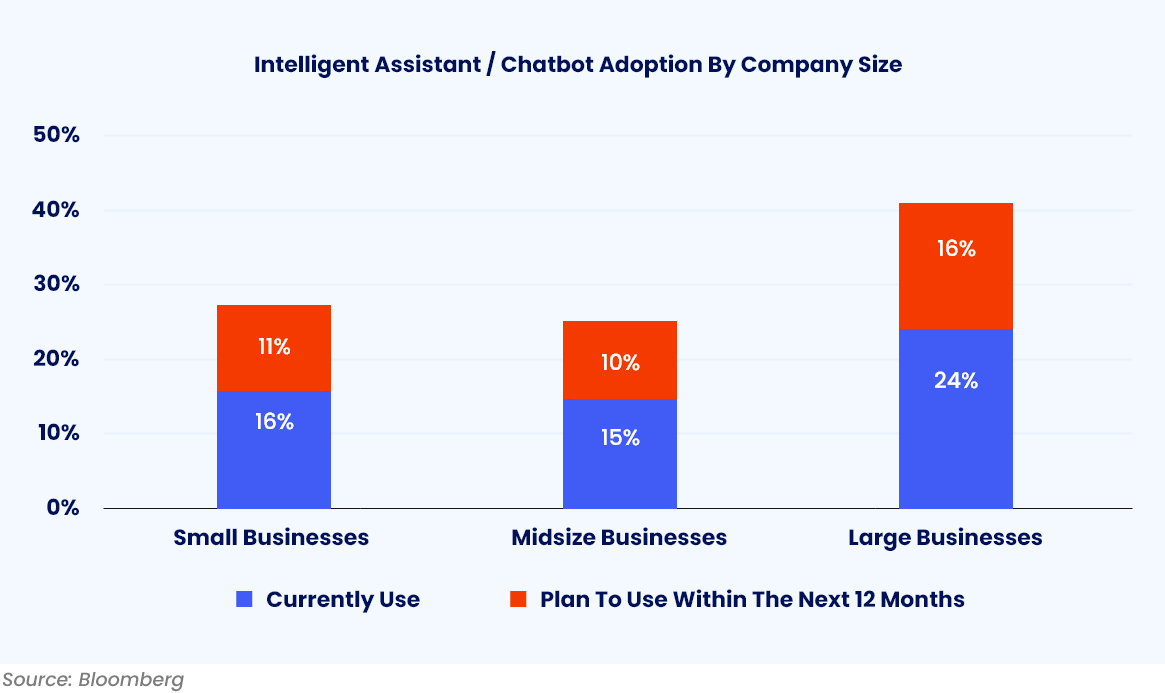 1. Go With Top Of The Line NLP Engines
Rolling out a chatbot that can understand the customer's needs, prioritize them and respond intelligently on multiple internet devices like wearables, smartphones. is the pre-dominant aspect to have a satisfying chatbot experience. The technology that is rooted in needs requires top of the line NLP engines to understand human pedagogy.

It is equivalent to the processor that is used in laptops and desktops, So, if you don't have a reliable processor from an established brand (Intel or AMD), the machine struggles with the processing power. Likewise, a chatbot to be smart, it needs to use world-class top of the line, enterprise level NLP engines. According to Gartner report 2022, top three NLP engines are as follows –

It is crucial to ask your chatbot provider, which NLP engine they will incorporate with your chatbot. The key ingredient that makes a chatbot smart is its core engine.

Powerful API:
Moreover, each of these NLP providers(IBM Watson, Amazon Lex, Google Dialog) also give world class speech to text and text to speech APIs that enables voice channels such as

These providers, integrated with powerful APIs, allow chatbots acumen sophisticated language translations and hence allows businesses to roll out a smart bot that can deliver quality human-bot interactions.
Digression and Disambigution Handling Abilities
Nevertheless, the chatbots powered by our recommended NLP engines come with features like digression and disambiguation. Disambiguation are words that are closely connected in meaning but smart NLP engines can decipher the differences after some training. Whereas Digression is a feature of a chatbot that has the ability to handle variations in conversations from a regular flow since these make use of large amounts of data sets to decipher user intense utterances, nuisance and messages.

For instance – a customer could be asking for fund transfer and along the way they have a question about fee that might be affiliated with a transfer, so such digressions can be handled effectively with smart bots.

To scale and accelerate sales and business, understanding localized offerings, choices, currencies, and intent is paramount. Smart bots are playing a captivating role here. To extend brand awareness, many successful businesses have shifted from dumb chatbots to smart chatbots.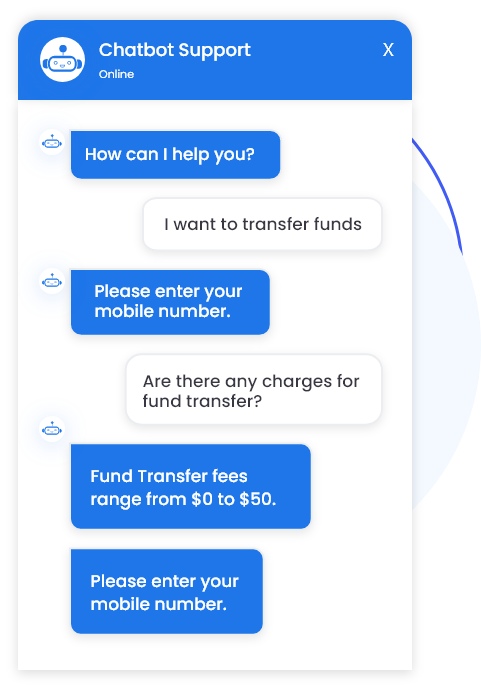 2. Make Selection From Types Of Chatbots
There are two kinds of chatbots –
Keyword Based Chatbot: The conversations with a keyword chatbot is highly automated or machine-like. They do extremely well in a fixed conversational flow. But as soon as some variations are introduced, they break or fail. These chatbots are generally FAQ chatbots as they don't have the technology to integrate with backends.

Smart Chatbots: Powered by AI and NLP, these chatbots are highly functional, as they can understand the user's intent, dialect and accent and respond interactively. Smartbots come equipped with transactional abilities that allow them to fetch data from the backend systems to get the job done at fast pace in a secure and scalable way. These bots come with high intelligence index.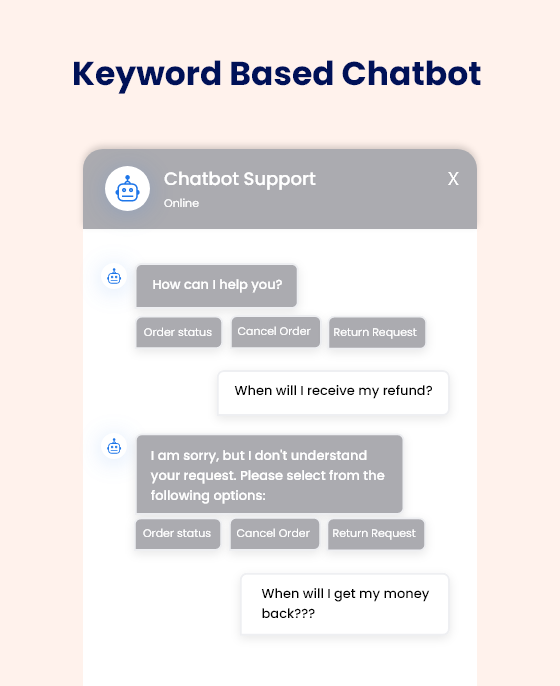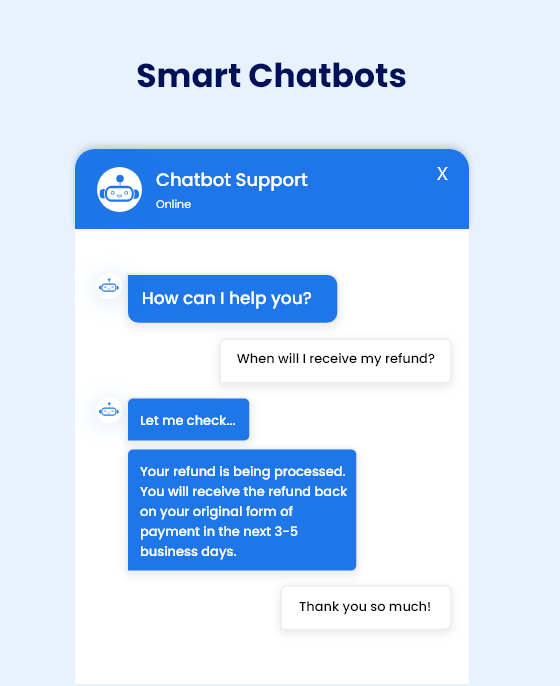 3. Measure Chatbot Intelligence
Bot intelligence is measured by the formula:

Bot intelligence index = Number of questions answered correctly/ number of relevant questions asked.

Every organization must measure their bot intelligence index as deploying a bot on multiple channels is not enough. Continuous on-job training and thorough testing of chatbot's performance has now become a business differentiator to a necessity.

If a chatbot is not able to answer at least 90% of the questions accurately then there is not benefit of launching the chatbot as it will only become a liability to the organization by wasting cost, time and efforts.
4. Ensure A Quality Chatbot Design
Powered by Artificial intelligence, NLP and machine learning, Chatbots can be made smart that can gear up to serve more complicated and user-centric tasks in a sophisticated manner. The chatbot design should integrate well on multiple platforms. Segregated services allow you to integrate with variety of current and legacy systems.
5. Corroborate Targeting An Appropriate Audience
With the advanced analytics feature Smart bots incorporate features like demographic preferences, prediction and relevant parameters like name, location, customer background, history of purchase, customer interests to recognize and target potential customers.
6. Drive On-The-Job Chatbot Training Campaign
For knowledge base expansion, regular on-the-job chatbot training is essential which involves regular review and monitoring of unhandled queries and responses and then implementing alterations if needed for making progress while optimizing chatbots.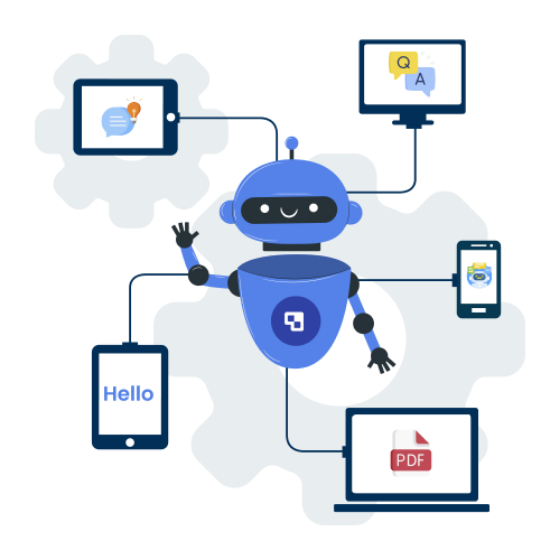 Roll out A Smart Chatbot from Streebo's Bot Store
Streebo, with over a decade of experience rolling out smart bots powered by AI and leading NLP engines IBM Watson, Amazon Lex and Google Dialogflow with all possible use cases for versatile enterprises like banking, financial services, retail, utility, tele com, airlines, insurance, hospitality, government and healthcare, etc.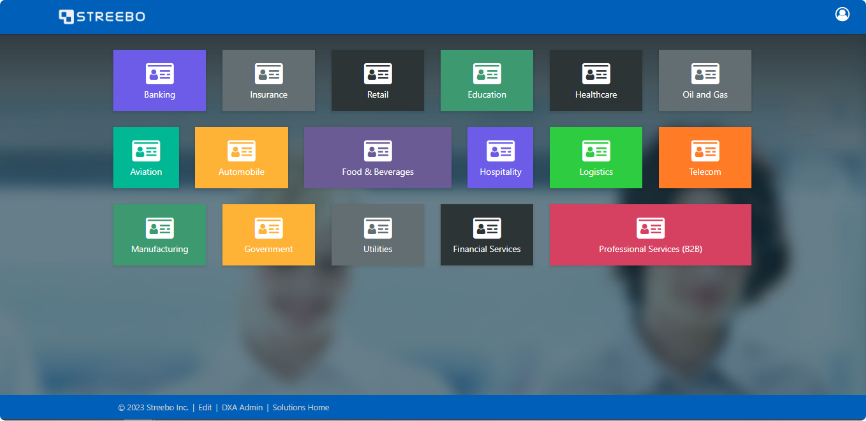 Streebo has rolled out a complete library of enterprise specific pre-trained cognitive assistants. These smart bots or cogs are Omni-channel, multi-linguistic and are highly scalable bots that can play variety of roles across domains within organization with 99% accuracy. This results in imperative customer engagement with great outcomes. The premium product has pre-built adapters for a variety of enterprise backend systems such as

Business Benefits
Powered by IBM Watson, Amazon Lex and Google Dialog, Streebo's smart chatbots process the customer's requests, engage the customer with follow-up routines as they can decipher the user's context effectively by assessing inputs like time, place, conversation history, tone, sentence structure, sentiment, and so on with a support of over 38+ languages. This promotes customer satisfaction and improves customer retention.
Streebo Chatbot ensures a Guaranteed Bot Intelligence Index* of 99% (*BII= No. of questions answered correctly/No. of relevant questions asked) for a business to get its chatbot adopted completely by the end users. A smart bot integrated on multiple channels that are able to do transactions with accuracy can transform the way business conducts. A smartbot is a proven outstanding asset that can add value to the organization.
Streebo smart bots boost up revenue by accelerating sales. Let's say, for the Banking or Retail industry, a smart cognitive assistant can send promotional messages by keeping track of customers' activities. These smart bots or cogs are effective at bundling up important information about your customers. Who is interacting with what type of product? These ideas or patterns can lead to give a boost to sales.
Streebo chatbots are compatible with versatile channels like Facebook Messenger, WhatsApp, Slack, Google Chat, WeChat, Telegram, MS teams, Signal, HCL Sametime and SMS. Our bots can be stationed perfectly on various voice channels like Amazon Alexa and Google Home. They can be well-integrated with your existing IVR system.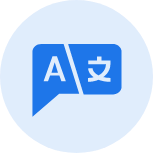 Sophisticated Customer Experience

Powered by IBM Watson, Amazon Lex and Google Dialog, Streebo's smart chatbots process the customer's requests, engage the customer with follow-up routines as they can decipher the user's context effectively by assessing inputs like time, place, conversation history, tone, sentence structure, sentiment, and so on with a support of over 38+ languages. This promotes customer satisfaction and improves customer retention.
Pricing Options
MVP(Minimum Viable Product) bot includes:

3 transaction used cases.

1 backend integrations

50 FAQ's

Channels – Web, Mobile App, 1 Social media channel such as WhatsApp/Facebook messenger, SMS, et.al.
Capex Option

You can choose to buy the product.
Opex Option

You can opt for monthly subscription-based service with no upfront set up fee.
Pay Per Usage

This is conversation-based subscription as you have to pay according to your usage.