Boost up your Sales with an AI-Chatbot!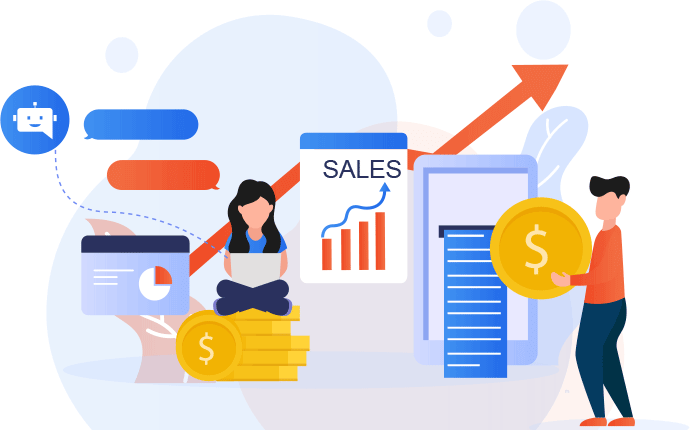 Are You Exploring How Businesses Today Are Making The Most Out Of Chatbots To Drive Business, Lower Costs & Make Customers Happy? Then this content can connect you to use an AI-Chatbot.

Well the end of this year is just around the corner and so is Christmas. So, It's the best time to uplift your sales and end 2019 on a positive note. Putting in the right marketing and sales strategies will help.

As a digital marketing plays a remarkable role in today's business world, the use of the right digitizing tools will get you the right way to gain higher profits. This content is about how to make the most out of AI-Chatbots – Which is turning out to be the next hot topic in the digital world to boost your sales.

Chatbot not only streamline the communication between people and services, but also improve the customer experience and offers businesses new opportunities to enhance user engagement. Chatbot platforms also uplift the efficiency by reducing the unnecessary costs of manual customer service. Secondly, people very rarely download apps these days. Consequently, a Chatbot is a handy replacement for such mobile applications.

Wondering, how to multiply your sales this New Year with an AI-Chatbot? Then the below points can help you to relate your business with us,

Chatbot Replies to customer inquiries in no time
Train the chatbot to answer questions related to your product/service specifications, prices, delivery, etc. Especially, the frequently asked questions link on the website is something chatbot is awesome at grasping. Through this, you can boost up the response rate and take care of the customer service that never stops.

Recommending products to your online visitors
When customers visit your website, you can utilize a chatbot to initiate the conversation. For instance, your chatbot can ask questions like what are you looking out for? Then the customer replies saying LED TV. Immediately, the chatbot can provide the details of that related page available at your store. This is not just convenient and saves time but also makes the life of your customer easy and convenient.

Allowing visitors to purchase products online
Link a payment gateway with your chatbot to allow your customers to buy products online. So, if a customer likes a product, they can directly send a message to the chatbot and easily purchase it online. This is a hassle-free process which can increase the sales for you.

Informing customers about seasonal offers, promotions and new products
Pushing out the notifications about offers, promotions and updates, managing subscribers and broadcasting messages to the users via chatbot is really growing these days. This is a unique opportunity to catch the customer's attention rather than sending out monthly mailers and newsletters of subscriptions.

Gathering information about customers
The more you know about your customers the more you can serve and match up to their needs. You can gather information about customers through a chatbot by asking questions from your customers. This information further can help you design personalized campaigns in the future.

Lastly, AI-equipped chatbots have become an interesting and trending subject when it comes to modern day business. These chatbots not only allow businesses to connect with their customers in new and exciting, engaging, and interactive ways, but also help in streamlining the customer service processes.