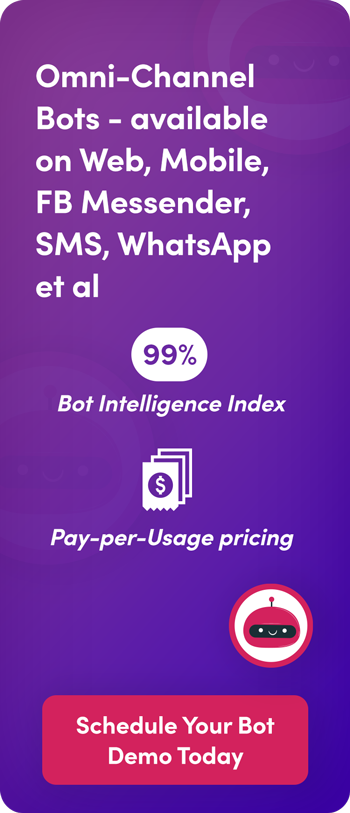 Chatbot for Customers for Distribution and F&B Sector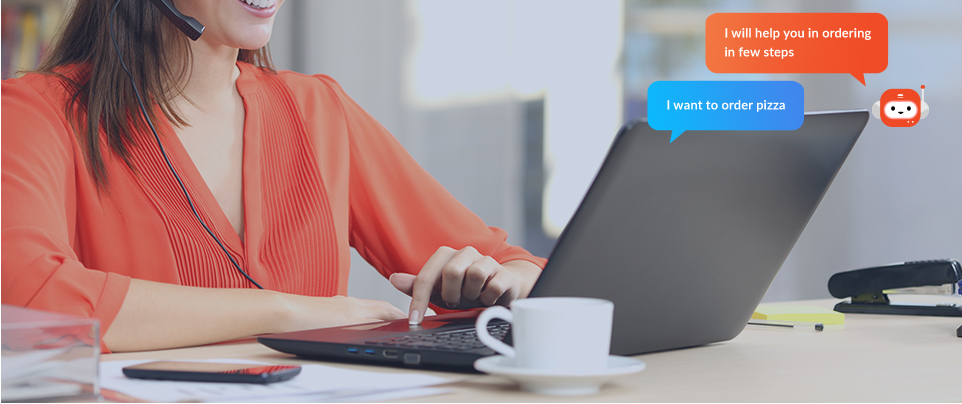 F&B and Distribution industry is going through a disruption due to the 2020 pandemic. Digital services in these industries have widely adopted web and mobile apps, which are proven channels to interact with customers and prospects alike. Further, a big shift has happened in consumer behavior as more and more folks are spending time on messaging channels. A recent Tech crunch study points out a 40% jump in traffic on messaging channels such as Facebook Messenger, WhatsApp and even SMS. Players that will recognize and respond to this change will stand to gain much.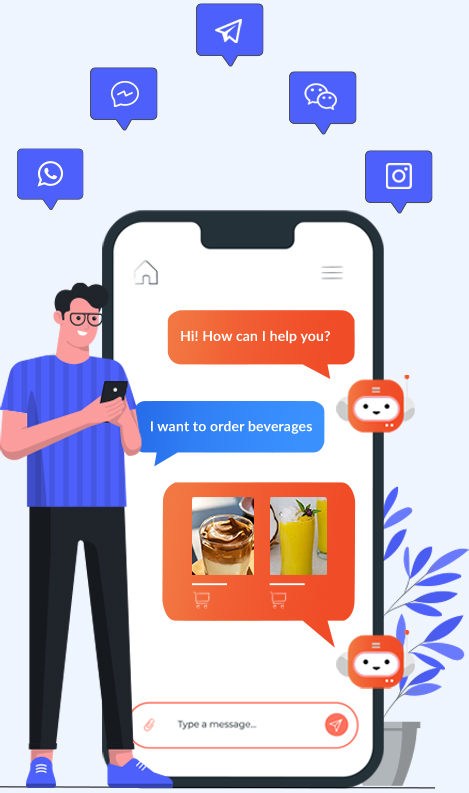 What Businesses can do to adapt and overcome the Industry Change:
Emerging Artificial Intelligence (AI) technologies have now opened up new possibilities for customer interaction, with the use of Natural Language Processing (NLP) becoming the major market driver. As stated earlier, messaging apps are now in vogue with the target audience and companies that will open up these asynchronous messaging channels for customer interaction by leveraging NLP & AI will stand to gain market share, improve customer experience and decrease customer interaction costs.

For instance, since April 2017, Subway, The Cheesecake Factory, and FreshDirect are using a chatbot for Facebook Messenger and have seen good adoption of the same. Data by Chatbots Magazine proves that implementing virtual agents saves companies up to 30% of their customer service costs.

Streebo a leading Artificial Intelligence (AI) and Digital Transformation Company has created a very powerful, intelligent, and Pre-trained AI-Powered Chatbot for the Distribution and F&B Industry. These bots are 99% accurate and can seamlessly integrate with a wide variety of 3rd party backend systems (ERPs, CRMs). Moreover, these Distribution and F&B Chatbots leverage leading NLP engines such as IBM Watson, Google Dialog, and Amazon Lex to extend these ordering experiences to a variety of social media platforms, mainly Facebook Messenger, WhatsApp, and SMS among others. Streebo's Conversational AI makes the customer interaction effortless and faster. An increasing number of customers prefer it over the traditional web and mobile app interface.
Business Benefits
Hence by upgrading their systems with Streebo's Conversational AI in Distribution and F&B Industry across channels like web, mobile, WhatsApp, FB messenger and SMS, etc. our clients will witness benefits such as

Increase in Revenue: Bot allows our clients to extend their outreach and customers can place an order through social media channels.

Increase customer base by removing language barrier with local language support, as bot provides support for 38+ languages on chat as well as voice interface which gains more preference.

Reduced TAT for a sale and Increase ease of access to the services by automating business processes and having all restaurants, their menus, and payments at customers' fingertips in a single chat window.

Upselling with Personalized experience to the customer with suggestions on food orders, keeping track of the calories as per one's diet plan

Channel of customer's choice such as WhatsApp, Facebook Messenger, SMS among others can be used, as customers don't have to switch through mobile apps to access the Chatbot.

Round the clock customer help Bots provide support 24×7 – this significantly increases Customer Satisfaction and Customer Retention rates

Decrease operational cost as the customer queries will be handled via Bot itself and this saves query resolution time & effort and cost which is typically handled by a call center
AI Powered Bot extended on Social Media Channels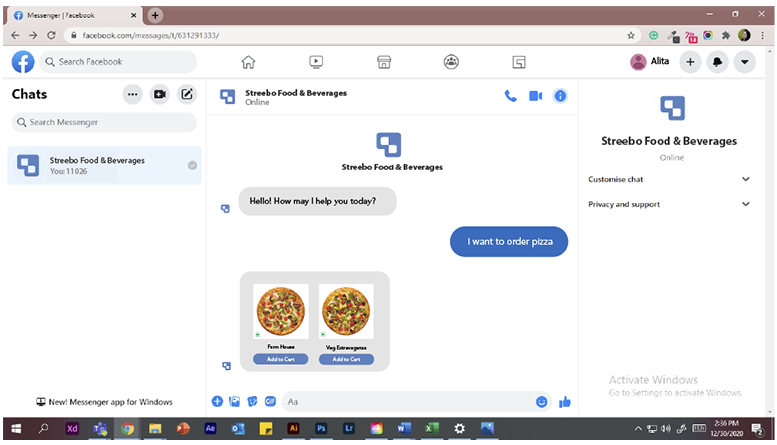 Facebook Messenger Bot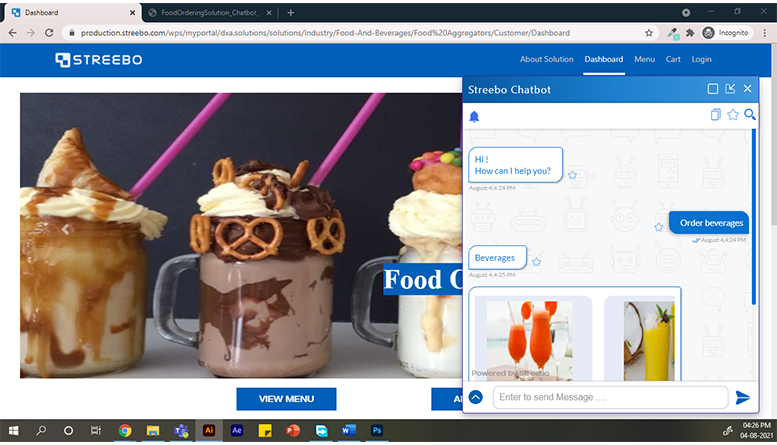 Web Application
Mobile Application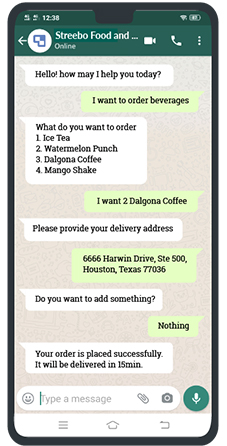 WhatsApp
Why Streebo's Food and Beverages Chatbot?
Key differentiators of Streebo's Pre-Trained and pre-integrated AI-Powered Bots:

Built-in Domain Intelligence
Streebo has built-in domain knowledge into its Bots and along with its technology partners has deployed highly intelligent pre-trained chatbots that can emulate human interactions pretty closely.

Omni-Channel Experience
Our bots extend customer experience across social media channels such as FB Messenger, WhatsApp, WeChat, Skype, and even SMS. They can even handle voice channels such as IVR, Amazon Alexa, and Google Home. Bots can even be deployed to existing digital properties such as the website and mobile App.

Pre-Integrated with Backends
Streebo's Distribution and F&B Bot for Agent comes in pre-integrated with a wide variety of 3rd party backend systems such as SAP, Salesforce, ServiceNow, Workday among others.

99% Intelligent Bot
Streebo Chatbot comes with Guaranteed Bot Intelligence Index* of 99% (*BII = No. of questions answered correctly/No. of relevant questions asked)

Flexible Deployment Options:
Streebo's Pre-Trained Conversational AI Insurance Agent can be deployed on-premise or on IBM Cloud, Microsoft Azure, Amazon AWS, or Google Cloud Platform.

Chat Analytics
Streebo's analytics dashboard is developed to record and display systemic data, metrics, preferences, and trends which eventually help in monitoring user interactions, and can be adapted accordingly to give relevant responses and take business decisions.
Our AI-Powered Food and Beverage Chatbot Support Below Mentioned Features:

Omni-channel Solution

Secure Access

Multilingual Support

Support for both Voice and Chat channels

Inbuilt Live Agent Support

Advance Analytics
Our pre-trained Food and Beverage Bots are trained in the following Food Ordering Operations:

FAQs (Frequently Asked Questions)

Nearby Restaurants Locator

Local Language Chat / Voice Support

Browse Food Menu

Add to Cart

View / Clear Cart

Order Checkout and Make Payment

Schedule Order with Google Calendar

Customize Order

Track Order

Return/Cancel Order

Update Profile

Provide Feedback with form

Product Reviews with Media Upload

Wallet

Offers and Promotions

Reward Points / Gift Cards / referral bonus

Popular Searches and Trending Items / Season Specials
Pricing Options
MVP (Minimum Viable Product) bot includes

3 transactional use cases

1 backend integrations

50 FAQ's

Channels – Web, Mobile App, 1 Social media channel such as WhatsApp/Facebook Messenger
Capex Option

You can choose to buy the MVP Bot.
Opex Option

You can choose to Subscribe to the MVP Bot at no upfront setup fee.
Pay Per Usage

This is a conversation-based subscription and tied to the number of conversations, hence there is no constraint on the scope.