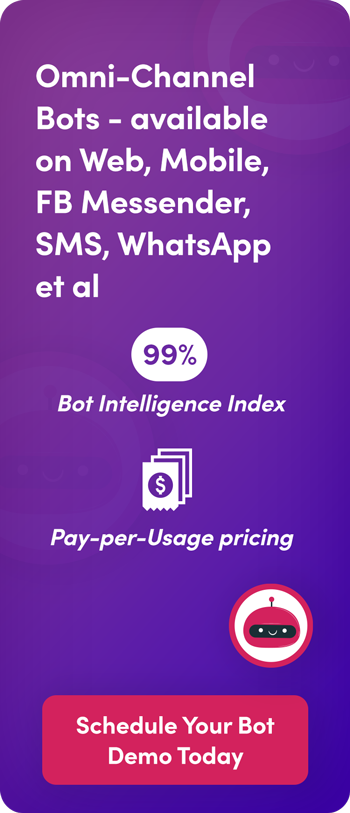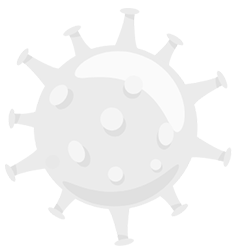 Automate, Engage and Retain your customers with Streebo's IBM Watson Powered Pre-Trained Bots for Automobile Industry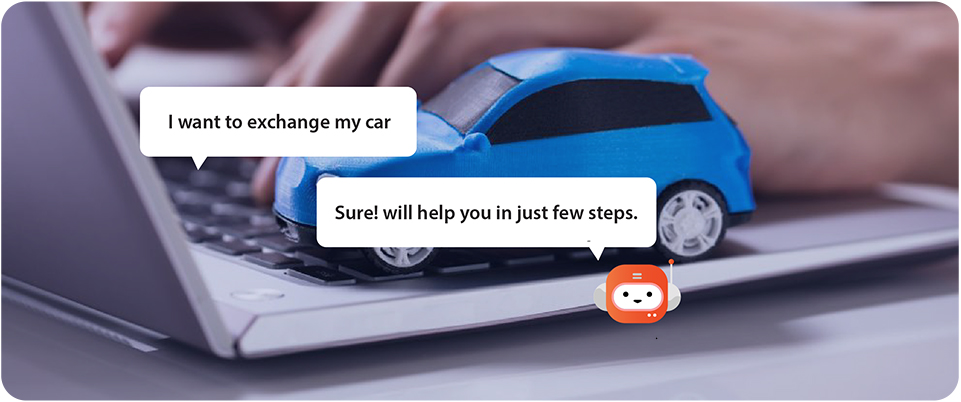 Why AI Powered Chatbots are lucrative for Automotive Industry?
There's no doubt that recent circumstances surrounding COVID-19 have changed the business landscape resulting in a significant shift in the Digital Traffic. Footfalls in Car Dealerships have fallen as customers prefer the usage of digital platforms including web and mobile apps as well as asynchronous messaging channels like WhatsApp, FB Messenger, SMS to gather information. Also, a recent report by Forbes states that 49% of users are active on social media channels. So, to build meaningful connections with the consumers and to drive long-term brand loyalty, businesses including Automotive Industry will have to extend their presence to these widely used social media channels/platforms. However, assigning humans to these channels to resolve customer queries can increase expenses significantly and hence is a non-scalable solution. So the question baffling Automobile Industry executives is …
How can Automotive Industry adapt to this change for long-term business growth?
Advancements in Artificial Intelligence and particularly Natural language processing and understanding have now made it possible to improve digital experience on social media channels with the usage of Chatbots. Streebo – a leading Artificial Intelligence Company has come up with a highly intuitive and an interactive Pre-trained Bot for the Automobile Industry which can assist the customers for a variety of common business functions. These highly intelligent Bots are powered by "IBM Watson" which is one of the leading Natural Language Processing (NLP) engines and lends a conversational interface to the existing digital properties including web and mobile and the digital experience can be further extended to social media channels such as WhatsApp, Facebook Messenger, SMS, among others. Moreover, the customers can even access the chatbot via voice commands using voice devices such as Google Home and Amazon Alexa – which means the customers can communicate anytime/anywhere through the channel/platform of their choice. Streebo's Automobile Chatbots refines the customer experience with 24*7 support and is proven to have 99% accuracy.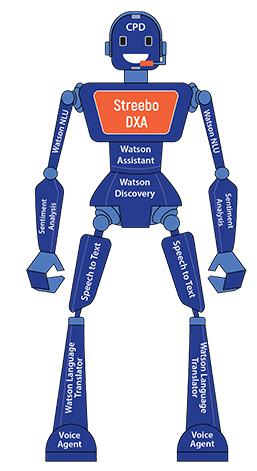 Business Benefits
According to Gartner's report, AI Powered Bots will power 95% of all customer service interactions by the year 2025 and will trim the business cost by $8 billion per year.

By leveraging Streebo's IBM Watson Powered Chatbot across multiple channels, Automobile Industry will witness the below benefits:

Decreased Operational Cost as the customer queries will be handled via chatbot itself and will remarkably increase the conversion rate by 15%

Increased Revenue & Customer Outreach because of the extended presence on multiple digital channels such as WhatsApp, Facebook Messenger, SMS among others.

Increased Productivity by automating business processes.

Round the clock Customer Query Resolution which will significantly increase Customer Satisfaction rate and Customer Retention rate.

Hence Virtual Assistants will not only be cost effective but will also ease out business management by providing automated customer support.
AI Powered Chatbot extended on Social Media Channels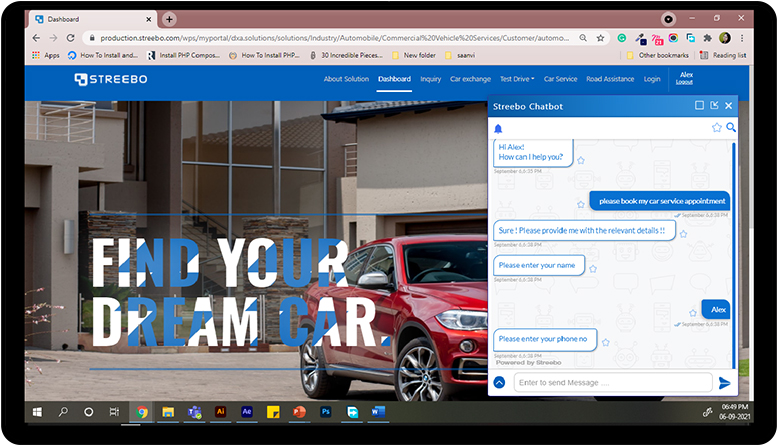 WebApp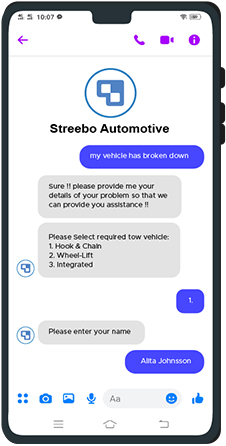 FB Messenger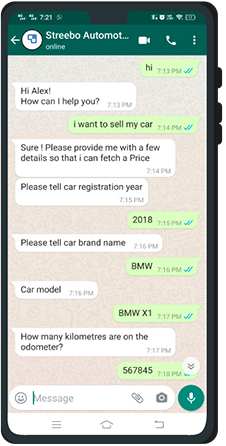 WhatsApp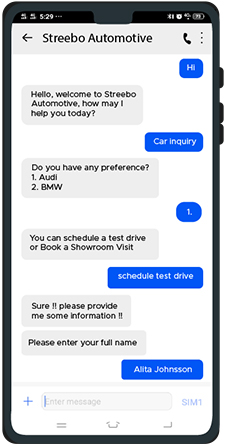 SMS
Why Streebo's IBM Watson Powered Automobile Bot?
Streebo in collaboration with leading technology organization like IBM has created a powerful and secured AI Powered Automobile Bot by leveraging IBM Watson Assistant as an NLP engine. These Pre-trained Bot resolves customer queries and assists them through Natural Language Command on their channel of choice and even via voice commands! Customers can attain seamless experience of searching cars, book a test drive, book a car service, request car exchange through the channel/platform of their choice.

Key dierentiators of Streebo's Pre-Trained AI Powered Automobile Bots:

Built-in Domain Intelligence
Streebo in collaboration with its technology partner deploys highly intelligent pretrained Bots that can emulate business processes pertaining to Automobile Industry.

Omni-Channel Experience
Streebo's Automobile Bot can be deployed across social media channels such as FB Messenger, WhatsApp, WeChat and even SMS. They can even handle voice channels such as IVR, Amazon Alexa and Google Home. Bots can even be deployed on existing web and mobile application.

Pre-Integrated with Backends
Streebo's Automobile Bot is pre-integrated with common enterprise backends such as SAP, JD Edwards and even IBM AS/400 systems commonly leveraged by the Automobile Industry

Flexible Deployment Options
Streebo's Pre-Trained Automobile Bot can be deployed on premise or on IBM Cloud, Microsoft Azure, Amazon AWS or Google Cloud Platform.

99% Accurate Responses
Guaranteed Bot Intelligence Index* of 99% (*BII = No of ques answered correctly/no of relevant ques asked).
Our AI Powered Automobile Chatbot Supports Below Mentioned Features

Omni-channel Solution

Multilingual Support

Inbuilt Live Agent Support

Supports Voice & Chat Channels

Secured Architecture

Advanced Analytics
Our Pre-trained Automobile Bots are Trained in the Following Operations

General FAQs

Schedule Vehicle Survey

Help me with my car exchange

Vehicle Recommendations

Book Test Drive

Book A Showroom Visit

Schedule Auto Service

Car Replacement

Buying of Auto Insurance

Road Assistance

Claim Management Automation

FApply for Car Loan

Feedbacks & Reviews
Pricing Options
Minimum Viable Product (MVP) Bot includes

3 transactional use cases

1 backend integrations

50 FAQ's

Channels – Web, Mobile App, 1 Social media channel such as WhatsApp/Facebook Messenger
Capex Option

You can choose to buy the MVP Bot.
Opex Option

You can choose to Subscribe to the MVP Bot at a monthly charge with no upfront setup fee.
Pay Per Usage

This is a conversation-based subscription and tied to the number of conversations, hence there is no constraint on the scope.