Drive sales and foster engagement with the ease of
Conversational Commerce
Deliver smarter shopping experiences through personalized offers and interactions
Get a Personalized Demo
Modernize the online buying process with AI-powered
Chatbots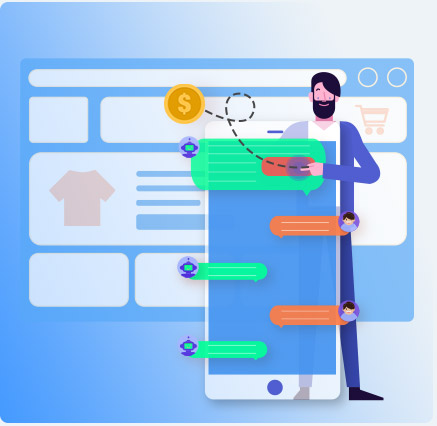 Conversational experiences add value to each step of the customer journey and enhance the brand image. With the recent surge in online shopping, businesses have started offering multiple ways to make an online purchase, be it – mobile apps, bots, social media platforms, emails etc. With the rise in mobile technology, e-commerce companies are experimenting with chatbots as a way interacting with the company.

According to a HubSpot research, 48% of consumers prefer connecting with a company via live chat than any other means of contact and 47% say they would buy items from a chatbot. AI-powered Chatbots have modernized the way e-commerce businesses function. Programmed to be accessible 24*7, offering instant responses and error-free service, e-commerce chatbots have proven to efficiently drive sales and increase engagement. Chatbots are the future of e-commerce and well developed intelligent chatbots can carve a niche for the e-commerce business.
Why should e-commerce websites embed chatbots
into their systems?

Provide seamless customer service
Chatbots instantly respond to customer queries about the product, shipping and delivery, make relevant product recommendations and provide highly personalized customer service. Chatbots keep the website visitors engaged and upgrade the level of customer service.

Address customer queries
E-commerce chatbots provide extensive customer support by addressing queries ranging from color and size options, technical specifications, pricing policies to shipping charges, refund policies and much more. Customers receive all this information in the form of a conversation which is easier and quicker than contacting the support team via phone or email.

Upsell and Cross-sell
Chat interfaces are an effective channel to notify customers about new products or promotional offers on the e-commerce website. Businesses directly communicate with their customers based on their buying history, pitch products that the customer is very likely to buy. Chatbots increase the probability of sale in the form of conversational commerce.

Prevent abandonment of shopping cart
E-commerce chatbot provides a customer touchpoint that is accessible round the clock for inquiries and complaints. It enables them to receive all the required information before making a purchase and might also be randomly offered discount coupons. Such actions keep the customers engaged and reduce the possibility of bouncing to another option that offers the same product.

Enhance customer engagement
Intelligent chatbots often engage customers by offering attractive discounts, sending push notifications, quizzes etc. Such interactions increase credibility and increase the chances of converting a visitor into a customer.

Gather insights
Chatbots collect data through various interactions, generate reports and provide useful insights about the audience to plan further strategies. These reports help in segmenting customers based on their age, preferences, interests etc. and provide customized offers and services.
Build Your Chatbot With Streebo's Chatbot Builder
Streebo – a chatbot development company – has built a revolutionary chatbot builder providing chat assistants using drag and drop builder. These chatbots can answer basic to very complex queries through its machine learning ability after identifying user intent. Natural language processing ability allows the chatbot to understand messages in users' language. Integrate chatbot with a website or any 3rd party applications like WhatsApp, Facebook and many more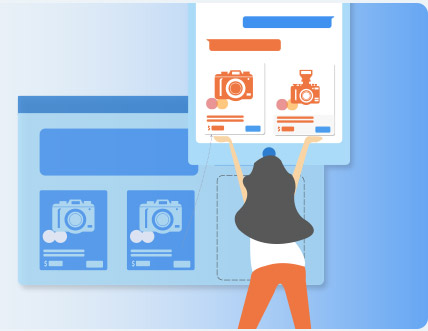 Benefits of Streebo Chatbot Builder

Automation Builder
'Drag and Drop' Interface for easier creation and management of chat interfaces

Cross-Platform Availability
Embed Streebo chatbot on website, app or on 3rd party chat messengers like Facebook Messenger

Comprehensive Security
Powered by IBM Technology, Streebo Chatbots are highly secureStreebo HR chatbots

Flexible NLP Selection
Select an NLP of your choice – be it IBM Watson, Wit.ai or any other and we will integrate the bot accordingly

Flexible Deployment Options
Deploy on premise or on cloud

Lower Development & maintenance Cost
Single code base for all digital assets and automation tools