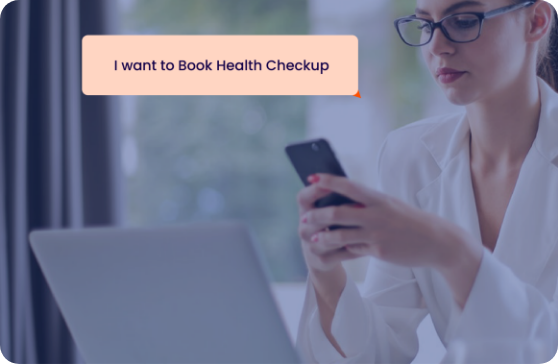 In the old world, our Customer, a Hospital & Healthcare Service Provider conducted its customer interactions via:
Clinics and Hospitals – 140 Clinics & 25 Hospitals
Call Center – 750 Personnel
A Matured Web Portal and Mobile App
Business Challenges included a huge increase in the inflow of calls from patients during the COVID-19 Pandemic and despite the huge cost incurred, the Call centers were not able to address all the patients' requests.
The Healthcare Provider's forward-looking management team chose to invest in IT and bring Artificial Intelligence (AI) to the game to outsmart the competition. In conjunction with Streebo & IBM, they employed a Smart Chatbot for their Hospitals & Clinics.
The Journey to the New World
Prior to the launch IBM & Streebo team trained the chatbot on various back-end systems at the healthcare provider including Cerner SAP and Oracle and showed it how to fetch information from various siloed systems in a secured and scalable manner. Powered by IBM Watson Assistant, the leading Natural Language Processing (NLP) engine (as per Gartner and Forrestor report of 2022), Streebo's Smart Chatbot was 99% accurate, meaning it would answer at least 99 out of 100 questions correctly.

The Streebo Smart Chatbot for Hospitals and Clinics was added to the workforce after a few rounds of evaluation. The Chatbot was trained in various healthcare functions such as Schedule Doctor's/Lab Appointment, Call an Ambulance/Doctor, fetch Patient History & Health Records, generate Prescriptions & Bills and Payment Transactions among others.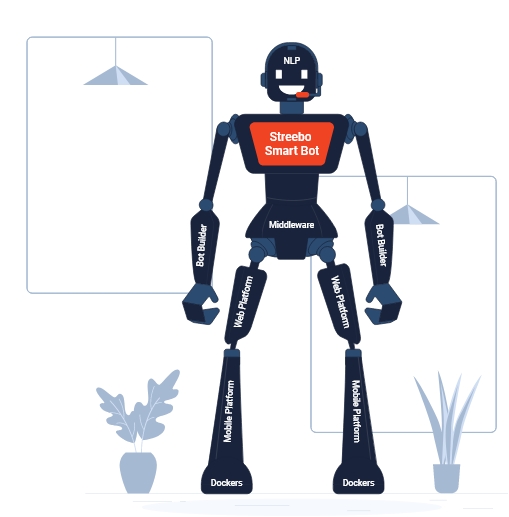 Bot Features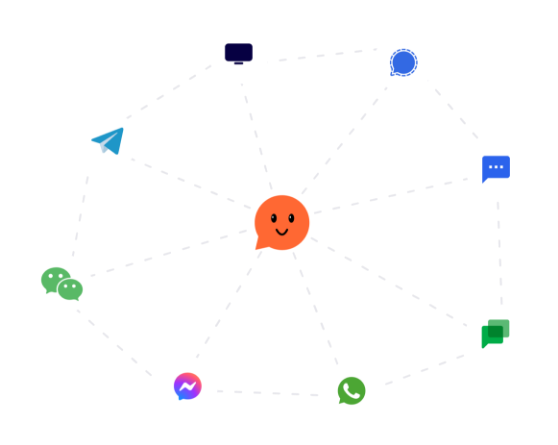 IBM Watson Powered Streebo bots are omni-channel, meaning they can answer queries from across channels including web app (Hospital Website), mobile app (Patients' Mobile App) and external-facing social media channels like Facebook Messenger, WhatsApp, Google Chat and SMS among others. Streebo's AI powered bots also support voice assistants such as Google Home and Amazon Alexa.

By deploying the Chatbot, the Healthcare Provider had expanded its outreach to new social media channels and at the same time put in a smart & highly intelligent employee in place. The Chatbot for Hospitals and Healthcare Patients manages the first line of interaction and provides instant responses 24×7, which is essential in case of emergencies. The blog below captures the customer journey in the new world after the chatbot was put in place.
Healthcare Patient Experience in the new world
Let's understand the patient experience in the new world with the help of a user's (John's) journey in different scenarios:
Initial Interaction with Patient on Mobile App

John is feeling nauseated for the past couple of days. Brooke (John's colleague), refers him to check Streebo Hospital's mobile application as it provides online diagnosis along with appointment booking among other services. Once he is done with lunch, he downloads the mobile application, registers his user profile on the mobile application and observes the Patient Assistance Program being promoted. He reads about it and finds it beneficial, so decides to check eligibility to opt for it and launches the bot to get more information.

John asks his questions about the Patient Assistance Programs. While asking he misspelled the words but the bot is highly intelligent to understand the intent of the user. Bot asks a few questions as per the eligibility criteria like the residence, insurance, income, etc. and John answers them. Next, he proceeds to take an online diagnosis.

So he writes to the bot regarding the same, the bot asks a few questions (with options provided to select) regarding the list of symptoms, common problems, since when he is experiencing the same, and furthermore questions as per the training provided to the bot for a particular disease. Accordingly, he inputs details and the bot suggests booking an appointment for an appropriate specialist. Before booking, John needs to check his schedule for the next few days and take a day off, so he decides to book an appointment later in the day. Next, he checks his schedule and finds he could take a day off for a checkup.
Book Appointment through Web App
Later that night, after having dinner, he decides to book an appointment for a check-up. He recalls both his parents had sugar-related conditions and they faced similar symptoms. This condition is hereditary, he decides to go for a sugar checkup as well. He opens the laptop and visits the Hospital website. He launches the bot and asks to book an appointment for a health checkup in his local language. (This is a multi-lingual Bot – so John can converse in any language and the Bot can understand the same).

John selects to "Book Health Checkup" option and the bot asks John to enter details like name, type of checkup, location, preferred date, e-mail ID and mobile number, etc. John submits all the details and the bot gives booking details and subsequently, John receives an e-mail with all the details. (Email Integration)
Call an Ambulance with a Simple WhatsApp Message
John visits the hospital on a scheduled day & time for a checkup and takes the day off to rest. John was checking his WhatsApp and found his father's message that his car will be at the service center for some days and asked him if he could help him arrange a transport facility to drop him at the hospital for a regular checkup scheduled for a few days later.

John recalls that Streebo Hospital allows ambulance booking for scheduled pick-ups. He messages on the WhatsApp number provided on the website and to his pleasant surprise, he sees an instant response and the bot deployed on WhatsApp understands that he wants to book an ambulance. The bot asks to select the type/nature of your ambulance call (Emergency/Non-emergency Call) and street address and John enters the requisite details.

Subsequently, the bot asks John to confirm a desired date and time for pickup, the address of the pick-up and drop along with the patient's name and contact number and John enters the requisite details.

Next, the bot confirms the booking and shows the name of the driver and ambulance number and time of pick up. He forwards the details to his father on WhatsApp, who is impressed by John's quick action.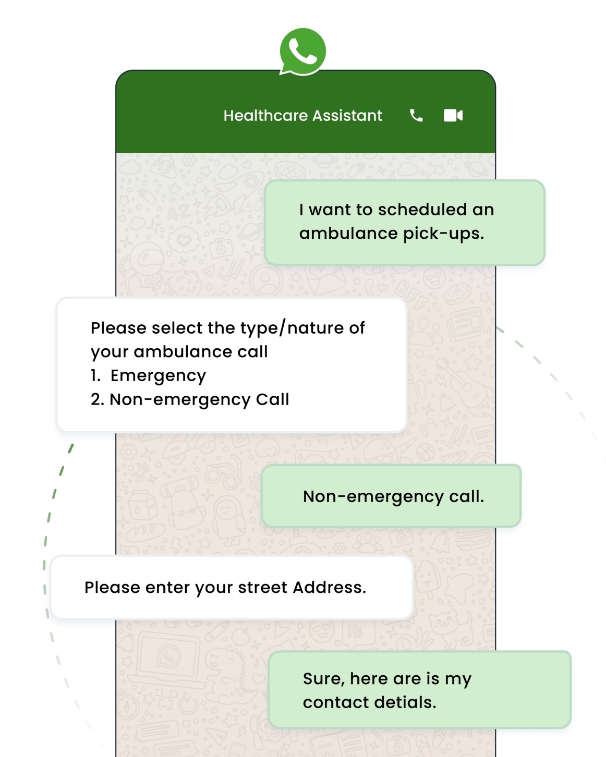 Reports & Feedback on SMS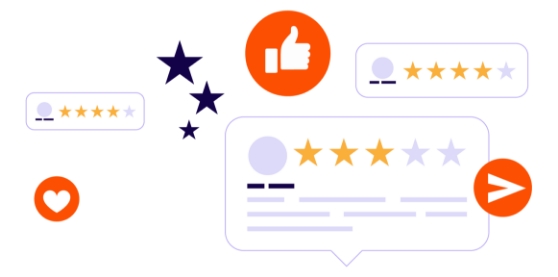 A few days later, John receives an SMS consisting of a link where he can access his health checkup reports. The Bot replies by thanking John, it also requests John to share his feedback.

And rating from 1 to 5 (1 being bad and 5 being excellent)? John types 5 and hits send.

Bot thanks him for feedback and the opportunity given to serve him
This is how the Chatbot for Healthcare and Hospitals has helped the hospital in giving instant responses and resolving the patient's queries reducing the workload of hospital staff to improve productivity and reducing the cost of the call center.
Learn more

Pricing Options
MVP(Minimum Viable Product) bot includes:

3 transaction used cases.

1 backend integrations

50 FAQ's

Channels – Web, Mobile App, 1 Social media channel such as WhatsApp/Facebook messenger.
Capex Option

You can choose to buy the MVP Bot.
Opex Option

You can choose to Subscribe to the MVP Bot for a fixed monthly charge with no upfront setup fee.
Pay Per Usage

This is a conversation -based subscription and tied to the number of conversations & messages the bot handles. Thus you only pay if the Bot is getting used and is actually deflecting calls.
Get in touch with our SME to know more about Streebo Smart Bots for Healthcare and Hospitals Patients.
Contact Now!