Revolutionize Your Organization
with Intranet Chatbot
Let employees leverage Intranet Bots to their own advantage!
CONTACT US
Deliver an Incredible Employee Experience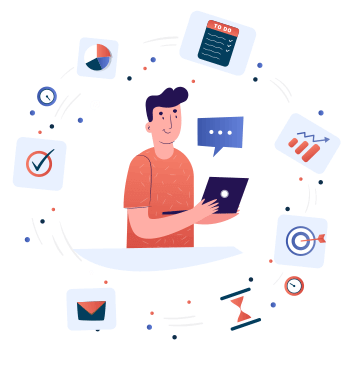 Today's intranet system is based on a centralized approach of sharing, resolving, refreshing, updating, authorizing numerous tasks in the organization. Employees like to get engaged in various organization related tasks when made easy for them. If there are long procedures, lagged and non-updated system, employees do not prefer to use the intranet system.

Multiple apps of an Intranet if combined with a powerful conversational chatbot, can encourage employees to use the Intranet system on a regular basis. This adoption of Intranet and the constituting applications results in productivity gains and reduced operational cost. With easy to use UI, chatbot integration simplifies the usability of Intranet providing a splendid employee experience.
Make Problem-Solving System Easy by Digitizing the Apps Under Single Unified System
An organization is composed of departments with several problems that requires coordination and collaboration. It also requires frequent meetings, calls or emails to communicate a small message or important guidelines for a project. This unstructured data if not organized can lead to a huge increase in operational cost as well as reduced employee productivity by a significant percentage.

Digitize your company 2x faster by bringing a quick add-on, the Intranet bot to all your internal apps with Streebo's Chatbot Builder. It allows employees to skip the long query resolution time as well as long email threads, thereby allowing your employees to work faster and efficiently.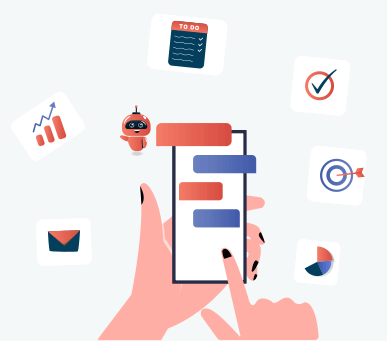 Benefits of An Efficient and Well-Designed Intranet Chatbot
Streamlined HR system: Allows a single HR representative to provide accurate and immediate personalized answers to multiple people
Easy Employee Onboarding System: Enables a faster and consistent information and data collection process.
Faster Daily Problem Solving: Automatically handles various office queries related to meetings, hours, IT complaints and more
A Handy Source of Information: Provides quick replies to all queries of employees. Provides flowcharts, publications and various other important content easily.
Better Employee Engagement: Activates effective and continuous flow of communication amongst the teams.
Make Every Process at Organization Faster Using Chatbots
Streebo Chatbot Builder powered by IBM Technology is a no-code low code tool that lets organizations build secure and scalable chatbots without writing a line of code. It's drag and drop interface lets you embed a chatbot on various platforms like Facebook, WhatsApp, existing web and mobile apps letting the users conduct all kinds of functions and operations quickly. It can be deployed on-premise or on-cloud and can be integrated with any backend with just a point and click.

By digitizing the intranet system and chatbot integration on the same, it becomes easy Digitize the organization by combining all the apps under unified system highly depends on what extraordinary commitment, collective effort and learnings everyone in the team decides to contribute.

Combination of a chatbot onto an intranet builds representative work profitability and productivity. The conversational interface of a chatbot urges them to utilize the intranet more, subsequently boosting the intranet's appropriation rates. The push and force highlights of a chatbot joined with its splendid client experience upgrades in general ease of use of an intranet.