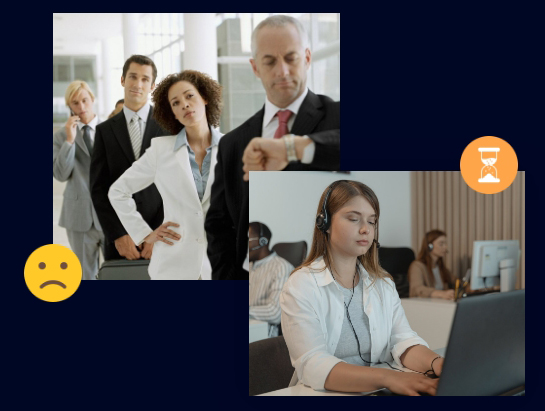 In the old world, our Customer, a mid-size Co-operative Bank conducted its customer interactions via:
Branch and Head Offices – 1800 Branch Offices
Call Center – 750 (Headcount)
Internet and Mobile Banking
Business Challenges included low Customer Satisfaction Index, High Cost of call center operations and dwindling margins with minimal increase in net new revenue from existing customers.
Bank's forward-looking leadership team chose to invest in IT and bring Artificial Intelligence to the game to outsmart the competition. In conjunction with Streebo & IBM, they employed a Smart Chatbot for Banking. Prior to the launch IBM & Streebo team trained the chatbot on various back-end systems at the bank including Finnacle and SAP and showed it how to fetch information from various siloed systems in a secured, yet scalable fashion. Powered by IBM Watson Assistant, the leading Natural Language Processing engine (as per Gartner and Forrestor report of 2022), Streebo's Smart Chatbot was 99% accurate, meaning it would answer at least 99 out of 100 questions correctly.
The Streebo Smart Chatbot for Banking was added to the workforce after a few rounds of evaluation. The Chatbot was trained in various banking functions such as:
Account Balance
Managing Payees
Money Transfers
Payroll Processing
Managing Tax Payments
Many More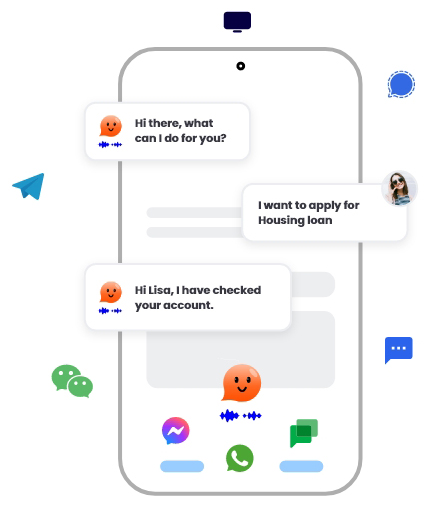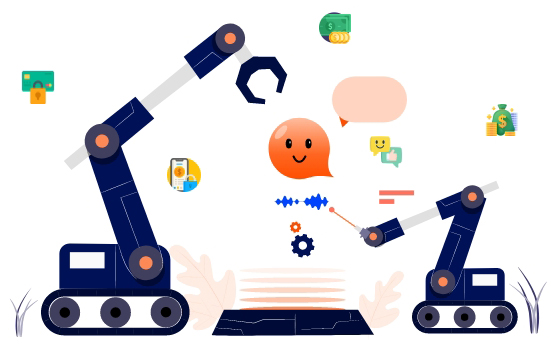 IBM Watson Powered Streebo bots are omni-channel, meaning they can answer queries from across channels including web (internet banking), mobile app (mobile Banking) and external-facing social media channels like Facebook Messenger, WhatsApp, Google Chat, SMS, among others. Streebo's AI powered bots also support voice assistants such as Google Home and Amazon Alexa.

In a single stroke, the Bank had expanded its outreach to new social media channels and put in a smart and highly intelligent employee in place to manage the first line of interaction. The blog below captures the customer journey in the new world after the chatbot was put in place.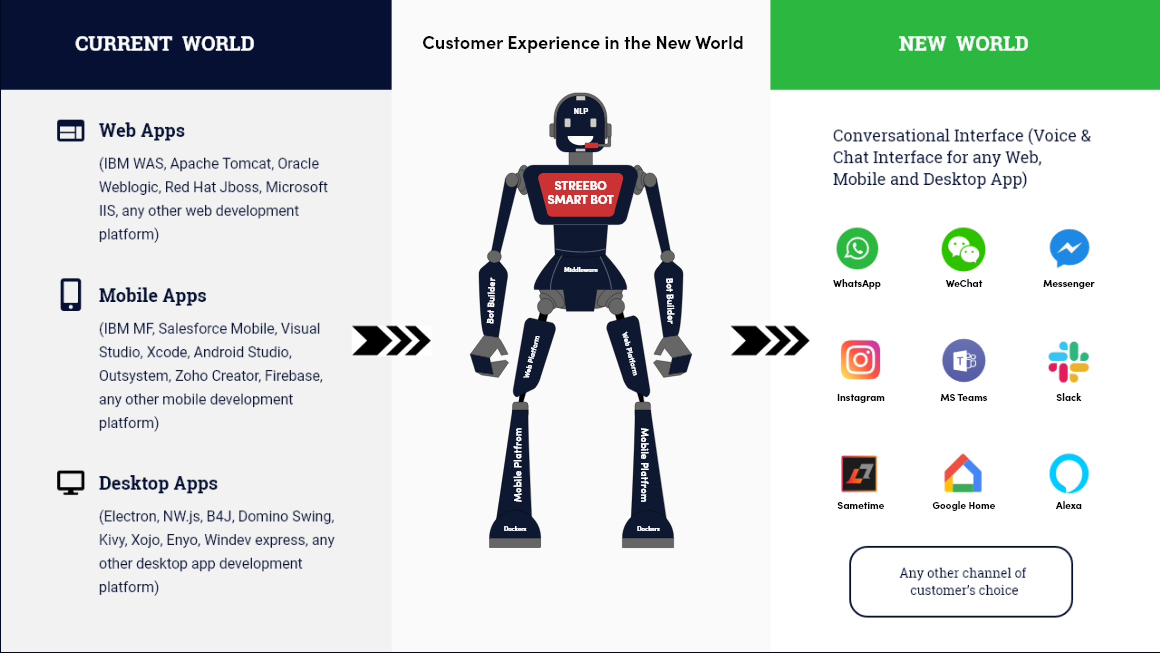 Customer Experience in the New World
Jack is an existing Corporate Banking customer. As month-end is approaching, Jack must clear payments for a few purchases made during the month by his company. One of his vendors is a customer that has raised an invoice in a foreign currency. In the old world, he would have to call the bank or visit one of their branch offices as he is unsure of how to make payments in foreign currency.
Chatbot deployed with Internet Banking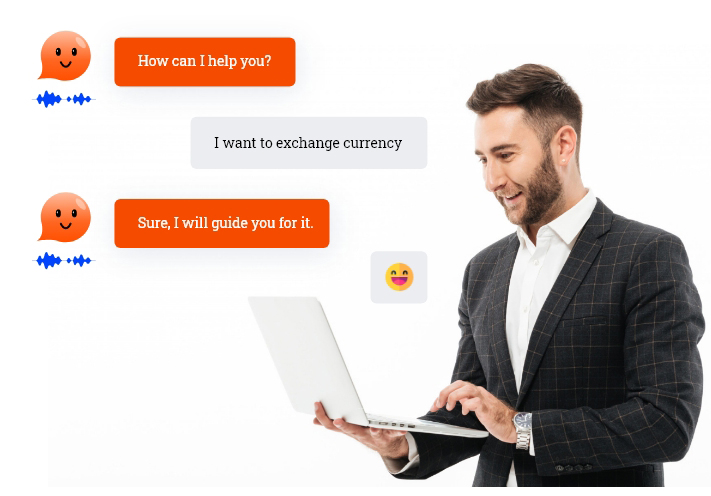 In the new world, he takes assistance from the Banking chatbot deployed on the Internet Banking site. After secured authentication and authorization is conducted using multi-factor authentication that adheres to all security protocols established at the bank, Jack is greeted with a warm welcome message. The bot understands Jack's intent and goes to the relevant system to check if his company's current account has a facility for foreign exchange. The chatbot gets ready to help Jack with the payments however, along the way, Jack asks several FAQs related to this transaction. Bot answers all of them accurately.

Jack now gets started with the transaction. The chatbot walks Jack step-by-step with payment in foreign currency including a selection of the currency, account type and the amount to be transferred. Bot completes the transaction successfully. No Branch office visit, no phone call – Jack is impressed with the intelligence of the Bot. Jack is hooked and wants to initiate another payment however gets interrupted by a meeting reminder and decided to process the payment after the meeting.
Banking Chatbot on Mobile Application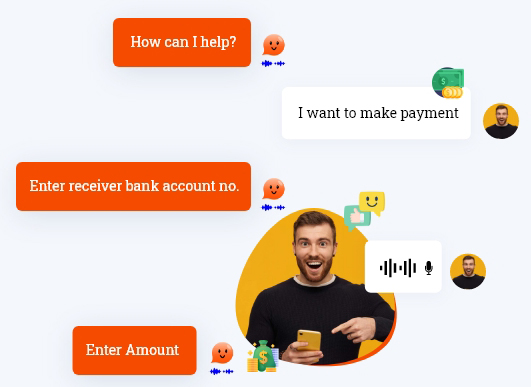 Jack completes his meeting and it is almost day closing time. He needs to however make payment to the vendor – he knows he can do it from his mobile app so hops into the cab and tries to finish up his transaction on the way home. He is pleasantly surprised to see the bot available on his mobile app as well.

He gives it a voice command, the Bot jumps into action, collects a few Details and before submission, in compliance with the security protocol at the Bank, asks Jack to enter the OTP. Jack quickly fetches the OTP from SMS and submits the same. Bot successfully completes the transaction and sends out email and SMS confirmation. Jack is delighted !!
Banking Chatbot deployed on SMS
Jack gets an automated confirmation note on his SMS that the payment has been made. He now messages back on the SMS note to see if he can get his company's current account balance. Bot checks if the request originated from a registered number and responds back in a secured way.

Jack checks for past fund transaction history. The bot provides him with the transaction history where he confirms the amount both in foreign currency and the USD. He is now relieved that the payment is indeed taken care of.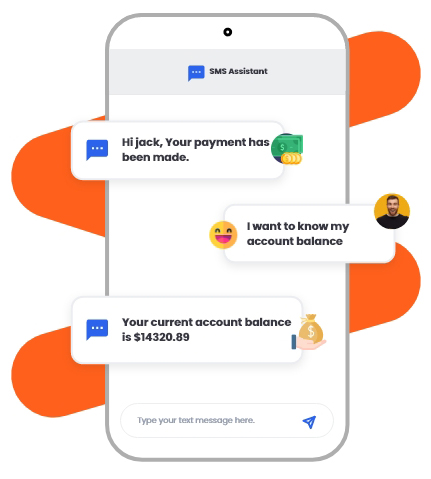 Banking Bot deployed on Social Media Channel (Whatsapp)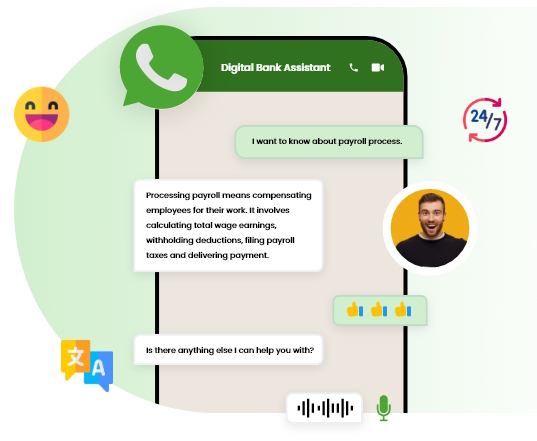 Our Bank's customer is an SMB and they internally use Whatsapp for communication. Jack is pinged by his manager on WhatsApp and she in turn asks him to check if the corporate account supports payroll processing and if there is a fee associated with it.

Jack checks to see if the Bot can respond on Whatsapp. Jack simply goes to the WhatsApp account of his bank and posts the question about payroll processing. To his pleasant surprise, the Banking Bot promptly replies and guides him on how to set it up. Jack checks with the bot around the fee structure associated with payroll processing. Chatbot picks out the relevant information from the Bank's information repository and provides Jack with accurate and up-to-date information.
Jack not only did not have to call the bank but was happy that the bank is available 24 X 7 across channels. He circled back with his manager who is visibly impressed with how quickly Jack circled back with his queries.
However, the key here is to deploy a smart bot that can respond to your end-users across channels with a high level of accuracy. A Bot that can talk to various silo(ed) information repositories with a high level of security. A multi-lingual bot that can answer questions in various languages and dialects. Finally, in case the Bot cannot answer the question it can switch to a Live Agent and provide them complete interaction history to make the transition seamless. Above all, a bot can learn from its interactions and continuously improve its accuracy.
Pricing Options
MVP(Minimum Viable Product) bot includes:

3 transaction used cases.

1 backend integrations

50 FAQ's

Channels – Web, Mobile App, 1 Social media channel such as WhatsApp/Facebook messenger.
Capex Option

You can choose to buy the MVP Bot.
Opex Option

You can choose to Subscribe to the MVP Bot for a fixed monthly charge with no upfront setup fee.
Pay Per Usage

This is a conversation -based subscription and tied to the number of conversations & messages the bot handles. Thus you only pay if the Bot is getting used and is actually deflecting calls.