Revolutionize your Business with
Secure IBM-powered Chatbots!
Deliver instant, accurate responses on multiple
platforms and boost customer engagement with virtual assistant chatbots!
CONTACT US
Adapt to the AI Trend and Stay Ahead in the Market
As the AI trend grows exponentially, chatbots are gradually becoming a necessity for all industries. The growing demand for chat over websites and mobile apps has made it imperative for businesses to embed intelligent chatbots on multiple platforms to increase engagement. As the AI curve is still in its growing stage, businesses can integrate intelligent chatbots, automate processes and leverage early adopter advantage as virtual assistant chatbots are a big competitive differentiator in this digital era.

The average attention span of people has come down to 8 seconds from 12 seconds in the year 2000. People spend more time on messaging apps than on social media. A recent study states that over 1 billion users actively use messaging apps – this clearly shows that businesses need to move to a new dimension! As the demand for chat increases, embedding a comprehensive chatbot is the ideal way to cope with the numerous inquiries coming in through various channels. An intuitive & interactive conversational interface that is available 24*7 and gives personalized support on the customer's preferred platform is key to expand reach, increase ROI and transform business processes. A Juniper Research states that chatbots could save businesses up to 8 billion dollars per year cross industries!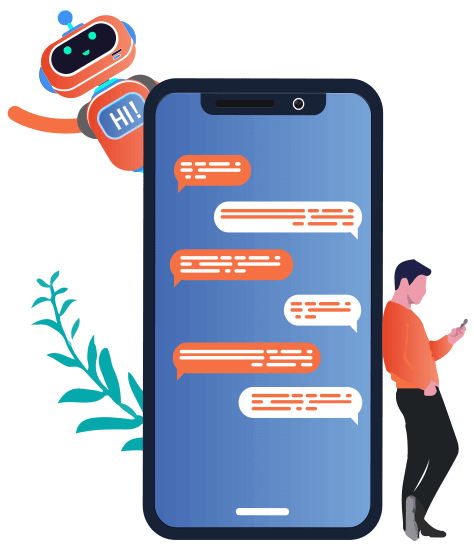 Characteristics of a well-developed Virtual Assistant Chatbot for businesses!

24×7 customer support – anytime anywhere.

Voice activation for easy and handsfree conversations

Omnichannel experience across web, mobile and third-party messenger like Facebook or WhatsApp

Easily cross-sells and upsells products/services based on customer behavior and conversations.

Understands intent, learns from conversations and improves customer experience

Multilingual capabilities to provide support in regional and commonly used languages

Instant response to customer
query

Never gets tired, performs the same mundane tasks again and again at high speed