ChatGPT for Healthcare – An Opportunity for Healthcare Service Providers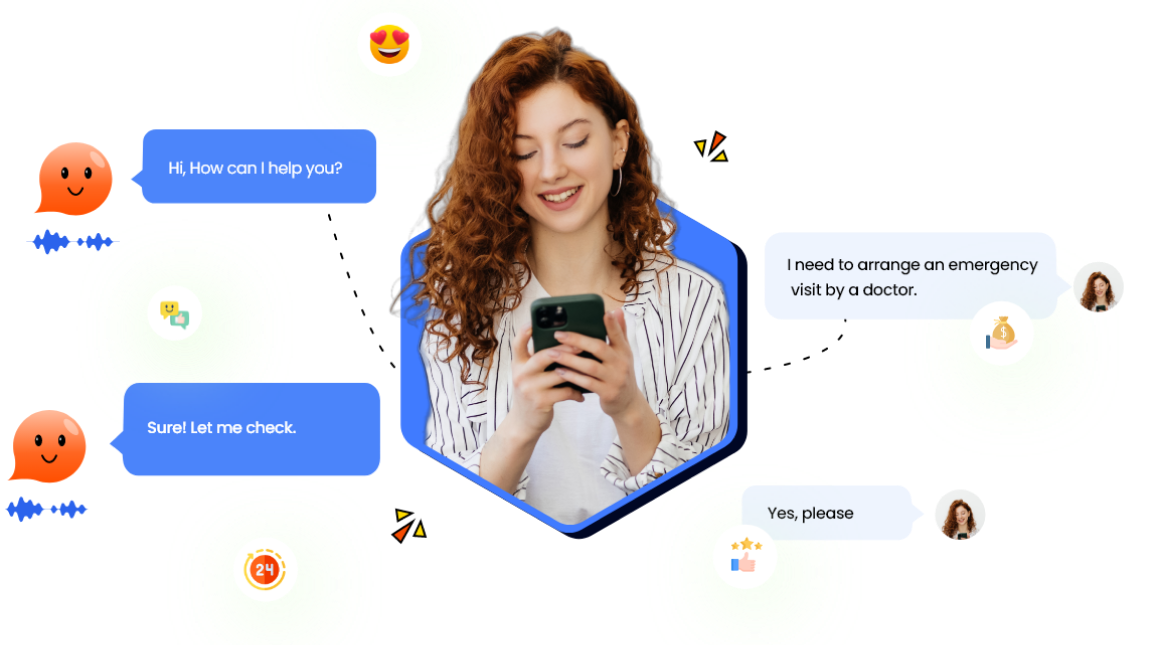 Schedule a demo

This article describes the user behavioral change that has happened in which lays an opportunity for healthcare providers and hospitals to increase their revenue and save on costs. It also covers how organizations can take advantage of the latest AI technology, particularly in the fields of Natural Language Processing and Generative AI with platforms like GPT 3.5 from Open.AI to automate patient & end-user interactions. Furthermore, an advanced AI solution is presented powered by leading NLPs such as IBM Watson, Google Dialogflow, Amazon Lex, Microsoft CLU and now GPT from Open.AI – Clients can use a combination of any of the leading AI providers to deliver a powerful solution that will allow them to leverage the user-behavioral shift yet improve their patient interaction.
Healthcare in Post Pandemic World
Covid-19 pandemic has been a catalyst for Digital Transformation in healthcare. Since the pandemic began, there has been a 400 percent increase in telehealth visits and digital engagements between healthcare practitioners and patients. Further, the preferred channel of communication for the patients has moved beyond web and mobile to now social messaging platforms and asynchronous messaging platforms like Facebook Messenger, WhatsApp, Email and SMS. According to a recent study from TechCrunch, there is a 40% increase in traffic on these channels. Now, thanks to advances in technology like Artificial Intelligence powered Bots/Virtual Assistants, that processes can be refined further and optimized for maximum efficiency. The global AI in the healthcare market is projected to reach $34.27 billion by 2026, growing at a CAGR of 42.8% during the forecast period from 2020 to 2026. Ultimately, this will result in better experiences for customers and heightened customer loyalty for Hospitals.

These statistics indicate that the use of AI bots in healthcare is growing rapidly and is expected to continue to do so in the future. The healthcare industry is expected to see significant benefits from the implementation of AI technology in various aspects of patient care and administration. This is an opportunity for Hospitals and Healthcare Providers which will establish a presence on these new social media channels and open it up to interact with patients and prospects will stand to gain revenue and increase market share.
Enter ChatGPT
For many not in the loop, transformers (i.e. large language models) the technology upon which ChatGPT is built have been revolutionizing everything and has mind-boggling scope. OpenAI's GPT-3.5, the current model which powers ChatGPT, is the newest evolution. GPT is designed unlike any other NLP model to ingest a ton of data. Basically, the models are being trained on the entirety over a number of tasks with a huge amount of data scraped entirety of the internet. ChatGPT also uses some reinforcement learning (RL) in an attempt to reward the model based on end user interactions with their products. The tech powering ChatGPT could also be used in Healthcare Industry. This is what we are focused on with our new GPT 3.5 platform powered Bots for Healthcare and Hospitals.

Streebo's highly advanced COGS (Cognitive Assistants) for Hospitals & Healthcare Industry are now integrated with latest GPT 3.5 Platform giving it ChatGPT kind of capabilities:
Streebo, a conversational AI company specializes in building chatbots and virtual assistants by leveraging the latest in NLP technology. Our bots leverage advanced NLP engines, such as IBM Watson, Google Dialogflow from GCP, and Amazon Lex from AWS. We have now integrated our bots (Streebots) also with the latest GPT 3.5 series language models from Open.AI, thus providing them with a unique level of conversational ability. The power of NLP (Natural Language Processing) algorithms allows these bots to accurately parse customer (hospital patient) queries in real time and respond accordingly.

Streebo's bots are 99% accurate and are pre-integrated with a wide variety of enterprise backend systems such as Epic, Cerner SAP, Oracle, among other Hospital Management & EHR Software and ERP systems among others. Also, our virtual assistants can make hospital services accessible to a wide variety of communication channels such as Facebook Messenger, WhatsApp, WeChat, Instagram and even SMS. The patient can also converse with Streebot via Email. It can even handle voice channels such as IVR, Amazon Alexa, and Google Home.

Furthermore, they have been developed with impressive context-switching capabilities to deal with more complicated topics, such as providing answers to questions that may require managing multiple dialogue elements. This ensures our chatbots know when they should transition between different conversation topics or topics seamlessly, making them an ideal candidate to serve the patient for complex tasks.

Now Streebots could be used to translate clinical notes into more patient-friendlier versions like ChatGPT. The latest GPT 3.5 platform powered healthcare bots would translate the acronyms that commonly pervade clinical notes into words that are more commonly known to patients; and the notes could have instructional information for what the doctor was referencing. Doctors could gather information faster such as diagnoses, results from previous visits, patient allergies, etc. Streebots for Hospitals can do this now for articles you provide, a hospital or healthcare organization would do it for a patient's entire medical history. Doctors would gain time to understand their patients faster.


Operations that our highly advanced COGS (Cognitive Assistants) for Hospitals provide and support
Cognitive engagement is an increasingly powerful tool for meeting patients' needs. By leveraging the power of intelligent agents and assistants to personalize healthcare services. The healthcare industry is now recognizing the value of making the patients' system smarter, and tailor made to care for an individual patient, in order to enhance their experience. In the Healthcare space, smart, intelligent digital assistants can help with mundane tasks such as schedule an appointment, call an ambulance, admit and discharge facilities, making them run more efficiently while also delivering a pleasant experience.

Our latest series of Streebots are powered by GPT 3.5 platform and are pre-trained the following Hospitals & Healthcare operations:
General FAQs

Clinic / Hospital Locator

Call Ambulance

Call Doctor for Emergency Visit

Schedule Doctor's Appointment

Schedule Lab Appointment

Patient History & Health Records

Request for Reports

Patient Support and Query Resolution

Payment Transactions

Online Consulting

Medication Reminders

Generate Prescription

Feedbacks and reviews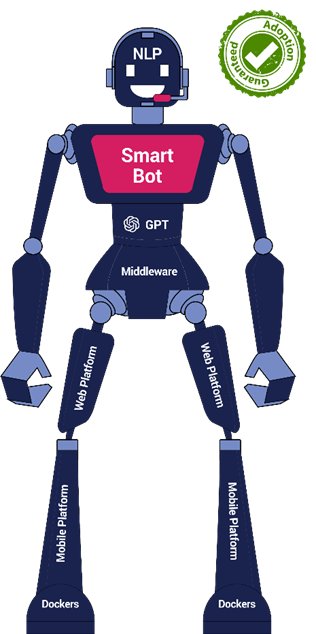 In addition to these operations,


Our Smart Virtual Assistants specifically designed to cater patients from Hospitals and Clinics also provides personalized recommendations with respect to the individual patient based on their history and health records. This has been proven to improve customer satisfaction and increase repetitive patients.
Key Business Benefits of these cutting-edge ChatGPT powered advanced Bots for Healthcare Industry
A report by Tractica estimates that the number of active virtual health assistants, such as AI-powered chatbots, will reach 1.6 billion by 2025.

0.5 to 0.7 USD is the average cost savings per interaction for the healthcare services that are using chatbots.

Hence rolling out AI-Powered Healthcare Bots for Patients across channels will result in the following benefits:


Streebo Omnichannel Bots in the Healthcare Industry can increase the digital presence of healthcare organizations and provide ease of access to hospital services on the channel of patient preference, which certainly helps in increasing the patient base thus resulting in increased revenue.
· Smart Virtual Assstant for Hospitals can leverage existing digital properties like web, mobile and phone IVR systems with multiple messaging channels such as WhatsApp, Facebook Messenger and SMS, among others and make healthcare services easily accessible to bring inquiries.
· Our pre-trained Healthcare Services Chatbot is preloaded with a healthcare providers' most common FAQs and integrated with their enterprise backends and thus can address up to 80% of commonly asked Tier 1 support questions. Helps live agents to focus on critical issues and emergency cases, which helps in increased productivity.
· This is an essential feature considering the emergencies of the patients, Streebo AI powered Cognitive assistant provides round-the-clock availability, with instant response across channels including Email & SMS.
· · Streebo's Smart Bot aided with the latest GPT 3.5 platform gives timely medical advice and reminders as per the patients' treatment schedule, certainly improves customer satisfaction and builds trust in the Hospital. This help in building a loyal customer base.
· Having an AI powered conversational interface for the hospitals and healthcare services helps to save on the cost of call centers, resource & training costs, also helps in optimizing processes and makes operations efficient.

Streebo Omnichannel Bots in the Healthcare Industry can increase the digital presence of healthcare organizations and provide ease of access to hospital services on the channel of patient preference, which certainly helps in increasing the patient base thus resulting in increased revenue.
What keeps Streebo Ahead to get you Guaranteed Success with its pioneering Healthcare Bots?
Streebo stands out from the competition with its latest, revolutionary ChatGPT-like bots for Hospitals and the Healthcare Services industry. Let's break down the features that make Streebo's chatbot solution so unique.

Built-in Domain Intelligence


Streebo's team with over a decade of experience, holds deep domain knowledge deploying highly intelligent pre-trained Healthcare Virtual Assistants that can emulate the business processes of various Hospitals & Clinics. This gives hospital patients a more personalized experience as the virtual assistants are able to understand patient requests quickly and accurately.

Omni-Channel Experience


Streebo's team with over a decade of experience, holds deep domain Another key feature of Streebo's ChatGPT like advanced, AI-powered Healthcare Bot Solution, is its omnichannel experience. Streebo's Hospitals Chatbot can be deployed across social media channels such as Facebook Messenger, WhatsApp, Instagram, WeChat and even SMS. It can even handle voice channels such as IVR, Amazon Alexa, and Google Home. Additionally, our intelligent, Hospital bots can be deployed to existing digital properties such as websites and mobile apps and Email Service. This ensures that patients have access to the same level of service no matter which channel they use to contact their Hospitals.

Data Security & Compliance


Streebots are powered by technology from leading companies like IBM Watson, Google Dialogflow, and Amazon Lex from AWS. As a result, Data Security and Compliance are two key areas where they are clear winners. Essentially, these Bots for Hospitals, use state-of-the-art encryption technologies from companies like IBM, Google, and AWS to ensure customer data remains secure at all times and comply with applicable regulations.

Access to Unstructured Data


With Powerful Classification, Clustering, Embedding and Generative AI technology available in the GPT platform now it is possible for Hospitals to tap into unstructured information silos as well. This includes Web Pages, Prescribtions, Product Documentation and other unstructured information such as logs, and emails to find the relevant information to the end user. Streebo bots integrated with GPT can leverage this powerful capability and bring the right information to the product sales or servicing cycle at the right time.

Guaranteed Adoption


Hospitals and Healthcare businesses have been struggling when it comes to adopting chatbots due to various challenges, such as lack of technical knowledge, understanding of customer needs, etc. However, with Streebo's bleeding-edge Healthcare Bot solution, businesses can now overcome those challenges quickly & efficiently.

Guaranteed Bot Intelligence Index (BII) of 99%:


Streebo's intelligent, Bots for Hospitals & Healthcare industry comes with a Guaranteed Bot Intelligence Index* of 99% (*BII= No. of questions answered correctly/No. of relevant questions asked). This high accuracy effectively reduces any manual intervention on the part of the hospital's staff, thus improving overall efficiency and performance. Additionally, it provides patients with accurate answers to their queries quickly and easily, allowing them to get the right information they need in no time.

Easy Integration with Backends:


Another key feature of Streebo's GPT 3.5 powered Healthcare Bots is that it comes with the ability to integrate with a wide variety of enterprise backend systems such as Epic, Cerner SAP, Oracle, among other Hospital Management & EHR Software and ERP systems among others. This eliminates the need to manually configure or integrate backends or 3rd party systems which saves both time and resources.

Advanced Chat Analytics


Streebo's Bot analytics dashboard is designed specifically to record and display systemic data, metrics, preferences, and trends which eventually help in monitoring user interactions and can be adapted accordingly to give relevant responses as well as aid business decisions making processes. It enables healthcare organizations to keep track of patients' behavior patterns as well as understand their specific needs so that they can tweak their services accordingly.

Lower TCO


Streebo's advanced, Bot solution makes it a cost-effective solution for Hospitals looking to integrate bots into their customer service & marketing operations without incurring high costs.

Inbuilt Live Agent Support


Streebo's Healthcare Bots also come with inbuilt live agent support, which allows patients to get help from a real person if they cannot find what they are looking for by engaging with the bot. Hospital patients can switch back and forth between the chatbot and live agents seamlessly, ensuring that their queries are answered quickly and efficiently.

Multi-Lingual Support


Another feature that sets Streebo's advanced Healthcare Virtual Assistant apart from other chatbots is its multi-lingual support which allows patients to communicate with it in local languages, including English, Spanish, French and Chinese and 38+ languages. This makes it easier for Hospitals to cater to patients who do not speak English or have limited proficiency in English.

Voice & Chat Support


Streebo's Healthcare super-smart, Bots also support voice as well as text-based conversations making it easy for users to interact with it regardless of their preferred mode of communication. Users can even switch back and forth between voice and text-based conversations within the same conversation thread, adding an extra layer of convenience for customers who may want to use both modes of communication during certain interactions.

Voice Technology from GPT


Streebo Bots also incorporate the latest innovative technologies in voice such as Whisper (beta) from Open.AI and other Speech-To-Text technologies from IBM Watson, Google Dialogflow and Amazon Lex. Whisper is an AI-powered voice platform that helps enable healthcare organizations to better understand their patients and respond quickly with virtual support. STT, or Speech To Text technology, is a real-time transcription service that can scan conversations for keywords to help ensure the correct information is collected from each call. With the help of this modern technology, customer service agents can provide faster, more accurate responses to patients. Faster response time leads to an improved patient-hospital relationship, loyalty and profitability. Thus, whisper and STT technology in general represent an incredibly valuable asset for modern hospitals that seek success in near future

Secured


All customer data collected by Streebo's GPT 3.5 powered Bots for Hospitals is securely stored on its servers which ensures that any personal or confidential information shared by customers remains safe at all times. This helps Hospitals provide peace of mind to their patients while interacting with the bot, knowing their data is protected against unauthorized access or misuse at all times.

Customization


Streebo's cutting-edge, GPT 3.5 powered Hospital and Healthcare Services Bots offer Hospitals & Clinics an unparalleled level of customization that allows them to tailor their chatbot experience specific to their needs and preferences. This level of customization allows Hospitals to create unique experiences for patients that are tailored specifically for their target audience - something that is essential for any organization looking to attract new patients or retain existing ones in today's highly competitive marketplace.

Open Standards


Streebots are just solution assets and all source code uses open-source standard frameworks such as Java, J2EE, Javascript, node.js, et al. The solution code is open and available to customers and partners to further customize it. There is no dependency on Streebo for any solution asset that is delivered as bots. Customer or partner can take over the internal enhancement and maintenance of the bots at any point.
Pricing Options
MVP(Minimum Viable Product) Bot includes:
3 transaction used cases

1 back-end integrations

50 FAQ's

Channels – Web, Mobile App, 1 Social media channel
such as WhatsApp/Facebook messenger

Capex Option
You can choose to buy the MVP Bot.

Opex Option
You can choose to Subscribe to the MVP Bot for a fixed monthly charge with no upfront setup fee.

Pay Per Usage
This is a conversation-based subscription and tied to the number of conversations & messages the bot handles. Thus you only pay if the Bot is getting used and is actually deflecting calls.
Final Food for Thought for Healthcare Leaders! The Growth Mindset!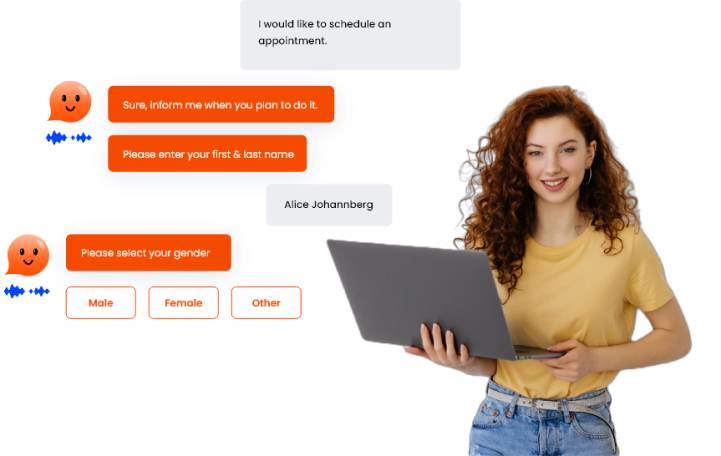 Recent studies for healthcare industry showcase that the developing trend of leveraging chatbots and cognitive assistants can greatly reduce costs, improve customer service and satisfaction ratings and handle up to 75-90% of healthcare queries by 2025. However, the Healthcare Industry will be one of the most customer-driven industries in the world and is started transforming it systems and leveraging AI & Bot technologies.

If healthcare organizations want to keep up with the increasingly fast-paced market, quick action must be taken to address these issues related to adoption of these communication channels in order to boost productivity and ensure customer satisfaction. Streebo's bleeding-edge bots for Hospitals and the Healthcare organizations are transforming the way Hospitals & Clinics interact with their patients by providing an unprecedented level of accuracy and customization while reducing costs. So, if you're looking for ways to stay ahead of the competition, then Streebo's revolutionary ChatGPT powered bots are just what you need.
Disclaimer: ChatGPT and GPT are registered trademarks and terms fully owned by Open.AI. The Author has used the term "ChatGPT for Healthcare" to convey the idea of a ChatGPT kind of Bot, but for Healthcare .
So, what are you waiting for?
Make a visit to our bot store and book a demo today to preview the library of entire Smart Solutions.
Book your demo today!!