Hire Expert ChatGPT developers to power your next AI-driven Project
ChatGPT has added a new dimension to the world of AI with significant strides in research and development. Developed by OpenAI, ChatGPT is an indispensable tool that has opened new doors to a wide range of possibilities. With more than 175 billion parameters, ChatGPT is one of the largest language models that offer effective AI interaction and generate contextually relevant answers to the broad array of questions. They are especially useful in high velocity output environments.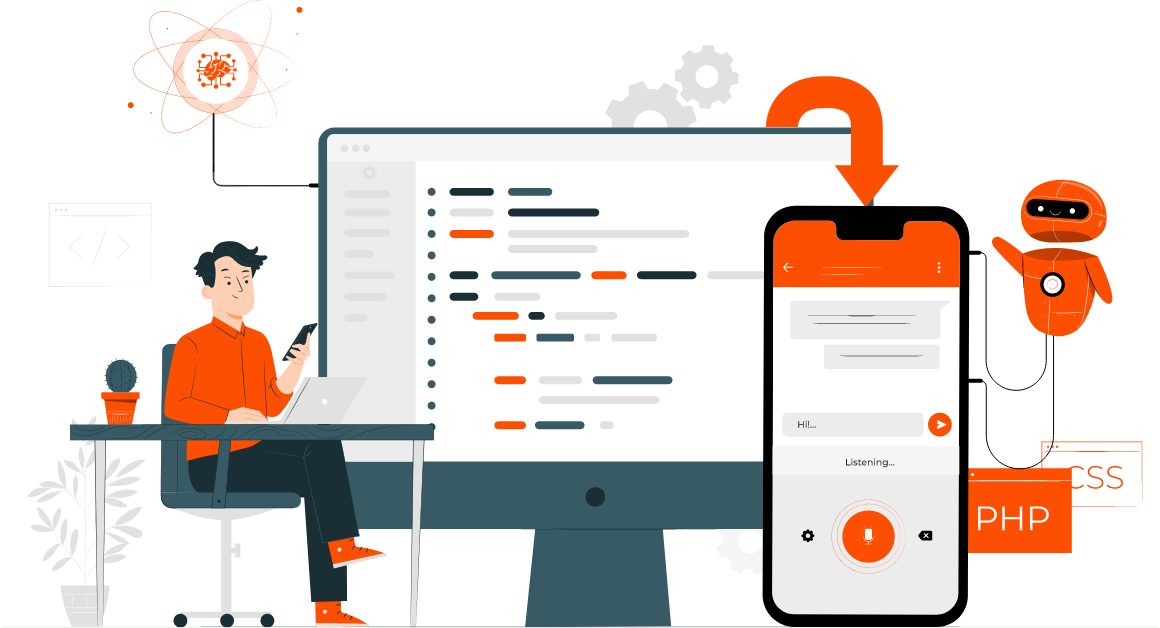 The ChatGPT developers have made huge contributions in advancing the state-of-the-art natural language processing technologies and created powerful and advanced chatbots while automating the language translation systems. ChatGPT has brought about significant advancements in the development of chatbots, particularly in areas such as Dynamic and Comparative responses, Continual learning, Data Classification, and Speech & Text recognition. This has led to a surge in the adoption of chatbots across various industries.

However, to fully leverage the capabilities of ChatGPT, it is crucial to work with ChatGPT Experts who have the technical expertise and experience to develop chatbots that maximize its high-tech features. These experts are equipped to create custom solutions that cater to the unique needs of businesses and ensure optimal performance of chatbots powered by ChatGPT.
Leverage the Proficiency of Our Talented ChatGPT developers in your Business Model
At Streebo, our team of skilled ChatGPT developers can provide comprehensive assistance with tasks ranging from ChatGPT model integration to developing software solutions that take advantage of the capabilities of AI, ML, and NLP. Our developers possess a deep understanding of AI models and can create bespoke ChatGPT powered solutions tailored to meet the unique needs and goals of your business. We specialize in building customized AI solutions that are designed to meet the specific requirements of your business.

Let us explore in detail- how our team of ChatGPT developers can revolutionize your business and what steps can be taken to enlist their services.
ChatGPT Integration Consultation
If an enterprise needs expert advice on the potential benefits of ChatGPT integration with their software, our team of skilled consultants can give comprehensive assistance. Our highly qualified consultants can provide valuable insights into the capabilities of ChatGPT and how it can be leveraged completely to meet the business requirements.

They can guide you through the entire process – from understanding your business needs to provide ongoing maintenance ensuring that the incorporation of NLP-based software and ChatGPT model operate effectively with exceptional outcomes.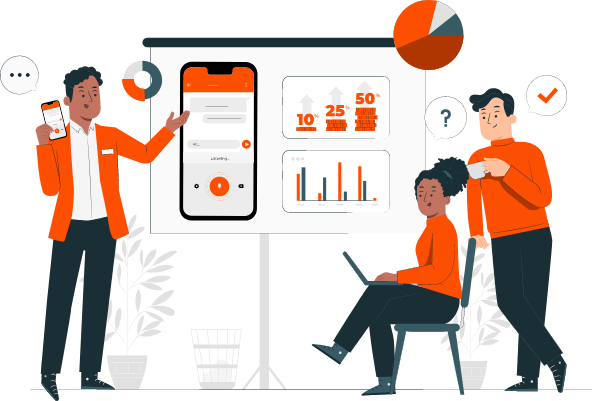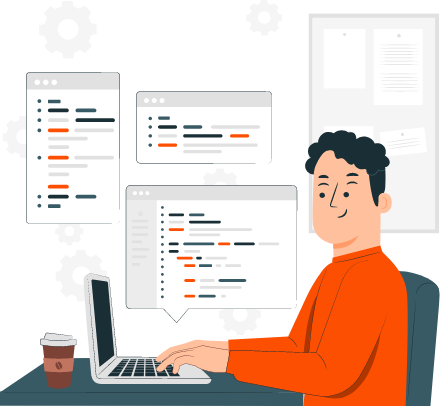 Prompt Engineering
The prompt engineering quality of our GPT product developers is a testament to their expertise in the field. Our highly skilled ChatGPT developers possess the capability to craft and tune chatbots with ChatGPT capabilities that are capable of understanding and responding to users' queries with precision and accuracy.

Their proficiency in enterprise-grade NLPs and AI for versatile industries make them an asset to any organization. With our ChatGPT specialists, businesses can fully leverage the power of AI and NLP in their operations.
Fine-tuning the ChatGPT Model
Our team of ChatGPT developers are well-versed in providing end to end support from model training to deployment of the model in a production environment. If you want to train or customize the ChatGPT model with new datasets, look no further.

Hire our ChatGPT experts to have prompt assistance with data planning, collection, pre-processing and fine-tuning existing models ensuring evaluation and deployment of ChatGPT model with custom dataset on time.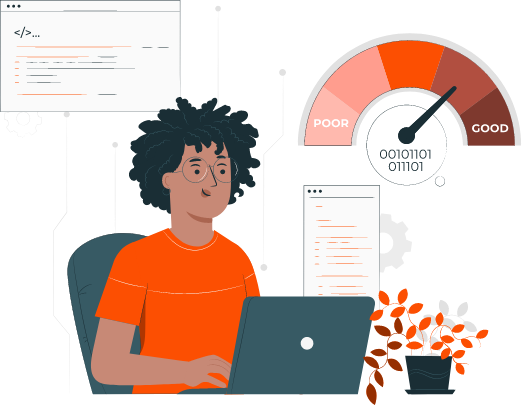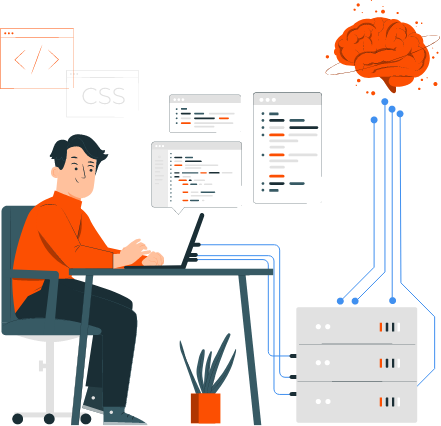 NLP-based Software Development
Our talented ChatGPT developers' expertise in NLP-based software development to create custom virtual assistants that can analyze sentiments and understand unstructured data to provide relevant and timely responses are highly sought after by businesses looking to expand their chatbots adoption rate.

Our team of GPT developers is capable of assisting you in accomplishing your objectives, whether it involves automating recurring tasks, enhancing decision-making capabilities, or delivering superior quality services.
ChatGPT API integration
The capability of our ChatGPT developers to incorporate the ChatGPT API empowers enterprises to harness the advanced natural language processing and machine learning capabilities of the model, improving their chatbots' efficiency. This functionality offers companies a powerful means of enhancing customer satisfaction and interaction.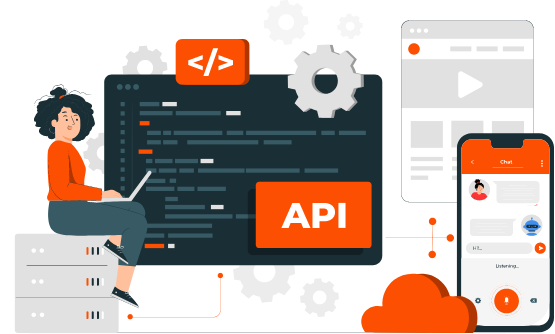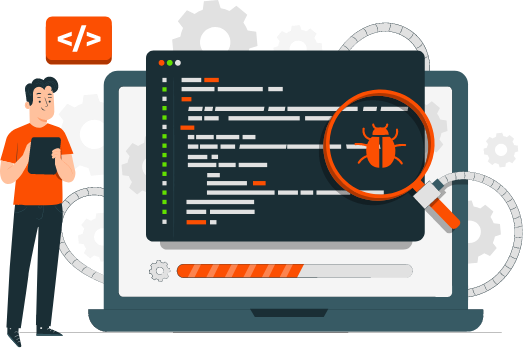 Testing and Debugging of ChatGPT Model
If you are seeking to assess the effectiveness of integrating the ChatGPT model into your solution or need to troubleshoot and identify potential issues and risks, look no further. Hire our ChatGPT specialists to assist you.

Our specialists can evaluate risks, test response accuracy, and guarantee that the ChatGPT-powered chatbot solution meets your desired expectations. With our team's assistance, you can ensure that your chatbot solution functions seamlessly and efficiently.
Utilize the power of Artificial Intelligence and take your ROI to great heights right away
Key Highlights of Streebo's Chatbot development Services
+


Happy Clients World-Wide
85%


Repeated & Referral business
The Development Process for our ChatGPT powered solution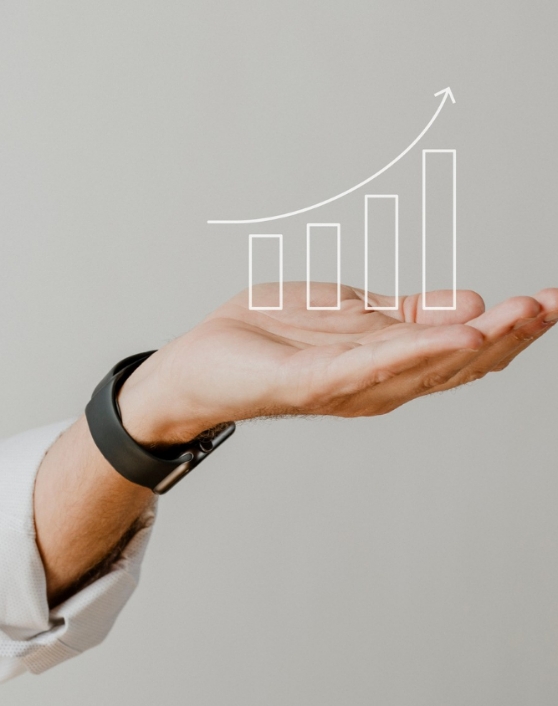 Our development team closely collaborates with the client to understand the business objectives and requirements. This information enables the team to identify suitable solutions that meet their needs.
After understanding the client's requirements, our team of ChatGPT experts create a comprehensive plan for the project that outlines the scope of the project, set timelines and milestones, identify resources and determine the cost of the project.
After planning, our team of skilled ChatGPT developers start the process of developing your project. This stage consists of three necessary procedures including data collection, model training and model deployment into the production environment. Firstly, the data collected is organized and processed, then it is used to train the Open.AI or ChatGPT model. After successful training, the model is deployed into a production environment.
After deploying the model, our development team conducts thorough testing and optimization to ensure that it aligns with the client's specifications. This phase enables them to detect and address any potential problems, glitches, or performance limitations that may arise. Once the application is ready, our team deploys it to your servers or hosting platform.
Our team provides continuous maintenance and support to ensure the uninterrupted performance of your GPT powered chatbot solution.
Why Choose our ChatGPT developers for Futuristic Solutions?
Streebo, as one of pioneers in ChatGPT development, is at the forefront of AI innovation & advanced chatbot solutions with an extensive track record of delivering successful chatbot solutions to businesses of all sizes.

Our ChatGPT developers create powerful chatbot solutions powered by leading NLPs like IBM Watson, Microsoft CLU, Amazon Lex, Google DialogFlow and GPT together- that can simulate human intelligence, gather and streamline valuable data for precise and effective results that align seamlessly with the unique requirements and preferences of enterprises.

With a track record of 200+ successful projects and custom chatbot solutions, we assist in various business verticals from inception to the completion of project.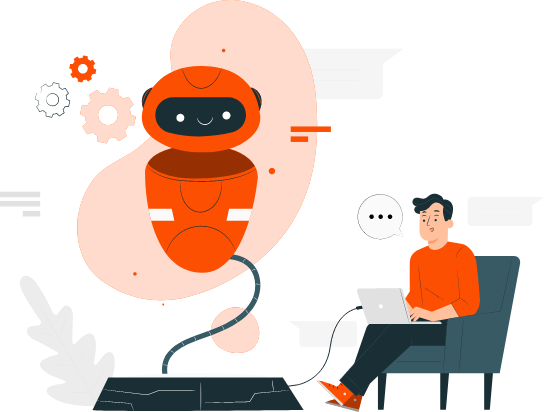 Our ChatGPT professionals possess a wealth of experience in crafting custom NLP-based software and provide continuous maintenance and upgrades. We combine cutting-edge technology with unparalleled expertise to deliver results that are truly game-changing.

Our Expertise in AI Models
As a leading ChatGPT development company, we strive to constantly improve our skills, and innovate our services with the latest technologies. Hiring Whisper developers from our ChatGPT development company ensures that you have access to one of the most innovative and advanced AI models with the best AI experts in the industry today. Whisper is the latest AI model released by Open.AI, and our developers are proficient in using it to create powerful chatbot solutions. Our developers also have expertise in other advanced AI models like GPT 3, GPT 3.5, GPT 4, Dall.E and more, which allows us to build custom solutions. By utilizing the best and the latest AI models – our developers are committed to delivering the best-in-class chatbot solutions.

On-time Project Delivery
Our team is dedicated to meeting project deadlines and delivering high-quality solutions. We understand the significance of timely delivery, and our team works diligently to ensure that our clients receive their ChatGPT powered solutions promptly and as expected.

Flexible hiring models (Part-time, Full-time, Hourly)
As a service oriented ChatGPT development company, we believe in providing tailored solutions to our clients to ensure maximum satisfaction. To accommodate their diverse needs, we offer flexible hiring models that allow them to hire our developers on a part-time, full-time, or hourly basis. This approach has proven to be effective, as our clients have reported an average cost reduction of 30% and an increase in productivity by 20% by utilizing our flexible hiring models.

Remote ChatGPT Developers with Expertise on World-Class NLPs
With our team of remote ChatGPT developers, businesses can leverage the expertise of world-class NLPs such as IBM Watson, Microsoft CLU, Amazon LEX, Google DialogFlow, and GPT from Open.AI without any geographical constraints. This results in a powerful combination of cutting-edge technologies that can improve customer engagement and satisfaction. In fact, Our GPT-powered chatbots have helped our clients increase customer engagement and satisfaction by an average of 50%. This demonstrates the efficacy of our solutions and the proficiency of our developers.

Quick Team Set-up & Scaling
Our quick team set-up and scaling ensures that our team of ChatGPT experts can provide required support and services to the clients promptly and efficiently.

NDA signing
We prioritize maintaining security and confidentiality of client's sensitive data. We value the trust placed in us by our clients and take measures to protect their intellectual property and trade secrets throughout the development process. Therefore, we make it a point to sign a non-disclosure agreement (NDA) before commencing any project to ensure complete confidentiality.
From Integration to Maintenance-Our ChatGPT developers have got you covered!
Businesses can take advantage of the potential of ChatGPT powered chatbots to transform customer service, marketing, and sales. However, to make the most of this opportunity, it is essential to invest in the right technology and talent. Expert ChatGPT developers can help develop top-quality chatbots with ChatGPT capabilities that are tailored to the industry and audience of a business. Consequently, this can lead to a significant increase in chatbot adoption rate, resulting in enhanced customer satisfaction and a surge in ROI.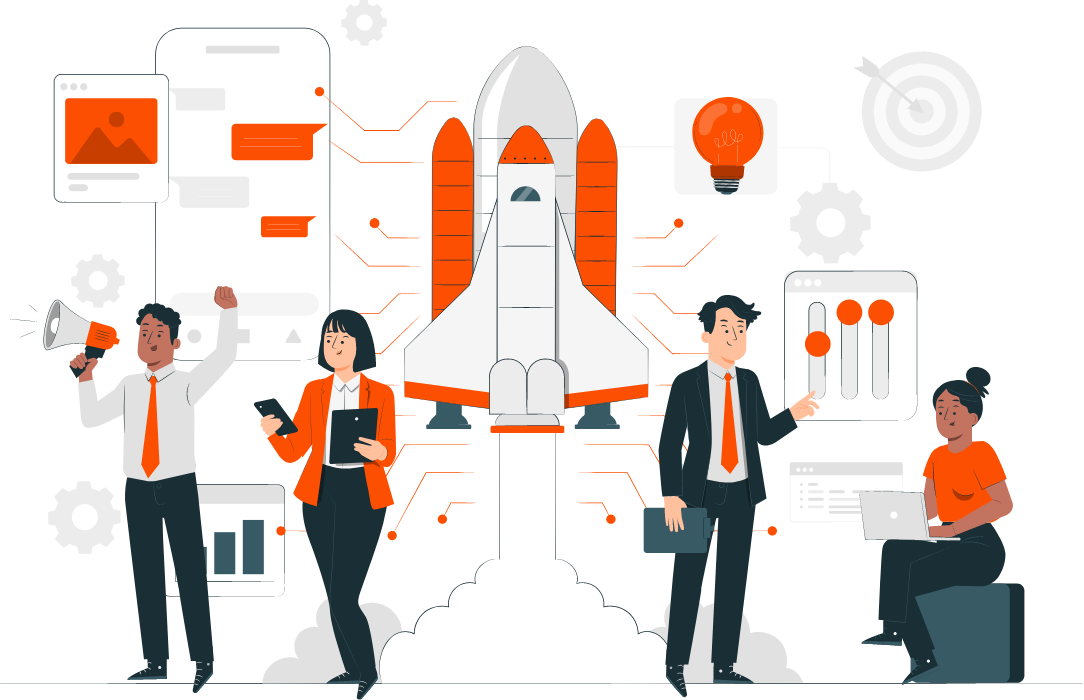 Our team of ChatGPT developers provides a comprehensive range of services, from the initial planning and development phase to ongoing maintenance and support, ensuring that your AI-powered chatbot is expertly handled at every step. Our expertise in data analysis, research, fine-tuning, and programming languages ensures that we deliver the best-in-class chatbot solutions. With a proven track record of successfully delivering 200+ custom software and mobile solutions, our ChatGPT developers have the skills and experience to help your business achieve its goals.
So, what are you waiting for?
Contact us today to help you bring your ideas to life and let our team of skilled ChatGPT developers help you build futuristic solutions that will take your business to unprecedented heights!
Schedule your demo today!!