Streebo to showcase its smart apps at IBM InterConnect 2017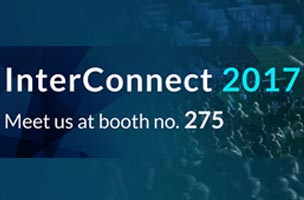 Houston, TX – March 9, 2017 :
Streebo Inc., an IBM Gold Business Partner, today announced its participation at the upcoming IBM InterConnect 2017 conference to be held in Las Vegas, Nevada during 19-23 March.
InterConnect 2017 is a premier cloud and mobile conference hosted by IBM with 2,000+ interactive sessions, 200+ exhibitors and business partners, offering countless opportunities to meet technology and business leaders from various industries across the world. To learn more about this conference.
At the InterConnect, Streebo's Sales Director, Bill Swatling, and Product Manager, Vaishakh Nair, would also be presenting on
Streebo Mobile Forms
, a breakthrough mobile automation technology, to convert your paper or web based forms into mobile within minutes !! Click here to add this session to your calendar.
Streebo is excited to be an exhibiting partner at Booth #275 at the InterConnect Solution Expo to held at Mandalay Bay North, Level 0 – South Pacific C. Visit the booth to learn about their award-winning suite of adaptive, cognitive apps built for multiple industries ranging from Banking, Insurance, Healthcare, Telecom to domain-specific apps.
About Streebo Inc.
Headquartered in Houston, Texas and offices across the globe, Streebo is a Premier IBM Business Partner and a global provider of enterprise mobility and omni-channel solutions. Listed in Inc. 500 l 5000 list as Top 300 IT Services Co in the US and recognized and awarded with various other industry accolades, Streebo continues to deliver the breakthrough mobile solutions across industries. For more information, visit:
www.streebo.com.