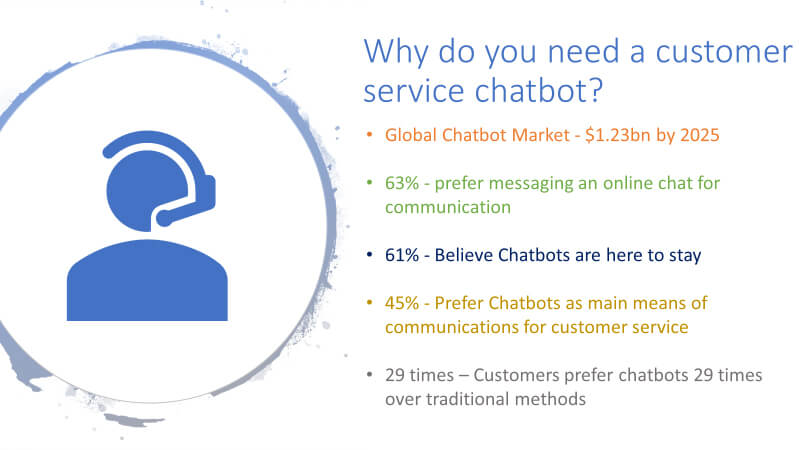 Industry-wise use cases for AI-powered Chatbots for Customer Service!

Isn't it a hassle answering repeated questions again and again? Don't you think your customer service representatives could do a more intelligent job rather than just answering no-brainer questions?

That's where a customer service chatbot comes into picture. Most of the industries have a customer service department and Streebo could help all such industries save a lot on their costs with customer service chatbots powered by IBM & Streebo!

Have a look at how customer service chatbots could help the major industries:

Banking
A survey by Capgemini says: Only 37% of customers believe that banks understand their needs and preferences adequately
According to McKinsey, improving customer experience increase customers likelihood to renew or buy new products by 30-50%
Customer Service Chatbots in banking can help you retain your existing customers by providing them instant responses professionally on any query they have.

Aren't your customers tired of holding the phone for a long time with no solution to their questions?

Here is an example of how customer care chatbots for banking can reduce the hassle.

Select the one you want to block:
XXXX XXXX XXXX 1234
XXXX XXXX XXXX 3344
You card has been blocked. Can I help you with anything else?

Things a customer care banking chatbot can do for you:
Solve card related queries
Update information
Buy products
& more

Insurance
A research by strategy meets actions says that 45% of insurers say that changing customer expectations is the business driver triggering investments in new technologies
An Accenture strategy reports says that customers churn because of declining loyalty and poor customer experiences represents as much as $470 billion Life and Property & Casualty premiums globally
An Accenture strategy report also states that Less than one-third (29%) of insurance customers are satisfied with their current providers
Don't you think keeping your customers satisfied is important? It is said that 'customer is the king'. Customer Service Chatbots for Insurance could help you increase revenue by decreasing customer churn.

Here's an example on how quickly chatbot can fetch data and share it with the customer:

Hey John, how can I help you?
Can I know due date for my auto insurance?
Sure. Your due date is 5.5.2019
Do you want to know anything else?

What can a customer care chatbot for insurance do for you?
Answer any queries on policies
Buying/ Knowing more about new products
Information update & more
Retail
As a Chatbots Magazine, businesses can reduce customer service costs by up to 30% by implementing conversational solutions like virtual agents and chatbots
A survey by PWC says that 74% of consumers used voice search in the past month and their daily use of voice search is up 27% compared to last year
Customers today expect a lot and you need to meet their expectations at any cost to meet competition. Retail customers place orders day in and day out and there are times when they face problems or have questions regarding the order. Now calling on a number that takes a lot of while to answer or emailing makes it a long process, so customers are generally irritated when there are problems with the other.

Here's an example of how effective a customer service chatbot can be for the retail business:

Hey Kathy, how can I help you?
I want to change my delivery address
Can you please type your order number?
Can you tell me you revised delivery address?
45- Cameron Street, Texas, USA
We have changed your delivery address. Do you want to make any other changes?

Things a customer care retail chatbot can do for you?
Order related queries – changes, cancellations, problems & more
Payment related queries
Updating existing information & more
Airline
Surveys and forecasts show rapid adoption of chatbots by airlines by 2020
92% airlines plan to invest in initiatives for passenger services
Airline is one of the most consumer centric industry and one of the main factors that define the success of an airline is it passenger experience and level of customer service. Customer would easily switch to another if you don't keep them satisfied. Customer needs quick response and solutions.

Here's an example on how customer service chatbots for airlines can keep the customer satisfied.

Hey Martin, how can I help you?
Could you please let me know your flight number?
The flight is on time and departure time is 6.00pm. Do you want to know anything else?

What can Customer Service Chatbots for Airlines do?
Solve Booking related queries, cancellations
Ask about payments, refunds
Check on free meals, book meals, book seats & more
Telecom
30% of customer support cost can be saved with Chatbots
Customer service chatbots can help speeding up response times and answer 80% of the routine questions
Telecom industry is facing a lot of competition and the only way to stand out is customer service. But the customer support in the industry is too complex. The customer support receives a lot of calls every day for different queries and each customer has to wait for long to get to talk to a customer support executive.

Here's an example on how a customer service chatbots for telecom would provide 24*7 response instantly!

Hey Lara, how are you doing?
I need to switch my data plan from 500MB/day to 1GB/day
Sure. You plan has been updated. Do you need any other support?

There are many other industries other than the one's mentioned above where customer service chatbots play are key role!

Streebo Chatbot
Streebo's Customer Service Chatbot is one of the best chatbots in the market. It is built on top of IBM Watson Technology and Streebo Digital Experience Accelerator. It is a no code low code tool that can be seamlessly integrated with any backend with a point and click. It is easy to use for Line of business. Streebo's single code base technology helps develop chatbots is half the development time and cost. It can be integrated with web, app, WhatsApp, Facebook or any other social channel. Want to know more about Streebo & IBM powered customer service chatbots?