Global Pandemic has accelerated Digital Transformation across various sectors and has resulted into a shift in the digital traffic. As per TechCrunch's report, 40% digital traffic has been surged across social media platforms. As foot fall in branches have fallen, asynchronous channels like SMS and FaceBook (FB) Messenger are in vogue. Hence, Banks have to extend their online presence to those platforms where their customers are spending maximum time which in this case is WhatsApp, FB Messenger and SMS. Assigning real humans to these channels to answer customer queries is cost prohibitive. On the other hand advances in Artificial Intelligence and Natural Language processing has made it possible to assign Virtual assistants or chatbots to manage these social media and sms channels. Thus, to provide quick, consistent, 24*7 customer service and to increase customer outreach WhatsApp, FB Messenger and SMS Banking Chatbots have become a need of an hour.
How to get Started? Solution – Streebo's Banking Bots powered by IBM Watson
At Streebo, we have Combined technology from IBM with our Banking domain expertise to create a series of Banking Bots that can be deployed across channels including web, mobile, whatsapp, FB messenger and SMS. Streebo's IBM Powered Banking Bots are very intuitive and highly intelligent and are integrated with social media channel such as WhatsApp, FB Messenger, SMS, among others. All the Banking transactions such as Fund Transfer, Loan Application, Bill Payment requires all the confidential details of the customer and hence the banking transactions which happen via voice and chat have to be highly secured. Hence, Streebo's Banking Bots are integrated with the leading Natural Language Processing (NLP) engine from IBM – Watson Assistant and leverages Streebo's Bot Builder tooling. It is a highly secured platform and uses an open standard.
Business Benefits
Apparently, banks that have deployed this AI Powered WhatsApp and SMS Bot have seen 90% success rate in customer interaction and will save about $0.60 per chatbot interaction.
Hence by rolling out IBM AI Powered Banking Bots and Conversational Interfaces across channels like web, mobile, whatsapp, fb messenger and sms – Banking Sector will witness benefits such as:
Decreased Operational Cost as the customer queries will be handled via chatbot itself and will remarkably increase the conversion rate by 15%.
Increased Revenue & Customer Outreach because of the extended presence on multiple digital channels such as WhatsApp, Facebook Messenger, SMS among others.
Increased Productivity by automating business processes.
Round the clock Customer Query Resolution which will significantly increases Customer Satisfaction rate and Customer Retention rate
Hence Virtual Assistants will not only be cost effective but will also ease out business management by providing automated customer support.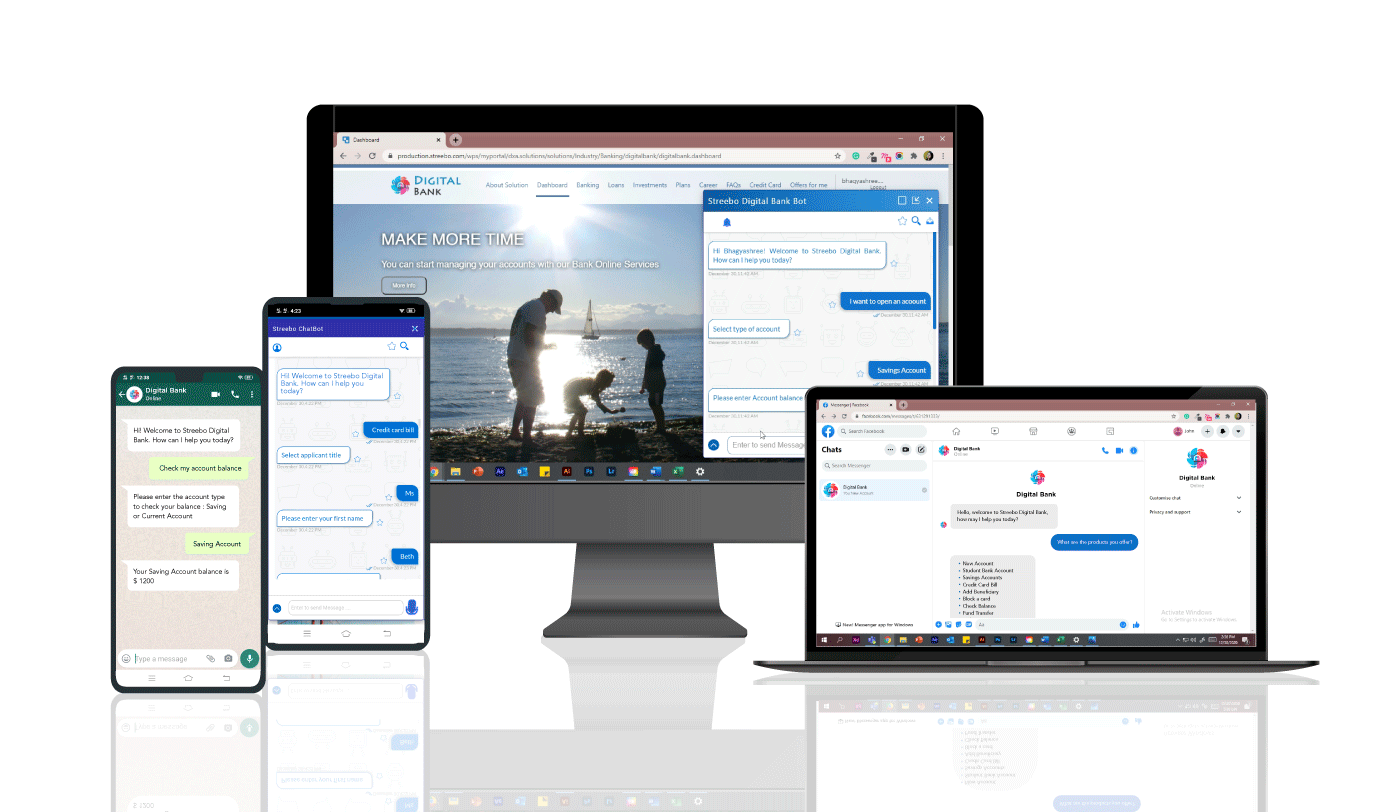 Why Streebo's Banking Bots:
Streebo in partnership with IBM has developed highly intuitive, powerful and secured Banking AI Powered Chatbots which can be deployed across channels like whatsapp, fb messenger and sms. Further, they can be extended to any financial/banking institutions existing digital properties such as internet banking site and their mobile app. Streebo's IBM Watson Powered Banking Bots have the capability to cater use cases for Customer Facing, Employee Facing and Agent Facing Bots.
Key differentiators of Streebo's Pre-Trained and pre-integrated IBM Powered WhatsApp and SMS banking bots.
Built in Domain Intelligence –Streebo in collaboration with its technology partner deploys highly intelligent pretrained Bots that can emulate business processes pertaining to various Banking and Financial Sectors.
Omni-Channel Experience –Streebo's Banking Bot can be deployed across social media channels such as FB Messenger, Whatsapp, WeChat, Skype and even SMS. They can even handle voice channels such as IVR, Amazon Alexa and Google Home. Bots can even be deployed to on web (existing Internet Banking site) and mobile (existing mobile app)
Application Platform technologies include support for standard J2EE engines including IBM WebSphere or JBOSS and can be deployed as standard Docker and Kubernetes packages on platforms such as RedHat OpenShift.
Pre-Integrated with Backends – Streebo's IBM Powered WhatsApp and SMS Banking Bot comes in pre-integrated with common core banking systems such as SAP Core banking and Finnacle.
Flexible Deployment Options – Streebo's Pre-Trained BankingBot can be deployed on-premise or on IBM Cloud, Microsoft Azure, Amazon AWS or Google Cloud Platform.
Ease of Development & Maintenance – Streebo's Pre-Trained Banking Bot is built using open standards such as Java and Javascript. Also comes bundled in with Streebo's bot Builder a low code no code tooling to assemble, integrate and manage the bot. Thus, making it easy for both Line of Business and people in IT with minimal or no background in Artificial Intelligence to assemble, integrate and manage the bot moving forward. Streebo's bot builder is an optional development only tooling that customer can choose or they can directly develop and manage it using standard IDEs such as Eclipse and Visual Studio
Our IBM Powered WhatsApp and SMS Banking Chatbot Supports Below mentioned Features:
Omni-channel Solution
Secured
Multilingual Support with support for over 38 languages
Support for both voice and chat channels
In built Live Agent Support
Our pretrained Banking Bots are trained in the following Banking Functions:
Customer Facing Bots:
FAQs
Branch Locator
 Open an Account
Apply for a Credit Card
Apply for an FD
Avail a Loan
Personal Loan Calculator
Learning Center (Videos/Articles)
Talk to a Live Agent for assistance
Check Balance
Check last 5 Transactions
View Account Statement
Add Beneficiary
Fund Transfer
Apply for Mortgage Loan
Block Credit/Debit Card
Multi Factor Authentication
End-to-end 256 bit encryption
Check/Download Statement
Check/Download FD Summary
Request a Cheque Book
Reset PIN
Bill Payment
Mobile Recharge
Track Loan Application
Update KYC
Submit Fom 15G/15H
Update Personal Details
Value Added Services –
All type of Recharges (Mobile, Data card, DTH), All type of Utility Bill Payment and Wallet Recharge, Travel Booking (Cab, Bus, Rail, Flight), Hotel Booking, Holiday Booking, Movies (One Third party integration), Browse plans for recharge
Rewards Point – Balance, History, Redemption, Queries
Find IFSC
Agent Facing Bots can manage the following banking functions:
FAQs
Branch Locator
Check offers/contests
Performance Management
Check customer list
Filter customers to check individual customer details
Check customer specific offers and reminders if any
Open an account on behalf of customers
Multi Factor Authentication
End-to-end 256 bit encryption
Agent Registration and Password Reset
Role Based Login – Access Control
Agent Dashboard –
DD collection, RD collection, Services, Share Purchase, Request info and Mini statement.
New Member Creation
Request Information and Tracking Customer Service Requests
Add/View/Update customer KYC details
Investment Calculator
Talk to a Live Agent for assistance
Find IFSC