Chatbots – A recent technological advancement that has taken the world by a storm. It has created such a buzz in the business landscape, that all industries find it imperative to integrate a chatbot with their systems to automate processes and stay current in the market. The major players of various industries have already started using chatbots and are experiencing significant early mover benefits. AI-powered chatbots have repeatedly proven to be the next big technological wave, since it is gradually becoming the most preferred channel of interaction between customers and businesses.

The restaurant business is one of the prime targets of the chatbot era. Since it is highly dependent on customer service, a secure and scalable conversational interface is essential to deliver exceptional customer experiences round the clock. Customers pick places according to their past experiences – the service, special deals, waiting lines, personalized food recommendations and more. A chatbot can take care of all these things for thousands of customers at the same time!

Chatbots are becoming increasingly popular – 69% users prefer a chatbot over any other channel of communication as they give instant and accurate responses 24*7. Whether its booking a table, giving feedback, registering a complaint or seeking response to an FAQ, restaurant chatbots allow customers to avoid going through the AVMs or long email chains and speed up the entire process. Chatbots are adept at engaging customers and building a pool of loyal customers through their personalized services.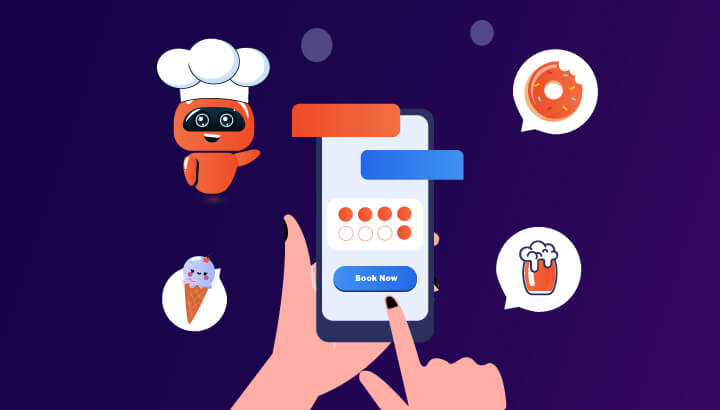 Here are a few use cases, where chatbots can help restaurants up their game!
Reservations and Orders: Chatbots can help customers make reservations and place their orders before-hand, thus lowering waiting lines and increasing turnaround time. It also eliminates the possibilities of human error which builds the customers' trust and loyalty.

Personalized Recommendations: Chatbots can store customer data to understand their preferences and use it to provide recommendations during their next visit. It also helps employees understand customers' choices which in-turn enhances customer service.

Special Offers: Chatbots can recognize repeat customers and can differentiate them from customers who haven't visited in a while. Chatbots can with engage them through personalized offers on channels of user's choice like WhatsApp, Facebook Messenger etc. and encourage them to visit often.

Feedback: Restaurant reviews are vital as customers choose places after checking the feedback of previous visitors. Chatbots can leave reminders or send automated emails to customers, asking them to provide feedback, thus eliminating the tedious task of going to each visitor individually for their reviews.

Chatbots are not just a fad – they are gradually changing the way businesses function. Leveraging the most out of an intelligent chatbot is of utmost importance for any restaurant. It allows employees to focus on food preparations and improving on-ground service while engaging customers through various deals and offers and collecting customer data. Equipped with all the necessary customer details, they help restaurants offer a delightful experience and in generating customers. Chatbots open up an entire new customer segment of tech savvy customers and take customer service and engagement to the next level!

Streebo is an expert at building bots and can become your go-to partner for all you chatbot needs! With their low or no code tool, they can build secure and customized chatbot for restaurants at a 50% lower development time and cost. What are you waiting for? Get in touch for a personalized demo today!