Accelerate Enterprise Digitization
with Electronic Forms
Improve your enterprise data collection, route information faster with Streebo Mobile Forms
Mobilize your business with our easy-to-use form builder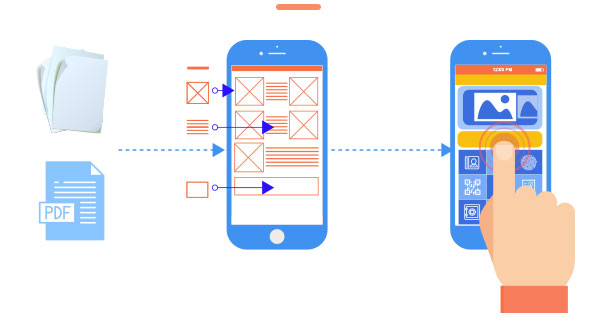 Smartphone usage is on the rise and all your customers and employees are moving away from paper or web usage and increasingly relying on their smartphones for daily transactions. Capturing information digitally and routing it to concerned authorities quickly is essential! Electronic Forms are the way to converting your paper or PDF processes to mobile fast. Streebo Mobile Forms is one of the leading form building tools to convert your PDF or spreadsheet processes to Mobile with minimal coding required.
Optimize Business Processes with Superior Workflows
Streamlining information flow across the organization through automation or transferring documents across the organization is one of the crucial aspects in increasing productivity and ensuring that work gets done on time. Electronic forms allow you to manage the flow of information across your enterprise by sending information directly to the relevant employees. Mobile Forms make it simple to send information for approval or review to your manager. You can thus save time and money by moving your documents digitally.

Whether your work on a field or in the office, Streebo Mobile Forms provides you the flexiblity to access your electronic forms anytime, anywhere with offine support. Additionally, you can now leverage the device features like camera, GPS and e-signatures to improve the quality of data capture and help in faster decision making.
Forms Mobilization Opportunities across Industries

Banking
Customer Onboarding
Loan Applications
Financial Planning

Field Services
Site Audits
Job Completion Reports
Safety Updates

Insurance
Policy Applications
Beneficiary & Liability Certificates

Manufacturing
Plant Inspections
Production Reports
Job Scheduling & Timesheets

Government
Customer/Citizen Petitions
Tenders
Application Forms

Healthcare
Satisfaction Surveys
Registration & Enrollment Forms
Medical Information Sheets

Construction
Work orders
Inspections & Assessments
Job reports

Transport & Logistics
Vehicle Inspections
Delivery Confirmations
Timesheets

Energy & Utilities
Audits & Equipment Inspections
Compliance
Work Orders
Benefits of Electronic Forms

Increased Data Accuracy
Electronic forms help in enhancing data accuracy with data validation and pre-populated fields.

Superior Data Quality
With features like image capture, e-signature, GPS and more, you can improve the quality of your enterprise data.

Streamlining Information Flow
With workflow support, information can be routed to managers for review & approvals, thus streamlining back-office processes

Increasing Employee efficiency
Drive employee productivity with information at their fingertips and helping them reduce the time involved in routing information and working away from office.