Streebo Inc. is proud to be associated with GITEX 2016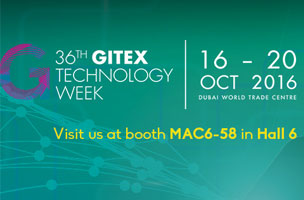 Streebo Inc. is proud to be associated with GITEX 2016
United Arab Emirates (UAE)
October 1st, 2016: Streebo Inc. a leading IBM Premier Business Partner today announced their participation at the upcoming GITEX 2016, to be held at the Dubai World Trade Center, UAE during 16-20 October.
GITEX is the 3rd largest technology event on the planet and expected to drive more than 150,000 professionals this year. This year, GITEX will allow technology companies to highlight their capabilities in the areas of Virtual Reality, Augmented Reality, Artificial Intelligence, Wearables, Smart Living and Digital Marketing. highlighting their capabilities in.
At Booth # MAC 6-58 in Hall 6 at GITEX, Streebo will demonstrate its award winning suites of Enterprise ready apps for Banking, Insurance, Financial Services and Utility industries, and cross-industries solutions, such as – Mobile Forms. For GITEX participants, Streebo would also offer its complementary 'Digital Experience Assessment Program' and will provide hands-on experience to Streebo's apps.
To know more about Streebo's participation at GITEX 2016, visit
www.streebo.com.
Stand a chance to win free passes by registering for
GITEX here
.
About Streebo Inc.
Headquartered in Houston, Texas and offices across the globe, Streebo is a Premier IBM Business Partner and a global provider of enterprise mobility and omni-channel solutions. Listed in Inc. 500 l 5000 list as Top 300 IT Services Co in the US and recognized and awarded with various other industry accolades, Streebo continues to deliver the breakthrough mobile solutions across industries. For more information, visit:
www.streebo.com.