Imagine, if you have a dedicated assistant across this business ecosystem to communicate between departments, with vendors, and with customers. Wouldn't the system become more efficient? Chatbots have now grown from being purely customer facing to being Conversational AI assistants. Enterprises who have their vision set on future, know that the future belongs to bot assisted processes. Well, this does not mean that bots are going to replace humans, bots will, however, provide a voice and chat activated interface to assist human in making processes error-free and efficient.

The role of chatbots has transitioned from being just a responsive assistant; today bots analyze data and provide key metrics that drive better business decisions, they optimize internal business processes and make predictions based on logs of recorded data. The bots with advanced underlying AI technology are intelligent and can also be trained to understand a wider spectrum of questions. However, if you think chatbots have a limited role to play within enterprises then let me tell you, government organizations are also now investing in chatbots to ramp up their infrastructural facilities and services. Many governments across the world, have implemented or are planning to implement an AI infused public transport system.

In a recent study on "What is the future for artificial intelligence in public transport systems" conducted by UITP Asia-Pacific Centre for Transport Excellence (AP CTE1), co-funded with Land Transport Authority of Singapore it was found that AI is making inroads into the public transportation sector. "More than ever before, the future of our cities relies in part on our capacity to redefine public transport with a people first mentality", Pere Calvet, UITP President.

Well known metro network companies like the East Japan Railway Company (JR East), MTR Corporation and Transport for London are using AI infused conversational assistants to facilitate inquiries about millions of trips for thousands of customers each day! Paris and India have revved up the game as well!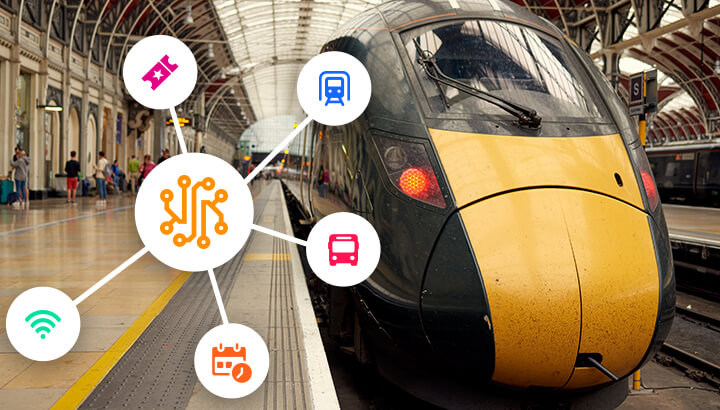 Personalized travel experience for railway commuters in Paris!
Chatbots are taking up crucial roles in an evolving ecosystem. In Paris 3.2 million passengers ride 3,200 trains each day between the city center its sprawling suburbs. The Paris railways will soon float a personalized chatbot experience at scale. The idea now is to connect the bot with call center and on Twitter, thus riders can remain abreast of the most recent developments easily.

'Disha' chatbot to make IRCTC voice and chat activated!
IRCTC is one of the busiest web portals, as millions of people use the Indian Railway to travel each day. There was a time, when this portal was known to be slack, and the least user-friendly. However, today the IRCTC portal is not only up to date but is all set to get a voice and chat upgrade soon and now planning to launch a bot service called "Ask Disha". The minister of Railways in India, Mr. Manish Goyal said: "AI can transform Indian Railways in terms of safety, passenger amenities, better revenues, growth, and efficiency."

How does an AI infused conversational interface play a role in the public transport ecosystem?
Availability of information on mobile phones – instantly, is the most useful technology from a customer's point of view. It enables a customer to plan travel, lookup for fares, and book tickets from the comfort of his home. Implementation of a conversational agent can instantly ramp up the customer experience and make traveling via public transport a very convenient option. Traveling by public transport is also the best way to save fuel, save energy, go green, and help the government to generate revenue that will in-turn be used to provide better facilities to citizens.
Public transport chatbot facilitates:
   Access to fare chart
   Train/bus timings and routes
   Online ticket booking and payment
   Real-time updates for delays
   24×7 complaint registration
   Quick solutions to common complaints and FAQs
If you are a transport agency and want to step up the game with excellent customer experience – then get your travel app chat and voice-activated instantly. Governments and transport agencies across the world are doing It – get the early adopter advantage – nurture and expand your customer base by surfacing a travel assistant.

Streebo has developed a special add-on that makes existing travel applications voice and chats activated instantly. The solution leverages top of the line IBM Watson Assistant technology and hence is very secure. Once set-up, the travel/ public transport applications (Web, Mobile or Desktop) work on both internal chat clients and external clients such as FB Messenger and WhatsApp – Same applies for voice clients Google Home or Amazon Alexa.

If you are a travel company, or a public transport provider and want to get your applications voice and chat activated.