At a time of unprecedented structural change in the financial services industry, banks and credit unions are contending with increasing challenges, including post-crisis regulations, a more demanding consumer and new competition from inside and outside the industry. As cited by 30% of global senior bankers, there is concern that more empowered and better informed customers may begin to switch providers in greater numbers.
Banks are responding to these challenges by investing heavily in product innovation, digital channels and in complying with new regulations. Digitization and ever changing customer behavior causing this one of its kind 'generation shift, probably a second 'big bang'.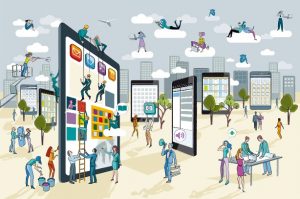 Analyzing our interaction with lots of banks and financial services, most of the major investments are planned for:
Apps for tablets
Location based services
NFC – Near Field Communication
Corporate Banking services
Mobile Payments
With the hope that, these investments will enable them in:
Improve customer centricity
Increase productivity and efficiency
Optimize costs
Enhance their brand
Create relevant customer interactions and
Improve employee job satisfaction
The most innovative banks no longer think of themselves as mere providers of financial products and services and enablers of transactions, but want to be regarded as solution providers that play a greater role not just at the moment of transactions, but before and afterward as well.