With the emergence of digital systems, competition in the market is getting intense. When we talk about the Real Estate industry, the scenario is no different. Real estate experts are putting rigorous efforts to perform outstandingly for every client and stand out in the market for their customers.
To make sure that real estate business makes most conversions and builds maximum connections with prospects, irrespective of their role in the field of real estate-whether as an agent or a seller, it is important to adapt the changing needs in the system & working environment. Today, when the team is mobile why can't the tool be mobile & digital too? Digital forms for real estate work as one of the greatest tools to interact with all the individuals and continually grow.
Create Online Forms for Real Estate and Site Surveys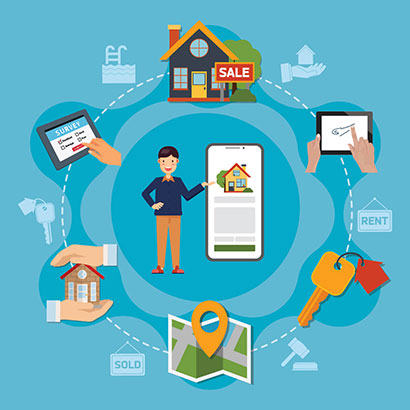 Ever wondered how real estate activities can be implemented using a modern system for not just modernizing but also bringing improvement in the work?
Here it is:
Click Pictures, Capture Data, Take E-Signature and Upload on-the-go!
Real estate business includes tasks like collecting the house layout details, capturing images, saving the location of the site. To finish such tasks, the team needs a paper & pen, making the entire process inconvenient. Mobile forms in real estate works perfectly well in such situation by automating all tasks and storing data on-cloud providing accessibility. It is possible to add maximum possible images of the site along with the geolocation creating a streamlined process. Every  time a need arises to upload details of a new property, edit the details or present it to a client, all this can be just in few clicks of button.
Perform Efficient Site Survey
The site survey is one of the most important activities. The role of site surveyor involves adding tasks and data to put more focus at the time of audit and redefining a building. This becomes easier with real-time reports that enable the surveyor during building assessment, making improvement, renovations etc. to add data and receive results in one go. One can create multiple customized site survey forms whenever and wherever they want to and quickly update necessary information
Instantly Update Information and Manage Agents Easily
To look out for property prospects, it is important to manage various agents for the same. To maximize the results, everything is done easily with intelligent forms in real estate that also frames a systematic workflow for all. Tasks of the agents like updating information, framing schedules, the status of the property, overseeing the repair and timely communication is done digitally with this forms ensuring better management of agents. Now, there is no need to make frequent calls to various agents for one property. Instead handle more than one property single-handedly with online and offline support. Easy intelligent forms which can be created in minutes saves individual's time and efforts in making different paper forms for different purposes saving. The data is easier to handle as it is saved electronically.
Finalize A Real Estate Purchase Agreement
When a buyer makes a final decision for a property, detailed records with buyer information and property information must be maintained. Details like final purchase price, earnest money paid, agent name, agreement details and agreement policies help in finalizing the agreement between the buyer and the seller at the time of completing the deal. With drop-down feature and editable text fields, forms help to create agreements quickly, takes the digital signature and speeds up the closing process. The data is saved electronically and therefore removing the possibility of data loss or multiple interactions to retrieve data. You can also save the final agreement in pdf form and send it to the clients through email. A digital process creates a healthy and positive relationship between the buyer and the seller creating a good market impression.
Create Agency Contract Agreement
To create a legal relationship between agent and the client, agency contract agreement is necessary to be formed. Whether you are a buyer or a seller, irrespective of your role, all the terms of the relationship can be mentioned in the agreement document. For creating an agreement, visiting an office frequently can prove to be a waste of time. Real estate companies can easily formulate using the digital forms. With this, you can avoid misunderstandings as all the outline of the terms are mentioned clearly and as a final result you get: A Happy Client!
Systematically Store Data On a Secured Platform
Scribbles on the paper, carrying a bundle of papers, illegible handwriting creates a fuss in the minds of real estate agents by not giving the proper required information. You can build real estate mobile forms which help from the beginning of the site visit to final agreement-all the data is saved electronically with text fields and drop-down to input information. It makes the interaction look more professional by completing the task of storing data faster and easier
What are some exceptional results that real estate business can easily achieve with mobile forms?
Streamlined Process
When work is being handled with paper forms, chances are you are not carrying it wherever you go. Sometimes to retrieve a data or to continue an interaction, you need the exact person who had conducted the last meeting with the same form. Well, this is not a feasible option in today's fast time. Now visualize the same task being executed with it. There is no need to ask another person when any information is needed, simply log in the system and continue the interaction with a real-time report. The entire process starting from 1st meeting to the last handshake, everything is streamlined with real estate mobile forms. This ensures a complete update and instant activity without letting the clients suffer. Not just this, the day-to-day progress, powerful numbers in the system, onsite activity status – these all can easily be read through real-time updates. It is also easy to route your teammates and conduct attendance, meeting with digital forms.
 Enhanced Data Quality
Companies experience a better understanding of the system with electronic data. It becomes easy for managers to keep track of the performance, track the status, manage customer visits with accurate data uploaded and calculated. Data saved with the help of forms leads to give better insights into the business. No number is hidden, and no calculation goes wrong, the potential of various projects and the company can easily be identified with electronic data of the system resulting in great strategies and better performance.
 Improved Customer Interaction
The real tasks begin once business meets its client as it requires taking follow up, sending emails, working in real time to handle different customer concerns and catch opportunities. It come with features of images that helps in giving better illustrations to clients and GPS provides a piece of clear contextual information about the progress. This creates a positive impression as clients gain confidence. This also adds a greater advantage of following a digital form of servicing for the clients.
 So, Are You Ready Digitize Your Forms?
Streebo's Mobile form is a no code, low code tool to build attractive forms. Craft attractive forms as per the company's need quickly with the help of prebuilt library of form templates It will help you in transforming your paper-based forms to mobile ensuring increased productivity and improve the data collection process. Streebo Mobile Forms allows real-time data collection. You can effortlessly build forms and offer an omnichannel approach that unifies the experience of the users by integrating all the channels with a single click of a button. These forms can be easily integrated with a range of back-ends including Web-Services, RDBMS, ERPs (SAP, PeopleSoft etc.) and legacy systems.