Being a global human resources consultant, my core duties are to recruit the right talent for my company. Hiring suitable candidates with niche skills apt for the job profile, means that the company functions smoothly.

Here is a checklist of things to do to find the right candidates!
1). Maintaining a "Inbox Zero" policy – this motivates me to not miss out any important emails or follow up dates with candidates.
2). Proactively planning my day – setting reminders – keeping timeslots for various activities – creating to dos and setting priorities.
3). Leveraging employee referrals – I talk to existing employees in the company who might refer a friend for some job position. Getting references via positive reinforcement and updates is a great way to find reliable talent.
4). Being Social media conscious – Being active on social networking sites and communities which has a diverse pool of candidates that are missing on regular job boards

I have also made it a practice to study the HR analytics. Based on the insights, I plan strategies and zero in on the best resources for the job openings.

We will discuss about some of the matrices that I've analyzed according to my company's culture:

Hiring Source Metrics: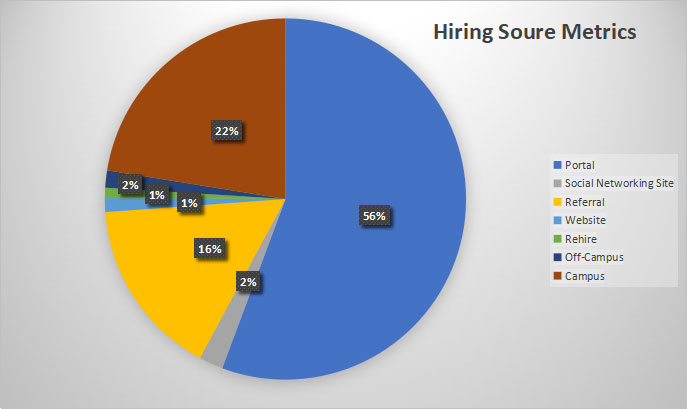 1.Cost Metrics:
I measured the economic value of our HR team by employing Cost metrics. The lesser the cost per hire, more efficient the resource reallocation.

Cost Per Hire = (Total Recruitment Cost) / (Total numbers of hires)
= 70,00,000 / 143
= 48951.05

2.Success Ratio:
Quality of hire provides the true value that new hire brings to any organization. The high value of success ratio shows that the hired candidates have joined the organization and there are lesser back outs.

Success Ratio = (Number of hired candidate) / (Total number of joined candidates)
= 256 / 143
=1.79

3.Recruiting Efficiency Ratio:
Recruitment is a funnel which begins with sourcing and ends with a signed contract. Efficiency includes time to fill position, time to promote the position, hiring process/workflow, recruiter's workload. Number of applicants who have been through to the process divided by the number of applicants who applied for that job – is the recruiting efficiency ratio.

Recruiting Efficiency ratio = (Number of applicants who successfully completed the stage) / (Total numbers of applicants who entered this stage)
= 256 / 400
= 0.64

To study the above-mentioned matrices, we had to first digitalize our recruitment process. Automation helped me to reduce my manual efforts and gave me a good chunk of time to study and analyze how we can improve. We used the Streebo Cloud DX Accelerator to automate our current recruitment process and Streebo Recruitment Management System was launched. It is easy to use and has a smart user interface that allows us to quickly and efficiently onboard new employees. Whenever we update our recruitment process, we can easily update the Recruitment Management System on Streebo Cloud DXA.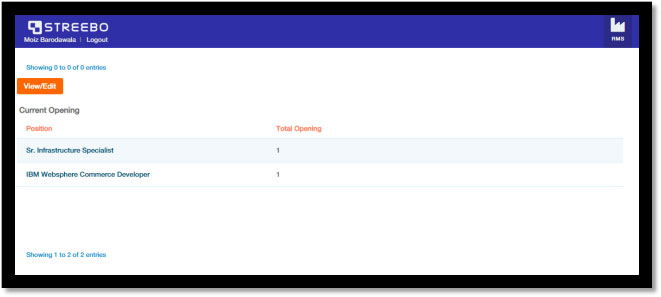 Automation of the recruitment process on Streebo Cloud DXA helps me to focus on the right analytics for my company. It is very helpful in employing the right hiring strategies and building an excellent team by hiring the best candidates – who in turn fuel an awesome company culture.

How HR automation with Streebo cloud DXA helped us refine our recruitment strategy!